MTB index page for all MTB content
News Feature, March 13, 2009
Professional mountain bikers escape the winter in Tucson
Nearly four million visitors head to Tucson, Arizona, each year, to enjoy abundant sunshine and warm temperatures. Increasingly among them are thousands of cyclists, including some of the top professional mountain bikers from the US and Canada. Cyclingnews' Dave McElwaine talks to these pros to find out more about their lives off and on the road while in Tucson.
Emily Batty (Trek Bicycle Store) and Todd Wells (Specialized) lead a group of pro mountain bikers on a road ride in Tucson, Arizona
Photo ©: Dave McElwaine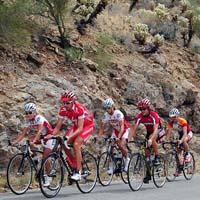 "I can drive to Tucson from Durango in eight hours. I went to college here, and it only usually rains one or two days in the two months I am here to train," said Team Specialized's Todd Wells, who explained his motives for choosing Tucson as his early season training home. "The temperatures are usually in the 70s or 80s (degrees Fahrenheit), and there are a lot of places to ride." Wells represented the US at the 2008 Olympic Games in Beijing.
"For as long as I have been seriously training, Ontario's athletes have always been big on the Carolinas and Tucson, Arizona," said another pro racer Adam Morka of Trek Bicycle Store. "Now after three consecutive years in Tucson, I find the riding, warm weather, and the company of other serious athletes keeps me coming back for more and more miles every year."
Other pro mountain bikers who flock to Tucson in the winter include Sam Schultz (Gary Fisher/Subaru), Andy Schultz (Kenda/Titus), Troy Wells (Cliff Bar), Chloe Forsman (Luna Women's MTB), T.J. Woodruff (Adventure212), Emily Batty (Trek Bicycle Store), X-Terra star Melanie McQuaid (Sho-Air), and Melanie Meyers (Specialized D4W).
"After three consecutive years in Tucson, I find the riding, warm weather, and the company of other serious athletes keeps me coming back for more and more miles every year."
-Adam Morka of Trek Bicycle Store explains his attraction to Tucson
Forsman and Meyers are full-time students at the University of Arizona, and the Schultz brothers work at The Cycling House in North Tucson that caters to visiting cyclists. They provide coaching, guide services, and even do the cooking for the visiting groups.
The Wells brothers, both Todd and Troy, often spend the first part of the off-season in Mexico before resuming their training in Arizona, and T.J. Woodruff is also a USA Cycling certified coach.
The Tucson Convention Bureau claims that Tucson has 350 days of sunshine per year. While that may be a bit exaggerated, the number is certainly higher than most locales in the US and Canada. Tucson has also worked hard to become one of the most bicycling-friendly cities in the US with 630 miles of striped bike paths, 72 miles of shared use paths, plus 100 miles of residential biking routes.
A common sight on the roads
Photo ©: Dave McElwaine

The city is surrounded by five mountain ranges which help the cyclists in their quests for greater fitness: the Tucson Mountains, Santa Catalinas, Rincons, Santa Ritas, and Totolitas.
At an elevation of over 9,000 feet, Mt. Lemmon towers over the Tucson Valley and offers racers the opportunity to train at altitude. The Catalina Highway starts at an elevation of about 2,500 feet in the Tucson Valley and takes you to the top 25 miles later after riding countless switchbacks. Because Mt. Lemmon receives an average of 180 inches of snow each year, there are times even in March where portions of the road may be closed to traffic.
While in Tucson, many of the riders compete in local races to sharpen their skills. In February, the Schultz brothers along with two others, won the 24 Hours of Old Pueblo after besting a stacked Kona team that included Barry Wicks and Ryan Trebon. The early season mountain bike race drew 1,650 racers to the Tucson area.
Riding on the road, too
Melanie McQuaid (Sho-Air) at the start of the Tucson Bicycle Classic
Photo ©: Dave McElwaine

In early March, US National Under 23 champion Forsman, Melanie Meyers, Melanie McQuaid, and T.J. Woodruff all competed in the Tucson Bicycle Classic, a three-day stage race on the road. Nearly 500 racers participated during perfect 70-degree days.
Some may be surprised by how little time the professional mountain bikers spend on their mountain bikes during the winter months. Their off-road time ranges on average from no days to one day per week.
For example, Andy Schultz averages four hours per day on the bike. Sam Schultz rides from one to six hours per day, while Todd Wells rides from 25 to 35 hours per week.
Spring flowers were in bloom
Photo ©: Dave McElwaine

But unlike road racers, a majority of these mountain bikers prefer to train alone rather than in groups. Each adheres to strict training plans that do not always mesh with those of other riders.
When they do ride with others, it is often on a legendary Tucson group road ride called "The Shootout". This 60-mile ride leaves Tucson at six o'clock in the morning and heads south to the Green Valley area. Typically there are as many as 100 riders, some of whom inevitably are pro road racers. One participant described this ride as "a start together, hang on as long as you can ride".
On most days, you will find many of these pros riding the roads in the Tucson Mountains and Saguaro West National Park, and particularly over challenging Gates Pass. After climbing seven miles from downtown Tucson, a vast valley of rolling hills and good pavement await the riders without a single house in sight.
Getting dirty and hungry
Sam Schultz (Gary Fisher/Subaru) lives, trains, and works at The Cycling House
Photo ©: Dave McElwaine

Cyclingnews polled the mountain bikers to find out what is their favorite Tucson off-road ride. The nearly unanimous answer was the Bug Springs Trail that starts from a trailhead on the road to the top of Mt. Lemmon.
"You can climb enough that you get into pine trees and there is enough decomposing material up there that the dirt is almost soil instead of sand," said Andy Schultz. It is no surprise that most trail reviews rate this trail as "advanced", with drop-offs, steep climbs and descents, and some slick rock.
Fortunately, after a day spent in the saddle, there are lots of options for satisfying a riders' appetite. In addition to its warm weather, Tucson is renowned for some of the best Southwestern and Mexican food. A Mexican restaurant is on nearly every corner. La Salsa Restaurant near the University of Arizona got the most votes for the "best Tucson burrito" from the mountain bikers, and after Cyclingnews checked it out, we agreed. For example, its carne asada burrito comes with a hand-carved slab of grilled beef for each burrito.
From to Tucson to ...
Chloe Forsman (Luna Women's MTB) at the start of the time trial
Photo ©: Dave McElwaine

The racers will conclude their early season training and head off to different parts of the globe as they kick off the competitive portions of their seasons.
Some will begin racing at the Pan Am Games and all of them will make the shorter trips to race the Fontana US Cup and the Sea Otter Classic - both are stops on the US Pro Cross Country Tour (ProXCT) and the Kenda Cup West.
Others have their priorities set on elite international competition. For example, while Olympian Todd Wells intends to be at most the ProXCT Cup races, his main focus will be the World Cup races starting with the opening round beginning in Pietermaritzburg, South Africa.
Stay tuned to Cyclingnews for complete coverage of the Fontana round of the ProXCT on March 28.
Photography
For a thumbnail gallery of these images, click here
Images by Dave McElwaine / www.trailwatch.net