MTB news & racing round-up for November 21, 2008
Welcome to our regular roundup of what's happening in mountain biking. Feel free to send feedback, news, & releases to mtb@cyclingnews.com and results, reports & photos to cyclingnews@cyclingnews.com.
Edited by Sue George
Ramirez captures fifth La Ruta
By Rob Jones in Costa Rica
Overall winner Federico Ramirez (BCR-Pizza Hut)
Photo ©: La Ruta

Federico "Lico" Ramirez (BRC-Pizza Hut) won his fifth La Ruta de los Conquistadores this past weekend, cementing his reputation as the all-time best rider in the grueling four-day mountain bike race across Costa Rica.
In the fourth and final stage, Ramirez finished second to his main rival Paolo Montoya (Economy Rent A Car) in a sprint onto the Caribbean beach at Playa Bonita, 384 kilometres after they left the Pacific coast at Jaco. Montoya and Enrique Artavaia Cedeño (Super Pro-Economy) rounded out the top three in the overall.
Throughout the race, Ramirez often pushed the pace on the climbs, dropping those who could not follow his tempo.
"It is the training that is the key," he asserted. "I train all year for this race. The strategy for me is simple: it is the first and third days that are the most important. The first day is the hardest, and the time gaps are the biggest. The third day is the climbing day, and that is where I am the best."
"Last year was the hardest to win, because it was so wet and muddy it made it very difficult. This year, the first stage was very hard, but after that, it was not easy ... I would say that it was 'comfortable' for me. This year I had Alex [Sanchez], and we really worked together for this victory. He is still young, and has a lot to learn, but in two or three years maybe he could win La Ruta."
So will Ramirez be back to defend his title next year and go for win number six?
"Yup."
Adriana Rojas (Bemose/PQ) took the women's title, with Canada's Sandra Walter (Felt-X.O.) taking second overall after winning the final stage. Sara Bresnick-Zocchi (Pedalpowercoaching) finished third overall.
See Cyclingnews' full coverage of the La Ruta.
Cycling Australia announces Cyclist of the Year finalists
Sam Hill is a nominee for Australia's elite mountain biker of the year
Photo ©: Rob Jones

Cycling Australia announced finalists for its mountain biker of the year awards, to be presented at a gala celebration being staged at the Grand Hyatt Melbourne Hotel on Sunday, November 23.
"I congratulate all the nominees who have been and will continue to be outstanding ambassadors for cycling and for Australia," said Mike Victor OAM, President of Cycling Australia. "We have a wealth of talent in our sport from masters to juniors and across all the disciplines and we continue to rank amongst the world's top nations in the sport.
"I look forward to enjoying a night of celebration to mark the great achievements of our cyclists in 2008."
Finalists in each mountain bike category are listed below.
Elite Male Mountain Biker of the Year
Jared Graves
Sam Hill
Nathan Rennie

Elite Female Mountain Biker of the Year
Caroline Buchanan
Dellys Starr

Junior Male Mountain Biker of the Year
Shaun O'Connor
Rhys Willemse
Sam Willoughby

Junior Female Mountain Biker of the Year
Caroline Buchanan
Rebecca Henderson
Public support renewed for Scottish mountain biking
Mountain biking in southern Scotland got a boost on Wednesday when public sector organizations behind the 7stanes project in the Borders and Dumfries and Galloway announced backing for an addition three years and £1m. The money will support businesses associated with mountain biking, foster new competitions, recruit new business and community involvement and maintain and improve trails.
"The continuation of this successful public and private sector partnership will not only reinforce Scotland's reputation in the sport but will bring wider benefits to business and communities alike," said Environment Minister Mike Russell to the BBC. Russell indicated that the 7stanes project had benefitted Scotland's image internationally.
Involved localities include Glentrool, Kirroughtree, Dalbeattie, Mabie, Ae, Glentress and Newcastleton. The original 7stanes project increased local tourist spending by £9m in 2007 according to a Forestry Commission Scotland report.
BC Bike Race adds singlespeed category
Somewhere in the middle of the pack
Photo ©: Jason Berry

The BC Bike Race confirmed the addition of a singlespeed category in the 2009 edition of the event, scheduled for June 28 to July 4. Both men's and women's leaders jerseys will be awarded.
"Having seen the global growing interest in singlespeed we thought it was only fitting that the singlespeeders have their own category. We are currently designing the leader's jerseys for these two categories," said President Dean Payne.
Dejay Birtch, an advocate for singlespeeders and a participant of the 2008 BC Bike Race was instrumental in pushing forward the new categories. "I think we (the singlespeeders) are looking to be recognized and as our numbers grow, our representation should as well," said an excited Birtch.
Organizers specified that the new singlespeed categories must have at a minimum five teams to be an official category. They will consider elevating other categories to full status if they have five or more teams.
"If all things go well in 2009, we look to increase the number of categories for the upcoming years," said Payne.
The seven-day race will run from Victoria to Whistler on the west coast of Canada. The route passes through lush rain forests, over the Coastal mountain range and spends the majority of its time on singletrack purpose-built for mountain bikers.
For more information on the race or to register, visit www.bcbikerace.com
Rocky Mountain signs Smutok
Rocky Mountain Bicycles signed freerider and trail builder Dave Smutok for 2009. Smutok began his career as a cross country ski racer and won several junior national championships. In 2003, he transitioned to mountain biking and within a year, he was winning events like the 2004 Red Bull Bike Battle. He has also competed at the Kokanee Crankworx, Monster Park, and Adidas-Slopestyle events.
"I've seen Dave compete several times and not only are his skills impressive, but his popularity and crowd appeal are huge," said Rocky Mountain team manager Peter Vallance. "We didn't plan on adding more riders to our roster for next season, but when we heard that Dave was available, we had to try to get him."
In addition to his freeriding, Smutok played an instrumental role in the development of the Highland Mountain Bike Park in Northfield, New Hampshire. With his help and that of his trail crew, park visits have doubled annually as the parks terrain progresses with new trends in the sport.
Smutok's signing will help increase Rocky Mountain's presence on the East Coast.
Angkor Wat hosting off-road competition in December
By Steve Thomas
Interesting scenery awaits racers in Angkor Wat.
Photo ©: Steve Thomas

Angkor Wat, near the small town of Siam Reap in northern Cambodia, is a famous spiritual and iconic place in the world. Touring its myriad of stone temples by bike has been popular for many years, but the Angkor Wat Bike Race and Rally will give racers a chance to compete through the jungle. The third annual edition of the race will be held on December 6-7.
Run in conjunction with the annual Angkor Wat International Half Marathon, organisers are raising funds for Village Focus, a charity that helps educate and develop education in rural areas of the country and assists victims of landmine accidents.
The 80km marathon cross country race, to be held mainly on dirt roads, will begin at sunrise along with a 30km off-road race and a 30km fun ride. The routes will pass by UNESCO World Heritage sites. Also being held that weekend is the Angkor Wat Cyclo Race, in which teams of two can hire and race bicycle taxis.
Last year saw 130 participants from 20 different countries took part over the flat and fast terrain, and 150 are expected this year. For more information or to register, visit www.villagefocus.org/angkor_marathon.
Team Torq diary: Brand shining new
By Tory Thomas
Jo Wall shows her stuff on a fast descent
Photo ©: Tony Fetch

I wasn't sure what to expect when I signed with the newly formed Australian Torq/VIS mountain bike team. Like most Australian mountain bikers, I've always trained and raced as an individual, therefore the idea of racing as part of a team was - and is - quite a foreign concept!
So far, being part of a team has been an incredible experience. This is my fourth season racing cross country in Australia, and for me being part of a team has given me fresh perspective and enthusiasm for racing. The team oozes enthusiasm and motivation to race, and from my perspective this seems a really positive environment in which to grow and develop athletes.
The Torq/VIS team isn't a registered Trade team until 2009, however the team is up and running and racing, and debuted last weekend in Adelaide at the first round of the Australian National XC mountain bike series. This was our first race as a team, with only a few riders missing - namely, Olympian Dan McConnell, who's enjoying some well-earned rest after a hectic season, and injured U23 rider Cal Britton. Aside from a few punctures and crashes amongst the team, it was a brilliant start to the season, with lots of the riders achieving podium results, and all of the riders relishing the opportunity to race in brand new sleek skinsuits!
Read the complete diary entry.
New SoCal League hosting fundraiser
The brand new Southern California high school racing league is holding its kick-off fundraising event on Saturday, November 22. Held at the famous Ca Del Sole Italian Restaurant near Burbank, the Benefit Dinner will feature celebrity cycling speakers and hosts, a silent auction of cycling and non-cycling related items, a fine Italian dining experience, and an opportunity to support the growth of a cycling curriculum throughout hundreds of high-schools in Southern California.
"The success and support of the League in NorCal has been so great over the last eight years, that we've been able to really dial in our program as a template to get kids anywhere to be able to start Mountain Biking programs at their schools," said NorCal League director Matt Fritzinger. "We decided to expand our program South, and with the help of Founding President Quintin Easton have created the SoCal League."
Modern mountain bike pioneer Gary Fisher will be the official MC of the night, providing quips and commentary of the various activities that will be taking place during the dinner and auction.
"Having grown up racing bikes since I was a kid, starting a bike company when I got older, and continuing to ride as much as I can, I know the value of having cycling available as a sporting option for kids," said Fisher. "In the future they will ask, 'How did bike racing become a major sport in the USA? The High School MTB league was what made the difference.'"
Guest of honor Tony Cruz, a former Discovery Channel team racer and current BMC racer, will also join in. "While the adult segment of cycling is booming, it seems to me that in general, the junior programs have not gotten the attention they need here in the United States. What the SoCal League is doing fits right into my mindset and future - creating an exciting, fun, positive outlet for kids through cycling."
For more information visit www.socaldirt.cmarket.co.
Crank The Shield opens registration
Day two of racing at the 2008 Crank the Shield
Photo ©: Crank the Shield

The 2009 edition of Crank The Shield will run three days over 250km through Ontario's near north from September 18 through September 20.
A few changes are in the works for the next edition including singletrack re-routes around low-lying areas, an improved first stage, and the use of more mountain bike specific trails. The race will also start and finish at the same location in Haliburton Forest.
Registration has just opened. For more information, visit www.cranktheshield.com.
Butte 100
The third annual Butte 100, a 100 miler race in Montana, has been scheduled for August 1, 2009. The race will again take place on about 60 miles of the Continental Divide Trail and approximately another 25 miles of single and doubletrack with the remaining 15 miles on a small amount of paved road and gravel. It also features approximately 17,000 feet of elevation gain over the 100 miles.
Desafio de los Dinosaurios going up
Ready to race in Chile
Photo ©: José Eugenio Moreno

The Desafío de los Dinosaurios, an 80km uphill race, will happen in San Fernando, Chile, on December 13. Approximately 1,000 racers, including pros and amateurs, are expected to take the challenge of racing from a starting elevation of 470m to 1,750m.
For more information, visit www.mundoterra.cl/home.html.
Cyclingnews' MTB Contest: Win an autographed calendar featuring female MTB celebrities
Cyclepassion 2009 Calendar
Photo ©: Cyclepassion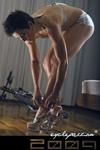 Ever wonder what some of the world's elite female mountain bikers look like under all the mud and their jerseys, helmets and sunglasses? A few of the fastest female mountain bikers bare not quite all to show off their super fit bodies in the 2009 Cyclepassion calendar.
Enter Cyclingnews' contest to win an autographed copy of the Cyclepassion calendar.
Photographer Daniel Geiger has captured images of the following six of the sport's elite racers in a 40 cm x 68 cm (15.75" by 20.72") calendar.
- Norwegian Gunn-Rita Dahle-Flesjaa, Seven-time World Cup champion and 2004 Olympic gold medallist
- German Hanka Kupfernagel, 2008 Elite Women's Cyclo-Cross World Champion, 2000 Olympic champion
- Russian Irina Kalentieva, Bronze medal winner 2008 World Championship and 2007 World Champion
- American Willow Koerber, Sixth overall in the 2007 World Cup
- Germany Steffi Marth, 2008 German 4X champion
- Sabine Spitz, 2008 European champion, 2008 Olympic champion, 2008 World marathon champion
The calendar is signed by each of the athletes and it also includes a section about the making of the calendar. The contest's winner will be selected at random from all correct answers to a mountain bike trivia question.
Hurry and enter now to be in the draw. Good luck!
(All rights reserved/Copyright Future Publishing Limited 2008)