MTB news & racing round-up for November 16, 2008
Welcome to our regular roundup of what's happening in mountain biking. Feel free to send feedback, news, & releases to mtb@cyclingnews.com and results, reports & photos to cyclingnews@cyclingnews.com.
Edited by Sue George
Beckingsale looking forward to diverse racing schedule for next year
By Sue George
Oliver Beckingsale (Great Britain) at the 2008 World Championships
Photo ©: Rob Jones

Without the Olympic Games serving as the focal point of next season, elite cross country racers will be looking to mix up the usual World Cup racing schedule with other kinds of events. Great Britain's Oli Beckingsale is one racer already planning a diverse racing calendar for 2009.
"The last few years have been all about the Olympics. It's been a lot of time spent focusing for one race," said the 32-year-old Beckingsale to Cyclingnews. "It needs to be like that, but it takes some of the fun out of it, and you can't do some of the races you want to do."
Beckingsale, who finished 12th at the Olympic Games in Beijing, China, in August, recently renewed his contact with the Giant Team. He is looking forward to kicking his season off with the Cape Epic stage race in South Africa. "Adam Craig and I are planning to race together. Both of us having been trying to do it for years."
He added that 2009 will be a good year to do the race. "I spoke to the organizers who said the race will have shorter, but more technical stages." Other editions of the race have often featured lengthy fire road type sections where packs formed to quickly cover great, wide-open distances.
"After that, the plan is to ride the World Cup series, including the Canadian rounds [in Mont-Sainte-Anne and Bromont, Quebec] which I will go over for this time," he said. "The rest of the time I will spend in the UK. We've got a decent national series that includes UCI-registered races."
Throw in a few road races, marathons including the World Championships and six weeks of cyclo-cross racing starting in early December, and Beckingsale's calendar is filling fast.
"I haven't done 'cross the past few years, but I enjoy it," he said. "I'll have a little pop at the British 'cross nats in mid-January."
Beckingsale finished 10th at the UCI Mountain Bike World Championships in Val di Sole, Italy and 27th in the World Cup standings for 2008.
European stage races set
The lead group at the 2008 TransAlp
Photo ©: Oliver Kraus

Two of Europe's most popular stage races have set their place on the 2009 calendar. The granddaddy of mountain bike stage racing, the Jeantex Bike TransAlp will take place July 18-25 while the Craft Bike Trans Germany is set for June 21-27.
The TransAlp again expects to draw more than 1,000 racers and will cross the main ridge of the Alps from the north to the south over eight stages. The race will start in Mittenwald, Germany, and head via Austria's Reith im Alpbachtal and Mayrhofen towards South Tyrol.
It will stop in Italy in Brixen, S. Cristina, Sarntheim, Kaltern and Andalo before the traditional Lake Garda finish in Riva del Garda. Registration opens on December 7, when the first 250 race entries will become available online. The remaining 250 places will be awarded by lottery.
In its third year, the Trans Germany will host 800 racers crossing Germany from west to east in 660km with 15,300m of elevation change. An updated route will take racers through Central Germany. For the first time, the race will be held with solo and a four-person team categories rather than the previous years' two-person team format.
For more information, visit www.bike-transalp.de and www.bike-transgermany.de.
US Forest Service issues directive categorizing bicycles separately from motorized uses
Following a June internal memo differentiating mountain biking from motorized use, the US Forest Service issued fresh administrative directives including language clarifying bicycling as a non-motorized activity. The directives affect up to 130,000 miles of the agency's trails which are located all over the US.
"Mountain biking is incredibly popular in national forests, and we believe it's appropriate to clarify the distinction between mountain biking and motorized use. Better policies will foster improved partnerships and riding experiences," said IMBA Executive Director Mike Van Abel according to the IMBA website.
The actions come after several years of IMBA asking for further documentation on its mountain biking policies. While most national forests understand bicycling is a quiet, non-motorized activity, a few have implemented rules rendering bicycles akin to motorized travel. The new revisions to the Forest Service Handbook and Manual, which are the primary basis for control and management of agency programs, are a step toward standardizing mountain bike management at the field level.
"We're extremely pleased the Forest Service is taking these steps to formally recognize bicycling as low-impact and human-powered. Embedding this information in their employee handbooks will promote better understanding and practices in all 175 national forests and grasslands," said Van Abel.
The Forest service also updated its trail construction standards so that bicycling joins hiking as a potentially suitable use on all trail classes, from the most primitive of designated routes to more developed paths. Decision-making regarding bicycle access on specific trails will stay at a local level but the national-level change recognizes that the environmental impacts of bicycling are similar to hiking and less than other uses.
IMBA and the Forest Service have been formal partners since 1994 and on their third consecutive memorandum of understanding, which runs through 2010.
SRAM to launch complete mountain bike group
By James Huang
Component manufacturer SRAM has announced a complete new high-end mountain bike groupset to be available mid-year 2009. Dubbed 'XX' the new group "will exceed the demands of the cross-country athlete through all-new technologies focused on precision, efficiency, and weight," according to SRAM. Like the Red road group, it will be a true joint development between the SRAM, RockShox, Avid and Truvativ divisions.
Beyond that, SRAM is keeping its cards very close to its chest to prevent a fast response from rival Shimano. Shimano is reliably reported to be developing a ten-speed mountain bike group in response to previous rumours of a new SRAM group.
One reliable rumour, though, concerns comparison between XX and Shimano's current top-end road bike groupset. XX will weigh, we hear, the same as the 2009 Dura-Ace groupset.
While what follows is unofficial, the group's intended use, SRAM's recent road components and documented spy photos provide enough ammunition for us to think we can guess accurately what SRAM's up to.
If you take the group's moniker as Roman numerals, XX looks likely to have not only the first ten-speed off-road transmission, but a dedicated 2x10 system specifically aimed at fit racer-types.
The rear cassette will likely be based on the innovative PowerDome design of the road-going Red group but modified for better performance in muddy conditions with a more open architecture. The 11-34 tooth range is unlikely to change much but the additional ratio in the middle will mean smaller jumps between gears, something racers always like.
Up front, it's logical to expect XX to use a lightweight carbon crankset optimized for a two-ring set up with a narrower pedal stance width and more closely tucked-in chainline.
Read the complete tech news feature.
Merida unveils 2009 range
By James Costley-White
Merida's Ninety-Six Team-D
Photo ©: Merida

Merida is set to build on the success of its top-end carbon fibre road and mountain bikes with a refined range for 2009. The Taiwanese firm unveiled its new stable of mountain, road, cyclo-cross, track and commuting bikes at the Ashton Court Estate in Bristol, England.
With a total of more than 70 models covering everything from World Cup racers to children's bikes, the company seems determined to make waves in the British market. Many of the 2009 bikes feature improved specs, with technology from the top-end models filtering down throughout the range.
The firm's research and development department in Germany has had a major input and the impact of a new designer is clear, with impressive frame detailing and new graphics which provide a sense of continuity throughout the range.
The most striking thing about Merida's '09 mountain bikes is the tube profiles. The frames feature the latest carbon, hydroforming and technoforming technology, and you would struggle to find a single conventionally shaped tube. Instead, huge square-section top tubes taper towards the seat tube and trail bikes feature downtubes that would have looked large on a downhill bike a couple of years back.
Merida's flagship full-suspension bike, the Ninety-Six Carbon Team-D, has been garnering rave reviews. With a frame weight of just 1860g, the 9kg complete bike can be lifted with just one finger yet still has 100mm of travel to soak up the bumps.
Read the complete tech feature.
Mike & Mary diary: Home for a change
Fall in New England
Photo ©: Mary McConneloug & Mike Broderick

Greetings from the East Coast!
Mike and I made it back to our Massachusetts home base after another exciting, challenging and successful year of racing. Although we have become familiar with the travel routine of international mountain bike competition, this season felt a little more extensive, a bit more exotic and certainly contained the most airline miles we have logged: South American trips to Chile and Venezuela, eight countries in western Europe by RV, driving the East Coast of the USA and Canada in our van and back into the air to Asia for our first visits to South Korea and China. Australia was next before stopping through Taiwan on our way back. Then followed California, then Las Vegas and we are now just now returning to what we consider our home in Massachusetts. Somehow we still don't have enough miles to get into any of the upper crust admirals' clubs
I can hardly believe how much we are on the move, where we have been, and how accustomed we have become to this nomadic lifestyle. Currently, the more mundane or domestic activities like me cooking up heaps of healthy foods in a real kitchen or mike spending time in the shop testing and selecting the components and build combinations for our race bikes seem sweet and grounding. We are both appreciating this time of living in a stationary place for awhile, where thoughts of getting back to the travel and racing will naturally become alluring once again.
Read the complete diary entry.
Breck Epic sets categories
The Breck Epic, a new stage race in Colorado set for July 5-10, 2009, announced its categories for the inaugural event. Racers will be able to compete solo in men's, women's or singlespeed categories or as members of two-person men's, women's, mixed, masters (80+) and singlespeed teams.
Due to the level of difficulty expected for the race, promoters are inviting solo entrants who are licensed at the expert or pro level. "If you don't hold a USAC license that proves that you're an expert or above, then you'll need to justify your inclusion in the solo category should you wish to participate," said promoter Michael McCormack.
Prices for the event have not yet been finalized.
NorCal League CycleFest hits fundraising target
The Northern California High School Mountain Bike Racing League (NorCal League) hit its fundraising target of US$50,000 at its annual CycleFest weekend on November 7-9.
The three-day gathering in the Bay Area featured a candid, armchair interview with Tour de France hero Levi Leipheimer (Astana) at the gala dinner. A grand total of 410 people attended Friday's cocktail party, Saturday's gala dinner and auction, and Sunday's 44-mile ride with Leipheimer and 120 riders with a police escort.
Online bidding took place in the week leading up to the gala dinner. On Saturday night a selection of items were sold in a live auction where patrons of the league matched the support and appreciation of the auction donors by spending generously.
"Support for high school cycling just keeps growing and growing. A lot of people are seeing why it makes so much sense, and they're coming out to give the necessary support to help us grow. The volunteers we have now are of such a high caliber that we can organize a full weekend of activities like this for 500 people and the whole process runs like clockwork," said Justin Morgan, the Assistant Director for the NorCal League.
"Also important is that we're raising enough money to continue growing. A weekend like this is not only a really great time for all concerned, but also it fills us with hope for the future."
Cyclingnews' MTB Contest: Win an autographed calendar featuring female MTB celebrities
Cyclepassion 2009 Calendar
Photo ©: Cyclepassion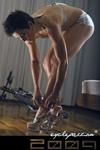 Ever wonder what some of the world's elite female mountain bikers look like under all the mud and their jerseys, helmets and sunglasses? A few of the fastest female mountain bikers bare not quite all to show off their super fit bodies in the 2009 Cyclepassion calendar.
Enter Cyclingnews' contest to win an autographed copy of the Cyclepassion calendar.
Photographer Daniel Geiger has captured images of the following six of the sport's elite racers in a 40 cm x 68 cm (15.75" by 20.72") calendar.
- Norwegian Gunn-Rita Dahle-Flesjaa, Seven-time World Cup champion and 2004 Olympic gold medallist
- German Hanka Kupfernagel, 2008 Elite Women's Cyclo-Cross World Champion, 2000 Olympic champion
- Russian Irina Kalentieva, Bronze medal winner 2008 World Championship and 2007 World Champion
- American Willow Koerber, Sixth overall in the 2007 World Cup
- Germany Steffi Marth, 2008 German 4X champion
- Sabine Spitz, 2008 European champion, 2008 Olympic champion, 2008 World marathon champion
The calendar is signed by each of the athletes and it also includes a section about the making of the calendar. The contest's winner will be selected at random from all correct answers to a mountain bike trivia question.
Hurry and enter now to be in the draw. Good luck!
(All rights reserved/Copyright Future Publishing Limited 2008)