Tech News – November 13, 2008
Edited by James Huang
Got tech? Send press releases, news, and tech questions to the Cyclingnews tech desk.

SRAM to launch complete mountain bike group
By James Huang
SRAM will build a complete cross-country mountain bike
Photo ©: SRAM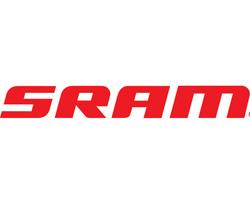 Component manufacturer SRAM has announced a complete new high-end mountain bike groupset to be available mid-year 2009. Dubbed 'XX' the new group "will exceed the demands of the cross-country athlete through all-new technologies focused on precision, efficiency, and weight," according to SRAM. Like the Red road group, it will be a true joint development between the SRAM, RockShox, Avid and Truvativ divisions.
Beyond that, SRAM is keeping its cards very close to its chest to prevent a fast response from rival Shimano. Shimano is reliably reported to be developing a ten-speed mountain bike group in response to previous rumours of a new SRAM group.
One reliable rumour, though, concerns comparison between XX and Shimano's current top-end road bike groupset. XX will weigh, we hear, the same as the 2009 Dura-Ace groupset.
While what follows is unofficial, the group's intended use, SRAM's recent road components and documented spy photos provide enough ammunition for us to think we can guess accurately what SRAM's up to.
The first ten-speed off-road drivetrain
If you take the group's moniker as Roman numerals, XX looks likely to have not only the first ten-speed off-road transmission, but a dedicated 2x10 system specifically aimed at fit racer-types.
The rear cassette will likely be based on the innovative PowerDome design of the road-going Red group but modified for better performance in muddy conditions with a more open architecture. The 11-34 tooth range is unlikely to change much but the additional ratio in the middle will mean smaller jumps between gears, something racers always like.
Up front, it's logical to expect XX to use a lightweight carbon crankset optimized for a two-ring set up with a narrower pedal stance width and more closely tucked-in chainline.
Hybrid ceramic bearings are a certainty and it is also possible that SRAM will draw on the technologies of newly acquired wheel and crank maker Zipp for the composite structure and its oversized aluminum spindle and bearing design.
However, given the performance advantages of the recently launched Truvativ HammerSchmidt system, we wonder if that technology could be lightened up to World Cup cross-country level. The frictional losses from the planetary gear and the packaging difficulties might be too much to overcome but you never know.
Carbon, carbon everywhere
Carbon fiber will undoubtedly play a pivotal role in the XX group. Likely candidates for composite construction include the usual suspects such as the crankarms, rear derailleur components, brake lever blades, seatpost, handlebar and stem.
Sponsored racers are already using prototypes of a SID fork with one-piece carbon fiber crown and steerer, so that's almost a certainty. Maybe we'll see full carbon fiber lower legs, too? Doubtful, but who knows.
It remains to be seen if SRAM will give it an XX identity – forks aren't part of a traditional groupset, but its range of equipment means SRAM's not quite a traditional groupset maker.
Wheels with carbon rims are a possibility too. It wouldn't take much to adapt the most recent hub designs from SRAM's Indianapolis-based carbon wheel subsidiary Zipp for disc brake use and Zipp has the capability of developing a lightweight rim that can stand up to the rigors of off-road abuse. However this is something SRAM and Zipp will want to get exactly right and is therefore something we might not see with the first release of XX.
Speaking of brakes, we've also already spotted magnesium versions of Avid's latest Elixir disc brake on the World Cup circuit so that's a given as well. What we have yet to spot – but definitely anticipate – are lightweight rotors made of something other than stainless steel.
Coated aluminum rotors such as those once pitched by Stan Koziatek of NoTubes fame would not be in keeping with SRAM's usual durability and wear requirements so our money is on something a little more exotic. Ceramic-reinforced aluminum metal matrix composites are a known quantity in this department in other industries such as automotive so something from that family of materials sits at the top of our list.
What else?
All of this is speculation, and while some of it may be far-fetched, SRAM's assertion of "all-new technologies" suggests (at least to us) that there might be something here we haven't even begun to think about. Something wholly unconventional. Perhaps a wholly new method of shifting? Some kind of electronics package?
There also certainly is no official word on weights or costs, though 'super light' and 'super expensive' are likely descriptors.
We will continue to keep our ears to the ground for additional information prior to the official mid-2009 release date. Until then, we'll have to wait a while for more official information but this certainly sounds like a big deal to us.