MTB news & racing round-up for January 9, 2008
Welcome to our regular roundup of what's happening in mountain biking. Feel free to send feedback, news, & releases to mtb@cyclingnews.com and results, reports & photos to cyclingnews@cyclingnews.com.
Edited by Sue George
Baja Epic adds to growing stage race calendar
By Sue George
Tinker Juarez is one rider already committed for the inaugural Baja Epic
Photo ©: Rob Jones

Adding to the growing trend of multi-day endurance mountain bike races is a new event in Baja, Mexico, slated for November 5-8, 2008. The Baja Epic, covering 300 miles and 24,000 feet of climbing, will visit varied terrain including beaches, deserts, forests and mountains and be put on by Too Much Fun productions, a company which was started by Mexican Armando Carrasco and American Rob Quinn in the 1980s.
"Armando and I were partners in the 80s and 90s," said the 48 year-old Quinn to Cyclingnews. "We created an event called the Montaña Grande [which ran from 1986 to 2003 - ed.] back in the day when lots of people were racing [Olympic distance, single day] cross country events. At a certain point, I moved to Colorado for a business opportunity and because I love to ski." Quinn has been a Vice President / General Manager for a number of Spanish Speaking radio stations and now is president of Spectrum marketing.
"Armando kept Too Much Fun going, but he gravitated toward motocross events because he's a motocross [and BMX] champion and in part because people in southern California have no place to ride their motocross bikes." A factor in the demise Montaña Grande was dwindling mountain bike cross country attendance.
Since Quinn moved back to Colorado, he found himself back into mountain bike racing - balancing it with business and family responsibilities. He did well in the state series as a master and Clydesdale racer and stepped up to racing at La Ruta de los Conquistadores in Costa Rica in 2003, where he finished 11th in the 40+ men's category.
The experience inspired him to talk to Carrasco about the idea of a mountain bike stage race in Baja. "At that point, I came back to Armando and said, 'This is where it's going,'" referring to the emerging trend toward multi-day mountain bike racing.
When asked to comment on the seemingly insatiable demand for endurance racing, Quinn said, "I just think of myself. I'm not a pro. After 20 years of training and riding, it's not worth it for me to drive four hours to race for 1.5 hours. Stage races work best. And now everyone is so fit and the equipment is so good and people are better riders. As total citizen schmo, it's cool to line up with Andreas Hestler or Tinker Juarez. It's neat to be in same area even if it's only for two minutes at the start. You get to ride the same course as those guys. It gives a good sense of accomplishment for business people and those with families."
This November, Quinn was back at La Ruta, this time handing out information about the new race. "I introduced the idea of the race to people and the reception was overwhelming."
"Unlike US where everything is touchy with regard to zoning, forests, etc. [for promoting a race], Mexico is more like Costa Rica. With tourism department's blessing you can run a race."
Leaders start final stage at La Ruta de los Conquistadores
Photo ©: Rob Jones

"You would never do this ride this by yourself. You're in a foreign country. You wouldn't get off plane in Guatemala City and just go ride around in the mountains you saw," Quinn was alluding to issues regarding both personal security and lack of local knowledge.
"I was lucky to get to go down there and see the country like many never get to do," said Quinn of his years working and living in Mexico. "I was always surrounded by Mexican nationals so I got to see more. I want to turn other people on to what I saw. The Pacific Coast is so ragged with cliffs and it's gorgeous. Inland, the mountains are pretty."
The Baja Epic is set to be a very different experience than La Ruta. "At La Ruta, I woke up, stared at my front wheel for eight hours, then went to sleep. Our goal is to have everyone off bikes by 1:00 or 2:00 pm with a little juice left so they can also experience the cities. Sure there will be a few sand washes, but you won't have to get off your bike much."
"I can think of nothing better than giving it a few hard hours on the bike and knocking around coastal cities after. It will be about 50-70% wattage of what La Ruta takes - La Ruta is still king. I'll be back there in 2010 when I'm 50. I think there's a nice balance between a good four to five hour push and going out and having some margaritas and being a tourist."
November is the most temperate month in Baja typically brings 70 degree (Fahrenheit) weather and sunshine, but snow is possible at higher elevations like at Mike's Sky Ranch. "We thought [the dates] would fit well into the calendar. Everything worked well weather-wise for spring and fall, but we wanted to have enough time to plan," said Quinn.
Signed up so far is long-time pro Tinker Juarez, and Quinn said the Trek and Luna teams had also expressed some interest. Legend Hans Rey will be a celebrity starter.
Baja Epic for 2008: November 5-8
Stage 1: Rosarito Beach to Tecate, 60 mi (6000ft)
Stage 2: Tecate to Ensenada, 80 mi (6000 ft)
Stage 3: Valle de la Trinidad to Mike's Sky Ranch, 60 mi (8000 ft)
Stage 4: Ensenada to Rosarito, 60 mi (4000 ft)
For more info on the Baja Epic, visit www.bajaepic.com
Killeen shows early season form
MTB star Liam Killeen finally gets warmed
Photo ©: Andrew Kennedy

After a second place finish behind Roger Hammond (Team High Road) at the British cyclo-cross national championships this weekend, mountain biker Liam Killeen has just one goal in mind: to make the Olympic Games.
"Obviously to come second in the sprint is a bit frustrating, but I was pleased with how the race went," said Killeen to the Worcester News. "I felt strong and it took me a couple of laps to work my way to the front, but once I was there, I felt quite comfortable."
Althought Sutton Park is one of his favorite races, he continued, "Roger is a super sprinter and it was always going to be a tough task - there's always next year. I only do a handful of 'cross races each season, but the National Championships were a goal of mine."
With 'cross nationals in the books, the Team Specialized Factory Racing member will focus on making the British Olympic Team. His other career goal is to win a World Championship according to his website www.liamkilleen.com. Killeen finished 44th at the Worlds in Fort William in September, but the rider was just making his return to competition after battling a virus for much of the season.
Cyclingnews reader poll - Best mountain biker racers
The figures are in and the bean counters have done there thing, which means we can now take the covers off who you, the supporters of Cyclingnews.com, voted as 2007's best male mountain biker and female mountain biker.
The victors in each of this year's categories both won with a commanding margin, but we won't spoil it for you here; for results from this year's polls click here.
Thank you to all who voted, and look for the winner of the Zipp carbon fibre goodies: the 570g VumaQuad crankset, the SLC2 handlebars and Zipp's 145 stem, to be announced at the week's end.
Olympic MTB selection one step closer
By Sue George
Mountain bikers will now fight for their nation's Olympic slots
Photo ©: Mark Gunter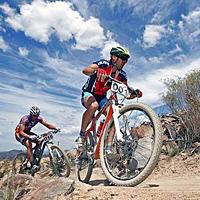 The UCI's national rankings which determine starting spots for each nation at the 2008 Olympic Games in Beijing, China, were released on Thursday. The numbers, which were compiled from mountain bike races between January 1, 2006, and December 31, 2007 placed France and China atop the men's and women's rankings, respectively.
The overall scores were determined by adding each nation's final 2007 ranking to its 2006 ranking. A nation's ranking for any given season was the result of adding together the point totals of its top-three athletes in individual rankings. The teams within the top five of the men's rankings get to send three men to Beijing while the top eight women's teams are allowed to send two women each to Beijing.
Look for three men to represent France (7864 points), Switzerland (7349 points), Spain (5472 points), Belgium (4364 points) and Germany (4353 points). The United States will not be among the teams sending three men. Due to its sixth-placed ranking (4224 points), it will send only two men.
On the women's side, The People's Republic of China came out at the top - it will send two women based on its ranking (7236 points) to the Olympic Games held on home turf. Other teams eligible to send two women will include Germany (6346 points), the United States (6193 points), Canada (6182 points), Norway (4957 points), Poland (4849 points), Russia (4576 points) and Switzerland (4478 points).
Other nations are not out of the running. For the men, nations ranked from sixth to 13th get to send two riders each and nations ranked from 14th to 24th get to send one rider each. For the women, nations ranked between 9th and 18th get to send one rider each.
The nations' rankings are used in the first criterion for selection, but a second criterion, placement at 2007 Continental Championships for Africa, America, Asia, and Oceania (but not Europe), also plays a role. "The UCI will inform the National Olympic Committees at the beginning of January of the number of qualification places they have obtained according to criterion 1 (UCI ranking by nation) or criterion 2 (2007 Continental Championships)."
The UCI's selection document states that per criterion 2, nations finishing in the top two men's rankings or top of the women's rankings for each Continental Championship (if not otherwise qualified per criterion 1) get to send one male or female rider respectively. The UCI will confirm with the federations how many athletes each can send to the Olympics by January 11.
This 2008 qualification system was unlike that for 2004 because it considered points for nations' rankings not just for the year prior to the Games, but two years prior. The change rewards countries for consistency over a longer period of time and it protects traditional mountain bike powerhouses from a lacklustre pre-Olympic year that could be caused by illness or injury suffered by one of its star riders.
UCI Olympic Nations Ranking Men

Qualified to send three men per criterion 1

1 France                          7864 pts
2 Switzerland                     7349
3 Spain                           5472
4 Belgium                         4364
5 Germany                         4353

Qualified to send two men per criterion 1

6 United States Of America        4224
7 Netherlands                     3724
8 Sweden                          3695
9 Canada                          3462
10 Austria                        3261
11 Denmark                        3218
12 Italy                          3175
13 Great Britain                  2997

Qualified to send one man per criterion 1


14 Czech Republic                 2854
15 New Zealand                    2532
16 Australia                      2276
17 Poland                         2249
18 Russian Federation             1855
19 Colombia                       1773
20 Ukraine                        1754
21 Brazil                         1701
22 Chile                          1652
23 South Africa                   1477
24 Ireland                        1455
	
Not qualified per criterion 1

25 People's Republic of China     1245
26 Hungary                        1240
27 Turkey                         1187
28 Japan                          1131
29 Slovakia                        899
30 Slovenia                        872
31 SRB                             785
32 Norway                          749
33 Greece                          730
34 Cyprus                          662
35 Venezuela                       629
36 Croatia                         598
37 Israel                          596
38 Hong Kong, China                578
39 Portugal                        576
40 Estonia                         569
41 Lebanon                         551
42 Finland                         550
43 Argentina                       539
44 Namibia                         526
45 Romania                         440
46 Thailand                        310
47 Kazakhstan                      282
48 Latvia                          278
49 Lithuania                       270
50 Philippines                     251
51 Korea                           246
52 Costa Rica                      209
53 Mexico                          182
54 RWA                             151
55 Zimbabwe                        150
56 Indonesia                       140
57 Malaysia                        115
58 Puerto Rico                      94
59 Chinese Taipei                   93
60 Ecuador                          51
61 Uruguay                          37
62 Islamic Republic of Iran         35
63 Paraguay                         20
64 Netherlands Antilles              6
65 Bolivia                           4
66 Luxembourg                        3
67 Panama                            1
68 Vietnam                           1

UCI Olympic Nations Ranking Women

Qualified to send two women per criterion 1

1 People's Republic of China      7236 pts
2 Germany                         6346
3 United States Of America        6193
4 Canada                          6182
5 Norway                          4957
6 Poland                          4849
7 Russian Federation              4576
8 Switzerland                     4478

Qualified to send one woman per criterion 1

9 France                          3931
10 Czech Republic                 3643
11 Spain                          3574
12 Slovenia                       3412
13 Netherlands                    3311
14 Austria                        3190
15 New Zealand                    2928
16 Italy                          2701
17 Sweden                         1988
18 Brazil                         1944

Not qualified per criterion 1

19 Chile                          1765
20 Slovakia                       1621
21 Turkey                         1570
22 Great Britain                  1465
23 South Africa                   1447
24 Australia                      1321
25 Ukraine                        1287
26 Ireland                        1182
27 Japan                          1160
28 Israel                          990
29 Belgium                         975
30 Hungary                         777
31 Cyprus                          766
32 Portugal                        741
33 Finland                         739
34 Colombia                        731
35 Mexico                          703
36 Argentina                       675
37 Croatia                         663
38 Venezuela                       653
39 Lebanon                         610
40 Estonia                         572
41 Namibia                         417
42 Latvia                          397
43 Greece                          357
44 Denmark                         351
45 Vietnam                         281
46 Lithuania                       270
47 Ecuador                         256
48 SRB                             200
49 Korea                           160
50 Malaysia                        159
51 Puerto Rico                     154
52 Costa Rica                       60
53 Thailand                          2 
Man's alleged retaliation threatens riders
A man in California elevated trail user conflict to a new level after he said he "had nearly been run over by a mountain bike rider" according to the Associated Press.
52 year-old Warren John Wilson allegedly retaliated by digging almost 50 holes with dimensions of about one by two feet (0.3 by 0.6 meters) in Laguna Lake Park. With some of the holes hidden on the trail, a few cyclists reported going over the bars, but no major injuries resulted. Wilson was charged with a single felony count of vandalism according to the police.
Smaller Team Squamish ready for intense season
"I couldn't be more excited about the team this year," said Coach Paul Kindree about his Canadian Team Squamish for 2008. "We have a slightly smaller roster than 2007 allowing us some extra freedom. We can offer more personal attention to the athletes and it has allowed the inclusion of some very keen, but less experienced younger members." Eight new riders have joined the team.
"It is pretty impressive to note that most of the team has competed at a provincial level, probably two thirds at a national level, and a quarter at international level," said Kindree. "Squamish should be very proud to have so many elite young athletes. We hope to up that ante again this season."
Thanks to the Olympics in August, much of the elite-level 2008 competition will be compressed into the earlier portion of the season. The World Championships are scheduled for mid-June instead of the customary August or September, and races like the Canada Cup are also early on the calendar while the Canadian National Championships are slated for July in Quebec.
The team will spend some time taking a few trips to the Burnaby Velodrome, interspersed with spin, core strengthening and gym work to be followed up with road and trail riding. The squad will also continue its cooperation with Mad March downhill technique camps, which have proved popular with the cross country riders.
Team Squamish for 2008: Philip Cairns, Aidan Davis*, Hayden Drygas, Kristin Drygas*, Ryan Edwards, Summer Griffin*, Eden Imbeau, Maia Kilby*, Neal Kindree, Mo Lawrence*, Robert Leigh*, Alison MacKellar, Miranda Miller, Toby Patterson-Nolan*, and Lauren Rosser*.
* indicates riders new to the team.
Bikercross draws winter downhillers
14 year-old Neko Mulally won the eighth annual Bikercross at the Blue Mountain Ski Area in eastern Pennsylvania last weekend. He beat the other finalists including Lars Tribus, Scott Cooper, and Marvin Scanland after a series of elimination heats of three and four riders each on the snowy ski slopes. Racers were encouraged by cheering skiers and snowboarders along the course.
Not everyone had such a good weekend. 20 year-old Gregory White had to be evacuated by toboggan and helicopter after he took a flyer over the front of his bike and landed head-first in the snow. Although unconscious and bleeding from the mouth, White was reported later in the day to be in stable condition according to The Morning Call.
''In my years of doing this race, I've seen a lot worse,'' said Bikercross director Jason Boris to The Morning Call. Boris commented the race averages about one helicopter evacuation per year.
Previous News Next News
(All rights reserved/Copyright Future Publishing Limited 2008)