MTB news & racing round-up for September 26, 2007
Welcome to our regular roundup of what's happening in mountain biking. Feel free to send feedback, news, & releases to mtb@cyclingnews.com and results, reports & photos to cyclingnews@cyclingnews.com.
Edited by Sue George
Top riders rate Beijing Olympic venue
By Greg Johnson
Chris Jongewaard
Photo ©: Mark Gunter

The world's top cross country mountain bikers have rated China's Olympic course highly after getting a first look at the 2008 Games venue at the weekend's Olympic Mountain Bike Test Event. Riders converged on the venue in Laoshan/Pékin, China last weekend with enough data logging equipment to rival a Formula One team, as they tried to gather as much information as possible to help their respective Olympic hopes for next year's XXIX Olympiad.
The general consensus amongst those in attendance was that the track is high-speed, and incredibly demanding despite being a technically straightforward course.
"I think the course is good, I like the look of it and liked the profile," explained reigning Australian champion Chris Jongewaard. "There are short, punchy climbs with not much rest in between, which makes the track very demanding in that way. Some of the areas through the trees will be about staying smooth and holding speed to get maximum speed and efficiency."
The 4.5 kilometre course that riders will vie for Olympic Gold on in August 2008 averages 3-3.5 metres in width, with some sections as wide as eight metres while the narrow areas shrink to just over two metres. "[It's] not particularly difficult, it is however very demanding," said German Sabine Spitz, who finished second in the weekend's race. "Personally, it pleases me as it's clearly better than the Olympic course of Athens. The track is coin shaped [with] many short, very steep climbing passages, where one needs much strength. Recovery phases? Zero."
Sabine Spitz (Germany) waits for the start
Photo ©: Didier Weemaels

Spitz, who finished second to Russia's Irina Kalentiev at the World Championships in Scotland earlier this month, was one rider collecting data at the track in preparation for next year's Beijing Olympic Games. "In order to take as much information from the round as possible home, my bike and I were equipped with the most diverse logging systems such as SRM cranks and helmet camera," said the 36 year-old. "We were not, however, the only one - Frenchmen, Swiss, Spaniard, New Zealander etc. likewise rode collecting data."
Both the men's and women's winners of the Olympic Test event, Christoph Sauser and Liu Ying, were satisfied with the time they spent on the track.
"After this test event, I think I had known this Olympic course well enough. It was a really good course," Sauser, the current Marathon World Champion, told Xinhua. "I hope this could be the Olympic Games, then I could be the winner of the Olympics," joked Sauser, who did not hide his ambition for the Beijing Olympic gold.
"The course was really hard," added China's Ying, who won the final World Cup round last weekend. "You have to slow down at every turn. I was familiar with this course, so I took some advantage over some foreign riders."
Jongewaard added that the track with be suit aggressive riders with a high level of endurance. "Some of the corners were getting loose but not really getting ripped up that much," Jongewaard assessed of the venue. "The surface is sandy dirt, if that makes sense. It reminds me of some of the BMX tracks I have race in the past. If you have the right tyres that you feel confident, you can really rip into this course. The track doesn't really have parts that are tough technically hard to ride, but to ride it is going to be very demanding, a bit like the Dutch racing - fast and furious!"
Mont Sainte-Anne awarded 2010 Worlds
Chantal Lachance, Vice President of Gestev (Organizing committee) and Pat McQuaid, UCI President
Photo ©: Canadian Cyclist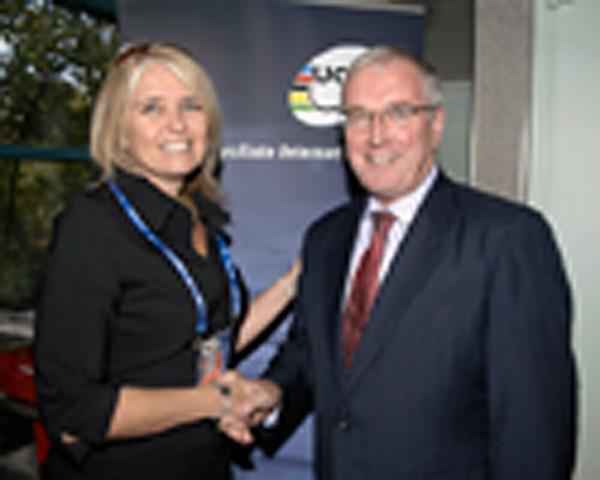 The UCI announced Tuesday at the Road World Championships in Stuttgart, Germany, that Mont Sainte-Anne had won the 2010 Mountain Bike and Trial World Championships to be held August 30 through September 6.
In addition to extensive experience as a host of World Cup events, organizers of the races at the popular Canadian venue pointed to financial support of CAN$1,075,000 from Québec's Minister of Education, Leisure and Sport as a key to winning the bid. The venue's most recent major event was a round of the cross country and downhill UCI World Cup in June.
"Our team's expertise played in our favor, but without the support of the Minister of Education, Leisure and Sport, we could never have hosted the World Championships. The guarantee proved beyond a shadow of a doubt that our bid was serious, and now we will be able to organize an event that will not only leave its mark on our guests but also local people," said organizers. In 2006, the organization had to surrender its bid to host the 2008 World Championships to Val del Sole in Italy because similar criteria had not been met.
Brazil and Norway were the other candidates for the 2010 event. Mont-Sainte-Anne last held the World Championships in 1998, and is the only mountain bike venue to have held a UCI event every year since1991.
In the days to come, organizers will ask the UCI for permission to add other amateur events to the program before the Championships themselves get under way. Over 700 athletes from 50 countries are expected for the World Championship along with 275 journalists and 75,000 spectators. The region would benefit from an $18 million economic boost from those attending. By contrast, a World Cup attracts 400 athletes, 150 journalists, 50,000 visitors, and generates spinoffs of $4 million.
Lehikoinen seriously injured after signing new contract
Matti Lehikoinen (Team G-Cross Honda)
Photo ©: Rob Jones

Just three days after signing a multi-year contract with his new team MS Intense Factory Racing, 23 year-old Matti Lehikoinen had a serious accident when filming with a friend in Helsinki. The Finnish rider fractured his number four vertebrae once and his number five vertebrae twice.
"He told me that he went to go off a very small drop off, about a meter high, on his home trails when something caught his rear wheel just as his front wheel left the drop off. The bike pitched suddenly forward and threw him over the handlebars onto his back," said Martin Whiteley of 23 Degrees Sports. "He knew immediately that he had suffered a severe injury, and remained still as his mate called for the ambulance."
"I landed directly onto my head, but slightly to the right," said Lehikoinen. "The helmet is marked on the top at the right. Also I have a big skin abrasion on my right collarbone where the jawline of the helmet cut me, that's how far over my head was. The doctors feel that on impact my spine twisted one way, and then the next, like a zig zag, and they say it's a miracle it's not a lot worse. The three vertebrae have what they call a compressed fracture. They are in the area of the spine that is level with the chest.
"I'm still in pain but can breathe fairly comfortably, but I want to thank everyone who has contacted me with nice messages, it makes you realise how lucky you are to have so many friends and people that care, and that makes me want to get better as soon as possible."
His doctors gave good news early this week. Lehikoinen will not need an operation to stabilize his fractured vertebrae. An operation would have meant going in through the front of the chest cavity. Doctors also confirmed there are no floating bones pieces, so he will be transferred in the coming days to a recovery and rehabilitation center where he is expected to make a full recovery after several months.
Lehikoinen, who currently rides for Team G Cross Honda, recently finished seventh in the Maribor, Slovenia final World Cup downhill event and ended up second overall in the World Cup.
IMBA launches Ride Center Program at Interbike
On Thursday at an industry breakfast at the Interbike trade show in Las Vegas, Nevada, IMBA will unveil a new initiative to build a network of mountain bike facilities called IMBA Ride Centers, which will include trail networks for mountain bikers of every skill level built by professional trailbuilders. The centers are expected to serve as social and educational hubs and provide experiences ranging from long singletrack rides to family-friendly loops, to free-riding options.
"IMBA is uniquely positioned to build these centers," said board president Hill Abell. "As a non-profit, we can facilitate partnerships between private industry and public land agencies, allowing us to build model trail networks on an unprecedented scale, and of unprecedented quality."
Attending the breakfast will be bicycle industry leaders, members of IMBA's board and staff, and key partners in the planning and development of the facilities. Bob Holmes, of Winter Park resort, and Cimarron Chacon, a trail-planning expert, will speak about the benefits IMBA Ride Centers offer to communities, and the specific roles that public and private partners will play in developing the centers.
Mike Van Abel, IMBA's executive director, believes the bike industry is ready to rally behind the Ride Center concept. "Leveraging industry support to gain public sector commitment and resources is a key component of IMBA Ride Center strategy," says Van Abel.
Locations will be set via partnerships with federal, state, and private agencies, but five ride center projects are already under development in Cuyuna Lakes, Minnesota; Fraser Valley, Colorado; Payette Valley, Idaho; Santos Trails, Florida; and the Uwharrie Mountains, North Carolina.
Companies that want to learn more about getting involved may contact development director Rich.Cook@imba.com.
World speed record broken
Markus Stoeckl
Photo ©: Alfredo Escobar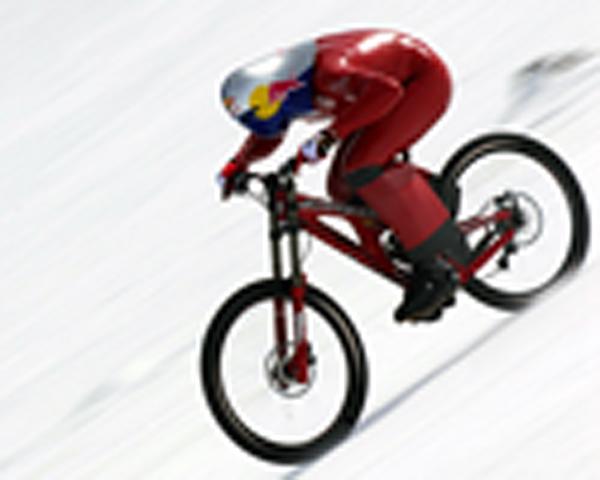 33 year-old Markus Stoeckl set a new world series speed record of 210.4 km/h (130.7 mph) at the La Parva run in Chile's Alps on September 14 at 11:18 am. The old record was 23 km/h (14 mph) slower and recorded eight years ago.

Stoeckl, who is nicknamed "Hercules" for his 100 kg (220 pound), 1.9 m (6 foot, 4 inch) frame races regular downhill races and runs the World Cup team MS Intense Racing. He set his record on a newly renovated 2,000m run with a 45 degree slope despite challenging conditions. South America's spring weather had melted much of the snow on the track until it was just a narrow strip between bare mountain cliffs. He flew to Chile on short notice after hearing of recent renovations to the track.

Unfortunately, Stoeckl's special aerodynamic helmet's visor fogged up easily, so he had to hold his breath for the 40 second run to prevent fogging. "I knew that this would be my only chance," he said of his record run, which went off without a hitch other than forgetting his racing shoes and having to do his record attempt in his street shoes.

"At the end of the run, I had the feeling that I was somehow watching the run myself," said Stoeckl, who said he will try to break other records. Fernando Habash, who is in charge of the La Parva ski resort, has promised he will have a course suitable for records set up.

Baronè and Christian Taillefer were two Frenchmen who competed to set various world speed records in the French Alps in the 1990s. They raced in rubber suits and wore aerodynamic helmets with spoilers attached to their bodies while riding machines barely recognizable as bikes.
Nat Ross diary: Not the best 24 hours
Ross on the men's podium
Photo ©: Nat Ross

Another season's end is nearing and I am still without a World Championship title. My last race did not go as planned, and it is unsettled as I reflect upon solo race number thirty-five. However, I should mention that I still climbed on to the podium in third place. For most races, a top three is my goal, but every now and then I feel like a course suits my racing style so I put my eggs into the winning basket. That was the case for the 24 Hour Solo World Championships this year.
There were several plusses to the race as well as plenty of minuses, however, it was the plusses that had me all excited to show up and take some names. There were some big plusses. The race was in the fall, and I am always stronger as the season progresses. It was at sea level and coming from high altitude things couldn't be better. The course had over 2,000 feet of climbing per lap, and Chris Eatough (winner from 2000-2006) was not on the start list. Also exciting my lighting sponsor Light and Motion released an ultra light new model called the Rusch (named after Rebecca Rusch—2007 World Solo Champ!).
There were also minuses. Who would have thought that the temperature would be 100 plus degrees? The race promoter did not list the race rules on the website, and made some modifications come race day that included; no support on the course (only in pit row) and no iPods. Are they kidding? Not that the lack of music had anything to do with it, but my race did not go as planned.
To read the complete diary entry, click here.
Keith Bontrager diary: The Adrenalin 24 Hour World Championships
First I have to say that this wasn't an event I had planned on competing in earlier this year. I had contemplated it because it was just down the road, but it would be a week after a long stage race in Germany. That could be very good (I had one of my best 24 hour races the week after the TransAlp one year) or it could be a disaster (no elaboration required, right?).
My entry was all Matt Carr's fault. He's a friend from Bristol, England. I met him one evening a few years ago at MudDock, a cool shop in town with a restaurant upstairs. I was there to give a talk and ended up enjoying some very good food and wine. I recommend it if you are in town.
Then I met him again a year later at the first Twentyfour12 event. He races solo on a single speed, which is only slightly on the unusual side these days. But he does it with a certain style, constantly dishing out artful (somewhat) comedy and heckling other riders throughout the event. In spite of the extra energy he spends that way he is typically at or close to the front of the race. He finished third overall in the solo category at the Twentyfour12 this year on a 69er, the new Trek single speed, which, given the quality of the field and the amount of climbing, was a damn good result.
He contacted me to organize his pit at the worlds, which was fair since it was just down the road (the event was taking place at Laguna Seca). I'd never done that before, though it was not going to be too difficult to do. I made some calls and dug around in the pile o' stuff I have for 24 hour racing. Megan and Anna were in, so was my friend Ray's son (also called Ray), along with ace wrench Tom Sullivan from Amsterdam Bicycles. Everything was set. He was also, possibly without knowing it, giving me the chance to cook for him and the others who would be involved. Tomatoes are in season, as are wild berries, and I have some fennel pollen I just collected to try. That's the sort of thing I am always up for.
After thinking about it a little, the idea of sitting around the pit at a 24 hour bike race didn't have much appeal. If I could organize everything well enough, I could ride too. I had been riding long races all year and was going reasonably well, all things considered. They had age groups and my results would be good enough to get me in. So I signed up to ride.
To read the complete diary entry, click here.
South Island Secondary Schools to hold championships
More than 220 riders from the NZCT South Island Secondary Schools will race their mountain bike championships September 27 and 28 in Alexandra, New Zealand.
The cross country kicks off the championship with its combination of singletrack, gravel road and mainly rocky terrain. A hill climb, featuring a gain of over 220m over 2.5km follows, winding up among briar, craggy outcrops, and thyme fields on Old Coach Road. The 1.7km down hill race will drop 200m over Central Otago's famed rocky terrain.
Names to watch out for this year include Dunstan High School's Alex McGregor and Burnside High School's David Scandrett, both of whom are also recently back from the World Championships held earlier this month in Fort William, Scotland. Other riders of interest will be Rachel Richards (Roncalli College), Georgia Wight (Dunstan High School), Rupert Chapman (Christs College) and Jed Rooney (Waitaki Boys High School). These riders are all title holders from the 2006 Championships.
Past winners include riders like Holly Kernohan-Smith and James Williamson, who also just returned from the worlds in Scotland.
(All rights reserved/Copyright Future Publishing (Overseas) Limited 2007)