MTB index page for all MTB content
24 Hours of Adrenalin World Solo Championships - CM
Monterey, California, September 1-2, 2007
Rusch and Juarez win in brutal conditions
By Sue George, with assistance from Stuart Dorland
American Rebecca Rusch
Photo ©: 24 Hours of Adrenalin / Roman Roth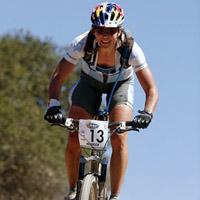 Tinker Juarez and Rebecca Rusch won the 24 Hours of Adrenaline World Solo Championship in Monterey, California, this weekend. Juarez rode with Kelly Magelky for 21 hours and then attacked him for the win. Nat Ross, Ernesto Marenchin, and Mark Hendershot took third through fifth spots. Last year's second place Rusch, on the other hand, won by a larger margin of two laps in the women's race. Lynda Wallenfels and Sally Marchand Collins finished second and third.
Twice a bridesmaid, Tinker Juarez scorched the field to take home his first title. Kelly Magelky (BMC / Sports Garage) of Colorado led the entire race until lap 18 when Tinker blazed a 1:02 lap.
Temperatures at the start hovered around 100 degrees, well above seasonal temperatures for the Monterey Bay area. While many riders found the 13.74-mile course and 2,500 feet of climbing per lap challenging (especially in the exposed heat) both Magelky and Juarez appeared to be less affected. They rode away from the field after lap one. Overall third place finisher Nat Ross (Gary Fisher) lost 14 minutes within the first three laps alone.
Santa Cruz Syndicate's Hendershot commented on the challenging conditions. "It was a brutal race, over 100 degrees. Four of the top ten guys were pulled off the course by medics."
A record number of Australians traveled across the pond, with John Waddell (Santa Cruz bikes) taking a sixth place. Both John Claxton (Giant - 18th) and Australian 24 Hour Champion Andrew Bell (Kona - 19th) found the temperatures in the oven too hot. Top British rider Ian Leitch (Independent Fabrication) improved on his 16th place finish in 2006 with an impressive eighth place finish. Top Canadian Leighton Poidevin (Bike Café) rounded out the top ten.
On the women's side, Specialized rider Rebecca Rush moved up one place from 2006 and finished well ahead of second place Lynda Wallenfels of Colorado. Rush is an accomplish world class adventure racer who placed second to Pau Sawicki at this year's USA Cycling 24 Hour Mountain Bike Nationals, and she was determined to finish atop the standings this year.
Tinker Juarez
Photo ©: 24 Hours of Adrenalin / Roman Roth

Sawiciki (Ergon) lost 25 minutes during lap two and three. According to her husband, the disappointed rider was pulled after only five laps; her doctors had diagnosed her with a viral infection. Although she was initially in the lead, she soon found her vision blurring (which caused a crash) and she broke out in a cold sweat despite the 100 degree temperatures.
Other top hopefuls also succumbed to the heat, including Australian National 24 Hour Champion Kim McCormack and Louise Kobin (Sho-Air).
With US$20,000 in Prize money both Juarez and Rusch took home checks for US$3,750 each. Juarez rode 261 miles (421 km) and 47,500 feet of climbing while Rusch rode 220 miles (354 km) with 40,000 feet of climbing.
Both defending champions, Craig Gordon and Sue Haywood, and last year's runner-up Chris Eatough were absent from the event. The latter two chose to compete at the Shenandoah Mountain 100, the National Ultra Endurance Series final, in Virginia.
Joel Donney (under 25 rider), Jeff Toohey (30 - 34 age group rider), Mark Jeffery (40-44 age group) and defending 45 - 49 age group rider winner; Craig Peacock took home age group titles.
In the singlespeed category, Matt Chaney (17 laps) and Pete Basinger (17 laps) battled the deepest field in years. Chaney was crowned the ss category winner and took home a custom frame from category sponsor Spot Bikes of Colorado.
2007 marked the first ever Three-Person Open Team Title for the event. Kenda X-Fusion Titus riders Brent Miller (Australia), Zephanie Blasi (Sparks, NV USA) and James Meadley (Bolder, CO USA) took home the top spot and a check for US$3,000. Intense Cycles - Don's Bikes finished second with 21 laps and third place went to Saris Cycling Group with 18 laps.
In a bizarre finish to the event, a brush fire burned up the Sea Otter downhill course just as the race was ending.
Photography
For a thumbnail gallery of these images, click here
Images by Roman Roth / 24 Hours of Adrenaline /www.24hoursofadrenalin.com
Results

Elite - Female

1 Rebecca Rusch (USA)                  16 laps
2 Lynda Wallenfels (USA)               14
3 Sally Marchand Collins (USA)         12
4 Monilee Atkinson (USA)               12
5 Chelsea McGowan (USA)                10
6 Bernice Pierson (USA)                 9
7 Christi Hall (USA)                    8
8 Charlene Boudreau (USA)               8
9 Pua Sawicki (USA)                     6
10 Kim McCormack (Aus)                  6
11 Terri Wahlberg (USA)                 6
12 Louise Kobin (USA)                   5
DNS Kate Aardal (Nor)                    
 
Elite - Male

1 Tinker Juarez (USA)                  19 laps
2 Kelly Magelky (USA)                  19
3 Nat Ross (USA)                       18
4 Ernesto Marenchin (USA)              18
5 Mark Hendershot (USA)                18
6 John Waddell (Aus)                   17
7 Steve Schwarz (USA)                  17
8 Ian Leitch (GBr)                     17
9 Chad Swanson (USA)                   16
10 Leighton Poidevin (Can)             16
11 Andrew Parry (Can)                  16
12 Tristan Smit (Can)                  16
13 Greg Martin (USA)                   15
14 Josh Oppenheimer (USA)              15
15 Jonathan Kindig - USA               14
16 Brian Sevall (USA)                  13
17 Karl Etzel (USA)                    13
18 John Claxton (Aus)                  13
19 Andrew Bell (Aus)                   13
20 Mario Correa (USA)                  10
21 Anthony Ippolito (USA)              10
22 Ashley Hayat (Aus)                  10
23 David Ambrose (USA)                  9
24 Brandon Draugelis (USA)              8
25 Sean McDevitt (USA)                  8
26 Sean Sullivan (USA)                  8
27 Yuri Hauswald (USA)                  7
28 Jordie McTavish (Can)                5
29 Sloane Anderson (USA)                4
30 Craig Savage (USA)                   4
31 Michael Castaldo (USA)               4
32 Richard Nielsen (USA)                3
33 Jono Senk (USA)                      3
DNS Glen Lombard (Can)                   
DNS Matt Klymson (Can)                   
DNS David Harris (USA)                   
DNS Chris Eatough (USA)                  
DNS Paul Watson (USA)                    
 
Single Speed - Male

1 Matt Chaney (USA)                    17 laps
2 Pete Basinger (USA)                  17
3 Brendan Den (Aus)                    16
4 Bradley Cole (USA)                   15
5 Gavin Gonzalez-Hayes (USA)           13
6 Francis Bach (USA)                   12
7 Dezmin Wilder (USA)                   9
8 Constantine Peters (USA)              8
9 Brian Woods (USA)                     4
DNS Matt Carr (GBr)

Team - 3 person

1 Kenda-X-Fusion-Titus (USA)           22 laps
2 Intense Cycles - Dons Bikes (USA)    21
3 Saris Cycling Group (USA)            18
4 huffcondotcom (USA)                  15
5 Riders on the storm (USA)            14
6 Poseur Racing (USA)                  10                      
 
30 to 34 - Female

1 Timari Pruis (USA)                    7 laps
DNS Kymberli Fant (USA)                  
 
35 to 39 - Female

1 Melanie Dominguez (USA)              10 laps
 
40 to 44 - Female

1 Heather Moothart (USA)               10 laps
2 Leeann Lyon (Can)                     5
DNS Angela Rose-Lane (USA)               
 
50 to 54 - Female

1 Patricia Jo Struve (USA)             10 laps
 
55+ Female

1 Wendy Skean (USA)                     9 laps
 
< 25 Male

1 Joel Donney (Aus)                    15 laps
2 Matt Nourmohamadian (USA)            12
3 John Hunter (USA)                    10
4 David Diamond (USA)                   9
 
25 to 29 - Male

1 Sean Verret (Can)                    11 laps
2 Chris Baker (USA)                     8
 
30 to 34 - Male

1 Jeff Toohey (Aus)                    18 laps
2 Josh Smith (USA)                     14
3 Tim Ferres (Aus)                     11
 
35 to 39 Male

1 Craig Bartlett (Can)                 16 laps
2 Jeff Wardell (USA)                   15
3 Carl Maroney (Aus)                   13
4 Nick Dellamaggiore (USA)             12
5 Kevin Goodman (USA)                  12
6 Ed Aleman (USA)                      10
7 David Engelbrecht (USA)               9
8 Nick Thelen (USA)                     9
9 Don Hart (USA)                        8
10 Raymond Blanchard (USA)              8
11 Steve Swenson (Can)                  4
DNS Bill Mayer (USA)                     
 
40 to 44 - Male

1 Mark Jeffery (USA)                   16 laps
2 Paris Loader (USA)                   15
3 William McFadden (USA)               14
4 Jon Gould (USA)                      13
5 Shaun Taylor (Can)                   13
6 Damon Mann (USA)                      9
7 Sean Dugan (USA)                      8
8 Rex Chiu (USA)                        8
DNS S. John Millon (USA)                 
DNS Brad Petersen (USA)                  
DNS Jeffrey Austin (USA)                 
 
45 to 49 - Male

1 Craig Peacock (Aus)                  16 laps
2 Chuck Wheeler (USA)                  15
3 Dennis Smaggus (Can)                 12
4 Charles Mortensen (USA)              12
 
50 to 54 - Male

1 Marshall Reeves (USA)                13 laps
2 Rick Feese (USA)                     12
3 Randy Profeta (USA)                   9
4 Jim Wannamaker (USA)                  7
5 Keith Bontager (USA)                  3
 
55+ Male

1 Richard Latorraca (USA)              13 laps
2 Jeff Linder (USA)                    12
3 Dale Greenhalgh (USA)                12
4 Bob Waggoner (USA)                    9