MTB index page for all MTB content
24 Hours of Adrenalin World Solo Championships- NE
Conyers, GA, USA, Oct 7-8, 2006
2005 results Results Live report
Eatough looses bid for seventh consecutive 24 hour world title
By Sue George & Steve Medcroft
Craig Gordon
Photo ©: Tracy Posner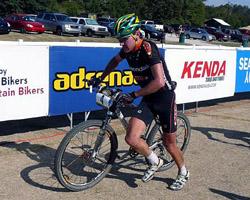 Australian 24 hour solo and marathon champion Craig Gordon (Bear Naked/Cannondale) won the 2006 24 Hours of Adrenalin World Solo Championships on Sunday, beating six-time consecutive champion Chris Eatough (Trek/VW) in an upset. After a fast start that saw Eatough and Gordon escape from every other rider in the race, Gordon managed to build his lead, in five minute-per-lap increments through the night to end up over a lap ahead of the 24-Hours specialist. The two men had raced years ago at cross country World Cups, but this was the first time they battled in a 24 hour race. The determined Gordon pushed himself so hard that he ended up afterward in the hospital on dialysis for two days.
On the women's side, Sue Haywood (Trek/VW) showed her athletic versatility by adding a world title to her collection of national titles. She rode steadily, consistently increasing her lead each lap over her main challenger, Rebecca Rusch ( Specialized), an adventure racer undertaking her third ever 24 hour solo race.
Gordon defeats Eatough
Craig Gordon, winner of this year's Mont 24 Hour in Australia and the Australian Marathon National Championships, said, "I normally do 24 hour races on a two-man team, but my teammate had tonsillitis, and I was asked if I wanted to race solo. Part of my prize for winning the Mont 24 was $3000 to represent Australia in the Worlds."
In contrast, master logistician Chris Eatough had prepared meticulously for his attempt to take his seventh consecutive world title. Kelly Magelky (Sports Garage) joined Eatough and Gordon on the first lap following the Le Mans-style running start, but he dropped on the second lap, leaving Eatough and Gordon to battle it out.
The race played out differently than the 34-year-old Gordon had planned. "My tactic was to try and ride my own race, keep Chris close, within ten, maybe fifteen minutes, then come home strongly in the morning - like a cross-country race strong, but I was with him from the start and so I just stayed with him."
Until nightfall and for a few laps thereafter, Eatough and Gordon stayed within a few minutes of each other, sometimes trading leads when one of them stopped briefly in the pits. Eatough is famous for his fast passes through the pit, but Gordon wasted no time either.
Chris Eatough
Photo ©: Bill McCarrick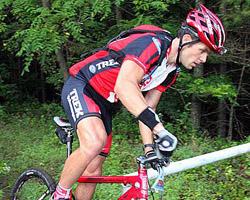 Laps on the eight-mile technical course took about an hour. Eatough described the course: "It was rough, with a lot of granite rock sections with rippled, dimpled, rock. It was hard rock, not like the soft rock at Moab." Frequent steep climbs and descents added to the challenge.
Eatough began to fatigue. He said, "In the middle of the night, I was starting to feel tired but I was keeping steady - knowing you have to finish the race, and we had twelve hours to go."
Then Gordon, who works day shift as a mechanical technician at a Sony Music factory, put in a concerted effort to get away. Gordon said, "Closer to night, I felt like a million dollars and tried to turn it up. I had a minute and a half up on Chris at one stage, and a friend from Australia said go for it, so I pressed. Every lap, I was making up more time and more time." Eventually Gordon caught and lapped Chris. "I put 49 minutes on him between 1 AM and 5 AM." Gordon thinks the key to his success was his approach, "I think I put Chris off his race - which is usually to go out hard and finish slow. I took the race to him." But success came at a cost. Gordon said, "I've never had pain like that, ever." He missed the awards ceremony when he headed straight to the hospital, where he underwent dialysis for two days to remove toxins produced by his body during the nearly superhuman effort.
Eatough was not disappointed in his performance. "I didn't win but I don't have any excuses. I think I had what might be the best performance I've ever had at one of these races. Craig had a great day, he was obviously committed and he worked very hard for this race. He was willing to go to extreme lengths to win."
When asked if he'd do other races now that his win streak has ended, Eatough said, "I don't know. I probably need a little more time to consider it, but my first impression is that I'm a 24 hour racer and that's what I do best, so I'll probably continue to do it. I'm already thinking about the next 24 hour race and trying to win the championship back."
Haywood earns a new kind of title
Haywood leading the race
Photo ©: Tracy Posner

Current national short track and super D champion Sue Haywood showed her endurance prowess, surprising many, on her way to victory. The win was an early birthday present for Haywood, who turned 35 the day following the race.
Haywood raced the first lap in the company of Monique Sawicki, who eventually faded to fifth place. But it was Rebecca Rusch, a pro adventure racer, who chased Sue through subsequent laps.
Haywood took a measured approach. "Rebecca and Monique seemed really strong and my plan was to ride with them for awhile, see how it would go, see their styles and where they were good on the course, going off their pace. I never wanted to go over the limit. Little by little, I increased the gap. I kept it steady and ate and drank a lot. I made short pit stops, hardly stopped at all."
Both Rusch and Haywood were racing only their third 24 hour solo event. Rusch said, "I knew I could ride a bike for 24 hours, but not how fast. I figured the other women would have more speed, and I'd have more endurance. I expected to be behind for 10 hours and have to catch back up. I was happy they weren't 10 minutes in front of me on the first lap."
But Haywood, who changed clothes four times throughout the race, maintained her lead, stretching it little by little to a lap by the end. Neither racer suffered any mechanicals or light problems, but Haywood struggled at the end. "I had an emotional breakdown with one lap to go. I was overcome with exhaustion and emotion. But my pit crew was awesome and kept me going."
Haywood, of Davis, West Virginia, last raced this discipline in 2000. She expects another five years before she tries it again. On the other hand, the 38-year-old Rusch was thrilled with her second place and may be back next year. "I don't feel bad about loosing to Sue Haywood. She's a really good rider." The Ketchum, Idaho resident will wrap up her cycling season with the La Ruta del Sol at the end of October while Haywood calls it quits for the end of the season..
Photography
For a thumbnail gallery of these images, click here
Images by Tracy Posner/www.ride424.com
Images by Trish Albert/www.southeasterncycling.com
Final Results
Elite Men
 
1 Craig Gordon (Aus)              30 laps
2 Chris Eatough (USA)             29
3 Brandon Draugelis (USA)         29
4 Mark Hendershot (USA)           28
5 Ernesto Marenchin (USA)         27
6 Kelly Magelky (USA)             26
7 Steve Schwarz (USA)             26
8 Andrew Parry (USA)              26
9 Yuri Hauswald (USA)             25
10 Scott Cole (USA)               25
11 Nicholas Kindt (USA)           24
12 Matthew Hart (USA)             24
13 Paul Watson (USA)              24
14 Jonathan Kindig (USA)          23
15 Javaun Moradi (USA)            23
16 Ian Leitch (USA)               22
17 Chris Gagnon (USA)             22
18 Matt Miller (USA)              22
19 Gavin Rossouw (RSA)            22
20 Karl Etzel (USA)               22
21 Greg Martin (USA)              21
22 Jake Kirkpatrick (USA)         20
23 Rob Lichtenwalner (USA)        18
24 David Stiles (USA)             17
25 Richard Nielsen (USA)          16
26 Marcin Nowak (USA)             14
27 Jerry Johanson (USA)           13
28 Stephen Perkins (USA)           8
29 Kip Biese (USA)                  
30 Craig Savage (USA)               
 
Elite Women
 
1 Sue Haywood (USA)               26 laps
2 Rebecca Rusch (USA)             25
3 Louise Kobin (USA)              25
4 Katrin Van der Spiegel (Aus)    24
5 Monique Sawicki (USA)           22
6 Joany Verschuuren (USA)           
7 Jennifer Wills (USA)              
 
Elite Singlespeed
 
1 Rich Dillen (USA)               22 laps
2 Sean Sullivan (USA)             18
3 Cameron Chambers (USA)          16
4 Jason Achilich (USA)            15
5 Damon Mann (USA)                12
 
Men 55-plus
 
1 John Mazzola (USA)              16 laps
2 John Lilly (USA)                12
3 Bob Waggoner (USA)                
 
Men 50-54
 
1 Marshall Reeves (USA)           22 laps
2 Ken Vandermeer (USA)            21
3 Trevor Kloeden (AUS)            19
4 Douglas Smith (USA)             19
5 Randy Profeta (USA)             18
6 Dale Greenhalgh (USA)           18
 
Men 45-49
 
1 Craig Peacock (AUS)             24 laps
2 Brian Culbert (Can)             19
3 Chris Baker (USA)               13
4 William Feier (USA)             12
5 Jim Perkins (USA)                8
 
Men 40-44
 
1 Alec Petro (USA)                23 laps
2 William McFadden (USA)          22
3 Andrew Gilchrist (USA)          22
4 S. John Millon (USA)            21
5 Pat Connelly III (USA)          18
6 Jono Senk (USA)                 17
7 Peter Rajcani (USA)             16
8 Fred Spring (USA)               12
9 Luther Papenfus (USA)           10
10 Paul Van Der Heide (USA)        6
 
Men 35-19
 
1 Damian Richmond (AUS)           24 laps
2 Craig Bartlett (Can)            22
3 Steve Swenson (USA)             19
4 Kevin Goodman (USA)             14
5 Michael Ray (USA)               14
6 Don Hart (USA)                    
7 Chris Harry (USA)                 
 
Men 30-34
 
1 Brian Sevall (USA)              24 laps
2 Toby Porter (USA)               21
3 Andrew Wegener (Aus)            19
4 Josh Smith (USA)                13
5 Mario Amann (USA)               11
6 Michael Harris (USA)            10
 
Men 25-29
 
1 Charles Clarkson (USA)          16 laps
 
Men U25
 
1 Luke Rozanski (USA)             21 laps
2 Dave Holmes (USA)               18
3 Constantine Peters (USA)        15
4 Chris Janiszewski (USA)         14
5 David Diamond (USA)             14
 
Women 40-45
 
1 Vivian Chwalinksi (USA)         11 laps
 
Women 35-39
 
1 Carey Lowery (USA)              20 laps
2 Sandra Tomlinson (USA)          17
3 Laureen Coffelt (USA)           16