MTB news & racing round-up for May 16, 2007
Welcome to our regular roundup of what's happening in mountain biking. Feel free to send feedback, news, & releases to mtb@cyclingnews.com and results, reports & photos to cyclingnews@cyclingnews.com.
Edited by Sue George
Rain and technical course challenge World Cup downhillers at opener
By Greg Johnson
British rider Marc Beaumont (Team Mbuk Santa Cruz)
Photo ©: Maria Muina

Tricky conditions played a role in the downhill World Cup this weekend. The opening round was held at the seaside town of Vigo, Spain.
Perhaps the racer who benefitted most was British rider Marc Beaumont who took victory in the men's event. After posting the 77th quickest time during Saturday's semi-finals, the Team Mbuk Santa Cruz rider lucked out with the conditions during his run, which were comparatively drier than during his better credentialed rival's runs. He won in rain-plagued conditions.
"It's something that I have been dreaming about since I was four years old," said an ecstatic Beaumont. "I don't know what to say. I am amazed. I was in the lead since the beginning and to not move from there was somewhat incredible."
The Great Britain rider now leads the World Cup standings. He got the better of the top two seeds from the semi finals to take victory ahead of Spanish racer David Vazquez Lopez (MSC Bikes) and South African Greg Minnaar (Team G-Cross Honda).
Reigning World Downhill champion Steve Peat, who finished third last year, did not make the final podium although he topped the time sheets in Saturday's semi-finals. Instead, he finished fourth, two seconds behind the winner, in the final.
"I expected to gain, but was impossible by the weather conditions," said Peat. "The rain meant that the circuit was different for some runners and obliged us to have small failures that cost us some very valuable seconds."
Sabrina Jonnier (Iron Horse/Monster Energy)
Photo ©: Maria Muina

On the women's side, French racer Sabrina Jonnier was less affected by the adverse conditions. She smashed the competition with a winning margin of seven seconds, sending a clear message to her rivals that she plans to continue her dominance in 2007.
"To win here, in the first test, is the best way to begin the World Cup," stated Jonnier. "Therefore I am happy, very happy."
Jonnier won ahead of British racer Tracy Moseley (Kona Les Gets) and French woman Emmeline Rago.
While the women's final was also affected by rain, it didn't suffer to the same extent that the men's final did. The conditions did however play a vital part in setup for the final, as Jonnier explained: "It rained at night and in the morning, making it difficult to elect the adequate wheels. For the final, I opted for using tyres for dry conditions and to pray that it didn't rain, which is what occurred"
The Downhill World Cup continues with round two in Champery, Switzerland from June 9-10. See complete coverage of the elite men's and elite women's downhills.
Atherton & Beerten win initial 4X World Cup
Great Britain's Gee Atherton (Animal Commencal)
Photo ©: Frank Bodenmuller

British rider Gee Atherton (Animal Commencal) made the most of his rivals' misfortune to take an impressive victory in the men's 4X final. Atherton was able to stay upright while his competitors crashed in front of 20,000 spectators. His win gave his siblings something to celebrate after sister Rachel Atherton broke her arm during a downhill practice run.
The new four cross circuit set the stage for a high-speed event. "The circuit is very fast and, because of that, there were too many falls," said winner Atherton. "To gain, I took advantage of Michal Prokop's error in the final."
Czech rider Prokop ended any hopes he held of winning the event after a spectacular fall when he miscalculated a jump. He wasn't the only lead rider to bite the dust, with American Brian Lopes also feeling gravity's effect in full force in a spectacular multi-rider tumble. The duo recovered to finish third and second respectively.
"I jumped too long and I could not control the fall," explained Prokop of his incident.
Women on the podium celebrate.
Photo ©: Maria Muina

Dutchwoman Anneke Beerten won a game of cat and mouse with current World champion, American Jill Kinter, who was constant in her attacks on Beerten throughout the race, but simply couldn't get by her rival.
"I am very pleased" said Beerten after the win. "I have ridden well all weekend and I love the environment this event is held in. I had a very good exit and then I just enjoyed the rhythm."
Beerten jumped into the top spot by the first turn and kept her lead until the finish. Kinter was disappointed with the finale after she had qualified fastest.
Eva Castro Fernandez, the highest placed Spanish rider, finished third in the final, marking her first trip to the World Cup podium.
See complete coverage of the elite men's and elite women's 4X World Cup event.
Race Face racers hold top three in Qash Qai series
After two rounds of the Qash Qai Urban Challenge, three Race Face riders hold the lead in the series: Paul Basagoitia, Darren Berrecloth, and Andreu Lacondeguy.
The Qash Qai events challenge fifteen of the world's top urban freeriders to take on five European cities over five weekends. They are competing for the biggest-ever prize money in the sport as part of the first-ever multi-freeride tour of its kind. Each of the five competitions highlights a different mountain bike discipline, and the winner will pocket 100,000 Euros.
Berrecloth and Basagoitia took the first round in front of 10,000 spectators at the inaugural Qash Qai event in Newcastle, UK on May 5. The Newcastle event focused on North Shore-style riding. 20 year-old Red Bull rider Kyle Strait finished third.
Of his Newcastle ride, Strait said, "I barely qualified for this one. I finished 12th in the first round of qualifying, and only 12 went through so I was lucky. I basically went into qualifying hoping to do enough to get in but without showing my hand too much. That was too close. In the first final I put in a strong run, but in the second final, I decided to do a backflip to a step-up which I hadn't done before, and I think that really pushed me up in the judges' eyes".
In Round 2 in Milan, focusing on dirt jumping, Lacondeguy landed a first place finish and Basagoitia took a convincing third in the dirt jump event. Lacondeguy thrilled onlookers as he pulled out a tuck no-hander flip on the first jump, a 360 on the second jump and a superman-flip on the last jump to nail his second run of the day and secure his number one spot on the podium.
Basagoitia got the crowd pumped after a perfect second round run. He flipped the first jump, three-tabled the second jump, and then found the speed to launch a perfect 720 on the last jump.
The next round heads to Madrid May 18-19 for a street style competition with a course designed by pro street rider Jeff Lenosky.
Qash Qai Urban Challenge Overall Standings:
1 Paul Basagoitia (USA)   35 pts
2 Darren Berrecloth (Can) 32
3 Andreu Lacondeguy (Spa) 29
4 Lance McDermott (GBr)   25
5 Greg Watts (USA)        24

Eastern ski resort reps gather for conference
Downhillers like Nathan Rennie (Santa Cruz Syndicate) inspire many to take to the slopes
Photo ©: Frank Bodenmuller

Ski resort representatives from across New England and Quebec gathered in Vermont for a two-day conference this past weekend focusing on developing resort-based mountain biking. The first-ever seminar in the Eastern US sent the message that the key to successful mountain biking at ski resorts is the investment in purpose-built mountain bike trails and bicycle-friendly facilities.
Held at Stowe Mountain Resort, the event was hosted by the Vermont Mountain Bike Association, the International Mountain Bicycling Association, the Stowe Mountain Bike Club and Kona Bike Parks.
Vermont Governor Jim Douglas addressed the conference, emphasizing the importance of bicycling to Vermont. The Governor pledged the state's support for mountain biking and touted the activity's benefits to health, tourism, economic development, and kids.
Conference participants learned about building fun, sustainable trails, creating a biking revenue stream, managing risk and safety, and avoiding some of the past mistakes made in resort-based mountain bike development.
Ellsworth Bicycles and Team Maxxis join forces against breast cancer
Any of Ellsworth's ICT full-suspension models
Photo ©: Ellsworth Bicycles

Ellsworth Bicycles Vice President Dave Wisenteiner has managed to shine a positive light on a very personal ordeal. "While Pink marketing projects seem to be everywhere right now, this one started for me five years ago as I watched my wife's mom die over what was the worst year of our lives," he said. "She had ovarian cancer which is the deadliest of the women's cancers because it is usually detected so late. This was followed with her grandmother's death only six months later from the very same thing. In that same time period I had two very close friends somehow pull out of stage 3+ breast cancer, mostly thanks to clinical trials."
Later, Wisenteiner learned that another fellow employee was going through a similar struggle; Ellsworth's Aimee Rocheleau's father had also had a near miss with cancer. "One does not have to reach far to find out it is literally everywhere," Wisenteiner said.
Wisenteiner could have wallowed in sorrow over the tragedies, but decided to do something about it instead. Several months ago, Ellsworth began offering its entire line of ICT full suspension frames in an optional pink anodized finish and pledged a US$50 donation to breast and ovarian cancer research and clinical trials for each one sold. Wisenteiner dubbed the campaign 'project pink'.
In addition to the symbolic hue, frames are also garnished with a laser-etched ribbon (the iconic symbol of the global effort against the disease) and customers will have the option of having the name of an affected loved one (which, in many cases, may be themselves) permanently etched as well. Customers will not incur any additional charges for either the pink anodization or the custom laser etching.
"The two things I wanted to accomplish with this project were to specifically fund research and clinical trials rather than awareness, and second, I wanted the contribution to be substantial. So many companies in the US have jumped on 'cause marketing' and their contribution is almost an afterthought. We are a small company so our direct impact is small but the ripple effect is becoming huge." Wisenteiner adds.
To read complete tech news feature, click here.
Geoff Kabush diary: Making it happen... somehow
The past month has been quite kind to me as I surfed some early season form. I started it off with a perfect NORBA, then a big Sea Otter win, followed by my best European World Cup, and then somehow, and I don't know how, I found a way to win the last couple of NORBA races.
En route to victory at NORBA #1
Photo ©: Jon Devich

It all started off at NORBA #1 in Fountain Hills, AZ and it was just about as smooth an operation as I could hope for. I was in and out for two days of perfect weather, two wins, and an attempt to bring back the early 90s with team-only Orange Maxxis tires. A classic moment from the weekend was teammate Toulouse getting told by 90s legend Tomac that he was "soft" for not doing Super D. I hope the kids these days still know who Tomac is.
Next up was the epic week known to some as the Sea Donkey in Monterey California. Orange wasn't cool enough so we decided to bring back "Day-Glo" Pink at Sea Otter. Thanks to some great sponsors we had pink grips, pink headsets, pink cables, pink saddles, pink computers, pink glasses, and pink decals. I think I won the contest because my bombshell wife and in-laws are all named Pink as well.
Actually, it wasn't really a contest, it is a team initiative this year called Project Pink, founded to raise money and awareness for Breast Cancer. Among other things, myself along with some of our sponsors, are making contributions every time I am on the podium. The pink parts seemed to work quite well anyway, and I managed to snag the TT and a pretty exciting sprint finish against big gunners Sauser and Peraud in the XC.
To read the complete diary, click here.
Gunn-Rita diary: Success at the Gunn-Rita Marathon
Gunn-Rita Dahle Flesjaa
Photo ©: Rob Jones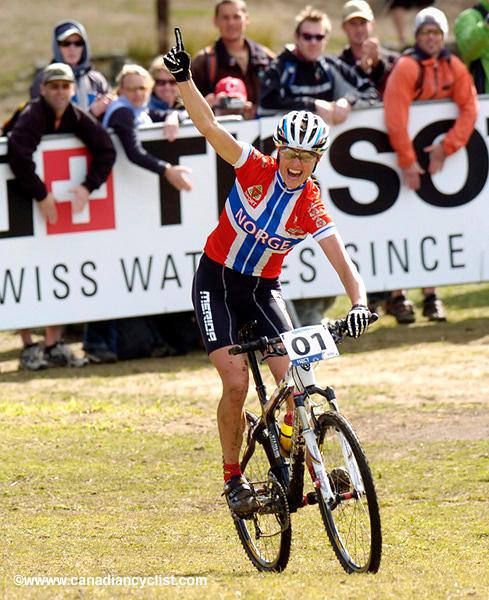 The first Gunn-Rita Marathon race in Italy turned out to be a very memorable occasion. The organization Pedali di Marca and all the volunteer workers combined forces to make a super happening. Elite cyclists from all over the world, along with enthusiastic amateurs, sponsors, the media, and the public contributed to a fantastic cycling festival in the beautiful town of Montebelluna.
Close to 2,200 cyclists participated in the race last Sunday at Montebelluna in the Treviso region. A good 1,500 cyclists completed the 75 kilometres that comprise the Gunn-Rita Marathon, while the rest of the cyclists contented themselves with a route of 45 kilometres. With both the start and the finish situated in the friendly town of Montebelluna, everything was set for an exciting bike festival for all ages.
The first two kilometres are ridden on asphalt. It's quite flat from the start, but then suddenly the track skyrockets. It's a good way to start, because it stretches the riders out a bit so that queuing is avoided when entering the first of the singletrack. If one is moderately used to riding off road, the whole track is a real blast to ride.
Much of the course is ridden on hard-packed trails which wind their way through the terrain, with a thicket of bushes and trees on either side of the trail. Parts of the track are like cycling through green tunnels. There are a lot of ups and downs, but without any very long and steep climbs or rocky descents. You have to concentrate all the time and focus on the track way ahead of you when cycling at high speed on the most demanding descents.
To read the complete diary, click here.
Pick 'n Pay goes off road, too
The Pick 'n Pay Amashovashova road race will celebrate its 21st anniversary in October by introducing a new mountain bike event held in conjunction with the famous 106km road race that runs from Pietermaritzburg to Durban.
On Saturday, October 20, the Asishove 45km mountain bike race will also serve as the Fritz Pienaar Cycles National Half Marathon Series finale while a 20km version will be an option for novices. Races will be held within the Giba Gorge Mountain Bike Park outside Pinetown.
As the most popular series in the country, the National Half Marathon Series attracts nearly 10,000 participants each year according to Supercycle. 10 events comprise the series. The Asishove event replaces the Alpine Heath as the final series' race.
For more information on the Asishove, visit www.amashova.co.za.
Maine junior series sign-up opens
Mountain bikers between the ages of 6 and 18 are invited to participate in 2007 Black Bull Mountain Bike Series, being supported by the Maine Junior Bike League and The Black Bull in Rockland, Maine.
This series focuses on skill development, making new friends, building self-esteem, and competition for those that are looking for a challenge. It consists of five events and five practice sessions. Interested kids may join for US$50. For more info, visit www.mjbl.net.
(All rights reserved/Copyright Knapp Communications Pty Limited 2007)