MTB news & racing round-up for February 19, 2007
Welcome to our regular roundup of what's happening in mountain biking. Feel free to send feedback, news and releases to mtb@cyclingnews.com.
Edited by Sue George
NMBS adds two events after losing one
Heather Irminger at NMBS in North Carolina
Photo ©: Steve Medcroft

Coming up on
Cyclingnews will cover the 60th edition of the Dauphiné Libéré live as of stage 4 on Wednesday, June 10, at approximately 15:00 local Europe time (CEST)/ 23:00 Australian time (CDT)/ 9:00 (USA East).

WAP-enabled mobile devices: http://live.cyclingnews.com/wap/

National Mountain Bike Series (NMBS) organizers announced the loss of one venue for 2007, but offset the news by adding two new replacement events.

The Cougar Mountain Classic in Sonoma, California, has been cancelled as an NMBS event. Instead, series contenders will compete at the Firestone Santa Ynez Valley Mountain Bike Classic, in Santa Barbara on April 27– 29 and the Chile Challenge at Angel Fire Resort, in New Mexico May 26-28.

Both venues feature all the disciplines, but for 2007, points will only be offered for a selection of disciplines at each of the two new races. Endurance points will be awarded at the Santa Ynez race while gravity points will be given for the Chile Challenge.

"I was a little worried with that unexpected void to fill in the calendar," said Jeff Frost, NMBS organizer, "but it's worked out way better than I could have imagined. Having The Chile Challenge and the Firestone Santa Ynez Valley Classic join NMBS is just a dream."

The Santa Ynez Valley event is now in its eighth year. The event will take place on the Ted Chamberlin Cattle Ranch and on Firestone Vineyard, outside of Los Olivos, California, in Northern Santa Barbara County. Over the past few years, "The Classic" has averaged 900 race participants and over 2,500 spectators. It's grown consistently since 2000.

Angel Fire Resort has previously served as the venue for major mountain bike events. Most recently, it hosted the US collegiate mountain bike nationals last fall.

The revised NMBS calendar is given below:

Mar 30-Apr 1: NMBS #1 - XC (Phoenix, AZ)
April 27-29: NMBS #2 - XC (Santa Barbara, CA)
May 4-May 6: NMBS #3 - XC/DH/4X (Fontana, CA)
May 26-28: NMBS #4 - DH/4X (Angel Fire Resort, NM)
June 15-17: NMBS #5 - XC/DH/4X (Park City, UT)
July 27-29: NMBS #6 - XC/DH/4X (Banner Elk, NC)
Aug 10-Aug 12: NMBS #7 - XC/DH/4X (Snowmass, CO)
Canada sends only elite men to Pan Ams
Seamus McGrath (Canada)
Photo ©: Mark Gunter

Canada will send Max Plaxton, Seamus McGrath and Geoff Kabush to represent the nation at the Pan Am championships in Villa la Angostura, Argentina, on March 11, 2007. The three from Victoria will make the trip with the goal of bolstering their chances to make Canada's 2008 Olympic team, the selection to which is based on the accumulated UCI points of each nation's top three ranked riders at the end of 2006 and at the end of 2007.

"Our men were ranked 11th at the end of 2006, which is dangerously close to dropping from two starters at the Olympics to one starter: the cutoff is 13th place," said High Performance Director Kris Westwood. "We need to gather as many points as feasible in 2007 to ensure we don't fall off the map; the Pan Am championships are worth a lot of points; and realistically it's only Max, Geoff, and Seamus who will have enough points to be counted when it comes to qualification."

National coach Michel Leblanc will manage the team, with the support of mechanic Chad Grochowina. Canada will send no other athletes to the championships, including any women.

"On the women's side, we were ranked third at the end of 2006, and we just need to make sure we stay top eight to keep our two Olympic spots," said Westwood. With Marie-Hélène Prémont doing a full world cup schedule, we aren't likely to have any problems doing this, and Alison Sydor and Kiara Bisaro will also be picking up plenty of points without needing to travel to Argentina in March."

"We debated including development athletes in the projects as well, but the event is very early in the season, so preparing for it would be disruptive for younger athletes. Also, travel to southern Argentina is very expensive, so we need to focus our limited resources on areas that will help us achieve our mandate of achieving Olympic performances."
Kenda, X-Fusion and Titus sign Aussie Miller
Brent Miller
Photo ©: Chris Fox

The Kenda, X-Fusion and Titus mountain bike team signed Australian rider Brent Miller, who recently took fifth in the short track at the 2007 Australian national championships. In 2006, Miller finished eighth overall in the men's US National Mountain Bike Series and logged a top six finish in the short track at the Brian Head, Utah event.
Miller has represented Australia at worlds seven of the last eight years, and he is aiming for the Australian Olympic team in 2008. Along the way, his goal is a top 3 overall in the US NMBS series this year and high placings world cup events and worlds.
Joining Miller in the team will be Texas-based Bryan Fawley who finished 2006 with a collection of regional wins and a second place in the Texas State cyclo-cross championships.
USAC names U23 team
Sam Jurekovic
Photo ©: Rob Jones

Two Colorado-based riders, Sam Jurekovic, 21 and Colin Cares, 19, will return for their second and third seasons respectively with the USA Cycling U23 national mountain bike team while fellow Coloradoan, 18-year-old Tad Elliott will join the squad in May as the newest recruit.
Jurekovic and Cares both had successful seasons with the team last year, representing the U.S. at the world championships and claiming second and third respectively in the U23 race behind 2006 teammate Sam Schultz. Jurekovic also placed 13th overall in the 2006 National Mountain Bike Series pro men's rankings.
Newest member Elliott is just as fast on skis. The top junior Nordic athlete was chosen by the US Ski Association to represent his country at the nordic junior world championships in the Italian Alps next month. The recent high school graduate will turn his focus toward mountain biking after the end of the Nordic season. Elliott spent last year on the junior Devo squad, where he was noticed by USA Cycling national mountain bike coach Matt Cramer.
"Tad is a very well-rounded athlete who performed well in 2006 domestic events, and I have a feeling that his personality will mesh well with the team," Cramer said. "He wants to focus on mountain biking after his Nordic season is over, and hopefully if his season goes well, we can give him a reason to stick with it."
Elliott joins the program as a project athlete, meaning he will ride with the team part-time at domestic events, but won't be a resident athlete at the Olympic Training Center and won't travel with the team abroad for World Cup events.
"Tad's focus will be at North American races," said Cramer. "Competing against the pros in top domestic events will assimilate him into the pro field without any pressure on results or performance."
One rider noticeably absent from the team for 2007 is Sam Schultz, one of the team's original members. He was signed by Subaru/Gary Fisher, becoming the fourth graduate to secure sponsorship since the program's inception in 2004. Others were Nick Waite (Kelly Benefit Strategies), Alan Obye (Jamis), and John Devine (Discovery Channel Pro Cycling Team).
Before Schultz moves on for good, he'll join Jurekovic and Cares for the team's first event of the 2007 season – the Continental Championships in the Patagonia region of Argentina during the second weekend of March.
2007 U23 National Mountain Bike Team Race Calendar
Mar 8– Continental Championships - Argentina
Mar 31– NMBS #1 – Phoenix, Arizona
Apr 15– Sea Otter Classic – Monterey, California
Apr 21– World Cup – Houffalize, Belgium
May 5 – NMBS #2 – Fontana, California
May 26 –World Cup – Offenburg, Germany
Jun 16 – NMBS #3 – Park City, Utah
Jun 23 – World Cup – Mont Saint Anne, Canada
Jul 17 – USA Cycling Mountain Bike National Championships – Mount Snow, Vermont
Jul 28 – NMBS #5 – Banner Elk, North Carolina
Aug 11–NMBS #6 – Snowmass Village, Colorado
Sep 3 – UCI Mountain Bike World Championships – Fort William, Scotland
Gunn-Rita Diary: Press camp on Majorca
Gunn-Rita Dahle
Photo ©: Rob Jones

The interest in our professional team, Multivan Merida Biking Team, caused all of 43 journalists and photographers from 13 different countries to come to Majorca last weekend. We've had action-packed days filled with press conferences, interviews, and a lot of photographs! As always, it was great being able to show off my bike's radical new frame for 2007.
As a matter of fact, I'm spending the great "day of love," Valentine's Day, in bed. I'm sick, as I always am at this time of year. For the past three years, I've caught a cold during the press camp in February, always here on Majorca. My consolation is that Kenneth is also lying in bed with the same symptoms as me. However, three slow-paced days are no catastrophe for us, so I'm trying to see the positive sides of the situation. At least it affords me the opportunity to finish off loads of office-work on my dearly beloved PC.
There are a whole lot of magazines within mountain biking. We've been visited by 30 different bike magazines from various European countries this weekend. Along with the rest of the team and some of the team's sponsors, there's been a gang of 80 people. All of them have been staying at the new hotel of Phillip's Bike Team, Iberostar Suites Hotel Jardin del Sol, situated in the town of Costa de la Calma. The hotel is right down by the shore, only a few minutes' drive from Magalluf, where we've usually stayed on previous trips to Majorca.
To read the complete diary entry, click here.
Simoni to MTB world cup
Two time Giro d'Italia champion Gilberto Simoni will once again take to the dirt alongside the world's best mountain bikers at the World Cup race in the Canary Islands, Spain on March 17. Simoni, who normally races on the road with the Saunier Duval team, confirmed his participation in the race, and wants to do the whole World Cup circuit this year. "Mountain biking is very motivating to me, and to race the marathon World Cup is a challenge", said Simoni. According to todociclismo.com, the 35 year-old is considering trading his slicks for knobbies for good after this year's Giro d'Italia.
Natt Ross diary: Winter tri guy
Winter triathlon start
Photo ©: Nat Ross

This winter Colorado has experienced a white, wet, cold one -- especially in the Front Range where I reside. The nasty weather has made for an interesting winter training regimen. Like most cyclists in the state, I have spent my fair share of time on the trainer and rollers. However, at some point in January, I cracked. Enough was enough, and I found myself cross country skiing, running, and snow biking more and more. Guess what? Those outdoor activities comprise the exact categories of the USA Triathon National Championships that were slated for my hometown of Winter Park the first week in February. Naturally, this race really intrigued me.
Back in the day, I was an All American NCAA Division I skier. A combination of skiing, running, and academic scholarships paid for college. After school, I was completely burned out on ski racing, so I coached the Western State College team and Summit High School teams before leaving the scene completely to focus on bike racing.
Nat Ross
Photo ©: Nat Ross

I love to classic ski and find time every winter to kick and glide for hours on end. It is a peaceful workout that completely taxes one's body. It's probably the best exercise you can get period. Over the past ten years, I have ski raced less than ten days. Talk about burned out on nordic racing, there are so may great races in my backyard, but I just didn't have the desire to put on a race bib and line up at the start.
My motivation changed big time this winter with the horrific weather that gave me a bad case of "Cabin Fever." I was running again and had a bad-ass setup for a snow bike.
To read the complete feature, click here.
Ray's 3Ride
Last weekend, in the midst of a cold, icy, and snowy Midwest winter, freeriders descended upon Cleveland, Ohio for the second annual Ray's 3Ride for a two day competition, which involved a sport course, a pump track, a street park, and jumping.
Things heated up when JD Swanguen beat Brian Lopes in a head-to-head battle on the pump track. JD boosted a never-before-ridden line in the Subaru Street Park; as he linked the two jumps, he got so much height that he knocked out one of the fluorescent lights that was mounted above the rafters.
At the end of the weekend, 17-year-old San Diego rider JD Swanguen, who rides for Cove Factory Team, was crowned overall champion. When asked, Swanguen said, "My bike worked perfect the entire weekend. It allowed me to relax, have a good time, and focus on my runs."
Sport course: 1. Brian Lopes, 2. Kirt Vories, 3. JD Swanguen
Pump track: 1. JD Swanguen, 2. Brian Lopes, 3. Cody Warren
Street park: 1. Phil Sundbaum, 2. JD Swanguen, 3. Adam Hauck
Jump competition: 1. Phil Sundbaum, 2. Omar Romero, 3. Adam Hauck
Ray's 3RIDE Overall: 1. JD Swanguen, 2. Greg Watts, 3. Phil Sundbaum
Beskidy stage race
Panoramic views
Photo ©: Marek Tyniec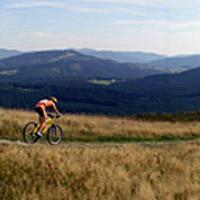 The three-stage, Polish Beskidy MTB Trophy will feature plenty of singletrack, climbing, fast and technical downhills from June 7-10. The race will take participants through Polish, Czech, and Slovakian mountains. To reduce logistical complications, all three stages will feature their start and finish in one place: a small ski resort Istebna.
The race is composed of three classic mountain bike marathons, one each in different part of Beskidy Mountains. It starts with a prologue - a short uphill time trial on the day before first stage's start. 220 km and 8,700m of climbing later, a winner will emerge.
The race climbs mountains such as Trzy Kopce, Skrzyczne, Salmopol, Wielka Racza, Javorovy and Magura for a total seven peaks over 1,000m.
Beskidy MTB Trophy 2007 route
Prologue - 07.06.2007: Istebna (Time Trial) 4,8km, ~320m ascent
Stage 1 - 08.06.2007: Istebna - Skrzyczne (POL) - Istebna 65km, ~2400m ascent
Stage 2.1 - 09.06.2007: Istebna - Velký Stožek - Jablunkov (CZE)
Stage 2.2 - 09.06.2007: Bocanovice - Javorový (CZE) - Istebna 80km, ~3000m ascent (2.1+2.2)
Stage 3 - 10.06.2007: Istebna - Wielka Racza (SVK) - Istebna 70km, ~3000m ascent
For more information, visit www.MTBtrophy.com.
Chase the sun
Building on his past experience as coordinator for the 2006 Commonwealth Games in Melbourne, managing Director Kristjan Snorrason announced a schedule of events organized by Full Gas Promotions (FGP) for 2007.
The Chase the Sun series is oriented toward racers of all levels. Spread throughout the year, with varying amounts of sunlight available, each event is a challenge to ride as many loops of the sensational Lysterfield trails as possible before the sun sets. A unique format, Pro Teams of two riders each will race each other for the overall. ProTeams may nominate a team roster of up to four riders at the start of the series and may chop and change from within that roster prior to each round. Other categories include Corporate for teams up to three riders, Solo, and Husband & Wife although the promoter said "No marriage certificates needed!" to prove marital status. Those too young or not yet married can race the Just Good Friends category or the Young Guns category. The Chase the Sun series will happen April 8, May 20, July 1, and August 19.
FGP also organizes a few other events: a weekly Kona Dirt crit Thursdays at 6:30 pm at Westgate Park in Melbourne; Subaru Interactive @ Docklands Melbourne 12hr in Werribee, Victoria, on September 15; and the Kona 24hr Global Series Race in Anglesea, Victoria, on December 1-2.
2007 Nevada Cup
Organizers announced the 2007 Nevada Cup series, which will determined the northern Nevada state mountain bike champions. Brent Hart of Reno Wheelman spoke about the series, "These courses were specifically chosen to challenge the advanced riders and at the same time allow beginning riders to feel comfortable to compete."
The top 15 riders in each category/age class of the first three races will qualify for the US national championships in Mt Snow, Vermont, on July 17-22, 2007. The Sky Tavern Classic race serves as a qualifier for the 2008 US national championships
Nevada Cup Locations and Dates
April 22nd, 2007 - Jetway Chevrolet Rainbow Ridge Challenge, Fallon, Churchill County
May 6th, 2007 - Pine Nut Cracker, Gardnerville, Douglas County Fairgrounds
June 2 - 3 Peavine Challenge, Reno, Washoe County
Aug 18 - 19 Sky Tavern, Reno, Washoe County - Reno, NV

Cat Classic
The Susquehanna Valley Velo Club (SVVC) will host the 5th annual Cat Classic Mountain Bike race on May 5 at Logue Farm, in Cascade, Pennsylvania (near Williamsport). The race gets its name from its start/finish location, at the "Cat barn" located on the farm, a barn which houses one of the world's largest collections of antique Caterpillar Tractors owned by George Logue.
The course will include a mix of wooded singletrack section, double track, rolling flats, and technical sections. Male and female pro/experts will compete for a US$1,000 cash purse. A raffle will be held to benefit the Mark Reynolds Memorial Bike Fund, which purchases bikes for needy kids, and racers may come early to camp out and enjoy a spaghetti dinner the night before the event.
For more information, visit www.catclassic.net.
(All rights reserved/Copyright Knapp Communications Pty Limited 2007)