MTB news & racing round-up for December 15, 2007
Welcome to our regular roundup of what's happening in mountain biking. Feel free to send feedback, news, & releases to mtb@cyclingnews.com and results, reports & photos to cyclingnews@cyclingnews.com.
Edited by Sue George
Peat still getting better
By Tym Manley
Steve Peat (Santa Cruz Syndicate)
Photo ©: Rob Jones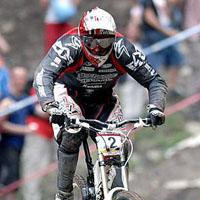 Steve Peat manages to find the balance between fun and seriousness. He's sane, mature, and grown-up, with solid convictions and a strong moral code, but he also knows how to party, go fast downhill and have a good time.
The 33 year-old gravity rider has an impressive list of accomplishments on his resume. When asked if he could still get any better, he said, "Always. I wasn't really on top of my game last season [in 2006]. I started a lot of World Cups with niggling injuries. I was pretty consistent and happy with my season, but wasn't at my best."
The downhill scene is only getting more competitive over time. "I think we're always pushing to go faster and there are always ways to improve on everything and make everything faster," said Peat, a veteran competitor. "We keep pushing the boundaries - that'll go on forever."
On top of the tougher competition are the demands of his personal life. Peat said having a wife and child doesn't change how he races. "But it has affected the way I think about my whole life."
"It definitely gets harder. My life's a lot busier. I've got so much other stuff going on that it's harder to get the motivation to train in the winter."
Winning is just as important to Peat, but his family helps him keep it all in perspective. "At the end of the day I can go back to my wife and Jake and everything's rosy. The race just gets put behind me."
"Downhill racing is my job; it's definitely a job for me now," said Peat about his vocation. "I wouldn't say it's less important, but there are just other things that I have to do. I have to prioritise now."
The Mental Game
Steve Peat (Santa Cruz Syndicate)
Photo ©: Rob Jones

One of Peat's greatest assets has been his steadiness, even during times of stress. "I think one of my strengths is dealing with all the stuff around a race meeting; the things that can make you nervous or mess with your mind a little bit."
"I can put that behind me," said Peat, who said his approach just happens. "Nothing bugs me once I get in that start gate; I just get on with the job in hand. That's definitely one of my mental strengths."
Peat's focus is on the positive rather than the negative when the going does get tough. "When I start feeling nervous, there are little things I can do that will take my mind off it. I actually know what I've got to do if I start feeling nervous and start thinking about the competition or about a place on the track that I'm crashing on, so I can turn that round to positive thoughts."
In fact, it's all about converting negative thoughts into positive ones. "Say if I'm going through the track in my head and I keep getting stuck on a place where I've had trouble in practice, then I can get around that in my head and visualise the perfect run. People do it in their own little ways, but most people don't even know they're doing it."
To read the complete interview, click here.
Juarez to return to Australia
Thomas Dietsch and Tinker Juarez at La Ruta
Photo ©: Rob Jones

Cannondale's Tinker Juarez is planning his first return trip to Australia since the Olympics in 2000. The three-time US National Champion, two-time Olympian, Pan Am Games Gold medallist and current 24 hours of Adrenaline Solo World Champion will race the Lowan Otway Odyssey on February 23.
"It's been a while since I've been to Australia and the last trip was one of the best experiences in my career since it was the 2000 Olympics," said Juarez. "I've always wanted to come back and race and this race is the perfect reason."
The Lowan Otway Odyssey will cover 100km starting on the Great Ocean Road in the town of Apollo Bay and finish in the township of Forrest. The race will take riders over roller coaster singletrack, fireroads, and doubletrack. Juarez will compete against last year's champion, Murray Spinks.
Iron Horse expands sponsorship to endurance racing
Sam Hill is a mainstay on the Iron Horse gravity team
Photo ©: Rob Jones

Iron Horse, a US manufacturer best known for its gravity bikes, will join forces with top British endurance racing team Extreme-endurance.com for the 2008 season.
Iron Horse is hoping to transfer its success on the gravity circuit, with elite athletes like Sam Hill and Sabrina Jonnier, to the world of endurance racing. "We are all really excited about this collaboration; it marks an important point in the history of Iron Horse as we attempt to carry our success from the downhill arena in to other market," said Martin Astley, Iron Horse UK Brand Manager.
Managed by 2005 24 Hours of Adrenaline Solo World Masters Champion Rob Lee, the team, which specializes in 12 and 24 hour solo racing, will get a new name in its fourth season: Iron Horse Extreme. "This is a great move for our team and also a great move for Iron Horse. We have some of the best 24 and 12 hour soloists riding for us next year and it is fitting that we are teaming up with Iron Horse, who are clearly an innovative company with great products," said Lee, who won the solo races at the Nightrider 12 hour and the Bontrager 24 hour this past summer.
In 2007, the team won first and second places in the men's solo 24 at Mountain Mayhem and also won the men's and women's solo events at the Bontrager Twentyfour 12. In 2008, the team will be riding Azure Expert bikes.
Iron Horse Extreme for 2008: Gavin Atkins, Clive Forth, Josh Ibbett, James Leavesley, Rob Lee, Fi Spotswood, Anthony White.
24 hours of Adrenaline to return to roots
The 2008 World Solo 24 Hours of Adrenalin Championships celebrate its 10th anniversary by returning to the site of its first running in Canmore, Alberta in Canada. That year, Rishi Grewal and Chloe Lanthier took top honors. Canmore also hosted the UCI World Cup from 1998 to 2000.
Next year's championship event is scheduled for July 26-27, 2008 and will follow a figure eight layout.
Gripped Films sponsors regional team & stars in Banff festival
Gripped Films and Kenda have joined forces to sponsor the American GFK Racing team for 2008. The team is all about promoting a healthy lifestyle of racing through training and competition with friends. Team members will race mountain bike, road and some triathlon events on the East Coast.
Gripped Films produced both Off Road to Athens, a documentary about the US Olympic Team Selection process for 2004, and 24 Solo which captured Chris Eatough's epic battle with Australian Craig Gordon at the 2006 24 Hours of Adrenaline Solo World Championships in Conyers, Georgia.
"The race team is more of a fun thing," said Gripped Films Producer Ken Bell to Cyclingnews. "There are about half a dozen guys who can race the Shenandoah Mountain 100 in under 10 hours. It's not like an East Coast Trek Factory Team. It's that we met all these people in the industry doing these films. The main thing is to have a place we can come together as a group of riders all wearing the same jersey."
Cameraman and movie star Nick Alexander and director Jason Berry travelled to the Banff Mountain Film Festival in November with 24 Solo and screened it a packed house. "Just making the festival was an honor," said Bell. The film came close to winning the "People's Choice Award" and will be on tour with the Banff film festival, visiting over 200 cities world wide. 24 Solo also recently won the "Director's Choice" award at a film festival in Florida.
The team's top riders will likely be David Olson and Shawn Mahal, but the team's goal will be to win bragging rights in a regional team competition featuring four or five key races like the Shenandoah Mountain 100, the Massanutten Hoo Ha and the 24 hours of Big Bear.
Full-Dynamix RSM Team signs two more
Tony Longo (Italy)
Photo ©: Rob Jones

After signing former Cannondale rider Fredrik Kessiakoff, the Full-Dynamix RSM Team added Tony Longo and Emil Lindgren to its roster The team will kick off racing at the end of February with the Sunshine Cup in Cyprus. It will also race marathon and cross country World Cups, national championships, and the Olympic Games.
22 year-old Swedish rider Lindgren, from Falun, has raced for the Bianchi Team for four years. Lindgren has twice won the Internazionali d'Italia Challenge and twice taken a bronze medal in the Team Relay of the European championship (2005 - 2006). Highlights of his career have included a bronze in the junior race at the World Cup in Houfaflize and a fifth in the European Championship in 2003.
23 year-old Tony Longo has been competing with the Italian National Team since 2002. He is a candidate for selection for the 2008 Olympic Games in Beijing. In addition to four national titles (two as junior and two as an U23 rider), Longo won silver at the 2006 World Championships in Rotorua and another medal in the Team Relay. As a junior, he won bronze at the World Championships in Kaprun, Austria.
Full Dynamix RSM for 2008: Fredrik Kessiakoff, Emil Lindgren, Tony Longo, Marco Bui, and Massimo De Bertoilis under manager Mauro Bettin.
Barel joins Subaru
After departing the Kona Team, Fabien Barel has joined with the Subaru Mountain Bike Pro Team. The team recently signed Mondraker Bicycles for 2008-2009. The company makes frames for all mountain bike disciplines, but focuses on downhill and freeride.
Barel will be joined by riders Florent Payet and Damien Spagnolo. The trio will ride the Kaiser frame.
Playbiker - Iron Horse previews 2008 gravity courses for Worlds
Rolling clouds and impending snowfalls didn't prevent the Team Playbiker - Iron Horse riders from hopping on their bikes one cold, snowy November weekend to check out the downhill course in Val di Sole Italy for the 2008 World Championships in June.
Riders Elisa Canepa, Elias Somvi and Luca Bertocchi, all members of Italy's sole UCI mountain bike trade team, with the assistance of team manager Romano Favoino, managed to put together a few solid runs on the course, which is largely completed, except for the start area and finish arena. A few downed trees in the middle of the course slowed progress, but most of the track was clearly visible for the first time. At the end of their run, riders entered the 4X course which is almost complete, too.
Ex-mountain biker returns to racing
Miguel Martinez, Olympic gold medallist and mountain bike world champion in 2000, has decided to return to racing after more than one year spent out of competition. The Frenchman has signed a one-year deal with the Italian Continental Pro team Amore&Vita and will be racing on the road as well as on his mountain bike during next season.
"I still love the bike too much to give up my career altogether," said Martinez to L'Equipe on Wednesday. The 31 year-old also spent two years in pro road cycling, 2002 with Mapei and 2003 with Phonak, without being very successful. "I was being told that I had nothing to do in that scene," he added. "I always did the best I could in my profession, without doping, and they quickly made me understand that I didn't perform as they wanted. But today, I really think that things have changed. I'm convinced that cycling evolves in the right direction and I want a second chance at top level."
Besides road racing, Martinez will target the World Marathon Championships on July 6 in Italy next season.
NZCT National Mountain Bike Cup Series 08 explained
New Zealand racer Rosara Joseph.
Photo ©: Rob Jones

The New Zealand National Mountain Bike Cup kicked of in early December and will continue throughout the summer season down under. The Cup series comprises of the Subaru South Island Downhill Cup, Subaru North Island Downhill Cup, NZCT South Island Cross Country Cup and NZCT North Island Cross Country Cup. Each Cup has three rounds with overall cup winners being announced at the end of the final round.
Following on from the Island Cup Series will be the NZCT National Championships in Wellington on February 21-24, 2008, and the NZCT Oceania Championships in Nelson on March 13-16, 2008.
Although the Island Cup series is new for 2008, interest has been high and a number of top local riders have pre entered for the Island Series. Downhill events kick off this weekend in Hawkes Bay with 2006 Junior World Champion Cameron Cole and Sam Blenkinsop confirmed starters.
Subaru North Island Downhill Cup
Round 1: Hawkes Bay, December 14-15, 2007
Round 2: Rotorua Sat, February 2-3, 2008
Round 3: Auckland, February 16-17, 2008
Subaru South Island Downhill Cup
Round 1: Coronet Peak, January 4-5, 2008
Round 2: Dirt Park NZ, January 8-9, 2008
Round 3: Nelson (Class 1), January 12-13, 2008
NZCT North Island Cross Country Cup
Round 1: Opotiki, January 26-27, 2008
Round 2: Rotorua (Class 1), February 1-2, 2008
Round 3: Palmerston North, February 9-10, 2008
NZCT South Island Cross Country Cup
Round 1: Arrowsmith, December 8-9, 2007
Round 2: Coronet Peak, January 5-6, 2007
Round 3: Waipara, January 19-20, 2007
2008 NZCT National Championships
Wellington, Febraury 21 - 24, 2008
2008 NZCT Oceania Championships
Nelson, March 13-16, 2008
Gunn-rita diary: Focus on training and resting
These days I'm focusing on doing as little as possible which isn't directly related to training, restitution and recovery. We finished off Christmas present shopping in one afternoon, but Christmas cooking and baking will have to wait until Christmas of 2008. It feels very good to be back into the routine of training again, completing the days of training exactly as we want them to be.
It's Friday afternoon already and the weekend is almost here. Some of us are looking forward to some days of relaxation, while others have to work, and some are looking forward to long bike-rides and maybe a hike in the mountains, on both Saturday and Sunday. Last weekend Kenneth asked me an unusual question. We were sitting in the car on our way home from a particularly rainy hike in the mountains. He asked me how I would have spent a Saturday if I had a normal job and was free each weekend. Shopping at the local mall?
I had to think a bit, trying to imagine a weekend without long distance cycle rides or dramatic hiking in wild nature. I ended up concluding that we will definitely continue to fill our weekends with the same things as now, also when we put our days of professional cycling behind us some day…after 2012. A trip out in the weekend fills you up with energy, it makes you feel great, it gives you extra oomph, and it's a good source of recreation.
These past weeks have naturally also included other activities than just hard exercise. I'll start by telling about what I remember best.
To read the complete diary entry, click here.
SORBA gets support from DS&G
Organizers of the Dirt Sweat & Gears will give some extra support to Southern Off Road Bicycle Association (SORBA) by giving US$10 on behalf of every SORBA/IMBA member who competes in the May 3, 2008, event in Fayetteville, Tennessee. In addition, the first 25 entrants will receive a free pair of grips from Ergon.
"Dirt, Sweat and Gears is all about sharing good times with like-minded cyclists while supporting a good cause. As SORBA/IMBA members, we support SORBA's efforts and recognize their vital importance in the effort to create trail opportunities for mountain bikers," said Race Marketing Director Grant Castle.
Tom Sauret, SORBA Executive Director, said "This partnership is an example of how race promoters, the bike industry, and advocacy groups all recognize that we are essentially one family working as one to fertilize the bike culture."
(All rights reserved/Copyright Future Publishing (Overseas) Limited 2007)