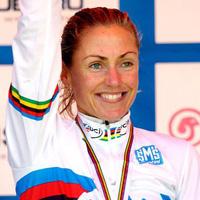 Photo ©: Rob Jones
On top of the world: The Gunn-Rita Dahle FlesjŚ diary 2007
Norwegian cross-country mountain bike racer Gunn-Rita Dahle FlesjŚ is probably the best female rider this relatively young branch of the sport has ever seen. World champion in 2002, 2004, 2005, and last year as well, plus Olympic champion in 2004, and rarely beaten in her reign as World Cup champion from 2003 - 2006, she has a breathtaking palmares.
Dahle says her success is due to an unrelenting focus - she describes herself as a '24-hour athlete' - and the constant support of her husband and coach Kenneth FlesjŚ. Follow her exploits on Cyclingnews as she continues her bid to stay number one in 2007. Or, for more Gunn-Rita, see her personal website: www.gunnrita.com
December 11, 2007
Focus on training and resting
These days I'm focusing on doing as little as possible which isn't directly related to training, restitution and recovery. We finished off Christmas present shopping in one afternoon, but Christmas cooking and baking will have to wait until Christmas of 2008. It feels very good to be back into the routine of training again, completing the days of training exactly as we want them to be.
It's Friday afternoon already and the weekend is almost here. Some of us are looking forward to some days of relaxation, while others have to work, and some are looking forward to long bike-rides and maybe a hike in the mountains, on both Saturday and Sunday. Last weekend Kenneth asked me an unusual question. We were sitting in the car on our way home from a particularly rainy hike in the mountains. He asked me how I would have spent a Saturday if I had a normal job and was free each weekend. Shopping at the local mall?
I had to think a bit, trying to imagine a weekend without long distance cycle rides or dramatic hiking in wild nature. I ended up concluding that we will definitely continue to fill our weekends with the same things as now, also when we put our days of professional cycling behind us some dayÖafter 2012. A trip out in the weekend fills you up with energy, it makes you feel great, it gives you extra oomph, and it's a good source of recreation.
This and that
These past weeks have naturally also included other activities than just hard exercise. I'll start by telling about what I remember best.
On Wednesday I went out to a restaurant for a meal with my mother and sister. We did a bit of shopping, especially my mother, and we had a delicious meal of Italian pizza (in Stavanger). Time always flies when we three are together, and I always relive the experiences and enjoy the memories for a long time after.
Last weekend we were at a pre-Christmas party for Team Gunn-Rita together with our parents and our manager, Roar, and his partner Gretha. First we went to Rogaland Theatre to see a comedy show, Makta pŚ Straen, with Sally. It was very well acted and we got to brush up on some of the typical colloquial Stavanger expressions.
After that we had a good meal out at one of the best restaurants in town. Kenneth and I didn't stay up late, but the 'grown-ups' kept it going for a few hours after we left. We were due for a long distance cycle ride on Sunday morning so we needed a good night's sleep.
Merida Switzerland/Lugano
Two weeks ago I travelled to Lugano in order to visit Bellimport/Merida Switzerland where several of the dealers were gathered. We had two evenings of enjoyable meals and a fantastic long distance ride around the lake at Lugano. Sunshine, blue skies and 14 degrees above zero - perfect for many hours riding. We had our lunch at a typical Italian restaurant where we were served Pasta Marinara, naturally al dente so I ate a lot. It was a bit uncomfortable getting onto the bike again to pedal for an hour back to the hotelÖbut totally worth it for the lovely trip and the delicious food.
Beijing meeting
The week before Switzerland we both went to a gathering at Fornebu in Oslo, Norway about Beijing and we spent some enjoyable hours together with likeminded people. We enjoyed the inspiration and exchanging experiences on many different levels. There is a lot of talk about the Olympics wherever you go these days. Kenneth and I aren't thinking too much about Beijing yet. It's a long way off and we have a lot to accomplish before that happens.
Our house
The process of building our new house is well under way now. I haven't been at the building site for the past few weeks, but I know that they've started with the actual wooden construction of the house, after having laid the foundation and cellar floors. It's been difficult to imagine it in comparison to the neighbouring houses, the surroundings, various sizes and shapes. Now we're finally getting at least a certain feeling of how it's going to be.
Your training schedule?
I certainly hope that some of you took my challenge last time seriously, made a training schedule for yourself, and have started training. We're going to work together on this, you and me, for the next year, you know. It still isn't too late to start! Get going before the Christmas stress takes over and steals all your time and energy. Remember that if you're going to manage, you have to insert the exercise firmly into your week's plan with a definite time, place and activity.
Tomorrow we're going out for a long distance ride on bikes, and on Sunday we're off for a mountain hike. We'll have a few fit people from Shell along with us on Sunday, so it's guaranteed to be a fun trip with lots of friendly chatting. I wish you all a good and energetic weekend. You'll hear from us again before the Christmas bells are ringing and we start packing our suitcases for out trip to Boulder in Colorado.
Cyclist's greetings from Gunn-Rita and Kenneth
Multivan Merida Biking Team
www.gunnrita.com
Translation by Crispen T.P. de Lange