First Edition Cycling News for April 25, 2007
Edited by Greg Johnson & Ben Abrahams
ASO pushes for Puerto-related suspensions
Team officials comment in Charleroi
United front: T-Mobile General Manager Bob Stapleton (r) and Technical Director Luuc Eisenga
Photo ©: Shane Stokes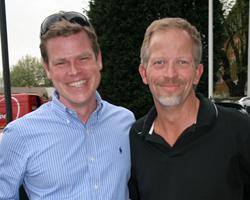 One day prior to Flèche Wallonne, race organiser ASO and representatives from the participating teams met in the Stade du Pays de Charleroi in Belgium on Tuesday to discuss doping problems in the sport and ways to bring about some sort of resolution. While media were not granted access to the meeting and details of precisely what was discussed are vague at the moment, Cyclingnews' Gregor Brown and Shane Stokes spoke to - or sought to speak to - a number of those present.
Although nothing definite was decided, a commitment of sorts was reached between those present. They will meet again on Saturday, the eve of Liège-Bastogne-Liège, and come up with a clearer agreement of the way forward.
T-Mobile Technical Director Luuc Eisenga was generally positive, although he described the meeting as "a small step. However it was one which was in the right direction, and that is very important.
"There were many things discussed," he continued. "ASO showed that they are serious about this, this stance of not having suspected riders in the event, and that is very good. They have pronounced this very clearly and of course, for us that is the correct way to go. We are completely behind it."
T-Mobile were badly hit by Operación Puerto last year, in that it ended the Tour hopes of its star rider Jan Ullrich. However, rather than pull out, the sponsor and new team management came up with a plan to remove suspicion from the team via an array of anti-doping measures.
Eisenga once again underlined that T-Mobile are committed to a clean sport. "I have already said in L'Equipe that if somebody asks us to go to Madrid to compare the bags of blood, then that has to be done. If there is a list of riders that we need to compare the bags with, then for sure that is something that we are going to carry out."
While some teams were more in favour of introducing new measures than others, the 34 year-old Dutchman said that ASO are serious about doing all they can to remove suspicion.
Coming up on
Cyclingnews will cover the 60th edition of the Dauphiné Libéré live as of stage 4 on Wednesday, June 10, at approximately 15:00 local Europe time (CEST)/ 23:00 Australian time (CDT)/ 9:00 (USA East).

WAP-enabled mobile devices: http://live.cyclingnews.com/wap/
"There was a clear commitment from the organiser which was very good. They are taking the same line as we are, and we are going to talk again on Saturday and come out with something concrete that we are [all] going to do.
"This is not something that is limited to the Tour de France, it should be brought into other races as well. From what we understand, the other organisers from the Giro and the Vuelta are preparing to do the same thing, and that is something that we think is very, very good. Very positive."
'We need to lift the suspicion'
Earlier on Tuesday, it emerged that rather than competing in the Ardennes Classics as originally planned, Ivan Basso will be back in Italy prior to attending a hearing scheduled by the Italian Olympic Committee (CONI) for next Wednesday, May 2. It was a serious day for the Italian, who is facing new investigations into allegations that he worked with notorious doctor Eufemiano Fuentes.
To read the full news feature, click here.
Cyclingnews' recent coverage of 'Operación Puerto'
May 18, 2009 - Valverde to start Catalunya
May 15, 2009 - Valverde not welcome in Denmark
May 14, 2009 - Spanish federation wants proof in Valverde case
May 13, 2009 - Spanish Olympic Committee defends Valverde
May 12, 2009 - Valverde responds to sanction
May 11, 2009 - Italian tribunal delivers Valverde two-year suspension
May 8, 2009 - Valverde case: Italian Olympic Committee defends Torri
May 7, 2009 - Valverde to take legal action against CONI prosecutor
May 5, 2009 - WADA and Spanish federation join CONI and UCI on Valverde
May 1, 2009 - International Cycling Union joins in on Valverde's hearing in Italy

Cyclingnews' complete coverage of Operación Puerto
No Henninger Turm for Astana
Team Astana has decided not to race the Rund um den Henninger Turm on May 1, race organizer Bernd Moss-Achenbach has announced.
"At the Ronde van Vlaanderen, I spoke with Walter Godefroot and Mario Kummer about Astana's possible participation," he said in an interview with Radsport-aktiv.de. "After thinking about it, Astana decided against it based on the fact that especially Andreas Klöden wanted to concentrate on the Tour de France and so didn't want to ride a difficult one-day race."
Astana's decision to sit out the event comes as a blow just one day after the German race declared it wants ProTour status. Moss-Achenbach said yesterday that if the Züri Metzgete in Switzerland doesn't proceed as a result of reported financial issues, he would be willing to pick up the event's slot on the ProTour calendar.
"I told Godefroot and Kummer at the time that I would very much like to have some good riders like Klöden, Kessler or Ivanov at the race, but at least one of the two Germans," he added. "Unfortunately it didn't work out."
Line ups for Vuelta a la Rioja
By Monika Prell
Igor Anton (Euskaltel) will lead his team
Photo ©: Shane Stokes

Spanish Pro Tour teams Cassie d'Epargne and Euskaltel Euskadi have announced their team rosters for the Vuelta a la Rioja, to be staged in Spain from April 27 - 29.
Caisse d'Epargne will send David Arroyo, Imanol Erviti, Alberto Losada, Alexei Markov, Mathieu Perget, Ruben Plaza, Sébastien Portal and Vladimir Karpets, who won the individual time trial of the Volta ao Alentejo 2007. The squad will be under the direction of José Luis Jaimerena.
Euskaltel Euskadi hopes for a good performance with Igor Antón, who has already shown good form in the Vuelta a Castilla y León and the Gran Premio Miguel Induráin, leading the squad together with Koldo Fernández de Larrea, who won the last stage of Tirreno - Adriatico. Iñaki Isasi will return to competition after recovering from his broken collarbone. The team will also send Amets Txurruka, neo professional Andoni Lafuente, veteran Andoni Aranaga, and Dionisio Galparsoro, who will be contesting his second race since undergoing a knee operation in January.
Spectator injured on Brasstown Bald
A spectator at the Tour de Georgia has been paralyzed from the waist down after crashing on the descent of Brasstown Bald whilst visiting stage five last Friday. According to Atlanta Authorities, Thomas Kinnebrew from Helena, Arkansas was wearing a helmet but suffered severe head and spinal injuries after hitting a rock embankment.
On Saturday he was described as being critical but stable at North Fulton Regional Hospital in Roswell, Georgia.
Surgery for Hovelijnck
Chocolade Jacques' Kurt Hovelijnck underwent knee surgery on Tuesday in Herentals, Belgium following a crash in Paris-Roubaix where he suffered a cracked left kneecap
and torn tendons.
"The surgery went well, but the rehabilitation will take a long time," team director Jean-Pierre Heynderickx told Sportwereld. "I expect that Kurt will be out of action for weeks or even months."
Wiesenhof in its 'home' race
Team Wiesenhof-Felt will be riding in front of its sponsors in the Niedersachsen Rundfahrt this week. Both Weisenhof and Felt have their corporate headquarters in the region.
"We naturally want to show our best side," said sport director Jens Heppner. "Last year it was a pure sprinter's race. We are therefore counting on our fastest people."
Those fast people include Olaf Pollack, who won the Rundfahrt in 2002.
Wiesenhof for Niedersachsen Rundfahrt: Daniel Musiol, Olaf Pollack, Christian Leben, Robert Wagner, Jörg Ludewig, Steffen Radochla, Torsten Schmidt, and Felix Odebrecht.
British Cycling answers cricket call-up
Following England's poor performance in the latest Ashes series, the national team has turned to British Cycling to help get its program back on track. Ken Schofield, who is leading an independent investigation from the England and Wales Cricket Board, has been in contact with British Cycling's president Brian Cookson for advice, after the British track cycling squad returned from the Track World Championships in Spain with an impressive seven gold medals.
"It certainly seems that our reputation as a sport is indeed growing," Cookson says on his blog. "We had a long conversation about the reasons for the current levels of success that we are enjoying as a sport, the structures and focus that lay behind it, and the strategy that leads it. No less a person than Sir Clive Woodward, manager of the World Cup-winning England Rugby Union team had referred him to us.
"Sir Clive, in his new role as Performance Director for the British Olympic Association has of course been working very closely with our Performance Director Dave Brailsford, and has been given first hand experience of the methods and approach developed by Dave and the superb team of experts he has built up and leads so well," added Cookson.
Pearce quits USAC to return to competition
Colby Pearce
Photo ©: epicimages.us

USA Cycling has announced Colby Pearce has resigned as its endurance track coach to return to competitive cycling. The 2004 United States Olympic Team member will continue to coach for the Colorado Velodrome Association, but his primary emphasis will be on returning to world-class competition in the madison and points race events on the track.
"Racing is where my heart is at the moment," Pearce explained. "It's still in my blood. Each time I was at a World Cup race or the World Championships as a coach, I found my mind drifting back to the same place. I still feel that I can effectively compete at that level and be successful."
Pearce last competed in 2005 where he took a silver medal in the points race at the Moscow UCI World Cup round. His competitive results include 13 career UCI Track World Cup medals, a bronze medal in the 2003 Pan American Games and eight USA Cycling national titles.
"If I don't make it to the 2008 Olympic Games in Beijing and the result is that I pushed other riders to raise the level of their game and perhaps win a medal, then that's as much as I could have done as a coach in the first place," Pearce continued. "Either way, I think it's a win-win situation."
USAC director of Athletics Pat McDonough was optimistic about Pearce's decision, describing it as a win-win situation for the governing body.
"From USA Cycling's perspective, our loss is also our gain," commented McDonough. "On one hand we are losing a tremendous coach, but on the other we're gaining an athlete capable of winning medals at international-level events. Additionally, his presence on the track will undoubtedly raise the level of competition and bring out the best in all of our other men's endurance athletes.
Scotiabank signs as Tour de PEI sponsor
Canada's Tour de PEI will be sponsored by Scotiabank, even organisers have announced. The women's five stage cycling tour, held at Prince Edward Island, it the country's newest UCI race and will be held from June 10-14.
"Scotiabank is proud to join forces with the Epreuves de la Coupe du Monde Cycliste Feminine and Confederation Bridge, to bring another world class event to this great country," said Scotiabank's John Oliver. "The Tour de PEI will help put a greater emphasis on athletics in the lives of women and will bring athletes from coast to coast and around the world right here, to Prince Edward Island."
The event will include a time trial on the Confederation Bridge, which links the provinces of Prince Edward Island and New Brunswick.
"The athletes you will see in PEI are athletes you will see at the Olympics and at the World Championship of cycling," said event president Daniel Manibal. "Cycling is an international activity with major events all over the world. Bringing the tour de PEI to the Island is a wonderful opportunity to showcase the beauty and spirit of the province."
(All rights reserved/Copyright Knapp Communications Pty Limited 2007)