MTB & 'cross news & racing round-up for September 4, 2006
Edited by Steve Medcroft
Jeep KOM finale gets boost from Worlds
The Jeep® King of the Mountain Series go a boost when Michal Prokop won and Jill Kintner defended the Four Cross World Championships. The couple's success means the KOM series will have two world champs racing in their finale, scheduled for Sept. 3 in Beaver Creek, Colo.
The series also announced this week that it will be replacing injured Wade Bootes (who broke a collarbone at Worlds) with Swiss racer Roger Rinderknecht.
Heading into the grand finale, Prokop stands in first place in the Jeep King of the Mountain Series, having swept the first two races to go along with his World Cup Championship, European Championship and National Championship in 2006. Trailing him and tied for second place are Brian Lopes of San Clemente, Calif., a three-time World Champion, five-time World Cup Champion and nine-time National Champion and Eric Carter of Temecula, Calif., the 2005 and 2006 USA Cycling Mountain-Cross National Champion.
Also in the hunt are former World Champion Mike King of San Diego, and Brian Schmith of Lancaster, Calif., a NORBA Nationals and World Cup medalist. Two additional open qualifiers will look to play spoiler in the competition, including Jared Rando of Australia, a NORBA mountain-cross champion and Australian Dual Champion and Chris DelBosco of Vail, Colo., who this year won the Blast at the Mass in Snowmass, Colo.
In the women's competition, fellow defending Jeep King of the Mountain World Professional Champion Jill Kitner of Seattle, Wash., holds the top spot. The young standout has also won four of five World Cup titles this year, as well as the U.S. National Championship, BMX Australian National Championship and Australian Mountain Bike National Championship. Behind her, in a two-way tie for second place, sits Melissa Buhl of Chandler, Ariz., ranked fifth in the world and the 2005 NORBA Downhill Champion, and Corona, Calif.'s Tara Llanes, the 2006 USA Cycling Downhill National Champion who currently ranks third in the UCI World Cup standings.
Rounding out the standings are Katrina Miller of Australia, the 2004 JKOM World Professional Champion currently ranked second in the world, Fionn Griffiths of Great Britain, a three-time World Cup Champion and five-time UK National Champion, and Anneke Beerten of The Netherlands, the 2006 Sea Otter Classic runner-up and JKOM event titlists in 2005. Joining the women's roster as open qualifiers are Bobbi Kae Watt of Broomfield, Colo., a former Sea Otter Classic Champion and Mountain States Classic titlist, and Jessica Vogt of Boulder, Colo., who finished second overall in the 2006 NORBA Nationals Series and won the Downhill and Mountain Cross Collegiate National Championship in 2005.
MTBA sets 2007/2008 racing calendar
MTBA has set the dates for rounds in the 2007/2008 National MTB calendar. The calendar also includes the date in 2008 for the Australian MTB Championships.
Schedule:
October 27 -28 XC,DH,MTNX round 1
November 24-25 XC,DH,MTNX round 2
December 15-16 XC,DH,MTNX round 3
January 23 - 27 Australian MTB Championships, Canberra
February 2-3 XC,DH,MTNX round 4
Tony Scott, MTBA Executive Officer said, "This maintains a tight 4 race series, with the final series round the week after the Nationals in Canberra, which by then will be in the second year of its 3-year hosting contract for the pinnicle of Australian MTB competition. The series scheduling will greatly help those participants who come from the farthest locations in Australia to pick up at least 2 national level events in the span of a week.
Cheerwine Cyclo-cross team finalized
Cheerwine Cycling has announced its roster for their 2006 elite women's cyclo-cross team. Anne Bolyea, owner and director of the women's team, has chosen the following riders: Tara Ross (2005 member Canadian National cyclo-cross team and 2004 bronze medallist Canadian National cyclo-cross Championships), Clara Beard (2005 U-23 U.S. National cyclo-cross Champion), Elizabeth Frye (2000 Bronze medallist MTB Master's Worlds), Mandy Lozano (15th overall 2005 Verge Mid-Atlantic series) and Cara McCauley (20th overall 2005 Verge Mid-Atlantic series).
Bolyea also announced that the team will join forces with Greg Becker and his men's cyclo-cross team, Sonic. "Becker brought Kona bikes and SRAM to the table and our riders are thrilled to race on the new SRAM gruppos and Kona frames. Verge has been Cheerwine's clothing sponsor for three years now and we are loyal to their dedication to cyclo-cross and look forward to doing as many Verge races as we can," continued Bolyea.
The women will be racing the Verge Mac Series, the Verge New England Series, and the USGP of Cyclo-cross.
Cheerwine will also help sponsor the North Carolina Grand Prix of Cross in Hendersonville, NC, as well as another UCI race. The team will also send Ross to Belgium in December to gain European experience.
Verge NECCS grows for 2006
Following up on a nail-biting finish to its 2005 edition, the Verge New England Championship Cyclo-cross Series returns for 2006 with a beefed up and streamlined calendar. With the addition of another race the opening weekend in Maine, the Verge NECCS boasts seven races for 2006, including three "double dip" weekends, in which racers can get UCI classified races on consecutive days in near proximity to each other.
The 2006 Verge NECCS opens October 14-15 in New Gloucester, Maine with a pair of Downeast Cyclo-Cross events. With the biggest elevation variation of the Series the Downeast Pineland Farm's course dishes out a rough combination of ups and downs, creating the most demanding lap on the Verge NECCS.
The second "double dip" weekend of the Verge NECCS kicks off November 4-5. Saturday's Chainbiter 8.0 in Farmington, Connecticut and Sunday's 18th Annual Cycle- Smart International in Northampton, Massachusetts regularly draw racers from across the country for a pair of classic New England courses. Farmington's Winding Trails Park course offers one of the most varied courses in the Verge NECCS, with a combination of wooded trails, open fields, paved sections, several small climbs and dips, and a massive sand pit. Northampton's Look Park features a Euro-style power course, wide-open high speed section funneling into tight slow speed turns and chicanes.
As the only "solo" race weekend of the 2006 Verge NECCS, and coming only a few days after Thanksgiving, the Bay State Cyclo-Cross in Sterling, Massachusetts, November 25, can often be overlooked. But the Sterling race is an ideal preparation for December's U.S. National Championships, with legendary course designer Tom Stevens laying out each track in a similar style. Racers who braved the snow at Sterling in '05 found the Nationals in Rhode Island much more manageable.
The 2006 Verge NECCS wraps up in the Ocean State December 9-10 with a "double dip" only miles away from the following weekend's U.S. Nationals site. Saturday's W.E. Steadman Grand Prix in South Kingston and Sunday's Caster's Cyclo-Cross in Warwick couldn't be more different. While the Steadman GP offers open fields and plenty off big gear mashing, Caster's 'Cross is a wooded, twisty, turny affair with two extended beach runs.
Verge NECCS winners will be crowned at the Series finals in Warwick with overall champion's jerseys awarded for Elite Men, Elite Women, Under-23 Men, Masters 35+, Masters 45+, Junior Men, B Men, Cub Juniors, and Masters 55+.
Volkswagon Iron Cross returns
Yellow Breeches Racing and High Speed Cycling Event Promotion will once again host the Iron Cross cyclocross and trail running race weekend with major sponsorship provided by the Volkswagen Dealers of South Central PA.
On Saturday, October 14, the weekend kicks off with the second annual Volkswagen Iron Cross Lite Cyclocross Race (IC Lite), a traditional short-course cyclocross race. IC Lite will again be part of the regional MABRA (Mid-Atlantic Bicycle Racing Association) cyclocross series, drawing racers interested in competing for series points.
On Sunday, October 15, racers will embark on the fourth annual Volkswagen Iron Cross Cyclocross Race, the longest cyclocross race in America, covering a single lap of 62 grueling miles. Runners will also compete on October 15, in the equally challenging Volkswagen Iron Cross-Country 15K and 30K trail running races.
New for 2006 is the Memphis Blues/Wildware Team Cup, in which cyclocross teams will compete for Iron Cross IV bragging rights and a sweet prize package!
All races will be held in Michaux State Forest, south of Carlisle, PA and will start and finish at the Carlisle YMCA's recently remodeled Camp Thompson. Many participants will stay for the entire weekend at bunkhouses at the camp.
The Volkswagen Iron Cross race weekend is made possible by the hard work of race volunteers and through the generous sponsorship support of the Volkswagen Dealers of South Central PA, Tanner Companies, Memphis Blues BBQ, Wildware Outfitters, Miller & Cardin P.T./Dutrey's Shoes, Dirt Rag, Giant Food Stores, Hammer Nutrition, Galbraith Pre-Design, World Cup Ski & Cycle, Dr. Drew Wellmon, and Green Mountain Coffee Roasters.
Proceeds from the races will benefit the Carlisle Family YMCA, of which Yellow Breeches Racing is a part, and the Blue Butterfly Fund, which provides funds to assist families with the cost of travel, non-covered medical fees, and general living expenses that are often sacrificed by a family whose child has cancer.
Land Rover/Siemens Home Appliances 2006 'cross team
The Atlanta, Georgia based Land Rover - Siemens Home Appliances Development Team announced their 2006 cyclo-cross team today. The team's primary goal is the U.S. National Championships. Season objectives include the Georgia Cross Series, North Carolina UCI events, and Georgia State Championships.
The team will race on Blue Competition Cycles, Panaracer tires, Neuvation wheels and SRAM chains and cassettes. Race fitness plans by Joe Friel's Ultrafit and TrainingPeaks.com, race lodging by Holiday Inn Express, eyewear by Tifosi and fuel by PowerBar. Team Web site is www.fultonflyerscycling.org.
2006 Land Rover - Siemens Home Appliances Devo Cyclo-Cross Team
Rose Mauney - Junior 15-16
Kyle Cochran - Junior 15-16
Ty Magner - Junior 15-16
Oscar Clark - Junior 17-18
Chris Hong - Junior 17-18
Ann Turner - U23
Carla Swart - U23
Jafer Beizer - U23
Thom Shaffer - U23
Thomas Brown - U23
Lamar Mauney - Team Director
Pro bike: Sabirna Jonnier's Iron Horse Sunday
By Mikkeli Godfree
Sabrina Jonnier's special World Champion edition Iron Horse Sunday
Photo ©: Mikkeli Godfree

They have long been the First Couple of world downhill racing and this past weekend Australian Sam Hill and Frenchwoman Sabrina Jonnier carved a rare feat out of a New Zealand hillside, to take the men's and women's elite world championships.
When they're not landing gold medals for their countries, Jonnier and Hill ride for the Iron Horse/Mad Catz team, which puts them both aboard this bike: Iron Horse's Sunday Factory DH. This particular one is Jonnier's.
It's a hot ride, as Hill and Jonnier have proved over and over again this season. Jonnier's tally for 2006 includes world cup wins at Mont St Anne and several world cup podium spots, while Hill has also been a frequent visitor to the podium this season. But at the world's they both put it all together to take the top step, and had special edition bikes to get them there.
Someone at Iron Horse either had a crystal ball or a heck of a lot of confidence, because the duo's world championship bikes were specially decked out in gold - a tiny hint of what Iron Horse was expecting from the world's.
See the entire Sabrina Jonnier's Iron Horse Sunday Factory DH pro bike artlicle here.
Back in hyper-ventilation country; the Geoff Kabush diary
Geoff Kabush
Photo ©: Rob Jones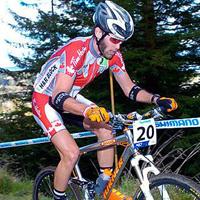 It has been a long race season but after a return trip to Rotorua, NZ for the World Championships the season it is all but done - the serious stuff anyway.
Since my last report way back in July, I have spent a couple weeks up in Victoria which is pretty sweet in the summer. I did a couple of Canada Cups for the first time in years, which was fun. I even got to do one in my hometown at Mt. Washington. Got to go swimming in the river with the dogs and even had a nice BBQ with all my friends I never get to see because I am such a transient.
After that it was back to hyperventilation country for the last couple of NORBAs: Brian Head at 10000-11000ft and Snowmass at 9000-10000ft. I knew it was going to be an uphill battle to try to catch Jeremy Horgan-Kobelski in the NORBA XC overall and I wasn't quite up to the challenge as he rode away in Brian Head. I battled it out for second and suffered like a dog to finish third in Snowmass at the Finals, which was good enough for second overall in the XC series.
Jeremy Horgan-Kobelski has definitely been at the top of his game this year and took the overall for the Yankees, the first time in quite a few years. The press make a big deal about an American winning it but I think it is about time, as they have ten times as many people as us up in Canada. In a couple of tactical Short Tracks I ended up with a couple of seconds, which was enough to lock up my three-peat for another NORBA Overall STXC Championship.
Read the entire Geoff Kabush diary here
Looking forward to riding the trails; the Kristin Danielson diary
The start
Photo ©: Tom Danielson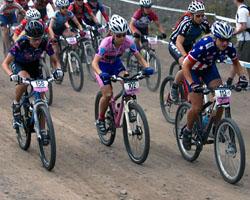 Just a fad that has passed? When I think of fads leg warmers, the zone diet and more fashion faux-pas come to mind, not an entire sport. How could my friend say this to my face? I do believe mountain biking is a lifestyle. A lifestyle that attracts fun loving and free spirits to it. No other place am I more content than when I am on my mountain bike riding through towering pine trees, through creeks, smelling the fresh mountain air and getting both wheels off the ground from that last jump. Whether mountain biking is a recreational sport, competitive sport or just a fad it is a beautiful sport that has brought much happiness to me this past summer. Not only did this sport introduce me to amazing people, such as my team, this sport has brought to me aspirations, accomplishments, mental and physical strength. The last time I checked, it is still a sport that is a part of the Olympic Games and has seen fierce competition among the past Olympians.

Even though my racing season has wound down, the time I spend on trails has not. This season is my absolute all time favorite to be encompassed by Mother Nature. Brilliant fall days are cool and colorful, who wouldn't want to be out on the trails? I know winter is larking around the corner and when winter shows its white face my Kalua-Lisa Kona will have to be hung up until next season; so it is imperative to explore new single track as I know soon they will be covered in a blanket of snow.

Read the entire Kristin Danielson diary here.

(All rights reserved/Copyright Knapp Communications Pty Limited 2006)