MTB News & racing round-up for May 4, 2006
Edited by Steve Medcroft
NORBA comes to Fontana, CA
By Steve Medcroft
In '05 Adam won his first-ever NORBA at the season opener.
Photo ©: Mike Gladu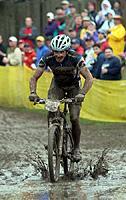 Although the NORBA series technically opened with a marathon near Phoenix, Arizona in March, the first venue to feature the full set of NORBA competitions in one weekend is Fontana, California. As well as the second race in the marathon series on Friday, leadership in cross country, short track, downhill, four-cross and Super D will all be for grabs in the California desert this weekend, May 5-7.
With a more compressed schedule (the NORBA season covers seven events in just over four months), and an injection of prize money from USA Cycling (see below), the series is once again becoming 'the' place for North American pros to strut their stuff. They're a tattered bunch though - Adam Craig (Giant) said he felt rusty at the beginning of the season and is late come into race form, Jeremy Horgan-Kobelski (Subaru/Gary Fisher), Shonny Vanlandingham (Luna Chix) and Geoff Kabush (Team Maxxis) all buckled to illness pre Sea Otter and Ryan Trebon spent six weeks of prime winter training time off his bike with mononucleosis.
The sickened A list are individually recovering but what will all that collective downtime do to the caliber of competition this weekend? Open the races up to riders normally deeper in the field? Expect veteran riders like Todd Wells (GT/Hyundai), Jeremiah Bishop and Sue Haywood (Both Trek/VW), Mary McConneloug and Mike Broderick (both Kenda/Seven and currently the two highest UCI-ranked Americans) to be battling for position with a strong field of up-and-comers (like Kiara Bisaro (Team R.A.C.E.), Heather Irmiger (Subaru/Gary Fisher) and Wendy Simms (Velo Bella-Kona).
Dry and fast courses are expected with temps in the seventies and lightly overcast skies. "The cross country course is very technical, there's some good singletrack, and while there aren't any particularly big climbs there's collectively a lot of elevation gain and loss," says Team Big Bear's Tom Spiegel. "Cross country riders will be challenged. No one will be disappointed," he adds, throwing down the gauntlet to potential naysayers of the Southridge Park venue where races have been held the past 12 years.
What you won't see in Fontana is the full contingent of gravity stars. A scheduling conflict with the World Cup in Vigo, Spain means the likes of Brian Lopes and Jill Kintner (both GT, both winners at the Sea Otter four-cross at the beginning of April) will be chasing World Cup glory instead of NORBA pride. It doesn't mean the gravity events will be dull; Yeti-sponsored Sea Otter downhill winner Jared Graves is expected to be there. As is 21-year old American national downhill champion Cody Warren. And in women's four-cross, Kintner's absence means that the hugely talented group of women-who-are-tired-of-second-place (think Melissa Buhl (KHS) and Tara Llanes (Giant)) will get a chance to shine.
UCI Points and prize money return to the NORBA series
Thanks to $33,000 in support from USA Cycling, the NORBA series once again carries the cache of UCI status. Fontana is classified UCI C2, (as a first-year event, it can't earn the same C1 status as NORBA races in West Dover, Vt., June 17-18, Park City, Utah, July 8-9, Brian Head, Utah, August 5-6 and Snowmass Village, Colo., August 12-13).
The classifications are especially important to the Americans at the events; points earned between Jan. 1, 2006 and Dec. 31, 2007 will count towards a nation's ranking and factor into the number of start positions a country receives at the 2008 Olympic Games.
USA Cycling is on a public mission to boost the number of spots its countrymen and women earn for Beijing but the prize money contributed by USA Cycling for the national series events will be specific to men's and women's cross country races because they are only recognized mountain bike disciplines at the Olympic Games.
It all starts with a marathon
As is becoming a tradition in NORBA series, racing for the weekend kicks off with a marathon. The close proximity of Friday's marathon to Saturday's cross-country race means that riders like six-time 24-hours of Adrenalin solo world champion and defending NORBA marathon champion Chris Eatough (Trek/VW), solo 24 hour national champion Cameron Chambers and Cyclingnews diarist Nat Ross (both Subaru/Gary Fisher) won't have to content with cross-country pros looking for a tune-up before the weekend.
Stay tuned to Cyclingnews May 6-7 for results, race reports and photos from Fontana.
Mountain-bike action all over the world
The mountain-bike season is in full swing. Besides the NORBA series stop in the U.S., two European venues will host World Cups this weekend. In Vigo, Spain, the gravity gang comes together for bragging rights, UCI points and prize money in downhill and mountain-cross. Naoussa, Greece is the site of a World Cup marathon. There are also Norway, Swisspower, XCO, and Specialized Cup races on the sixth and seventh (see full 2006 MTB schedule here).
Be sure and check back on Cyclingnews after the weekend to see how this mountain of action shook down.
2006 US MTB national championships relocated
After a record 664 inches of snow fell on Mammoth Mountain this winter, USA Cycling will be relocating its 2006 mountain bike national championships scheduled for July 20-23.
"Looking at our snowpack today, I can confidently say we are unable to host a mountain bike event to the quality we are all accustomed to," said Bill Cockroft, senior vice president of operations at Mammoth Mountain. "It was a difficult decision, but ultimately we believe we owe it to the mountain bike community to make sure the event continues at the level and standards expected by USA Cycling," he added.
The original event dates remain unchanged, and USA Cycling is currently negotiating with several venues to replace Mammoth Mountain; a decision will be made in the coming weeks.
Six hundred reasons to ride; Ernie Marenchin Interview
Now that endurance racers have an organized national series to showcase their talents (the recently announce National Ultra MTB Endurance Challenge, a series of six 100-mile mountain-bike races ranging from Park City, Utah to Harrisonburg, Virginia) big-name riders across the country have shifted their schedules to be able to hit series races. Cyclingnews MTB editor Steve Medcroft found one ultra-endurance specialist who couldn't be happier for the competition.
Subaru/Gary Fisher two-niner pro Nat Ross says he's dropped a European trip to add a couple of new Ultra MTB National Series events in his schedule. Ross' teammate and current U.S. Solo 24 Hour National Champion Cameron Chambers says winning the series is his primary season goal. Even Chris Eatough (Trek/VW) should be seen in at least one of the races (he traditionally competes in the Wilderness 101 in Pennsylvania).
The enthusiasm is good news for the dozens of lesser-known but super-committed ultra-endurance racers who rise to the challenge of these event throughout the year; guys who mostly pay their own way, who put in the same intense training as the full-time pros but often have families and full time jobs to share that training with, who make names for themselves with accomplishments that awe the average endurance mountain biker.
Read the entire Ernie Marenchin interview here.
England's Premier Series starts on Saturday
The Premier Series returns this Saturday for the start of the XC racing season proper, in the first of five fantastic weekends of mountain biking at the best venues that the UK has to offer.
The National Points Series XC rolls into Sherwood Pines on May 6, with a seven mile lap flat-out lap through tree lined singletrack, some new climbs and super fast fire roads designed by current Youth NPS champ David Fletcher.
For many of the Commonwealth Games heroes this will be their first race on home soil since that majestic one-two. A tanned Oli Beckingsale will doubtless be heading up the Elite field, followed by Si Richardson, Steve Roach, Garath Montgomerie, Rab Wardell and James Ouchterlony, with Phil Dixon, Nick Craig and Phil Spencer returning from his World Cup adventure to race on his home circuit.
In the women's Elite race there will be the long-overdue comeback of Sue Thomas. With injury problems behind her, Sue will be hoping to mix it up with Jenny Copnall and Jenn O'Connor in what promises to be a compelling battle for the podium places.
There's plenty more to do besides watch (or compete in) the elite cross-country. Kids race for free, A Quick Release bike holidays will be holding a tyre changing competition with the chance to win goody bags, as well as product demos from Trek, Climb on Bikes, Extreme Endurance, Giant, Massi, Raleigh, Scott, XCracer.com, Voodoo and Science in Sport and Torq energy products.
Post race you can kick back and enjoy the UK premiere of award-winning film Off Road to Athens, a documentary about US riders on a quest for UCI points and a place at the 2004 Olympic XC.
Liam Killeen's Specialized S-Works Epic
By Steve Medcroft
Shaving a few grams
Photo ©: Steve Medcroft

Killeen says the plastic caps
Photo ©: Steve Medcroft

At the Sea Otter Classic in Monterey, California, Specialized Factory team racers Christoph Sauser, Alban Lakata, Sabine Spitz and Liam Killeen rolled out to the time trial start on pink S-Works Epic frames. Identical to their team-issue bikes, the frames were coloured to celebrate the twenty-fifth anniversary of the first mass-produced mountain-bike; the Specialized Stumpjumper. "The very first [team-issue] Stumpjumper was pink," said Kevin Franks of Specialized. "We're using them here at Sea Otter and then at the Garda Festival in Italy later this month. After that, they're going into the Specialized museum."
The S-Works Epic is, of course, Specialized's top-end full-suspension cross-country race bike. The front triangle and main rear pivot links are built from company-branded Fact 10m carbon, the shock extensions are magnesium, and the brake bosses and sealed cartridge-bearing pivots are all titanium – which all puts a fully-built production bike in the sub-25-pound weight range. The FSR alloy rear triangle offers 100 millimeters of travel using Specialized's exclusive Brain shock technology, a Fox-backed initiative designed to give solid pedal performance on smoother trail along with active absorption in rough terrain.
Each of the pink frames at Sea Otter was built up with its rider's regular race-bike kit. We got a closer look at Killeen's Epic in the team's pit and found that the weight conscious Commonwealth Games and Sea Otter cross country winner is very liberal about mixing the stock build with his own personal choices in components.
Read the entire Liam Killeen's Specialized S-Works Epic pro bike feature here.
CNC machines busy at Chris King
Chris King machines a wide range

We found this item over in the May 3 Tech News section:
In addition to (Chris King's) coveted headsets and hubs, a comprehensive line of single-speed cogs, cog lock rings, and headset spacers is keeping the CNC machines busy at Chris King.
Shimano spline-compatible single-speed cogs are available in either clear-anodized aluminum (16-19T) or bead-blasted and heat-treated stainless steel (12-20T), and both incorporate a 5mm wide base to prevent digging into soft aluminum cassette bodies.
Cog lock rings are offered in aluminum or titanium in either 11T or 12T varieties, and both feature slightly longer threads for better engagement on today's longer 10-speed cassette stacks.
Read the entire May 3 Tech News section here.
Sickness gives you perspective; Mary McConneloug and Mike Broderick diary
By Michael Broderick
Mary and Mike
Photo ©: Mary McConneloug & Mike Broderick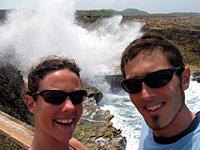 Three consecutive weekends of international competition in Rincon, Puerto Rico, the first World Cup in Curacao, and the Sea Otter Classic stage race in Monterey, California.
Feverish, sleepless and puking up stomach bile is a great way to gain perspective on how good average daily life really is. Getting sick after a really depleting race is horrible, and this night was as rough as an unchaperoned prom.
I really can't explain what brought this on except to say after the final (and particularly grueling) day of the Sea Otter mountain bike stage race, my body just rebelled. It took an uncharacteristic trip to the E room for a couple of saline drips, some anti nausea medication and a lot of TLC from Mary to sort it all out. On the positive side it was a good reminder for me that it's really important to enjoy and cherish those days when you're feeling healthy.
I guess it was a lot to ask the body to go into a four day stage race when the energy is less than 100%. Nursing a cold, but more just tired from traveling and competing over the prior weekends had me at a bit of a low point.
This makes Mary's 2nd place overall in the Sea Otter Pro Omnium all the more incredible. The fact that she went through all I did and was still able to come up with a great result is a testament to her fitness and tough mental resolve. I was stoked to rack up my best Sea Otter result as well, finishing 9th in the overall GC.
Mary and I had not planned for Sea Otter to be a high priority (for a result) race, mostly because we knew it would be tricky to pit our team through a muddy 4 stage race. It was pretty clear that we would be at somewhat of a disadvantage not having the help of first and foremost a mechanic, massage therapist and or manager. Back to back mountain bike races in in those conditions mandates lots of extra work! Still as soon as the gun went off we found ourselves triggered into race mode and we went for it with everything we had, instinctively like hyenas to weak buffalo.
Read the entire Mary McConneloug and Mike Broderick diary here.
(All rights reserved/Copyright Knapp Communications Pty Limited 2006)