First Edition Cycling News for December 24, 2006
Edited by Hedwig Kröner
IOC president Rogge wants DNA database
The president of the International Olympic Committee (IOC), Belgian Jacques Rogge, has spoken out in favour of the creation of a DNA database assembling the vital facts of all top-level athletes, including cyclists. In an interview with Het Laatste Nieuws, Rogge considered this to be the next step in the fight against doping, not only within cycling, but also in other sports.
"Today, the riders have to give urine and blood samples. Tomorrow, this has to include DNA also," Rogge stated. "It's not very painful: a pin prick inside the cheek, a bit of hair... that's less painful than blood extraction. The data would be well-stored and protected. Tell me, what's the problem?"
The IOC boss went even further, saying that the fight against doping needed the interventions of police authorities to be successful. "(A DNA database), together with more controls, home searches, telephone taps... We have to find the next Fuentes fast."
Still, Rogge presented himself as a firm supporter of the presumption of innocence, and said that Ivan Basso and Jan Ullrich should not be excluded from their sport, as their guilt had not been established. "The question of whether or not they are guilty has not yet been answered," he added. "Basso, Ullrich and the others are therefore free to race wherever they want to. Now, does this annoy me as a sports fan? Yes. But should we be allowed to exclude them? No. I don't find it particularly pleasant to tolerate them in the peloton, but it is necessary. The presumption of innocence is a sacred principle to me.
"We can't hold a with hunt without proof - the ProTour teams have to understand that. It's not enough to be convinced of somebody's guilt," Rogge concluded.
UCI consider ProTour globalisation
By Shane Stokes
McQuaid believes the ProTour needs to be global
Photo ©: Cyclingnews.com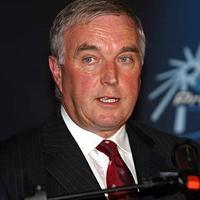 Although each of the 27 events are currently based in Europe, the UCI's goal of furthering the global development of cycling means that the governing body is to consider the expansion of the ProTour series to other continents. Speaking to Cyclingnews this week, UCI president Pat McQuaid confirmed that the organisation would consider proposals from other countries to host such events, even if that necessitated an equivalent reduction in the European calendar.
"I wouldn't say it is a long way away," he stated. "The initial idea of the ProTour was to assist in the globalisation of the sport, to bring the sport at the highest level into as many markets as is possible. It was natural at the beginning that it could only be done at a European level, letting things develop there initially. Once that was done, we could then see what interest there is in bringing the ProTour to foreign shores."
On Monday USA Cycling flagged its intentions by issuing a press release stating that it was aiming to host a ProTour event within a short timeframe.
The communiqué underlined what it said was unprecedented growth, affirming that: "the future is so bright, USA Cycling has its sights set on and strongly believes the US will have a UCI ProTour race in the very near future.
"(UCI President) Pat McQuaid and the UCI have made clear their intention to truly globalise professional cycling and expand the highest level of the sport beyond its traditional Western European borders," said USA Cycling CEO Steve Johnson. "We are very supportive of the vision for the sport expressed by Mr McQuaid and believe that the US is perfectly positioned and prepared to be a player in the expansion of the ProTour outside of its present structure."
Click here to read the full feature.
Fuerteventura-Canarias to fight UCI decision
Spanish team Fuerteventura-Canarias has announced on Saturday that the squad will take legal action against the UCI. On Friday, December 23, the UCI issued the list of Professional Continental team licenses for 2007, which lacked Fuerteventura-Canarias despite a legally valid application, according to the team.
In a press release, the team management stated, "The International Cycling Union sent the team a letter, explaining that the only reason of the refusal was that the team didn't comply with the regulations' deadlines. However, this same regulation does not include the possibility of a license refusal if the deadlines for presenting the documents aren't met."
Moreover, the team denied not having sent in its application documents in time. "The regulation of the UCI mentions economic sanctions for each day of delay, and has December 20 as the last deadline to submit the last documents. The team Fuerteventura-Canarias submitted all the documents 26 days prior to this deadline. Therefore, it is inadmissible from a legal point of view to deny the team a license."
Team managers vowed to send a complaint to the license commission on December 26, and have already asked their lawyers to work on "all legal possibilities, whether they are sports or civil law," according to the statement.
Another Olympics for Longo
Jeannie Longo-Ciprelli warms up at the 2004 Olympics in Athens
Photo ©: AFP Photo

After signing with Austrian team Uniqa for 2007, Jeannie Longo-Ciprelli has set herself a new, historical goal: the 48 year-old French cyclist wants to compete in the Olympics Games in Beijing in 2008. This would be the seventh Olympics she attends.
"Racing in Beijing is not unrealistic to me if I keep my good shape," Longo told the Dauphiné Libéré newspaper on Friday. "I will train the coming two years for the Games. However, when you're close to your fifties, the parameters can change a lot from one year to another."
If Longo attains her 2008 goal, she will be the only female cyclist to heave attended the Olympics every time since women's cycling was first admitted at the event, in 1984. This week, the triple Olympic medallist moreover received a motivation boost as a reader poll launched by L'Equipe magazine placed her on rank four amongst "France's preferred sports people" - just behind swimmer Laure Manaudou, footballer Thierry Henry and tennis woman Amélie Mauresmo.
"This is awesome," she commented. "People don't talk about me a lot, I don't make a lot of headlines. I think that the exaggerated media coverage of some sports people gets on the public's nerves. This poll shows the simple man's recognition of what I do and that makes me very happy."
Caisse d'Epargne confirms Luis León Sánchez
Spanish team Caisse d'Epargne-Illes Balears has confirmed the signing of Luis León Sánchez Gil for the next two seasons. Luis León Sánchez, a Murcia native, turned 23 years last November, and has been showing a lot of potential. He started as a professional in 2004 with the Team Liberty Seguros, and will now join his former Astana teammate José Joaquín Rojas, as well as Alejandro Valverde and Francisco Pérez in the new team. Luis León Sánchez won the 2005 Jacob's Creek Tour Down Under, and placed second overall in this year's edition of the race.
This year has been very difficult for the Spaniard, as his brother died in a motor accident and Manolo Sáiz, "who had faith in me to make my debut", was allegedly implicated in the Operación Puerto affair. While he was competing in the Vuelta, Sánchez caught a virus and had to abandon the race. For this reason, he also had to skip the World-championships time trial. "Too many things have happened to me in 2006, from the very beginning of the season," he told Cyclingnews.
Also see: An interview with Luis León Sánchez.
Alm. Brand extends sponsorship with CSC
Danish team CSC has announced that the team management has reached an agreement with co-sponsor Alm. Brand, extending the deal with the insurance, banking and pension group until 2008.
"I am very happy we have made a new sponsorship agreement with Alm. Brand," said Bjarne Riis. "We have had an excellent dialogue with them regarding the sponsorship and it means a lot to us that we have been able to deliver our product to their satisfaction. Through the years, we have developed strong relations with Alm. Brand, and of course we want to develop and strengthen these even further."
Henrik Nordam, Deputy Chief Executive Officer at Alm.Brand, said that even the difficult year of 2006 hadn't had a negative impact on the company's image. "We are very pleased with the effect our sponsorship of Team CSC has had for the last three years," he said. "We make regular inquiries with our clients regarding their level of satisfaction with Alm. Brand and the response we have gotten regarding the sponsorship is very positive - this year as well. The cycling sport has a big place in the hearts of the Danish people. And we look forward to yet another year with great results and experiences.
"It has been a turbulent year, but Bjarne Riis and the team have taken action and shown great strength. It is imperative to Alm. Brand that Team CSC has chosen to lead the way in the fight against doping, and that the team management and riders have made a commitment to each other with the most extensive doping control program in the world. Alm. Brand supports this fight against doping and we would like to play a part in turning things around. And Team CSC's groundbreaking program has been very important to the new sponsorship agreement with Alm. Brand," he added.
Unibet to use Canyon bikes
After receiving the much-desired ProTour license last week, team Unibet will race its first year within the top eschelon road cycling using Canyon bikes. The German manufacturer will produce the Ultimate CF ProSeries 9.0 especially for the Swedish team (the online betting company Unibet's headquarters are in Monaco, but it is noted on the Stockholm Stock Exchange). The production of the team's bikes resulted from the Canyon F10 Carbon Frameset, a frame which has won several independent awards, including "Best Lightweight Carbon Fibre Frame In The World" from Germany's TOUR Magazine earlier this year.
Moreover, team Unibet.com will be the only ProTour squad sponsored by Lightweight wheels from CarbonSports. "Stiff, light and sexy - a real wanna-have," said Unibet sports director Jacques Hanegraaf regarding the team's machines for 2007.
Lines still open... It's time to vote!
Win the latest set of HED wheels
Tom Boonen: Cyclingnews 2005 rider of the year
Photo ©: Roberto Bettini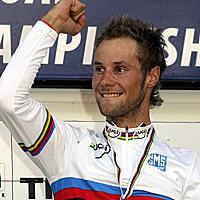 Each year, Cyclingnews gives its readers the chance to select the riders, teams, races, moments, equipment and photos that have really stood out from the pack in the last 12 months or so.
From male and female cyclo-crosser and mountain biker of the year, to best product, best team bike, most improved rider, best one-day and stage race, male and female track and road riders, best moment, legend of cycling - soon you'll discover who each of these winners are. But what many of us are really itching to find out is our 'Big Daddy' award: Cyclingnews' 2006 Rider of the Year.
In 2005, then newly-crowned world champion and winner of 14 races, Tom Boonen, ran home a winner with almost 50 percent of the votes, while runner-up Lance Armstrong could only muster the hearts of a mere 20 percent of our readers. This time round, Boonen lost his rainbow stripes to the ever-consistent 'Il Grillo' Paolo Bettini in Salzburg, but the popular boy from Balen won seven more races than he did last year. Has Tommeke done enough to pull it off again?
Win a set of HED's Kermesse road wheels
Bettini's not the only guy he's up against, though - the names of Valverde, Zabriskie, Zabel, Cancellara, Landis, Ullrich, Voigt, Leipheimer, Vos, Pereiro, Bettini, McEwen and Ekimov are also in the mix - and this year's race to become Cyclingnews' Rider of the Year is set to be the closest ever.
And just to keep things interesting, we'll be giving away a set of the latest Kermesse road wheels from HED to one lucky entrant.
The survey should take you less than 10 minutes to complete - you'd be mad not to participate!
Click here to cast your vote in Cyclingnews' 2006 readers' poll.
(All rights reserved/Copyright Knapp Communications Pty Limited 2006)