MTB News & racing round-up for November 2, 2005
Edited by Steve Medcroft
Welcome to our regular round-up of what's happening in the dirt. Feel free to send feedback, news and gossip to mtb@cyclingnews.com
MTBer Craig a double runner-up at Gloucester 'cross
By Steve Medcroft
Adam Craig
Photo ©: Steve Medcroft

Don't mountain bikers get an off season? At the finish of the U.S. National Championship cross-country race just a month ago, Adam Craig (Giant) looked frustrated. He had just returned to the U.S. from a whirlwind trip of World Championships in Italy and World Cup finals in Scotland and didn't have the pop in his legs he would have liked for the day's main event. It appeared he may have been burned out from a long season in the saddle. So it was a surprise to see him travel to Massachusetts to line up at Saturday's U.S. Gran prix of Cyclocross in Gloucester.
Snow fell all Saturday morning in Gloucester. Craig, without significant standing in the series, started deep in the field; three rows behind the front. A rider broke a chain in front in the first three-hundred meters of the race and brought Craig to momentum-killing stop and pushed him even further back into traffic. "Then I turned onto the first dirt in the race and my bars slipped down a ton," he said at the end of the weekend. "And I couldn't swap the bike for a few laps (couldn't locate his spare bike in the pit) and lost more time."
So why not, as an off-season mountain biker, just roll to a stop and pack it in for the day? "Oh, there was no reason to toss it in," he shrugs. "I generally don't drop out of races unless my legs fall off or something terrible happens to my bike."
Craig's decision to stick with the race actually paid off. Eventually. "I was just riding in traffic at first. It was a mess. It was impossible to gain any ground." The ground he needed to gain was on a chase group that included Barry Wicks (Kona), Jesse Anthony (TIAA-CREF) and (a full minute up the course) solo breakaway rider Tim Johnson (Louis Garneau / cyclocrossworld.com). "I was making mistakes and crashed a bunch but once I got clear of traffic and the course opened up ahead of me, I started ticking the pedals over and caught the chase group. That was at about a lap and a half to go."
Against the odds, Craig ended up second on the day. Then on Sunday, after Barry Wicks played tactics on the field and let team-mate Ryan Trebon go solo up the course to win, Craig says he stayed comfortable, kept a consistent pace and put himself in position to out sprint Wicks for his second second place of the weekend. So what happened with that fatigue we saw at Mammoth? "Me being tired at nationals was just a function of being all jet lagged and screwed up instead of being genuinely tired," he says. "I've taken a week off since then and the weather's been nice in Oregon so I've been hanging out, riding my bike and just having fun."
Craig says his motivation for racing the 'cross season is that "it's a good way to stay in shape until the weather gets really nasty." So he will race the final two USGP races (Watsonville, California November 19th and San Francisco, California November 20th ) and says he plans to be fit for nationals in Providence, Rhode Island in December. "If we have the same nasty weather as Saturday, I actually like my chances at nationals" he says. "After racing for three weeks now, I'm still on a good, steady plateau; on a roll. So I'll just try to sharpen up a little bit for nationals."
And if he does well through the rest of the season will he follow fellow mountain bikers Trebon and Wicks and punch the clock in Belgium and Holland for the 'cross crazy Christmas season? "Nah. I might actually be going hiking for a month in China with some friends instead."
Hansen wins 2005 Crocodile Trophy
Italy's World Cup Bettin champion wins final stage
By John-Michael Flynn at Four Mile Beach, Port Douglas Australia
Number 1
Photo ©: Mark Watson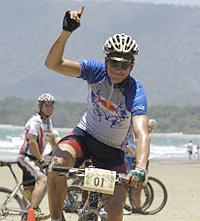 At the end of thirteen soul destroying days, the Crocodile Trophy of 2005 finished as it began, on a palm fringed beach in a tropical paradise.
And while the final stage belonged to Italy's champion Mauro Bettin, it was Adam Hansen, the local hero, who raised the biggest cheers from the crowd on magnificent Four Mile Beach, as he claimed his second successive Crocodile Trophy Victory.
It was a tribute to the rediscovered mental toughness of the Australian that after a season of self-doubt on the lonely roads of Europe where he is yet to make a name for himself in road cycling, he could return home and beat the best in the world, in a race which he has made his own.
When the minutes were finally tallied for the general classification at the end of today's beach criterium, Hansen had maintained a fifteen minute margin over his nearest rival Bettin, bringing to an end a memorable contest.
The entire 2005 Crocodile Trophy mountain bike stage race reports, results and photos
University of Colorado wraps up division I U.S. Collegiate mountain bike championships
The University of Colorado captured the division I national title as the 2005 USA Cycling Collegiate National Mountain Bike Championships in Seven Springs, Pennsylvania. Tim Sharpe and Jessica Vogt won the downhill finals on Sunday to contribute just enough points to surpass defending division I champions Fort Lewis College in what turned out to be a tight two-school race for the championship.
CU edged Fort Lewis by just ten points, 695-685, after results from the weekend's four events - short track, mountain cross, cross country and downhill - were calculated. The University of Colorado also grabbed the top-two places in the individual overall standings as Joshua Bezecny and Chris Jung placed first and second respectively. For Bezecny, it was his second consecutive men's division I individual title. Despite the second-place ranking in the final team standings, Fort Lewis College managed an overall title as Tina Dominic earned the women's division I individual title with 450 points, ahead of Eastern Kentucky University's Amanda McKay who earned 412 points as the silver medalist.
In division II competition, Lees-McRae College was clearly the dominant team as it successfully defended its three overall titles across the board. With 702 points to Warren Wilson College's 612, Lees-McRae repeated as the overall team champion while Brent Bookwalter and Monique Hein also claimed individual overall honours for the second year in a row to give Lees-McRae its second consecutive sweep of the three overall classifications.
Read all four race reports and results here:
That's a wrap: Crocodile Trophy's Felt Dream Team diary
All together now...
Photo ©: Christi Valentine-Anderson

In the end, the Dream Team's apartment at the Cairn's Lakes Resort was littered with trophies, mounted crocodiles and truly niche souvenirs collected by the team over the past 15 days in the Australian Outback.
We won seven stages (five to Bettin and two to Hundertmarck), the point's competition, second overall for Bettin and the team competition (by five hours over the next team). We had four of our five riders in the top ten on General Classification and all finished with relatively minor injuries (mostly sustained at the playground after hours). To put it more succinctly the Dream Team rocked! We played hard and we rode like a professional team; as a result, we cleaned up at the awards ceremony. Kai Hundertmarck was awarded the James Grant Memorial shield as he was clearly the most flamboyant rider on tour. I look to seeing the one-hour TV show of this year's Crocodile Trophy; it should look like "the Kai Show", with one impressive clip of the awesome tumble by Jens Zemke, which the TV crew was there to shoot.
Here is just a quick recap of our last three stage victories. First, Cooktown went to Hundertmarck who jumped away early in the stage and soloed to victory. Hansen was so busy worrying about Bettin and conserving enough energy for the queen stage over the CREB track the next day, that he made no attempt to catch the German Ironman. This played well into Kai's hands as he only had ten minutes up his sleeve when he hit the bitumen and the gnarly head wind kicked into gear.
See the rest of the Felt Dream Team diary here.
Global MTB racing round up
Bombproof MTBs at the Bicycling Australia Show
Jon Byers of Eastern Bikes
Photo ©: John Stevenson

Former vert BMX star Jon Byers is one of the last people you'd expect to be spruiking a line of mountain bikes. His company, Eastern Bikes, makes bombproof BMX bikes for riders whose riding style is termed 'abuse' by most makers of big-wheeled machines. But when Eastern started dabbling with 26in-wheeled jump bikes and considering a suspension frame, its Australian importer Dirt Works had an idea: why not get someone who knew what he was doing take care of the suspension aspects?
The logical choice was Ellsworth, as Dirt Works also handles the Ramona, California suspension specialist in Australia. A licensing deal was brokered and Eastern now has four suspension bikes in its range using Ellsworth's single-pivot design. Byers told Cyclingnews that he was seeing "a lot of transition from BMX" to mountain biking, and that these riders were breaking regular mountain bike frames.
And that, in part, was why Eastern is offering a suspension frame with a chromoly front triangle. "Aluminium is traditional but for some people chromoly is the only way," said Byers.
See the rest of our Bicycling Australia Show coverage here
Previous News Next News
(All rights reserved/Copyright Knapp Communications Pty Limited 2005)