MTB index page for all MTB content
Crocodile Trophy - NE
Australia, October 18-30, 2005
Main Page Results Overall standings Felt Dream Team diary Previous Stage Next Stage
Stage 3 - October 20: Paluma Dam – Lake Lucy, 148 km
World Cup champion wins stage 3
Longest stage of epic event ends in sprint finish
By John-Michael Flynn at Lake Lucy, Outback Australia
Stage winner Mauro Bettin (Dream Team 1)
Photo ©: Mark Watson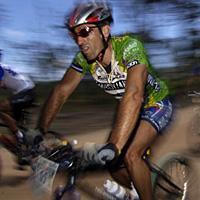 Sprint finishes are incredibly rare in cross-country mountain biking; rarer still, sprint finishes across cattle grids and dry river beds. But such is the iconography of the Crocodile Trophy that riders learn to expect anything on the roads and trails of the Australian Outback. And today was no exception!
At the end of 161 kilometres, on the longest stage of the world's toughest mountain bike race between Paluma and Lake Lucy, four riders were left in contention for stage honours when the finish line was in sight. After an epic duel which began on the rainforest mountaintop of Paluma, Australia's Adam Hansen, Belgian Christophe Stevens, Italian Mauro Bettin and Austrian Heinz Zorweg were left to battle it out in the remote outback cattle country. Predictably it was Bettin, the newly crowned Marathon World Cup Champion who emerged triumphant to claim the sprint victory, with Stevens second and the Austrian strong Zorweg third.
"It is a good day for me," a joyous Bettin said after recording his first stage win for the 2005 Crocodile Trophy. "The last mountain I attack, go, go, go with Adam and people."
How the race developed
The stage began with what was expected to be a gentle rollout across the rainforest mountain top of Paluma, but the race didn't go as many key protagonists had planned. In a tactical move the Felt-Shimano Dream Team sent former Team Telekom powerhouse Kai Hundertmark up the road. The team of race leader and defending champion Adam Hansen sent one of their own, Austrian Stefan Rucker to join him.
At one stage the pair had more than ten minutes lead on the main field. But as Hundertmark and Rucker tired in the rolling hills of the outback, the pain began to set in. "It was a very hard day," Hundertmark admitted after finishing the stage in fifth. "It also was kind of team tactic we try to escape early, that the other guys are working and Mauro can stay a little bit in the back and maybe attack again at the end. But finally it went well, he won the stage."
The breakaway may have gone the distance, but for the suffering endured by Stefan Rucker. The in-form Austrian road rider clearly having a tough time in the leg-sapping heat of Australia's remote North. "It was that hard; it started out in the morning - it was raining in the night and now it's so hot and getting steamy like hell," a totally smashed Rucker admitted post-stage. "I went about 70 kilometres alone by myself, I've seen nobody except the feeding station. It's so hard here man."
Former Telekom pro Kai Hundertmark
Photo ©: Mark Watson

When Rucker was caught by the lead group and subsequently dropped, it left his team-mate Hansen alone in the front group, but the defending Crocodile Trophy champion and stage one victor was playing it cool.
"Today was pretty much to have a rest day and to pull me away from some of the other guys," Hansen revealed. "Tomorrow hopefully I'll try and make a move."
The Australian achieved his major objective for the day, of keeping rivals Mauro Bettin and Christophe Stevens in check. The race leader on G.C. claiming not to have contested the final sprint as a matter of etiquette. "I didn't sprint today because I didn't really work, it would be a bit unfair," Hansen said. "I knew Bettin was really after it so I thought I'd do him a favour and maybe he'd do me one after."
Certainly, Bettin was doing Christophe Stevens no favours. The Belgian, who won the first stage of the Crocodile Trophy wished he could have had this most unusual of sprint finishes (across a cattle grid on a dusty dirst road) all over again. Stevens' second placed finish was still a fine result, considering the conditions. "Yeah, that was a bit hard - I was still suffering a bit from yesterday," Stevens admitted. "My back was not one hundred per cent, but eventually it got better."
Third across the line today, Austrian Heinz Zerwig, is emerging as one of the form cyclists of the Crocodile Trophy. The European appears to be enjoying his adventure, and contributed more than his share of work in today's lead group. "It was a long stage; I ate a lot of bananas and I drank a lot," Heinz said. "It's very nice here - hot but nice."
Ten stages to go!
Austrian rider Stefan Rucker
Photo ©: Mark Watson
Ten potentially soul destroying stages remain in the Crocodile Trophy and for the sole female competitor in the race that means another thousand kilometres to go. Danish cyclist Astrid Boehm crossed the finish line today in a time just on nine hours, but is still fighting on. "A long day at the office," a smiling Astrid said as her daily ordeal came to an end. "I'm feeling good now, my feet are hurting a bit, everything is hurting but I'm still o'k.
"I will be ready again tomorrow."
If Astrid is feeling worse for wear, she could do worse than to talk about suffering with German Kai Hundertmark. The former Grand Tour and One Day Classics rider, a hard man of the road, likens the Crocodile Trophy to his most difficult experiences on races like the Tour de France, only in some ways he says it's harder. "Here you are all on your own, don't recover so good if you sleep on a stretcher in a tent," 'have-a-chat' Hundertmark said of his experience so far in the outback. "From day to day I think it's going to be harder here than in the big stage races."
Photography
For a thumbnail gallery of these images, click here
Images by Mark Watson/mwphotography.com.au
Results

1 Mauro Bettin (Ita) Dream Team 1                            5.30.46
2 Christophe Stevens (Bel)                                          
3 Heinz Zörweg (Aut) ARBÖ Wienstrom Lamster Fadewa              0.01
4 Adam Hansen (Aus) Cairns Coconut Caravan Simplon 1                
5 Kai Hundertmarck (Ger) Dream Team 1                           6.21
6 Matthias Buxhofer (Aut) VAV-Versicherung R. u. R. Völkl      11.28
7 Stefan Rucker (Aut) Cairns Coconut Caravan Simplon 1              
8 Radoslav Sibl (Cze) Favorit Brno - Bikezone                  12.27
9 Johannes Huber (Ger) Team Huber                              19.36
10 Jens Zemke (Ger) Dream Team 1                                    
11 Markus Eibegger (Aut) Team Rapso                            19.37
12 Salvatore P. Albano (Ita) Team Bike Tarvisio 2005           25.37
13 Robert Vlug (Ned) team.hollandonline.nl                     31.03
14 Lars Erik Johnson (USA) Dream Team 2                             
15 Johannes Reiser (Aut) Cairns Coconut Caravan Simplon 1      33.48
16 Joe McDonnell (Aus) Cairns Coconut Caravan Simplon 2        39.29
17 Tim Northy (Aus) Cairns Coconut Caravan Simplon 2           56.22
18 David Wood (Aus) Dream Team 2                                    
19 Struan Lamont (Aus) Cairns Coconut Caravan Simplon 2      1.00.33
20 Peter Stenico (Aut) Peto                                  1.09.44
21 Loris Macor (Ita) Pedale Tarvisiano                       1.03.49
22 Harry Ensink (Ned) GTI team                               1.13.59
23 Guido Van Olffen (Ned) GTI team                                  
24 Mikkel Brinch Norgaard (Den) Team ACM                     1.16.17
25 Beat Lustenberger (Swi) Trek-VC Züri 2                    1.17.57
26 Bart Machiels (Bel) Belgium Bikers Marathons 2            1.22.42
27 Kim Proctor (Aus)                                         1.31.20
28 Christophe Desimpelaere (Bel) Team ACM                    1.38.42
29 Jos Kerkhofs (Bel) Belgium Bikers Marathons 1             1.54.40
30 Eric Paquay (Bel) Belgium Bikers Marathons 1              1.54.41
31 Knud Juul-Jensen (Ire) Team ACM 2                         2.07.25
32 Han Vaalt (Ned) GTI team                                  2.11.06
33 Karl Frank (Aut) SV Panaceo Post                                 
34 Giancarlo Schönberg (Ita) Pedale Tarvisiano               2.28.59
35 Rudi Donckers (Bel) Belgium Bikers Marathons 1            3.07.17
36 Paul West (GBr) Endura/Shred                              3.18.34
37 Claude Dabaliz (NZl)                                      3.22.46
38 Astrid Boehm (Den) Team ACM                               3.33.12
39 Ejnar Fausing (Den) Team ACM 2                                   
40 Günter Rafeiner (Aut) Sport Nora                          5.03.12
 
General Classification after stage 3
 
1 Adam Hansen (Aus) Cairns Coconut Caravan Simplon 1        10.20.49
2 Heinz Zörweg (Aut) ARBÖ Wienstrom Lamster Fadewa              7.22
3 Christophe Stevens (Bel)                                      7.48
4 Mauro Bettin (Ita) Dream Team 1                               8.37
5 Matthias Buxhofer (Aut) VAV-Versicherung R. u. R. Völkl      13.49
6 Radoslav Sibl (Cze) Favorit Brno - Bikezone                  24.55
7 Kai Hundertmarck (Ger) Dream Team 1                          33.59
8 Markus Eibegger (Aut) Team Rapso                             34.49
9 Stefan Rucker (Aut) Cairns Coconut Caravan Simplon 1         39.55
10 Jens Zemke (Ger) Dream Team 1                               44.39
11 Johannes Huber (Ger) Team Huber                             48.40
12 Salvatore P. Albano (Ita) Team Bike Tarvisio 2005           58.12
13 Joe McDonnell (Aus) Cairns Coconut Caravan Simplon 2        59.34
14 Robert Vlug (Ned) team.hollandonline.nl                   1.01.02
15 Lars Erik Johnson (USA) Dream Team 2                      1.03.23
16 Johannes Reiser (Aut) Cairns Coconut Caravan Simplon 1    1.03.40
17 David Wood (Aus) Dream Team 2                             1.28.09
18 Struan Lamont (Aus) Cairns Coconut Caravan Simplon 2      1.33.51
19 Tim Northy (Aus) Cairns Coconut Caravan Simplon 2         1.35.47
20 Guido Van Olffen (Ned) GTI team                           1.52.21
21 Loris Macor (Ita) Pedale Tarvisiano                       2.16.12
22 Beat Lustenberger (Swi) Trek-VC Züri 2                    2.36.37
23 Harry Ensink (Ned) GTI team                               2.45.21
24 Mikkel Brinch Norgaard (Den) Team ACM                     2.47.52
25 Peter Stenico (Aut) Peto                                  2.50.21
26 Bart Machiels (Bel) Belgium Bikers Marathons 2            3.12.18
27 Kim Proctor (Aus)                                         3.23.48
28 Christophe Desimpelaere (Bel) Team ACM                    3.51.55
29 Knud Juul-Jensen (Ire) Team ACM 2                         3.52.42
30 Jos Kerkhofs (Bel) Belgium Bikers Marathons 1             3.58.25
31 Eric Paquay (Bel) Belgium Bikers Marathons 1              4.07.44
32 Han Vaalt (Ned) GTI team                                  4.08.31
33 Karl Frank (Aut) SV Panaceo Post                          4.20.20
34 Giancarlo Schönberg (Ita) Pedale Tarvisiano               4.44.08
35 Rudi Donckers (Bel) Belgium Bikers Marathons 1            5.34.51
36 Paul West (GBr) Endura/Shred                              5.42.22
37 Claude Dabaliz (NZl)                                      6.35.41
38 Astrid Boehm (Den) Team ACM                               7.17.49
39 Ejnar Fausing (Den) Team ACM 2                            8.49.18
40 Günter Rafeiner (Aut) Sport Nora                         10.19.18