MTB News & racing round-up for August 31, 2005, part 1
Edited by Steve Medcroft
Welcome to our regular round-up of what's happening in the dirt. Feel free to send feedback, news and gossip to mtb@cyclingnews.com
Mount Snow Wrap Up
By Steve Medcroft
Promoters Team Big Bear and Blue Wolf Events handed out NORBA National Series Championship awards at Mount Snow, Vermont series Finale last weekend. In all, ten racers took home titles, some just one, some more than one. Some competitions were settled half way through the season, others came down to the last second of the last race. Either way it happened, here are the 2005 NORBA National Series Champions:
Once Kabush (Maxxis) turned it on,
Photo ©: Travis Drennen

Geoff Kabush (Team Maxxis), Cross Country, Short Track – Kabush got a fast start to the season, placing third then first in the first two Cross Country races and winning the first two Short Tracks. But after a stint in road racing and a poor showing in the springtime European World Cups, he seemed to fade a little. His Short Track lead was never truly challenged though and he carried a 100-point lead into the final weekend. In Cross Country, things were a little closer. After taking the lead from Adam Craig (Giant) in the second race, he traded it back and forth with Jeremy Horgan-Kobelski (Subaru – Gary Fisher) through the run of high-altitude NORBA's (Schweitzer, Snowmass, Brian Head). Kabush reclaimed it with a win in Snowshoe after JHK crashed. The lead allowed Kabush to ride defensively at the finals to win his second Cross Country series in a row.
Jared Graves (Yeti), Mountain Cross, Downhill – The likeable twenty-two year old Australian downhiller from Toowoomba swept the men's gravity races. In downhill, he placed on the podium in all six series races. His only true challenge, although they were 100 points behind by the finals, came from countryman Joel Panozzo (WTB Fox Shox) and Kiwi John Kirkcaldie (Team Maxxis). Neither racer nor luck could derail Graves though and even though he fell third to two Americans in the finale (teammate Duncan Riffle and Cody Warren of Haro Bicycles), his series victory was a cruise. Graves held a similar grip over the Mountain Cross competition, winning three of the six races including the finale.
Mike West (Maverick), Super D – Mike West, part of the Maverick (a Boulder, Colorado suspension maker) sponsored racing team that boasts of a certain freedom to pursue events and race categories that the riders find personally interesting, seems taken by Super D. After earning a spot on the podium at the first race (Tapatio Springs, Texas), he went on to win every other Super D but the finale and the Snowshoe race he skipped.
Chris Eatough (Trek/VW), Marathon - From a points perspective, the Marathon series was up for grabs as late as the last race in Snowshoe, West Virginia. Ford/Specialized rider Jay Henry actually held a slim lead in the series after beating Eatough, the endurance specialist, at Snowmass and Schweitzer. But Henry was given the option to represent the U.S. in Lillehammer, Norway at the UCI Marathon World Championships, a race that conflicted with the NORBA Marathon finale. If he had stayed, the series was close enough that it would have been decided only in Snowshoe, a race in which Eatough and teammate Jeremiah Bishop finished forty-five minutes ahead of third place.
Women:
Shonny Vlandingham (Luna Chix)
Photo ©: Rick Barlow

Shonny Vanlandingham (Luna Chix), Cross Country – Shonny Vanlandingham is coming into her own as a cross-country racer. She posted solid results in 2003 after a couple of injuries then, in 2004, she pulled off the series with strong finishes at the end of the season. In 2005, Vanlandingham stumbled out of the gate (DNF'ing at the season opener in Texas) but came on strong, winning all but two races the rest of the year and proving that she is a consistently dangerous competitor. The two race she lost in 2005 were both second places; the first at Brian Head to U.S. women's cross-country phenom Heather Irmiger (Tokyo Joes) and the second to teammate Alison Dunlap at Mount Snow. Vanlandingham is showing the kind of form that makes her a threat at World Championships and puts a bull's eye on her back for September's U.S. National Championships.
Katerina Hanusova (Luna Chix), Short Track – Smart racing and team tactics put this Czech Republic rider on the top step of the podium in three of the eight Short Track NORBA's. Match that up with two second places and podiums for the rest of the season and Hanusova always had a comfortable points spread to her most likely Short Track Challenger; 2003 series winner Sue Haywood (Trek/VW).
Kathy Pruitt (Luna Chix), Downhill – There were only five women's Downhill competitions in the 2005 NORBA Series. Which meant every result had a greater impact in the overall than with competitions that ran the full eight races. Twenty-two year old Pruitt, who splits her year between Lake Almanor, CA and the Queensland Gold Coast, sat behind Chilean Bernardit Pizarro (Cannondale) in the series after two races. A win in the third race, she says, boosted her confidence and taught her the focus she needed to win three races in a row, including the finale in Mount Snow, to secure the series.
Jennifer Whalen (Idaho Springs, Colo.), Super D – Only two women racers took the Super D seriously enough to contest all seven events. Between the two (Whalen and Cannondale racer Leana Gerrard), the battle for the series remained close. Gerrard took it after the first race and held on until Schweitzer (Idaho) where Whalen won her first NORBA Super D and edged Gerard out in points. From there, it was a matter of math. For every result that Gerrard posted, Whalen would post one result better. Her lead grew at every event but the series wasn't settled until the final event in Mount Snow when Whalen managed fourth to Gerrard's fifth.
Katrina Miller (Jamis Bicycles), Mountain Cross – Although she came second in the first two races, it looked like Arizonan Melissa Buhl (KHS Bicycles) had the women's Mountain Cross competition won half way through the season when she won the Brian Head race. But she faltered in Snowshoe, making room for Katrina Miller and Tara Llanes (Giant) to pull within striking distance of the series championship. The contest came down to the final day where points scored in Dual Slalom counted towards the Mountain Cross competition. Twenty-nine year old Miller and Buhl faced each other in the heat to determine third and fourth. The winner and second place of the day, Llanes and Kathy Pruitt, were mathematically unable to win the series on points. Buhl held a seven-point margin. The difference between third and fourth was eight series points. Buhl had to win to take the series. At the end of the run, Miller had edged Buhl to take a one-point advantage and the series.
Monique Sawicki (TeamMATA / Warrior's Society), Marathon – Monique Sawicki's is a come-from-nowhere story. She received her pro racing license in 2004 and only decided to try Marathon because it was a new series and she liked the longer format. After wining the series on points, she felt she had to prove her success was not a fluke so she her 2005 goal on a series repeat. She dominated the points chase from beginning to end. Sawicki carried a four hundred-point lead after racing five of the seven marathons and the title was virtually assured. In order to claim the title by the rules though, Sawicki, who also won the NORBA Solo 24-Hours National Championship in Spokane earlier this season, needed to compete in six of the seven total races. Since she missed the Brian Head, Utah NORBA (for financial and time-related reasons), her last chance to get her sixth event was the marathon finals in Snowshoe. Still lacking the full financial support of any one sponsor, Sawicki traveled to Snowshoe at her family's expense and raced for the pride of the series championship.
Notable mentions
Jeremy Horgan-Kobelski (Subaru-Gary Fisher)
Photo ©: Travis Drennen

Jeremy Horgan-Kobelski (Subaru – Gary Fisher). What can be said about the rider who can win a championship every year of his life but hasn't yet upset the Geoff Kabush apple cart? If only he hadn't crashed in the first five minutes of the Snowshoe Cross Country race, the end of the season would have taken a much more dramatic shape.
Heather Irmiger (Tokyo Joes) and Dara Marks-Marino (Ford/Specialized) deserve special mentions for winning their first-ever NORBA races in 2005. Irmiger won the Brian Head Cross Country race. Marks-Marino won the Short Track in Snowmass, Colorado.
Haro teammates Seamus McGrath and Mick Hannah get a mention for putting one over on the series winners and stepping to the top of a NORBA podium for the first time in a while each. At Snowshoe, McGrath won the Short Track ahead of series-dominator Geoff Kabush and Hannah edged out Jared Graves for his first NORBA win in three years.
Alison Dunlap (Luna Chix)
Photo ©: Rick Barlow

Alison Dunlap (Luna Chix) deserves the final mention for retiring with such style and ending her NORBA Series career with a win. Dunlap has said she wanted a NORBA Nationals win during her final season to feel like she was going out on top. Although she had podium in four 2005 NORBA's before Mount Snow, Dunlap had only this one last chance to win and pulled it off in front of family, friends and the MTB scene she's been an integral part of for a decade.
For complete Mount Snow race reports, results and photos, click here.
Global MTB Racing
Want to know what happened in the world of mountain biking during the last week?
Two months of conquering the world: Gunn-Rita Dahle Diary
Can nobody stop her?
Photo ©: Øyvind Aas

We've won gold, gained valuable experience, been in Brazil for the first time, competed on bikes at almost 3000 metres above sea-level, written a new contract with Merida, and nourished both body and soul with simply amazing experiences. Our travels with our bikes through the past two months have given us a lot, demanded a lot from us, and been extremely exciting. It's a long time since you've heard from us, so I don't know quite where to begin. Last time I wrote a few lines, we were on our way to Brazil to take part in the World Cup round in Santa Catarina. So much has happened since then. I'm going to have to give you a short version this time, since I could probably write a couple of books about everything I've done and experienced these past weeks. During the autumn I promise to write a more extensive recount of the season, in which I will include more details which have made an impression on both body and mind, and which might be interesting reading for you.
World Championship Marathon in Lillehammer
Fresh wares usually taste best, so I'll start with the World Championships for MTB marathon at home in Norway last Saturday. It ended up being a perfect day for both Kenneth and I. An exciting race against marathon specialists on a demanding track, an impressively well organised championship by the Birkebeiner organisation, amazing numbers of spectators along the race course, sun and blue skies, a cheering mass of spectators at the finish line in Lillehammer, and a World Championship gold medal on Norwegian soil!
Read the entire Gunn-Rita Dahle diary here.
NORBA final and onto Worlds: Geoff Kabush Diary
Geoff Kabush (Maxxis)
Photo ©: Clay Lundgren

After surviving "Cottage Nuts" not "Cottage Crazy" in West Virginia (as my sister corrected me on JF's Frenglish of Cabin Fever) Toulouse and I made it fairly smoothly up the East Coast on Thursday to legendary Mt Snow for the NORBA finals.
The XC course was in superb condition in dry conditions which made me quite happy; I wasn't into doing another death march in the mud the week before Worlds. The XC series has been a good story with lead swaps between Adam Craig, myself, JHK, and then back to me, then JHK, and then me again. It has been a battle with Canadian against American, dualie versus hardtail, but it has been good because we all have respect for each other and we know there is no false hero among us. I was happy with the Series Finals in Vermont because I have good memories of my first XC podium way back in 1999. That was the year I went up 1-0 in my offroad series with Lance "I have never doped, no way" Armstrong.
Read the entire diary entry here.
Fun times at base camp: Niki Gudex diary
Daniel, Niki and Uli Schoberer
Photo ©: Niki Gudex and friends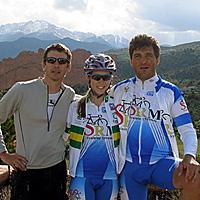 After three months at my home away from home in Colorado, it has come time to move on to my second base for the season in Freiburg in the south of Germany near the border of Switzerland.
My first week was spent in LA, but since then I have spent plenty of time acclimatising to altitude, as most of the races this year have been above 8000 feet. The highest point in Australia is only a bit over 6000 feet, so racing at altitude is a bit of a shock to the system for someone coming from Sydney.
Staying with everyone from SRM has been fantastic; Uli has made it feel like a home away from home, which makes such a difference. Uli is such a great guy and not surprisingly he has many good friends always stopping by to say hi or stay for dinner. Being part of a home sure beats four months of building up bikes in hotel rooms. We even had a pet for a while - well, we had a cute little deer that came and spent a few hours in the backyard.
Read the entire Niki Gudex diary here.
(All rights reserved/Copyright Knapp Communications Pty Limited 2005)