MTB index page for all MTB content
Singlespeed World Championships
State College, PA, August 20, 2005
Singlespeed Worlds rock
By Steve Medcroft
Superman!
Photo ©: Ryan Atkinson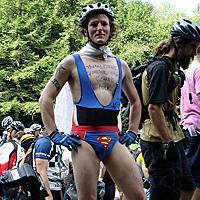 Over four-hundred singlespeed bike riders showed up in State College, Pennsylvania this past weekend for the Singlespeed World Championships (Aug 20). But before we move on to the Cyclingnews race report of the event, there are a few things you need to know.
1) Singlespeeders are not the mainstream of mountain biking, therefore you should not expect a race report for the Singlespeed World championship to look like a mainstream cross-country race report. What we mean is that singlespeed mountain bikes are a fringe passion. The people who ride them say that removing gears takes the bike out of the equation and reduces riding (and competition) to just the marriage of the athlete and the terrain. A singlespeed bike is often the antithesis to the five thousand dollar mountain bike; the one with a high percentage of carbon and every technological advantage bike and component manufacturers can offer. Singlespeeders, by average and not rule, are the punk rockers of mountain biking. They represent the image of the hardened, tough-as-nails, ride-all-day-with-no-food, drink-all-night, ride-all-the-next-day kind of mountain biker. This image is partially myth though; singlespeed mountain bikes are popular among people as varied as Downhill legend Marla Streb to US Elite Road National Champion Carl Decker. The guy who fixes your bike at the local shop and the woman who tears the legs off the men on your Wednesday night mountain bike rides are probably singlespeeders. Enough said?
2) The race is not a sanctioned World Championship. Promoter Eric Roman, part owner of Nittany Wheelworks in State College, Pennsylvania, says that he earned his bid to host the Worlds by simply asserting himself as the host whenever spontaneous discussion formed around the subject. "We just kept telling people it was going to be here whenever anyone asked," he said. The race became the World Championship because everyone who wanted to race in the Worlds agreed that this was where it would be held.
Abby Hippely celebrates
Photo ©: Ryan Atkinson

3) At the Singlespeed World Championships, no timing mechanism was used to determine the actual race winners. The first people across the line knew who they were and that was good enough for everyone there.
4) In fact, the World Championship itself was not even decided by who won the race. The Championship prize was awarded to the winner of a go-cart race held after the actual bike ride. The top twenty finishers in the ride were put into lawn-mower engine powered carts at a local track and asked to duke it out in heats for the Championship.
5) The Champion had to accept the application of a tattoo as their prize. Acceptance of the prize is an irrevocable contract entered into by all who attend the race.
6) UCI rules were not applied. If they were, Carl Decker and Adam Craig's decision to wear daisy duke cutoff denim shorts (my kingdom for a photograph) and paint their sponsor's name (Giant) across their chest instead of wearing jerseys would have caused them to be removed from the race.
7) There was no doping control. That's probably best.
Jesse LaLonde's tattoos
Photo ©: Ryan Atkinson

8) Singlespeeders don't care if we publish a race report - publicity is just not what they did it for. But the promoter did express pride when revealing that a band of singlespeeders in town for the race made the State College Police Blotter with this item: Almost 200 people gathered in the alley off McCallister Street. Several objects were on fire, drawing the police and company out at 11:30 pm Sunday. According to State College police Sgt. Mark Argiro, an officer observed two tyres filled with newspaper sitting on a burning white door. The paper inside the tyres had been ignited as well, in an attempt to set the tires on fire. Argiro said several gallons of paint were also dumped into the alleyway. Police were unable to pinpoint who was behind the incident because of the large number of people at the scene.
The race report:
Keith Bontrager took the smart option
Photo ©: Ryan Atkinson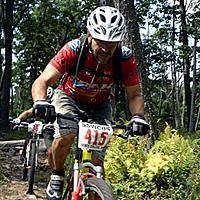 There were two sets of winners at the State College, PA Singlespeed World Championships last weekend. Jesse Lalonde, a bike mechanic at a Trek factory retail store in Madison, Wisconsin and Abby Hippely, a pro cross-country racer sponsored by Boulder, Colorado's Maverick bikes were first across the line in the official ride. Marla Streb won her second World Championship tattoo by taking out the go-cart race. Brian Keith won the men's Championship.
Attendance to the event was in high demand. "We had a permit for four hundred spots," said race promoter Eric Roman. "Bikereg.com (a race registration Web site) said they sold out in about three hours. I think we actually crashed their system." Riders were even calling a week before registration opened trying to pre-arrange a spot. "Bikereg said that had never happened before."
So what do you do when you have four hundred spots and more riders who want to race? "About 425 actually showed up," Roman said. Extras were encouraged to ride along on the public trails but respect the race.
The race was held on 25.5 miles of Central Pennsylvania singletrack and fire roads and kicked off with a LeMans start. Eventual women's winner Abby Hippely says the five-minute run was "goofy" since racers didn't seem serious about getting to their bikes ahead of anyone else. She made it onto the course ahead of most other women, although, in the chaos, says she had no idea of her position.
LeMans start
LaLonde pushes it
Photo ©: Ryan Atkinson

Men's race winner, Jesse LeLonde, a former cross-country runner, made it to the bike pile in the first wave of riders. "My bike was right towards the back end of the pile so when I came through, it was pretty much right in front of me." Which meant LaLonde got onto the trail in a premium spot. "I didn't know what to expect from there," he added. "I didn't expect it to be so serious in the race." It got serious because despite the festival atmosphere surrounding the run, there were plenty of riders determined to cross the finish line first.
In the race for the women's win, Hippley was bogged down in traffic along with local favorite Tiffany Mann (who rides for Independent Fabrications) but "slowly started pulling away" from other riders when the course emptied out onto a road climb. "I tried to put an effort in and people who were coming from behind said Tiffany was blowing up."
25-year-old Hippley says she knew that there were enough strong women in the race that she couldn't take the success she seemed to be having too seriously. "I actually had no concept of where I was in the race until people, mostly other riders, started saying 'first woman' to me."
Gary Fisher through the rocky section
Photo ©: Ryan Atkinson

She says she reminded herself that anything could yet happen and not to get too excited, but she couldn't stop herself from thinking about the possibility of winning. "Everyone says they are there to have a good time, but being a racer, you want to do as well as you can. And State College is my hometown (she lived in the area before moving to Boulder, Colorado). I thought it would be really sweet to win SS Worlds in my hometown."
Hippley was able to finish off her race without the pressure of the second-place woman on her heels. The same wasn't true for LaLonde, who was stuck in a group with former Champion Travis Brown and the Giant twins (Carl Decker and Adam Craig). "Travis caught me and I started to push up the pace. Adam caught me in the rocky stuff. Carl caught me as well."
LaLonde was able to get off the front with one of the Giant riders. "I didn't actually know it was Carl Decker," he says. "I though it was some random guy. I was trying to throw him off the back and was surprised he was still there when I turned around."
But mechanicals derailed Craig and Decker and twenty-six year old LaLonde once again found himself riding with Brown. "But I had ran out of water," he said. "I lost my bottle half way through the race. It started to hurt and slowed me down."
Working together
Jesse LaLonde takes to the cart
Photo ©: Ryan Atkinson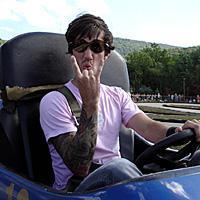 Luckily, Brown seemed to be in the same predicament so the two struck a deal and slowed to grab a Red Bull each from a sideline fan. From there, LaLonde knew, from studying the course map the night before the race, that there would be an extended singletrack climb somewhere close to the end of the race. "I sprinted for that singletrack. I looked back and Travis was maybe five seconds behind me." He says he "wasn't really thinking about it," from there. "I just wanted to ride hard. I didn't think he could pass me - there was no room (in the singletrack section) - but we had no idea where the race ended."
LaLonde was still ahead of Brown by 100 yards when the race unceremoniously ended. "We came flying down this hill. We were asking people where the end was and they said nothing so I kept going. Then I hit this rocky section and Travis started to catch up to me and I'm thinking that it looked a lot like the beginning of the course." The pair were stopped by race workers and the winner, LaLonde, was declared.
There was no official timing for the event so LaLonde has to guess that he came in "around two hours." Hippley, the first woman across the line, finished some time later.
LaLonde was a long shot for the win, says Ryan Atkinson, the Trek/Bontrager brand manager who helped arrange Gary Fisher sponsorship for LaLonde and the fully-rigid two-niner Rig singlespeed LaLonde won the race on. "This is only the second time he's ridden outside of Wisconsin. To show up and beat these super-fast pros is unreal."
Hippley says the win made her season, but she was bummed not to win the go-cart race. "I kind of wanted that tattoo," she said. She'll commiserate by racing the NORBA at Mount Snow, Vermont this weekend, the 24-hour endurance team relay in Seven Springs, PA, the US National Championships in September and maybe Moab in October for good measure.
Ride winners were awarded bottles of fifteen-year-old Scotch donated by a participant. World Championships winners were given Gary Fisher two-niner Rig Singlespeed bikes and a custom designed head badge provided by Philadelphia-based jeweller Jennifer Green.
So far, momentum for the location of the 2006 Singlespeed World Championships is flowing towards New Zealand.
Photography
For a thumbnail gallery of these images, click here
Images by Ryan Atkinson/Trek
Results

Men - bike

1 Jesse LeLonde
2 Travis Brown
 
(No official placings beyond second. It's a singlespeed thing...)

Women - bike
 
1 Abby Hippley
2 Tiffany Mann
 
Men - Championship (including go karts)
 
1 Brian Keith
 
Women - Championship (including go karts)
 
1 Marla Streb