MTB News & racing round-up for August 24, 2005, part 1
Edited by Steve Medcroft
Welcome to our regular round-up of what's happening in the dirt. Feel free to send feedback, news and gossip to mtb@cyclingnews.com
Snowshoe Mountain NORBA Wrap-up
By Steve Medcroft
Jared Graves (Yeti) on the way to winning in four-cross, one of several Australian wins over the weekend.
Photo ©: Steve Medcroft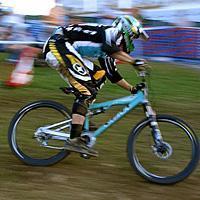 Australians ruled the seventh round of NORBA racing at Snowshoe Mountain Resort in West Virginia this past weekend. After junior Australian National Team members Daniel Johnston and Val Britton went one-two in the Junior-X race (see story below), Mick Hannah (Haro Bicyles) and Katrina Miller (Jamis Bicycles) swept the Mountain Cross event, Jared Graves (Yeti) and Miller again took Dual Slalom, and Hannah and Graves went one-two in the Downhill.
Australian National Team coach Damien Grundy was on hand at Snowshoe and says he's optimistic about the team's form as they get ready to head to World Championships in Livigno, Italy (August 28 to September 4, 2005). "It's looking good. We've got some riders really coming around at the right time."
But even with Aussies clogging the podiums, the weekend, which started foggy and wet and ended under postcard-perfect blue mountain skies, had plenty of opportunity for other nation's riders to take glory for themselves. The venue hosted the full slate of possible series races -- Marathon, Mountain-Cross, Dual Slalom, Cross-Country, Super D, Downhill and Short-Track.
In the competition for series titles, Jeremy Horgan-Kobelski (Subaru – Gary Fisher) once again traded away the Cross-Country series lead with Geoff Kabush (Team Maxxis) when he crashed on a rooty downhill in the first five minutes of Saturday's muddy race and had to DNF with mechanical problems (JHK was not seriously injured in the crash and placed third in Sunday's Short-Track). Kabush's principle challenge in the race then came from a highly motivated Jeremiah Bishop (Trek/VW). Snowshoe is Bishop's home course (Bishop lives in Harrisonburg, Virginia) and after winning Thursday's marathon, he seemed hell-bent of scoring a double-victory for the weekend.
Bishop flatted in the final lap of the race though and had to run with his bike for what he says was a mile or more. The reason: his CO2 canister had shaken off the bike in the first lap. No worries though; he remembered where the canister fell and kept running until he found it again. Unfortunately, by the time he aired the tire and got back on the bike to chase Kabush, the Canadian National Champion had decided to tap the reserve he said he'd been squandering in the first two laps (of three). Kabush ended up two minutes ahead of Bishop at the finish line.
Kabush now holds a comfortable lead in the series; JHK will need to win by more than a 32-point advantage in Mount Snow to take it from him. Kabush doesn't take his advantage for granted though. He reminded himself in his Cyclingnews.com diary that anything can happen next week and the series win will only be decided in the final race.
Bishop, by the way, lined up for Sunday afternoon's Short Track race trying to up the bar he set for himself in Brian Head when he placed first in the marathon, second in Cross-Country and seventh in Short Track. Not to take away from the accomplishment of his even placing well in all three races in one weekend but Bishop managed only seventh again in Short-Track.
One series that is no longer in question is the NORBA Marathon. Only seven races long and with its finale last Thursday in Snowshoe, endurance phenom Monique Sawicki (TeamMATA) held a commanding four hundred-point lead going into the final race and ended the series with yet-another individual win (her third in 2005). Sawicki has an incredibly promising career ahead of her; she was defending NORBA marathon champion and won the NORBA Solo 24-Hour Championship in Spokane, Washington early this year.
In the men's race, Trek team-mates Chris Eatough and Jeremiah Bishop rode off the front of the pack and finished twenty-seconds apart, forty-five minutes ahead of third place. Eatough said that even though he was close to Bishop and they traded the lead several times, they rarely ever saw each other because of the fog. "The visibility was like fifteen yards."
In Downhill, the last man down the mountain, Mick Hannah, beat series leader Jared Graves by three seconds to win his first NORBA victory since 2001. "This was an awesome confidence booster going into Worlds," he said. "After winning the Four-Cross on Friday, it's been a sick weekend."
The Snowshoe downhill run,
Photo ©: Steve Medcroft

The revelation of the weekend though was Christopher Herndon (Specialized/Cane Creek), who earned his first-ever NORBA podium at Snowshoe - not one podium, but two mind you. Herndon, who lives in Etowah, North Carolina and has competed in every NORBA in 2005 except Brian Head, had never placed better than a tie for ninth in any NORBA event. He says that his first podium, a fifth place in the Mountain Cross competition, didn't feel like a victory since it came on the back of a couple of other competitor's crashes. His second place in the Dual Slalom felt a lot better. He qualified sixteenth then held off challengers through all the early brackets. Even though he lost in the finale to Graves, Herndon says he cherishes his Dual Slalom podium. "I really feel like I earned it today," he said.
Marathon World Championships wrap-up
By Steve Medcroft
Can nobody stop her?
Photo ©: Øyvind Aas

Gunn Rita-Dahle (Norway) and Thomas Frischknecht (Switzerland) pulled on UCI Marathon World Championship jerseys after winning the Lillehammer, Norway marathon Worlds race August 20.
The three hundred strong World Championship race was held in conjunction with the 12,000-participant Birkebeiner marathon. Starting on a fire-road run from Rena, Norway the 116-kilometre course ended on a tough singletrack loop around Lillehammer, site of the 1994 Olympics.
Dahle took the win in front of home fans, finishing 1:43 ahead of silver-medalist Blaza Klemencic of Slovenia.
In the men's race, Frischknecht, in a statement to media and fans, said he felt strong the morning of the race and was able to avoid the mechanical and physical struggles that are so common in endurance racing. "Not that I haven't won any big races before," he said. "But one that goes with no problems, doubts and struggles; one that unfolds just the way I planed it, never happened before."
Knowing that the first 85 kilometres of the race would run over mostly on fast, predictable fire roads and the final loop around Lillehammer on more technical singletrack, Frischknecht says he gambled his bike set-up that the race would be decided in the final twenty kilometres. "Most riders set their bikes up for the first part of the race; hardtail, skinny tires with lots of pressure." Frischknecht rode full-suspension.
Tom and Tom...
Photo ©: Øyvind Aas

Frischknecht also said that he felt marking Bart Brentjens would be a key to the race. "Brentjens wanted to win badly (it's the only title he hasn't won yet)." Brentjens attacked early in the race and split a lead group off the front containing Karl Platt (Germany), Dario Aquaroli (Italy) and team-mate Maarten Tjallingii (Netherlands). Frischknecht bridged up and the five got away.
Then, "Bart flatted and got a wheel from his team-mate. We waited since it was still a long way to the finish and we needed his power on the flat sections." Frischknecht says he could see Brentjens suffering and struggling a little in the technical trails with his fire-road bike set-up so he attacked early on the last loop, risking a physical blow up. "The problem was that I had no information on the gap to the others, which is common thing in marathons (especially point to point races). Even though I had a good feeling I was safe, I looked back so many times the last 10 k's."
Frischknecht had reason to worry. He's been caught from behind before. "Two years ago at worlds in Lugano, Bart came back on me just 3 km to go." But Frischknecht got the word from trailside friends trailside with one kilometre to go; he was two minutes up on the field and could sail to the World Championship Jersey. "The last 1000 meters with the thousands of crazy Norwegian spectators was pure enjoyment," he said. "I realised that this was probably the best race of my career. Just perfect!"
Brentjens came in second, Aquaroli in third.
Frischknecht says he's happy he chose not to retire after the 2000 Sydney Olympics. "This is my tenth MTB World Championships medal (including gold, silver and bronze and one previous Marathon gold), 15 if you count Cyclocross. And the season is not even over yet. I believe in my chance for number 16 in two weeks in Livigno."
American rider Gretchen Reeves
Photo ©: Øyvind Aas

American Gretchen Reeves (Boulder, Colo.) scored a top-ten finish at the Marathon World Championships with a ninth-place effort in the 72-mile off-road race. Reeves clocked a time of four hours, 16 minutes and 45 seconds. Melissa Thomas (Boulder, Colo.) also put forth a solid effort with a 13th-place finish, completing the course with a time of 4:22:46.
In the men's competition, Jay Henry (Avon, Colo.) and Michael Janelle (Avon, Colo.) placed 54th and 65th respectively.
For complete results and pictures, click here.
Global MTB racing round-up
Here's what happened in the world of mountain biking this week:
Pila, Italy World Cup DH wrap-up
Team G-Cross Honda report
With the World Cup title already wrapped up, round 7 of the men's UCI Mountain Bike World Cup held in Pila, Italy, served more as a litmus test for the upcoming World Championships in 2 weeks where the top contenders got to see how each other had prepared in the past 5 weeks away from World Cup racing. Adding to this however, was the mixed weather conditions, which saw a damp course for the semi finals, with no rain, but a rainy final for the majority of the men's field.
The course was a very difficult mixture of open sections, forests, rocky parts, and slick fast sections, making tyre choice very difficult. The course was designed by 1997 World Cup Champion Corrado Herin who did well to challenge the elite field. However, the biggest challenge was to be the weather. After overnight rain, and snow at the top of the mountain, riders were faced with racing the semi finals with the course 10 seconds slower due to the slippery conditions. In the semi final the two top riders were forced out of the World Cup due to injury, Sam Hill (Australia) and Steve Peat (Great Britain), showed they were back in form by finishing 1st and 2nd respectively, with Greg Minaar close behind in 3rd.
In the final the rain came after the first few riders had started. One of those riders to benefit from better conditions was 2005 European Junior Champion, 17-year-old Brendan Fairclough of Great Britain. Brendan sat in the lead for more than an hour and half and by his own admission felt very lucky to have gone early after qualifying poorly due to a crash in the semi finals. Nevertheless, his time was super quick and would have placed him second in the semi finals earlier in the day.
Team G-Cross rider Matti Lehikoinen came down the course and despite having a good split time, he hit a tree and lost about 5 seconds pushing him out of the top ten. Minnaar however was the first rider in the rain to get a faster time at the interval than Brendan, having a 1.3 second lead, which was enough to get him into first place with just Steve Peat and Sam Hill to come. Steve had a great split time, 3 seconds up on Greg, but lost control in the lower section of the course, crashing into a tree and losing valuable time to ultimately finish 9th. Finally, Sam Hill who had been riding very fast all week, rode like he did in Austria at round 3, and scored a big margin win, 6 seconds ahead Greg, serving notice that he will be the man to watch for the World Championships.
"I'm pretty happy with today's result," Minnaar said after the race. "Sam rode an awesome race, the course really suited his style with plenty of off camber open corners, and I know he was keen to come back strong after injury. For me this race was important to see where I am with my preparation for the World Championships and I'm very happy with how things went. I know what I need to do in two weeks and will be ready to give it everything".
Minnaar's Team G Cross Honda now heads to La Bresse, France for the French Cup Finals next week which they will use as a preparation event for the all important UCI World Mountain Bike Championships taking place in two weeks, in Livigno, Italy, September 6th to 10th.
For complete results and race reports, click here.
Aussie juniors tops at Snowshoe Cross-Country
By David Olle, www.topbike.com.au
According to a local downhiller, Snowshoe is almost reliably under fog for its NORBA mountain-bike race weekend, which is unusual, given that it is held in high-summer…. but that is how the Australian MTB XC Team found the West Virginian resort, arriving from Colorado on Thursday afternoon. Friday morning (race day for the juniors) found the thick fog accompanied by heavy showers. Shortly before race time at 2.00pm the sun came out, just in time to dazzle everyone, reflecting off the copious amounts of mud.
Five Aussie juniors took to the start line for three laps, but after one lap Lachlan Norris (Cannondale/Maxxis) was out with a broken chain and a broken chainbreaker. Garry Millburn (Cannondale/Maxxis), also retired early, double flatting. This left Joel Healy, Cal Britten and Daniel Johnson at the front and at 50 minutes plus per lap, the boys were looking tired and muddy after 2 circuits. Joel Healy was leading all the way until a wayward root on a muddy, rocky, rutty downhill skewed him into a tree, popping his shoulder joint and rear hydraulic brake in one. Cal Britten took over the lead, but at just on 3 hours he 'blew himself to bits' on the final climb, allowing Daniel Johnston, who hails from Alice Springs in the dry desert of Central Australia, the muddy NORBA win.
(All rights reserved/Copyright Knapp Communications Pty Limited 2005)