MTB index page for all MTB content
MTB World Cup DH & 4X #3 - CDM
Vallnord, Andorra, May 15-17, 2009
Main Page Results Previous Race World Cup Standings
Race 6 - May 17: Elite men downhill
Peat breaks record with World Cup win number 17
By Rob Jones
Elite men's downhill podium
Photo ©: Enric Moran Gimeno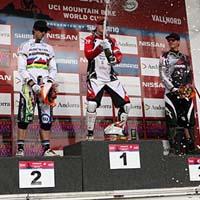 It was a record-breaking weekend in Vallnord, Andorra, for round three of the UCI Mountain Bike World Cup. Steve Peat (Santa Cruz Syndicate) took his second consecutive win in the men's downhill and the 17th of his illustrious career, breaking Nicolas Vouilloz's record for most World Cup wins, and extending his lead in the overall standings.
Saturday's good weather carried over to Sunday for the downhill final. Sam Hill (Monster Energy/Specialized) qualified first, but that didn't mean much when it came to final. The drying track was getting loose and dusty at the top, and three days of hard riding was making the lower wooded portion rutted and full of braking bumps, pounding the riders as they pushed to shave extra tenths of a second from their times.
The men's final saw six lead changes in the first 60 riders, with American Ryan Condrashoff the first to take the time below 2:30. Condrashoff was eventually bumped by Australian Josh Button, who knocked two and a half seconds off the lead time, but was still slower than Hill's qualifying time.
American Cody Warren went faster than Hill's qualifying time by a few hundredths, but it was Australian Bryn Atkinson who was the first to go under 2:26 and set the first strong time. Atkinson's time would prove to be hard to beat, as rider after rider came close but could not budge him from the Hot Seat.
It took Michael "Mick" Hannah, 20 riders later, to finally knock Atkinson out of the lead. Hannah, who had been sick during the week, crashed during qualifying and started 17th from last. His run on the upper part of the course was strong, but it was in the rough and technical lower half where he really shone, making up 1.5 seconds in the final 400 metres to take the lead with a time of 2:23.71.
Steve Peat (Santa Cruz Syndicate) races to a record-breaking win
Photo ©: Enric Moran Gimeno

"I've been sick most of the week, and had a big crash yesterday," said Hannah "but I had a good, smooth run, and I'm back on the podium, so it's good."
Brendan Fairclough (Monster Energy-Specialized), four riders later, came within 35-hundredths of a second of Hannah, and that proved to be the pattern for the next dozen riders - close to or ahead of Hannah at the top, but losing ground in the lower section. It wasn't until round one winner Greg Minnaar (Santa Cruz Syndicate) that Hannah was displaced, by a quarter of a second.
"I didn't crack the top as well as I wanted," said Minnaar. "And a couple of corners in the middle were a problem. It's good to be up there for points, but I think Steve's running away with it."
The field was down to three riders, with Peat the next up. The World Cup leader was even with Hannah through the upper sections, but really came into his own in the woods, knocking 1.41 seconds off the leading time. World champion Gee Atherton (Animal-Commencal), the defending champion in Andorra, was next, and came within a infinitesimal two-hundredths of Peat, but it just wasn't enough.
Elite men's downhill podium
Photo ©: Team Animal Commencal

"I had a good run," said Atherton "but in a few places I was stalling and braking a bit. To lose by that small of an amount is pretty frustrating, I'm pretty pissed."
However, Hill was still to come, and he was everyone's favourite, after showing he was clearly in tune with this track, both in training and qualifying. The favouritism looked to be justified, when the Australian went through the upper portion 1.6 seconds faster than Peat, and enter the final sections two seconds ahead. But then disaster in the form of a crash in the woods, and Hill's chance for his first win of the year disappeared, while Peat saw his dream of a World Cup record realized.
"It was really close," said Peat. "I didn't think I had the best time, I thought for sure that Sam would beat it. I had a couple of little bobbles and didn't think I was carrying speed. I needed a bit of luck, but you can see that he crashed, and that's it ... history being made."
Race Note
- It was just last year at this same Andorra World Cup venue when a different piece of history was written. That's when the Atherton siblings won three of the four gravity World Cups - each of the three taking a win. Gee Atherton won the men's downhill, Dan Atherton won the men's four cross, and sister Rachel Atherton won the women's downhill.
Photography
For a thumbnail gallery of these images, click here
Images by Enric Moran Gimeno
Images by Team Animal Commencal
Images by Gary Perkin
Results
1 Steve Peat (GBr) Santa Cruz Syndicate                               2.22.05
2 Gee Atherton (GBr) Animal Commencal                                 0.00.02
3 Greg Minnaar (RSA) Santa Cruz Syndicate                             0.01.41
4 Michael Hannah (Aus) GT Bicycles                                    0.01.66
5 Justin Leov (NZl) Trek World Racing                                 0.01.88
6 Nick Beer (Swi) Scott 11                                            0.01.95
7 Brendan Fairclough (GBr) Monster Energy / Specialized / Mad Catz    0.02.01
8 Bryn Atkinson (Aus)                                                 0.03.21
9 Josh Bryceland (GBr) Santa Cruz Syndicate                           0.03.34
10 Steve Smith (Can) MS Evil Racing                                   0.03.35
10 David Vazquez Lopez (Spa) Lapierre Powered By Saab Salomon                
12 Chris Kovarik (Aus) Chain Reaction Cycles/Intense                  0.03.50
13 Dan Stanbridge (GBr)                                               0.03.67
14 Filip Polc (Svk) MS Evil Racing                                    0.03.89
15 Samuel Blenkinsop (NZl) Yeti Fox Shox Factory Race Team            0.03.91
16 Aaron Gwin (USA) Yeti Fox Shox Factory Race Team                   0.04.24
17 Cody Warren (USA) Specialized Team America                         0.04.26
18 Matti Lehikoinen (Fin) MS Evil Racing                              0.04.32
19 Bernat Guardia Pascual (Spa) Massi                                 0.04.42
20 Robin Wallner (Swe)                                                0.04.54
21 Antoine Badouard (Fra)                                             0.04.61
22 Marc Beaumont (GBr) GT Bicycles                                    0.04.69
23 Joshua Button (Aus)                                                0.04.88
24 Joris Bigoni (Fra)                                                 0.05.04
25 Aurélien Giordanengo (Fra)                                         0.05.35
26 Andrew Neethling (RSA) Trek World Racing                           0.05.47
27 Mitchell Delfs (Aus) Kenda Morewood                                0.05.56
28 Thibaut Ruffin (Fra)                                               0.05.63
29 Fabien Pedemanaud (Fra) Scott 11                                   0.05.66
30 Rémi Thirion (Fra) Team Sunn                                       0.05.67
31 Samuel Hill (Aus) Monster Energy / Specialized / Mad Catz          0.05.84
32 Danny Hart° (GBr) Lapierre Powered By Saab Salomon                 0.05.92
33 Joseph Smith (GBr) Kona                                            0.06.16
34 Nathan Rankin (NZl) Iron Horse-Kenda-Playbiker                     0.06.19
35 Duncan Riffle (USA) Duncan Riffle Racing                           0.06.21
36 Ruaridh Cunningham (GBr) Chain Reaction Cycles/Intense             0.06.22
37 Joe Barnes (GBr)                                                   0.06.32
38 Cesar Rojo (Spa)                                                   0.06.40
39 Thomas Braithwaite (GBr)                                           0.06.49
40 Antonio Ferreiro Pajuelo (Spa) XMS-Devinci World Cup Team          0.06.56
41 Damien Spagnolo (Fra) Subaru Mountain Bike Pro Team                0.06.79
42 Kyle Strait (USA) Specialized Team America                         0.06.80
42 Luke Strobel (USA) Team Maxxis-Rocky Mountain Bicycles                    
44 Fabien Cousinie (Fra)                                              0.06.94
45 Romain Paulhan (Fra)                                               0.07.09
46 Jared Rando (Aus) Giant Mountain Bike Team                         0.07.18
47 Kieran Bennett (NZl) X-Fusion-Intense                              0.07.21
48 Ryan Condrashoff (USA) X-Fusion-Intense                            0.07.22
49 Matthew Simmonds (GBr) Chain Reaction Cycles/Intense               0.07.46
50 Cyrille Kurtz (Fra) Team Sunn                                      0.07.61
51 Benny Strasser (Ger)                                               0.07.75
52 Pierre Charles Georges (Fra) Solid Aclass Factory Team             0.07.86
53 Ben Reid (Irl) Just Reid Race Team                                 0.08.25
54 Arnau Sugranes Mateu (Spa)                                         0.08.44
55 Tom Deacon (GBr) 2Stagefactory                                     0.08.84
56 Nicolas Ortiz (Fra)                                                0.09.29
57 Emanuel Pombo (Por)                                                0.09.56
58 Curtis Keene (USA)                                                 0.09.84
59 Matej Charvat (Cze)                                                0.09.85
60 Markus Pekoll (Aut) Solid Aclass Factory Team                      0.09.99
61 Matthew Scoles (NZl)                                               0.10.13
62 Nathan Rennie (Aus) Kenda Morewood                                 0.10.29
63 Esteban Deronzier (Fra) Morzine-Avoriaz 74                         0.10.48
64 Adam Brayton (GBr) Just Reid Race Team                             0.10.50
65 Maxime Remy (Fra) Suspension Center                                0.10.53
66 Bernard Kerr° (GBr)                                                0.10.89
67 Bradley Benedict (USA) Duncan Riffle Racing                        0.11.05
68 Kim Petersson° (Swe)                                               0.11.32
69 Iago Garay Tamayo° (Spa)                                           0.11.41
70 Jorge Aguin Castro (Spa)                                           0.12.25
71 Markus Olkkonen (Fin)                                              0.12.37
72 Georg Sieder (Aut) Solid Aclass Factory Team                       0.12.49
73 Mickael Pascal (Fra) MSC Bikes                                     0.12.72
74 Arran Gannicott° (GBr)                                             0.12.81
75 Boris Tetzlaff (Aut) Solid Aclass Factory Team                     0.13.64
76 Lorenzo Suding (Ita) Dytech DH                                     0.15.68
77 Rhys Willemse° (Aus)                                               0.23.94
DNF Cameron Cole (NZl) Team Maxxis-Rocky Mountain Bicycles                   
DNF Jared Graves (Aus) Yeti Fox Shox Factory Race Team                       
DNS Julien Camellini (Fra) Chain Reaction Cycles/Intense                     
DNS Marco Bugnone (Ita) Argentina Bike Gravity Team                          

Teams

1 Santa Cruz Syndicate                                                     94 pts
2 Trek World Racing                                                        65
3 MS Evil Racing                                                           51
4 Scott 11                                                                 48
5 Team Maxxis-Rocky Mountain Bicycles                                      40
6 GT Bicycles                                                              39
7 Suspension Center                                                        35
8 Animal Commencal                                                         35
9 Chain Reaction Cycles/Intense                                            33
10 Yeti Fox Shox Factory Race Team                                         31
11 Morzine-Avoriaz 74                                                      30
12 Monster Energy / Specialized / Mad Catz                                 24
13 Iron Horse-Kenda-Playbiker                                              24
14 Norco World Team                                                        22
15 Team Sunn                                                               22
16 Lapierre Powered By Saab Salomon                                        21
17 Ancillotti Doganaccia Racing Team                                       17
18 Specialized Team America                                                14
19 Massi                                                                   12
20 2Stagefactory                                                           12
21 Kenda Morewood                                                           4

World Cup standings after three rounds

Individual

1 Steve Peat (GBr) Santa Cruz Syndicate                               645 pts
2 Greg Minnaar (RSA) Santa Cruz Syndicate                             518
3 Michael Hannah (Aus) GT Bicycles                                    512
4 Gee Atherton (GBr) Animal Commencal                                 482
5 Samuel Hill (Aus) Monster Energy / Specialized / Mad Catz           427
6 Justin Leov (NZl) Trek World Racing                                 316
7 Brendan Fairclough (GBr) Monster Energy / Specialized / Mad Catz    295
8 Andrew Neethling (RSA) Trek World Racing                            254
9 Samuel Blenkinsop (NZl) Yeti Fox Shox Factory Race Team             241
10 Marc Beaumont (GBr) GT Bicycles                                    239
11 Steve Smith (Can) MS Evil Racing                                   232
12 Nick Beer (Swi) Scott 11                                           230
13 David Vazquez Lopez (Spa) Lapierre Powered By Saab Salomon         213
14 Aurélien Giordanengo (Fra)                                         209
15 Bernat Guardia Pascual (Spa) Massi                                 198
16 Aaron Gwin (USA) Yeti Fox Shox Factory Race Team                   196
17 Mickael Pascal (Fra) MSC Bikes                                     192
18 Duncan Riffle (USA) Duncan Riffle Racing                           191
19 Filip Polc (Svk) MS Evil Racing                                    191
20 Josh Bryceland (GBr) Santa Cruz Syndicate                          184
21 Julien Camellini (Fra) Chain Reaction Cycles/Intense               171
22 Mitchell Delfs (Aus) Kenda Morewood                                169
23 Robin Wallner (Swe)                                                154
24 Thibaut Ruffin (Fra)                                               153
25 Jared Graves (Aus) Yeti Fox Shox Factory Race Team                 141
26 Fabien Cousinie (Fra)                                              141
27 Dan Stanbridge (GBr)                                               141
28 Matti Lehikoinen (Fin) MS Evil Racing                              139
29 Dan Atherton (GBr) Animal Commencal                                134
30 Damien Spagnolo (Fra) Subaru Mountain Bike Pro Team                133
31 Cameron Cole (NZl) Team Maxxis-Rocky Mountain Bicycles             128
32 Rémi Thirion (Fra) Team Sunn                                       124
33 Ivan Oulego Moreno (Spa) Massi                                     118
34 Danny Hart* (GBr) Lapierre Powered By Saab Salomon                 118
35 Chris Kovarik (Aus) Chain Reaction Cycles/Intense                  117
36 Cody Warren (USA) Specialized Team America                         113
37 Thomas Braithwaite (GBr)                                           113
38 Tom Deacon (GBr) 2Stagefactory                                     110
39 Kyle Strait (USA) Specialized Team America                         109
40 Joris Bigoni (Fra)                                                 105
41 Nathan Rennie (Aus) Kenda Morewood                                 102
42 Pasqual Canals Flix (Spa) XMS-Devinci World Cup Team               101
43 Ruaridh Cunningham (GBr) Chain Reaction Cycles/Intense             100
44 Bryn Atkinson (Aus)                                                 98
45 Joseph Smith (GBr) Kona                                             96
46 Pierre Charles Georges (Fra) Solid Aclass Factory Team              95
47 Nathan Rankin (NZl) Iron Horse-Kenda-Playbiker                      89
48 Joshua Button (Aus)                                                 84
49 Cyrille Kurtz (Fra) Team Sunn                                       81
50 Luke Strobel (USA) Team Maxxis-Rocky Mountain Bicycles              81
51 Jared Rando (Aus) Giant Mountain Bike Team                          81
52 Fabien Pedemanaud (Fra) Scott 11                                    80
53 Bradley Benedict (USA) Duncan Riffle Racing                         70
54 Markus Pekoll (Aut) Solid Aclass Factory Team                       69
55 Antoine Badouard (Fra)                                              68
56 Sam Dale (GBr)                                                      68
57 Florent Payet (Fra) Subaru Mountain Bike Pro Team                   66
58 Lorenzo Suding (Ita) Dytech DH                                      64
59 Ben Reid (Irl) Just Reid Race Team                                  63
60 Cédric Gracia (Fra)                                                 62
61 Matthew Simmonds (GBr) Chain Reaction Cycles/Intense                62
62 Adam Vagner (Cze)                                                   61
63 Marcus Klausmann (Ger) Ghost A.T.G. Pro Team                        59
64 Nicolas Ortiz (Fra)                                                 57
65 Benny Strasser (Ger)                                                55
66 Ryan Condrashoff (USA) X-Fusion-Intense                             54
67 Boris Tetzlaff (Aut) Solid Aclass Factory Team                      53
68 Wyn Masters (NZl) Ancillotti Doganaccia Racing Team                 52
69 Romain Paulhan (Fra)                                                52
70 Jonty Neethling (RSA)                                               51
71 Matthew Scoles (NZl)                                                49
72 Antonio Ferreiro Pajuelo (Spa) XMS-Devinci World Cup Team           47
73 Ben Cathro (GBr)                                                    45
74 Joe Barnes (GBr)                                                    44
75 Kieran Bennett (NZl) X-Fusion-Intense                               44
76 Cesar Rojo (Spa)                                                    43
77 Aari Barrett* (NZl) Scott 11                                        40
78 Georg Sieder (Aut) Solid Aclass Factory Team                        40
79 Johann Potgieter (RSA)                                              38
80 Esteban Deronzier (Fra) Morzine-Avoriaz 74                          38
81 Adam Brayton (GBr) Just Reid Race Team                              38
82 Vlastimil Hyncica (Cze)                                             37
83 Matej Charvat (Cze)                                                 36
84 Will Rischbieth (Aus)                                               35
85 Brook Macdonald* (NZl) Ancillotti Doganaccia Racing Team            34
86 Dennis Dertell (Swe)                                                33
87 Herman Olund (Swe)                                                  30
88 Neil Donoghue (GBr)                                                 29
89 Rowan Sorrell (GBr)                                                 28
90 Arnau Sugranes Mateu (Spa)                                          27
91 Dominik Gspan (Swi)                                                 27
92 Marco Bugnone (Ita) Argentina Bike Gravity Team                     26
93 Claudio Cozzi (Ita) Dytech DH                                       25
94 Emanuel Pombo (Por)                                                 24
95 Kevin Aiello* (USA) GT Bicycles                                     24
96 Curtis Keene (USA)                                                  23
97 Maximilian Bender (Ger)                                             21
98 Rémy Charrier (Fra) Team Sunn                                       19
99 Scott Mears (GBr)                                                   19
100 Harry Heath* (GBr)                                                 18
101 Marco Milivinti (Ita) Dytech DH                                    17
102 Maxime Remy (Fra) Suspension Center                                16
103 Carlo Gambirasio (Ita) Surfing Shop                                15
104 Bernard Kerr* (GBr)                                                15
105 Pierre Van Der Merwe* (RSA)                                        15
106 Timothy Bentley* (RSA)                                             14
107 Kim Petersson* (Swe)                                               13
108 Iago Garay Tamayo* (Spa)                                           12
109 Louis-Bresler Knipe (RSA)                                          12
110 David Eme (Fra)                                                    11
111 Laurie Dinham* (Aus) Suspension Center                             11
112 Jorge Aguin Castro (Spa)                                           11
113 Gary Barnard (RSA)                                                 10
114 Markus Olkkonen (Fin)                                              10
115 Darryn Stow (RSA)                                                   9
116 Hayden Brown (RSA)                                                  8
117 Arran Gannicott* (GBr)                                              7
118 James Hughes (GBr)                                                  7
119 Emyr Davies (GBr)                                                   5
120 Martin Frei (Swi)                                                   4
121 Rhys Willemse* (Aus)                                                4
122 Simon Dinkelman* (RSA)                                              4
123 Daniel Critchlow (GBr) Chain Reaction Cycles/Intense                3

Team

1 Santa Cruz Syndicate                       239 pts
2 Trek World Racing                          225
3 GT Bicycles                                142
4 Team Maxxis-Rocky Mountain Bicycles        138
5 Monster Energy / Specialized / Mad Catz    119
6 Yeti Fox Shox Factory Race Team            110
7 Animal Commencal                           109
8 Chain Reaction Cycles/Intense              105
9 Scott 11                                   103
10 Suspension Center                          98
11 MS Evil Racing                             91
12 Iron Horse-Kenda-Playbiker                 88
13 Norco World Team                           76
14 Morzine-Avoriaz 74                         56
15 Massi                                      49
16 Kenda Morewood                             43
17 Lapierre Powered By Saab Salomon           41
18 Ancillotti Doganaccia Racing Team          39
19 2Stagefactory                              36
20 Specialized Team America                   34
21 MSC Bikes                                  32
22 Duncan Riffle Racing                       24
23 Team Sunn                                  22
24 Team Vario Racing                          19
25 Subaru Mountain Bike Pro Team              14
26 Ghost A.T.G. Pro Team                       9
27 XMS-Devinci World Cup Team                  6