MTB index page for all MTB content
MTB World Cup DH & 4X #3 - CDM
Vallnord, Andorra, May 15-17, 2009
Main Page Results Previous Race Next Race World Cup Standings
Race 5 - May 17: Elite women downhill
Two in a row for Jonnier
By Rob Jones
Sabrina Jonnier (Maxxis / Rocky Mountain)
Photo ©: Enric Moran Gimeno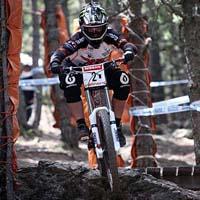 Sabrina Jonnier (Maxxis-Rocky Mountain) took her second consecutive downhill World Cup win, and overtook Tracy Moseley (Trek World Racing) for the lead in the women's series.
During a second day of good weather, Jonnier, who also qualified first, faced a drying track, which was getting loose and dusty at the top. Three days of hard riding and racing were rutting out the lower, wooded portion and creating braking bumps, which pounded the riders as they pushed to shave extra tenths of a second from their times.
Canada's Micayla Gatto was the first woman off, and proved that her qualifying time was an anomaly by posting a sub-three minute 2:57.77 time that would hold up for nearly half the field, before American Melissa Buhl finally bumped her from the Hot Seat with a blazing fast 2:51.20.
Buhl didn't get much chance to enjoy her spot in the Hot Seat, because five riders later, Japan's Mio Suemasa took the top time below 2:50 at 2:48.60. Suemasa was immediately surpassed by Myriam Nicole of France, by two-tenths of a second, who in turn was supplanted by veteran Celine Gros (Morzine-Avoriaz 74).
But the final three were still to come. Emmeline Ragot (Suspension Center), the former Junior World Champion, was third fastest in qualifying, and knocked two seconds off of Gros' time. Next up was World Cup leader Tracy Moseley (Trek World Racing), who was well back of Ragot on the upper half of the course, but came back strongly in the technical bottom section to pull to within two-hundredths of the second by the bottom.
Elite women's downhill podium
Photo ©: Enric Moran Gimeno

However, Jonnier was still to come, and she was on fire, fastest at both intermediate splits and a staggering four seconds fastest by the finish line. Jonnier was nine seconds faster than she was in qualifying. The Maxxis-Rocky Mountain rider took the overall lead from Moseley with her second consecutive win, but her lead is a slim two points, so this battle is far from over.
"I'm super happy," said Jonnier. "I felt good all week here, and in the final even stronger than last week. But I was also extremely nervous, as I do not normally qualify well, so I was feeling the pressure. But I felt very comfortable on this track, and confident with the way my bike was set up. It's great to be back in the World Cup lead, after an only average ride in South Africa."
"That was a pretty tough result to digest. I made a mistake in the top section, but other than that I thought I had a great run," said Moseley. "To see the time that Sabrina posted, well it just kind of deflated me. Losing to Emmeline by two hundredths, well that's racing, and sometimes it goes your way, and sometimes it doesn't.
"Small margins are cruel but part of the sport. It's the bigger margin I need to work on, and I'll be heading home tomorrow to do just that."
Photography
For a thumbnail gallery of these images, click here
Images by Enric Moran Gimeno
Images by Gary Perkin
Results
1 Sabrina Jonnier (Fra) Team Maxxis-Rocky Mountain Bicycles           2.41.58
2 Emmeline Ragot (Fra) Suspension Center                              0.03.87
3 Tracy Moseley (GBr) Trek World Racing                               0.03.89
4 Céline Gros (Fra) Morzine-Avoriaz 74                                0.06.19
5 Myriam Nicole (Fra)                                                 0.06.83
6 Mio Suemasa (Jpn)                                                   0.07.02
7 Floriane Pugin (Fra) Iron Horse-Kenda-Playbiker                     0.07.26
8 Melissa Buhl (USA)                                                  0.09.62
9 Fionn Griffiths (GBr) Norco World Team                              0.11.77
10 Anais Pajot° (Fra) Team Sunn                                       0.13.47
11 Emilie Siegenthaler (Swi) Scott 11                                 0.13.89
12 Katy Curd (GBr)                                                    0.16.00
13 Micayla Gatto (Can)                                                0.16.19
14 Petra Bernhard (Aut) Ancillotti Doganaccia Racing Team             0.16.33
15 Miranda Miller (Can)                                               0.17.86
16 Diana Marggraff (Ecu)                                              0.20.87
17 Claire Buchar (Can) Chain Reaction Cycles/Intense                  0.21.41
18 Anita Molcik (Aut)                                                 0.22.84
19 Jessica Stone (GBr) 2Stagefactory                                  0.24.26
20 Fanny Lombard° (Fra)                                               0.26.52
DNS Helen Gaskell (GBr)                                                      

Elite women teams

1 Santa Cruz Syndicate                                                     94 pts
2 Trek World Racing                                                        65
3 MS Evil Racing                                                           51
4 Scott 11                                                                 48
5 Team Maxxis-Rocky Mountain Bicycles                                      40
6 GT Bicycles                                                              39
7 Suspension Center                                                        35
8 Animal Commencal                                                         35
9 Chain Reaction Cycles/Intense                                            33
10 Yeti Fox Shox Factory Race Team                                         31
11 Morzine-Avoriaz 74                                                      30
12 Monster Energy / Specialized / Mad Catz                                 24
13 Iron Horse-Kenda-Playbiker                                              24
14 Norco World Team                                                        22
15 Team Sunn                                                               22
16 Lapierre Powered By Saab Salomon                                        21
17 Ancillotti Doganaccia Racing Team                                       17
18 Specialized Team America                                                14
19 Massi                                                                   12
20 2Stagefactory                                                           12
21 Kenda Morewood                                                           4

World Cup standings after three rounds

Individual

1 Sabrina Jonnier (Fra) Team Maxxis-Rocky Mountain Bicycles           642 pts
2 Tracy Moseley (GBr) Trek World Racing                               640
3 Emmeline Ragot (Fra) Suspension Center                              525
4 Myriam Nicole (Fra)                                                 372
5 Fionn Griffiths (GBr) Norco World Team                              300
6 Floriane Pugin (Fra) Iron Horse-Kenda-Playbiker                     294
7 Mio Suemasa (Jpn)                                                   264
8 Céline Gros (Fra) Morzine-Avoriaz 74                                256
9 Melissa Buhl (USA)                                                  234
10 Emilie Siegenthaler (Swi) Scott 11                                 175
11 Claire Buchar (Can) Chain Reaction Cycles/Intense                  160
12 Joanna Petterson (RSA)                                             110
13 Petra Bernhard (Aut) Ancillotti Doganaccia Racing Team              97
14 Helen Gaskell (GBr)                                                 80
15 Anais Pajot* (Fra) Team Sunn                                        60
16 Diana Marggraff (Ecu)                                               60
17 Katy Curd (GBr)                                                     57
18 Micayla Gatto (Can)                                                 50
19 Miriam Ruchti (Swi) Team Vario Racing                               45
20 Sarah Newman (GBr)                                                  45
21 Anka Martin (RSA)                                                   40
22 Anita Molcik (Aut)                                                  40
23 Helene Valerie Fruhwirth (Aut)                                      35
24 Jessica Stone (GBr) 2Stagefactory                                   35
25 Miranda Miller (Can)                                                30
26 Elisa Canepa (Ita) Iron Horse-Kenda-Playbiker                       30
27 Risa Suseanty (Ina)                                                 25
28 Victoria Phillips (RSA)                                             20
29 Antje Kramer (Ger)                                                  15
30 Fanny Lombard* (Fra)                                                 5
31 Caroline Sax (Fra)                                                   5

Team

1 Santa Cruz Syndicate                       239 pts
2 Trek World Racing                          225
3 GT Bicycles                                142
4 Team Maxxis-Rocky Mountain Bicycles        138
5 Monster Energy / Specialized / Mad Catz    119
6 Yeti Fox Shox Factory Race Team            110
7 Animal Commencal                           109
8 Chain Reaction Cycles/Intense              105
9 Scott 11                                   103
10 Suspension Center                          98
11 MS Evil Racing                             91
12 Iron Horse-Kenda-Playbiker                 88
13 Norco World Team                           76
14 Morzine-Avoriaz 74                         56
15 Massi                                      49
16 Kenda Morewood                             43
17 Lapierre Powered By Saab Salomon           41
18 Ancillotti Doganaccia Racing Team          39
19 2Stagefactory                              36
20 Specialized Team America                   34
21 MSC Bikes                                  32
22 Duncan Riffle Racing                       24
23 Team Sunn                                  22
24 Team Vario Racing                          19
25 Subaru Mountain Bike Pro Team              14
26 Ghost A.T.G. Pro Team                       9
27 XMS-Devinci World Cup Team                  6