MTB index page for all MTB content
MTB World Cup DH #2 - CDM
La Bresse, France, May 9-10, 2009
Main Page Results Previous Race World Cup Standings
Race 3 - May 10: Elite men downhill Peat matches Vouilloz record with win
By Rob Jones
Steve Peat on his way to a win.
Photo ©: Gary Perkin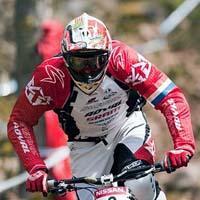 Steve Peat (Santa Cruz Syndicate) is one victory away from taking the all-time lead in downhill World Cup victories after an incredible ride to record his 16th career victory in the UCI Mountain Bike World Cup at the second round in La Bresse, France. Peat now matches French rider Nicolas Vouilloz in wins. He also took over the lead in the World Cup standings with his win.
"I'm very happy to win after such a long time, and happy to break Vouilloz's record," said Peat afterwards, referring to the fact that this is his first World Cup victory since Willingen, Germany in 2006. "It's good to keep the jersey in the team."
Kyle Strait (Specialized Team America) was the men's top US finisher in 11th place, just ahead of Australia's Mitchell Delfs (Kenda Morewood). Steve Smith (MS Evil Racing) was Canada's top finisher in 15th place.
The short course required the skills of an all around rider to perform well, with fast pedaling and jumping sections at the top, followed by steep, technical and rocky sections in the lower half. Many a rider started out fast, only to lose precious seconds in the final third of the 1.2 kilometre course.
The men's race had a potential upset in the making, when heavy rain swept in shortly after Strait grabbed the hot seat. Strait was 29th to start, and the track had been dry and hard until that point. Favoured Chris Kovarik (Chain Reaction/Intense) crashed shortly afterwards, showing how slippery it was getting.
Huge crowds
Photo ©: Gary Perkin

Strait's time of 2:12.33 held up for over 30 riders before Justin Leov (Trek World Racing) finally managed to displace him by a mere five one hundredths of a second. Leov also settled in for an extended sit in the Hot seat, remaining in the top spot until the final 10 riders began their runs. Strait would finish 11th, just behind Leov.
Leov's teammate Andrew Neethling was the first to better Leov, dropping the leading time to below 2:12 (2:11.98). However, he was replaced immediately by Mikael Pascal (MSC Bikes). World Cup leader Greg Minnaar (Santa Cruz Syndicate) was next to take the lead, but again it was a short lived reward, as Great Britain's Brendan Fairclough (Monster Energy-Specialized) became the first rider to go under 2:10, with a 2:09.99 run.
Fairclough hung onto the lead through Sam Blenkinsop (Yeti Fox Shox) before his teammate, and perennial favourite, Sam Hill knocked an impressive second and a half off the leading time. There were only three riders to go, and the rain continued to fall.
Michael "Mick" Hannah (GT Bicycles) was next, and he slotted in between Hill and Fairclough, and then it was world champion Gee Atherton (Animal-Commencal), who came in behind Fairclough and ahead of Minnaar, guaranteeing himself a podium spot.
Elite men's podium.
Photo ©: Gary Perkin
Finally, it was "Peaty", the legendary rider from Sheffield, Yorkshire. Only 17th fastest through the speedtrap, Peat kept getting faster as the course got harder. By the first intermediate timer, he was up to second, by the second intermediate station he was more than a second in front, and at the finish line he was a full 1.27 seconds ahead of Hill to record his 16th World Cup win.
Heading into the third downhill round of the UCI Mountain Bike World Cup next week in Vallnord, Andorra, Peat holds a 25-point lead over Hannah at 415 points, with Minnaar 62 points back in third. Duncan Riffle (Duncan Riffle racing) is the top ranked American in 14th, two spots ahead of Smith, with Gwin 19th overall.
Photography
For a thumbnail gallery of these images, click here
Images by Gary Perkin
Results
Elite men
1 Steve Peat (GBr) Santa Cruz Syndicate                               2.07.14
2 Samuel Hill (Aus) Monster Energy / Specialized / Mad Catz           0.01.27
3 Michael Hannah (Aus) GT Bicycles                                    0.01.86
4 Brendan Fairclough (GBr) Monster Energy / Specialized / Mad Catz    0.02.85
5 Gee Atherton (GBr) Animal Commencal                                 0.04.01
6 Greg Minnaar (RSA) Santa Cruz Syndicate                             0.04.22
7 Mickael Pascal (Fra) MSC Bikes                                      0.04.56
8 Andrew Neethling (RSA) Trek World Racing                            0.04.84
9 Samuel Blenkinsop (NZl) Yeti Fox Shox Factory Race Team             0.05.01
10 Justin Leov (NZl) Trek World Racing                                0.05.14
11 Kyle Strait (USA) Specialized Team America                         0.05.19
12 Mitchell Delfs (Aus) Kenda Morewood                                0.05.23
13 Julien Camellini (Fra) Chain Reaction Cycles/Intense               0.05.62
14 Aaron Holmes Gwin (USA) Yeti Fox Shox Factory Race Team            0.05.82
15 Steve Smith (Can) MS Evil Racing                                   0.06.06
16 Aurélien Giordanengo (Fra)                                         0.06.34
17 Marc Beaumont (GBr) GT Bicycles                                    0.06.40
18 Nick Beer (Swi) Scott 11                                           0.06.42
19 Matti Lehikoinen (Fin) MS Evil Racing                              0.06.58
20 Adam Vagner (Cze)                                                  0.06.59
21 Tom Deacon (GBr) 2Stagefactory                                     0.06.62
22 Marcus Klausmann (Ger) Ghost A.T.G. Pro Team                       0.06.70
23 David Vazquez Lopez (Spa) Lapierre Powered By Saab Salomon         0.06.81
24 Josh Bryceland (GBr) Santa Cruz Syndicate                          0.07.08
25 Bernat Guardia Pascual (Spa) Massi                                 0.07.10
26 Duncan Riffle (USA) Duncan Riffle Racing                           0.07.14
27 Robin Wallner (Swe)                                                0.07.24
28 Thibaut Ruffin (Fra)                                               0.07.31
29 Ivan Oulego Moreno (Spa) Massi                                     0.07.44
30 Filip Polc (Svk) MS Evil Racing                                    0.07.47
31 Dan Atherton (GBr) Animal Commencal                                0.07.61
32 Cody Warren (USA) Specialized Team America                         0.07.65
33 Markus Pekoll (Aut) Solid Aclass Factory Team                      0.07.87
34 Boris Tetzlaff (Aut) Solid Aclass Factory Team                     0.07.95
35 Danny Hart° (GBr) Lapierre Powered By Saab Salomon                 0.08.06
36 Pasqual Canals Flix (Spa) XMS-Devinci World Cup Team               0.08.07
37 Jared Graves (Aus) Yeti Fox Shox Factory Race Team                 0.08.08
38 Lorenzo Suding (Ita) Dytech DH                                     0.08.09
39 Nathan Rankin (NZl) Iron Horse-Kenda-Playbiker                     0.08.18
40 Cyrille Kurtz (Fra) Team Sunn                                      0.08.33
41 Dan Stanbridge (GBr)                                               0.08.34
42 Damien Spagnolo (Fra) Subaru Mountain Bike Pro Team                0.08.41
43 Ben Cathro (GBr)                                                   0.08.46
44 Vlastimil Hyncica (Cze)                                            0.08.53
45 Rémi Thirion (Fra) Team Sunn                                       0.08.55
46 Ben Reid (Irl) Just Reid Race Team                                 0.08.67
47 Brook Macdonald° (NZl) Ancillotti Doganaccia Racing Team           0.08.84
48 Cameron Cole (NZl) Team Maxxis-Rocky Mountain Bicycles             0.08.86
49 Fabien Cousinie (Fra)                                              0.08.96
50 Georg Sieder (Aut) Solid Aclass Factory Team                       0.09.05
51 Herman Olund (Swe)                                                 0.09.20
52 Matthew Scoles (NZl)                                               0.09.21
53 Fabien Pedemanaud (Fra) Scott 11                                   0.09.35
54 Sam Dale (GBr)                                                     0.09.37
55 Thomas Braithwaite (GBr)                                           0.09.63
56 Benny Strasser (Ger)                                               0.09.84
57 Luke Strobel (USA) Team Maxxis-Rocky Mountain Bicycles             0.10.02
58 Pierre Charles Georges (Fra) Solid Aclass Factory Team             0.10.36
59 Kevin Aiello° (USA) GT Bicycles                                    0.10.41
60 Maximilian Bender (Ger)                                            0.10.55
61 Esteban Deronzier (Fra) Morzine-Avoriaz 74                         0.10.76
62 Rémy Charrier (Fra) Team Sunn                                      0.10.90
63 Harry Heath° (GBr)                                                 0.11.25
64 Joseph Smith (GBr) Kona                                            0.11.29
65 Romain Paulhan (Fra)                                               0.11.49
66 Carlo Gambirasio (Ita) Surfing Shop                                0.11.66
67 Matej Charvat (Cze)                                                0.11.77
68 Bryn Atkinson (Aus)                                                0.11.80
69 Jared Rando (Aus) Giant Mountain Bike Team                         0.11.83
70 David Eme (Fra)                                                    0.11.97
71 Bradley Benedict (USA) Duncan Riffle Racing                        0.12.69
72 Kieran Bennett (NZl) X-Fusion-Intense                              0.12.85
73 Antoine Badouard (Fra)                                             0.13.53
74 Joshua Button (Aus)                                                0.15.53
75 Scott Mears (GBr)                                                  0.15.69
76 Dominik Gspan (Swi)                                                0.19.18
77 Martin Frei (Swi)                                                  0.20.24
78 Chris Kovarik (Aus) Chain Reaction Cycles/Intense                  0.21.26
79 Nathan Rennie (Aus) Kenda Morewood                                 0.37.46
80 Ryan Condrashoff (USA) X-Fusion-Intense                            0.39.19
DNF Robert Smith (GBr)                                                       

° Indicates Under 23
Teams

1 Trek World Racing                                                        79 pts
2 Santa Cruz Syndicate                                                     73
3 Monster Energy / Specialized / Mad Catz                                  65
4 GT Bicycles                                                              46
5 Team Maxxis-Rocky Mountain Bicycles                                      40
6 Yeti Fox Shox Factory Race Team                                          39
7 Scott 11                                                                 34
8 MS Evil Racing                                                           29
9 Animal Commencal                                                         28
10 Suspension Center                                                       28
11 Morzine-Avoriaz 74                                                      26
12 MSC Bikes                                                               24
13 Norco World Team                                                        24
14 2Stagefactory                                                           24
15 Iron Horse-Kenda-Playbiker                                              22
16 Ancillotti Doganaccia Racing Team                                       20
17 Specialized Team America                                                20
18 Kenda Morewood                                                          19
19 Team Vario Racing                                                       19
20 Chain Reaction Cycles/Intense                                           18
21 Ghost A.T.G. Pro Team                                                    9
22 Lapierre Powered By Saab Salomon                                         8
23 Massi                                                                    8
24 Duncan Riffle Racing                                                     5

World Cup standings after two rounds

Individual standings
1 Steve Peat (GBr) Santa Cruz Syndicate                               415 pts
2 Michael Hannah (Aus) GT Bicycles                                    380
3 Greg Minnaar (RSA) Santa Cruz Syndicate                             353
4 Samuel Hill (Aus) Monster Energy / Specialized / Mad Catz           327
5 Gee Atherton (GBr) Animal Commencal                                 282
6 Brendan Fairclough (GBr) Monster Energy / Specialized / Mad Catz    194
7 Justin Leov (NZl) Trek World Racing                                 190
8 Andrew Neethling (RSA) Trek World Racing                            182
9 Marc Beaumont (GBr) GT Bicycles                                     171
10 Mickael Pascal (Fra) MSC Bikes                                     164
11 Samuel Blenkinsop (NZl) Yeti Fox Shox Factory Race Team            162
12 Julien Camellini (Fra) Chain Reaction Cycles/Intense               159
13 Aurélien Giordanengo (Fra)                                         153
14 Duncan Riffle (USA) Duncan Riffle Racing                           145
15 Jared Graves (Aus) Yeti Fox Shox Factory Race Team                 141
16 Steve Smith (Can) MS Evil Racing                                   139
17 Bernat Guardia Pascual (Spa) Massi                                 136
18 Dan Atherton (GBr) Animal Commencal                                134
19 Aaron Holmes Gwin (USA) Yeti Fox Shox Factory Race Team            131
20 David Vazquez Lopez (Spa) Lapierre Powered By Saab Salomon         130
21 Cameron Cole (NZl) Team Maxxis-Rocky Mountain Bicycles             128
22 Ivan Oulego Moreno (Spa) Massi                                     118
23 Filip Polc (Svk) MS Evil Racing                                    118
24 Nick Beer (Swi) Scott 11                                           113
25 Mitchell Delfs (Aus) Kenda Morewood                                105
26 Fabien Cousinie (Fra)                                              104
27 Pasqual Canals Flix (Spa) XMS-Devinci World Cup Team               101
28 Thibaut Ruffin (Fra)                                               100
29 Josh Bryceland (GBr) Santa Cruz Syndicate                           99
30 Robin Wallner (Swe)                                                 93
31 Damien Spagnolo (Fra) Subaru Mountain Bike Pro Team                 93
32 Tom Deacon (GBr) 2Stagefactory                                      84
33 Nathan Rennie (Aus) Kenda Morewood                                  83
34 Dan Stanbridge (GBr)                                                73
35 Rémi Thirion (Fra) Team Sunn                                        73
36 Thomas Braithwaite (GBr)                                            71
37 Kyle Strait (USA) Specialized Team America                          70
38 Danny Hart° (GBr) Lapierre Powered By Saab Salomon                  69
39 Sam Dale (GBr)                                                      68
40 Florent Payet (Fra) Subaru Mountain Bike Pro Team                   66
41 Pierre Charles Georges (Fra) Solid Aclass Factory Team              66
42 Matti Lehikoinen (Fin) MS Evil Racing                               62
43 Cédric Gracia (Fra)                                                 62
44 Adam Vagner (Cze)                                                   61
45 Marcus Klausmann (Ger) Ghost A.T.G. Pro Team                        59
46 Lorenzo Suding (Ita) Dytech DH                                      59
47 Bradley Benedict (USA) Duncan Riffle Racing                         56
48 Ruaridh Cunningham (GBr) Chain Reaction Cycles/Intense              55
49 Wyn Masters (NZl) Ancillotti Doganaccia Racing Team                 52
50 Jonty Neethling (RSA)                                               51
51 Cyrille Kurtz (Fra) Team Sunn                                       50
52 Cody Warren (USA) Specialized Team America                          49
53 Markus Pekoll (Aut) Solid Aclass Factory Team                       48
54 Joris Bigoni (Fra)                                                  48
55 Joseph Smith (GBr) Kona                                             48
56 Boris Tetzlaff (Aut) Solid Aclass Factory Team                      47
57 Jared Rando (Aus) Giant Mountain Bike Team                          46
58 Ben Cathro (GBr)                                                    45
59 Nathan Rankin (NZl) Iron Horse-Kenda-Playbiker                      42
60 Luke Strobel (USA) Team Maxxis-Rocky Mountain Bicycles              42
61 Aari Barrett° (NZl) Scott 11                                        40
62 Johann Potgieter (RSA)                                              38
63 Vlastimil Hyncica (Cze)                                             37
64 Ben Reid (Irl) Just Reid Race Team                                  35
65 Will Rischbieth (Aus)                                               35
66 Brook Macdonald° (NZl) Ancillotti Doganaccia Racing Team            34
67 Dennis Dertell (Swe)                                                33
68 Chris Kovarik (Aus) Chain Reaction Cycles/Intense                   33
69 Nicolas Ortiz (Fra)                                                 32
70 Georg Sieder (Aut) Solid Aclass Factory Team                        31
71 Herman Olund (Swe)                                                  30
72 Matthew Simmonds (GBr) Chain Reaction Cycles/Intense                30
73 Matthew Scoles (NZl)                                                29
74 Neil Donoghue (GBr)                                                 29
75 Fabien Pedemanaud (Fra) Scott 11                                    28
76 Rowan Sorrell (GBr)                                                 28
77 Dominik Gspan (Swi)                                                 27
78 Marco Bugnone (Ita) Argentina Bike Gravity Team                     26
79 Joshua Button (Aus)                                                 26
80 Benny Strasser (Ger)                                                25
81 Claudio Cozzi (Ita) Dytech DH                                       25
82 Kevin Aiello° (USA) GT Bicycles                                     24
83 Maximilian Bender (Ger)                                             21
84 Adam Brayton (GBr) Just Reid Race Team                              21
85 Ryan Condrashoff (USA) X-Fusion-Intense                             21
86 Esteban Deronzier (Fra) Morzine-Avoriaz 74                          20
87 Rémy Charrier (Fra) Team Sunn                                       19
88 Scott Mears (GBr)                                                   19
89 Harry Heath° (GBr)                                                  18
90 Marco Milivinti (Ita) Dytech DH                                     17
91 Romain Paulhan (Fra)                                                16
92 Carlo Gambirasio (Ita) Surfing Shop                                 15
93 Pierre Van Der Merwe° (RSA)                                         15
94 Matej Charvat (Cze)                                                 14
95 Timothy Bentley° (RSA)                                              14
96 Bryn Atkinson (Aus)                                                 13
97 Louis-Bresler Knipe (RSA)                                           12
98 David Eme (Fra)                                                     11
99 Laurie Dinham° (Aus) Suspension Center                              11
100 Kieran Bennett (NZl) X-Fusion-Intense                              10
101 Gary Barnard (RSA)                                                 10
102 Darryn Stow (RSA)                                                   9
103 Antoine Badouard (Fra)                                              8
104 Hayden Brown (RSA)                                                  8
105 James Hughes (GBr)                                                  7
106 Antonio Ferreiro Pajuelo (Spa) XMS-Devinci World Cup Team           6
107 Emyr Davies (GBr)                                                   5
108 Martin Frei (Swi)                                                   4
109 Simon Dinkelman° (RSA)                                              4
110 Daniel Critchlow (GBr) Chain Reaction Cycles/Intense                3

Team standings

1 Trek World Racing                                                   160 pts
2 Santa Cruz Syndicate                                                145
3 GT Bicycles                                                         103
4 Team Maxxis-Rocky Mountain Bicycles                                  98
5 Monster Energy / Specialized / Mad Catz                              95
6 Yeti Fox Shox Factory Race Team                                      79
7 Animal Commencal                                                     74
8 Chain Reaction Cycles/Intense                                        72
9 Iron Horse-Kenda-Playbiker                                           64
10 Suspension Center                                                   63
11 Scott 11                                                            55
12 Norco World Team                                                    54
13 MS Evil Racing                                                      40
14 Kenda Morewood                                                      39
15 Massi                                                               37
16 MSC Bikes                                                           32
17 Morzine-Avoriaz 74                                                  26
18 2Stagefactory                                                       24
19 Duncan Riffle Racing                                                24
20 Ancillotti Doganaccia Racing Team                                   22
21 Lapierre Powered By Saab Salomon                                    20
22 Specialized Team America                                            20
23 Team Vario Racing                                                   19
24 Subaru Mountain Bike Pro Team                                       14
25 Ghost A.T.G. Pro Team                                                9
26 XMS-Devinci World Cup Team                                           6