MTB index page for all MTB content
MTB World Cup DH #2 - CDM
La Bresse, France, May 9-10, 2009
Main Page Results Previous Race Next Race World Cup Standings
Race 2 - May 10: Elite women downhill
Jonnier dedicates home turf victory to mum
By Rob Jones
Sabrina Jonnier
Photo ©: Gary Perkin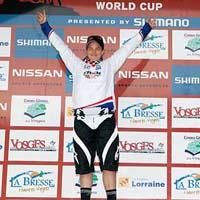 Sabrina Jonnier (Maxxis-Rocky Mountain) gave the crowd a French win in the women's category, as she decisively beat World Cup leader Tracy Moseley (Trek World Racing) by over five seconds. North American rider Melissa Buhl (KHS) finished eighth, while Canada's Micayla Gatto was 19th.
"I'm super happy to give Maxxis-Rocky Mountain its first World Cup win," said Jonnier. "I dedicated my race to my mum, whose dad just passed away. Thanks to Maxxis, Rocky and the team for all their support."
"Even though Tracy won the qualifying, I was still very confident, and very happy to win in France," she said. "It was a very important win for because it is my first win in a year, and I wanted to show that I am still one of the best downhillers."
The short course required the skills of an all around rider to perform well, with fast pedaling and jumping sections at the top, followed by steep, technical and rocky sections in the lower half. Many a rider started out fast, only to lose precious seconds in the final third of the 1.2 kilometre course.
Tracy Moseley (Trek World Racing)
Photo ©: Gary Perkin

Buhl set the first sub 2:40 time for the women at 2:38.54, and the fastest time through the speed trap of 56.89 kph. However she was quickly overtaken by Fionn Griffiths (Norco World Team). Three riders later, it was the veteran French rider Céline Gros taking another six-tenths of a second off the leading time.
Gros barely had time to realise she was in the lead before her compatriot Myriam Nicole obliterated her time by nearly three seconds. Former Junior World Champion Emmeline Ragot (Suspension Center) and Japan's Mio Suemasa both came within a second of Nicole, but the young Frenchwoman was still in the lead with two riders to go - Jonnier and Moseley, who had qualified first and would ride last.
Jonnier was perfect throughout her ride, setting the fastest splits at both the first and second intermediate stations, recording the only sub-2:30 time of the day in the women's race, at 2:28.57. Moseley, who had been unbeaten in competition this year up until this point managed to knock Nicole down to third, but was clearly not at the same level as her rival Jonnier today.
In the women's standings, it is Moseley still in front with 460 points, but Jonnier has moved into second, 68 points back, followed by Ragot, a distant 125 points in arrears. Buhl is seventh, with Canada's Claire Buchar (Chain Reaction/Intense) dropping from fifth to ninth after not racing round two due to illness.
Photography
For a thumbnail gallery of these images, click here
Images by Gary Perkin
Results
1 Sabrina Jonnier (Fra) Team Maxxis-Rocky Mountain Bicycles           2.28.57
2 Tracy Moseley (GBr) Trek World Racing                               0.05.02
3 Myriam Nicole (Fra)                                                 0.06.21
4 Mio Suemasa (Jpn)                                                   0.06.79
5 Emmeline Ragot (Fra) Suspension Center                              0.07.32
6 Céline Gros (Fra) Morzine-Avoriaz 74                                0.08.93
7 Fionn Griffiths (GBr) Norco World Team                              0.09.55
8 Melissa Buhl (USA)                                                  0.09.97
9 Floriane Pugin (Fra) Iron Horse-Kenda-Playbiker                     0.10.01
10 Emilie Siegenthaler (Swi) Scott 11                                 0.12.72
11 Petra Bernhard (Aut) Ancillotti Doganaccia Racing Team             0.13.49
12 Miriam Ruchti (Swi) Team Vario Racing                              0.13.51
13 Joanna Petterson (RSA)                                             0.15.94
14 Diana Marggraff (Ecu)                                              0.17.41
15 Helen Gaskell (GBr)                                                0.18.10
16 Anita Molcik (Aut)                                                 0.18.97
17 Jessica Stone (GBr) 2Stagefactory                                  0.22.64
18 Antje Kramer (Ger)                                                 0.22.69
19 Micayla Gatto (Can)                                                0.23.09
20 Caroline Sax (Fra)                                                 0.28.52
DNF Danice Uyesugi (Can)                                                     

Teams

1 Trek World Racing                                                        79 pts
2 Santa Cruz Syndicate                                                     73
3 Monster Energy / Specialized / Mad Catz                                  65
4 GT Bicycles                                                              46
5 Team Maxxis-Rocky Mountain Bicycles                                      40
6 Yeti Fox Shox Factory Race Team                                          39
7 Scott 11                                                                 34
8 MS Evil Racing                                                           29
9 Animal Commencal                                                         28
10 Suspension Center                                                       28
11 Morzine-Avoriaz 74                                                      26
12 MSC Bikes                                                               24
13 Norco World Team                                                        24
14 2Stagefactory                                                           24
15 Iron Horse-Kenda-Playbiker                                              22
16 Ancillotti Doganaccia Racing Team                                       20
17 Specialized Team America                                                20
18 Kenda Morewood                                                          19
19 Team Vario Racing                                                       19
20 Chain Reaction Cycles/Intense                                           18
21 Ghost A.T.G. Pro Team                                                    9
22 Lapierre Powered By Saab Salomon                                         8
23 Massi                                                                    8
24 Duncan Riffle Racing                                                     5

World Cup standings after two rounds

Individual

1 Tracy Moseley (GBr) Trek World Racing                               460 pts
2 Sabrina Jonnier (Fra) Team Maxxis-Rocky Mountain Bicycles           392
3 Emmeline Ragot (Fra) Suspension Center                              335
4 Myriam Nicole (Fra)                                                 246
5 Fionn Griffiths (GBr) Norco World Team                              240
6 Floriane Pugin (Fra) Iron Horse-Kenda-Playbiker                     189
7 Melissa Buhl (USA)                                                  164
8 Mio Suemasa (Jpn)                                                   155
9 Claire Buchar (Can) Chain Reaction Cycles/Intense                   140
10 Emilie Siegenthaler (Swi) Scott 11                                 115
11 Céline Gros (Fra) Morzine-Avoriaz 74                               111
12 Joanna Petterson (RSA)                                             110
13 Helen Gaskell (GBr)                                                 80
14 Petra Bernhard (Aut) Ancillotti Doganaccia Racing Team              62
15 Miriam Ruchti (Swi) Team Vario Racing                               45
16 Sarah Newman (GBr)                                                  45
17 Anka Martin (RSA)                                                   40
18 Diana Marggraff (Ecu)                                               35
19 Helene Valerie Fruhwirth (Aut)                                      35
20 Elisa Canepa (Ita) Iron Horse-Kenda-Playbiker                       30
21 Anita Molcik (Aut)                                                  25
22 Risa Suseanty (Ina)                                                 25
23 Jessica Stone (GBr) 2Stagefactory                                   25
24 Victoria Phillips (RSA)                                             20
25 Antje Kramer (Ger)                                                  15
26 Micayla Gatto (Can)                                                 10
27 Caroline Sax (Fra)                                                   5

Team

1 Trek World Racing                                                   160 pts
2 Santa Cruz Syndicate                                                145
3 GT Bicycles                                                         103
4 Team Maxxis-Rocky Mountain Bicycles                                  98
5 Monster Energy / Specialized / Mad Catz                              95
6 Yeti Fox Shox Factory Race Team                                      79
7 Animal Commencal                                                     74
8 Chain Reaction Cycles/Intense                                        72
9 Iron Horse-Kenda-Playbiker                                           64
10 Suspension Center                                                   63
11 Scott 11                                                            55
12 Norco World Team                                                    54
13 MS Evil Racing                                                      40
14 Kenda Morewood                                                      39
15 Massi                                                               37
16 MSC Bikes                                                           32
17 Morzine-Avoriaz 74                                                  26
18 2Stagefactory                                                       24
19 Duncan Riffle Racing                                                24
20 Ancillotti Doganaccia Racing Team                                   22
21 Lapierre Powered By Saab Salomon                                    20
22 Specialized Team America                                            20
23 Team Vario Racing                                                   19
24 Subaru Mountain Bike Pro Team                                       14
25 Ghost A.T.G. Pro Team                                                9
26 XMS-Devinci World Cup Team                                           6