MTB index page for all MTB content
Oceania Mountain Bike Championships - CC
Thredbo, New South Wales, Australia, March 20-22, 2009
Main Page Results Previous Race Next Race
Race 2 - March 21: Cross country
Olympian takes Oceania title
Daniel McConnell on his way to victory
Photo ©: Evan Jeffery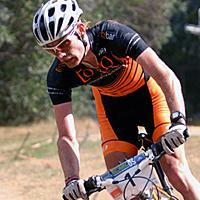 Beijing Olympian, Dan McConnell, dominated the Oceania Mountain Bike Championships in Thredbo today. McConnell took over the lead in the third of seven laps winning in 2:13:26. Tasmania's Rowena Fry won the women's race.
Under 23 national champion Lachlan Norris was the early leader until McConnell made his move. "I didn't want anyone getting too far away. It's always hard to peg someone back when they're in the front so I tried to keep it a minimum gap.'
The seven laps took their toll as many riders were lapped in the final stages. McConnell also admitted that he found the going tough. "It was long, I won't say it wasn't. The last few laps were tough. I was glad it was bell lap," he admitted.
McConnell was emotional after the race as his thoughts turned to his grandmother who had sadly passed away earlier in the week. "That race was for her," he said. "She was very supportive of what I did."
Norris finished in second place and convincingly wins the Under 23 Oceania title. Canberra representatives, Dylan Cooper and Ben Henderson were second and third respectively in elite men.
The best placed Kiwi, Jeanette Gerrie
Photo ©: Evan Jeffery

The podium places in the under 23 were taken by two north east Victorians, Paul Van Der Ploeg followed by Cal Britten. New Zealand's top finisher was Mike Northcott in 11th place. Northcott was closely marked by national champion, Stuart Houltham in 12th. Ash Hough placed eighth in Under 23 but was the top kiwi finisher.
The closest racing of the day was in the Under 19 race with all top five finishers within one minute of the winning time. Victorian James Peacock had his maiden win after overtaking Trenton Day in the final lap. National Champion, Michael Baker from Canberra had mechanical trouble but claimed third while Mitchell Codner rode in ten seconds later to claim fourth.
New Zealand's top placegetter in Undrer 19 was Locky McArthur in seventh. Fellow countrymen Adrian Retief and Conor Corbett claimed eighth and ninth respectively.
Fry adds Oceania title to crown
Zoe King and Rowena Fry (l) fought each other hard
Photo ©: Evan Jeffery

Fry added the Oceania title to the national crown. She put on the pressure in the third lap making it the fastest lap time of 22.36 min. passing early leader Zoe King.
Impressive riding by Jenni King saw her claim third place ahead of national series leader, Katherine O'Shea both from Victoria. Tory Thomas pushed up as high as third place during the race and finished a respectable fifth with Jodie Willett in sixth.
New Zealand's Jeanette Gerrie rode consistently to finish in seventh while team mate Cathy Hamer placed eight. A strong start by Michelle Bellamy saw the kiwi talent up in the placings but after four laps Bellamy rode in for tenth place.
The Under 23 win was earmarked by Gracie Elvin early in the race when she was up in sixth place in the elite field. A flat front tyre forced Elvin to run the downhill section at the end of the third lap to the technical zone. New Zealand's strong starter, Michelle Bellemy, gained 30 sec taking out the prestigious Oceania title. Second was Elvin with Therese Rhodes just one minute further back in third. New Zealand's Samara Sheppard placed fourth in her first year in Under 23.
Under 19 powerhouse, Rebecca Henderson, rode the three laps in 1:11:40 min winning convincingly. Queensland's Gillian Burgess finished in second while Bendigo's Shelly Flood was just 30 second behind in third. New Zealand rider, Sasha Smith placed fourth.
Downhill seeding
Nathan Rennie goes down
Photo ©: Evan Jeffery

There were no surprises in the men's downhill with former national champion, Jared Graves, qualifying fastest in 6 min 14.07 sec. New Plymouth rider, Wyn Masters, from across the Tasman seeded second fastest while Canberra's Ben Corey rode down to claim third fastest. World ranked number eight, Nathan Rennie, is expected to improve on his current sixth seeding in the final run on Sunday.
The elite women's fastest qualifier, Caroline Buchanan was ahead of Adelaide's Sarah Booth who qualified second fastest. National Champion, Claire Whiteman, scraped into third fastest with New Zealand's hot chance, Amy Laird from Christchurch, content with fourth fastest.
Final runs get underway on Sunday
Photography
For a thumbnail gallery of these images, click here
Images by Evan Jeffery / www.evanjeffery.blogspot.com
Results
Men

1 Daniel McConnell           2.13.26.1
2 Lachlan Norris (U23)          1.41.6
3 Dylan Cooper                  2.21.0
4 Ben Henderson                 3.17.2
5 Paul Van Der Ploeg (U23)      3.56.9
6 Cal Britten (U23)             4.48.1
7 Nick Both                     7.41.1
8 Andrew Blair                  8.50.7
9 Scott Liston (U23)            9.39.8
10 Adrian Jackson              10.14.0
11 Mike Northcott              10.54.9
12 Stuart Houltham             13.22.7
13 Charlton Durie (U23)        14.00.8
14 Neil Van Der Ploeg (U23)    14.15.9
15 Gavin McCarthy              17.39.2
16 Luke Fetch (U23)            19.14.9
17 Peter Kutschera             19.54.2
18 Joshua Carlson              20.39.8
19 James Kennedy               21.20.5
20 Ash Hough (U23)             21.22.6
21 David Shephard              21.23.5
22 Jon Richardson              22.55.2

One lap behind
23 Peter Wilson                       
24 Scott Green (U23)                  

Two laps behind
25 Nathan Rickerby                    

Three laps behind
26 Nathan Haas (U23)                  
27 John Groves                        
28 Laurent Manarii                    

Four laps behind
29 Tim Madgwick                       
30 Vernaudon Opeka                    
 
Women
 
1 Rowena Fry                 1.33.11.0
2 Zoe King                      2.29.8
3 Jenni King                    3.37.9
4 Katherine O'Shea              3.55.3
5 Tory Thomas                   5.31.2
6 Jodie Willett                 6.31.9
7 Jeanette Gerrie               7.10.3
8 Cathy Hamer                   7.41.5
9 Jo Wall                       9.09.5
10 Michelle Bellamy             9.23.7
11 Gracie Elvin (U23)           9.54.9
12 Sara Taylor                 10.12.9
13 Therese Rhodes (U23)        11.14.6
14 Trudy Nicholas              12.02.0
15 Kelly Bartlett              12.42.4
16 Samara Sheppard (U23)       14.25.7
17 Nicole Swan                 17.20.7
18 Melinda Jackson (U23)       24.56.2

Three laps behind
19 Sara Macdonald                     
DNS Rosemary Barnes                   
 
Men U19
 
1 James Peacock              1.22.49.8
2 Trenton Day                   0.20.4
3 Michael Baker                 0.39.2
4 Mitchell Codner               0.49.7
5 Cameron Ivory                 0.59.4
6 Brenton Jones                 1.17.6
7 Locky McArthur                1.55.2
8 Adrian Retief                 2.23.7
9 Conor Corbett                 5.33.5
10 Ryan Macanally               5.54.2
11 Phillip Bellingham           9.31.6
DNF Glen Sinnott                      

Women U19

1 Rebecca Henderson          1.11.40.3
2 Gillian Burgess               9.34.2
3 Shelly Flood                 10.08.4
4 Sasha Smith                  11.25.7
 
Men U17
 
1 Henry Baird                  52.26.0