Recently on Cyclingnews.com
MTB index page for all MTB content
Australian MTB Series #4 - 2
Mt Buller, Australia, January 30-February 1, 2009
Main Page Results Previous Race Next Race
Race 2 - February 1: Downhill
Hill dominates, Douglas claims career first
Sam Hill
Photo ©: Evan Jeffery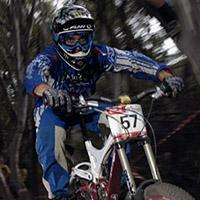 Two-time World Champion, Sam Hill, annihilated his opposition in a blinding downhill run in the fourth National Series round in Mt Buller. Hill blitzed down the 3 km run in 3:18.84, beating National Champion Mick Hannah from Cairns by six seconds.
"It was pretty hard," admitted Hill. "I wanted to give it everything I had to see what time I could do. It's a fairly technical and a loose and dusty and dry course."
Third was Amiel Cavalier from Wollongong while fourth, by just 0.16 seconds, was Bryn Atkinson from the Blue Mountains. Fifth was Hill's teammate and British professional, Brendan Fairclough, again just 0.13 seconds further down.
Both Hill and Fairclough will now spend two months in Perth to prepare for their assault on the World Cup series which has been dominated by Hill in previous years.
"I've got two months before the first World Cup. I will just get as fit and strong as I can," explained Hill.
Joshua Button from Coffs Harbour finished a respectable sixth but retained the series lead.
While there was little surprise in the men's winner, the women's race was the exception when Tasmanian downhiller, Leigh Douglas, took the win from National Champion Claire Whiteman from Canberra.
The 30-year-old Canadian claimed the first win in her career after placing on the podium only once in the second round of the series.
Leigh Douglas
Photo ©: Evan Jeffery

"It feels awesome, especially when I called my parents back in Canada. It felt really, really good," smiled Douglas.
After qualifying fourth fastest, Douglas knew she had to post a far better time in the final.
"I had a mistake at the beginning and thought I had to make up for it," she explained.
Douglas posted a 4:31.68 which was 13 seconds faster than Whiteman.
Third was also an unexpected podium finish for fellow Tasmanian, Emma Lewis, after crashing in her final run.
Whiteman retains the lead in the elite women's series. However, if the positions are repeated in the final round next month, Douglas will take out the series.
The fifth and final round of the series will be held in Hobart at the end of February.
Photography
For a thumbnail gallery of these images, click here
Images by Evan Jeffery / www.evanjeffery.com.au
Results
Seeding
 
Elite men
 
1 Sam Hill (Monster Energy, Specialised)                             3.24.67
2 Amiel Cavalier (Giant Bicycles, Spearman Cycles)                   0.03.76
3 Mick Hannah (GT, Bell, Giro eyewear)                               0.05.75
4 Brendan Fairclough (Monster Energy, Specialised)                   0.06.98
5 Ben Cory                                                           0.08.20
6 Rhys Atkinson                                                      0.11.09
7 Joshua Button (Mongoose Bikes, SRAM/Rocksox, Fox)                  0.11.22
8 Cody Eichhorn (Gamut, OGIO, Spearman Cycles)                       0.12.28
9 Bryn Atkinson (The, Kore, Sram, Crank Brothers)                    0.13.52
10 Sam Hocken (Altitude Mt Buller)                                   0.14.44
11 Ryan Andrews (Carine Cycles)                                      0.15.18
12 Darcy Murrell (Scram, Tomac Australia, Halo,)                     0.15.25
13 Mitchell Delfs (Kenda Morewood)                                   0.15.55
14 Jeremy Hamilton (EVO Cycles)                                      0.15.72
15 Jarah Breese (Streamline Cycles, Santa Cruz, SRAM)                0.16.16
16 Craig Yates (GIANT bicycles australia)                            0.16.66
17 Harry Armstrong (Derrico Cycles)                                  0.16.77
18 Ben Bell (Big Gay Bobs Special Tours)                             0.17.92
19 Tom Patton (Fox clothing, Bike Addiction, Giant Australia)        0.19.32
20 Jared Rando                                                       0.19.77
21 Isaac Heppell (All Terrin Cycles Mansfield)                       0.19.92
22 Brock Newling (Gravity, IXS, FSA, Giant Bicycles)                 0.21.16
23 Ben Goff (Black Ball Syndicate)                                   0.22.16
24 Dave West (Giant, InForm Health, Mitcham Cycles)                  0.22.73
25 Michael Manning                                                   0.22.80
26 Trevwah Burke (Streamline, Jippy's fruit popcycles, Gobbato)      0.22.81
27 Brad Oien (ODI, Southridge USA, Turner Bikes, Oakle)              0.23.22
28 Rick Boyer                                                        0.23.83
29 James Maltman (Chumba bikes, Hyperdome Bike Hub, Plus)            0.24.57
30 Aaron Bashford (On Ya Bike Civic, Belconnen)                      0.24.61
31 Deon Baker                                                        0.24.69
32 Chris Barlin                                                      0.25.19
33 Grant Jones                                                       0.27.01
34 Alex Swann (Kona, YVC, Adidas, Pinstripe, Shimano)                0.27.14
35 Jesse Beare (Bernard Boer Credit Card)                            0.27.69
36 Brad Kelly (Specialized, FSA, Gravity, Marzocchi)                 0.27.88
37 Adam Smithson                                                     0.29.76
38 Dylan Prohm (Nicolai/Rouler/TWE/Smith/Endeavor Cycles)            0.30.16
39 Ricky Lee (Intense Bikes,Monza Imports,Rock Shox)                 0.30.53
40 Matt Swann (Kona, YVC, Maxxis, Shimano, Adidas)                   0.30.79
41 Brendan Wood (Yarra Valley Cycles, Commencal)                     0.30.96
42 Ben Davies (Altitude, Fox, Sram, Avid, Truative)                  0.31.88
43 Lucas Kuncewicz (DH Direct, Anxious mothers)                      0.33.60
44 Scott Grundy                                                      0.34.21
45 James Bashford (On Ya Bike Civic, Belconnen)                      0.34.22
46 Chris O'Brien (Bicycle Recycle)                                   0.34.50
47 Christian Tucker (On Ya Bike Civic, Belconnen)                    0.35.69
48 Lachlan Skinner                                                   0.35.96
49 Kent Hamilton (Oggro, Drift Bikes)                                0.36.79
50 Nich Shields (Krank Bikes)                                        0.37.51
51 Matt Holsate (On Ya Bike Civic, Belconnen)                        0.37.55
52 Cameron Allonby (For The Riders.com, BAN Trousers)                0.38.76
53 Lachlan Mazzer (bikeology)                                        0.39.55
54 Andrew Laird                                                      0.39.81
55 Dean White                                                        0.41.13
56 Ben Morrison (Fox, RockStar, Sram RockShok)                       0.41.49
57 Sam Costin (Torquay Cycling Factory)                              0.42.26
58 Murray Dickson                                                    0.42.30
59 Andrew Brett (Aldgate Bike Shop)                                  0.44.32
60 Matt Wise (Giant)                                                 0.44.56
61 Boris Fontanella                                                  0.44.89
62 Dean Gibson                                                       0.50.62
63 Simon Glanville (The Bike Shed Mortdale)                          0.54.69
64 Rowan Saunders                                                    0.55.27
65 Mitchell Fletcher (The Bike Shed Mortdale)                        0.57.69
66 Michell Stone (The Bike Shed Mortdale)                            0.59.03
67 Liam Paiaro (Fortheriders.com, santacruz)                         1.04.50
68 Laim Howarth (tbsm.com.au)                                        1.06.29
69 James Patterson (Rouler Imports, Latchy & Patto's Adventure)      1.07.59
70 James French (SCU/Standish Cycles Unley, MAXXIS Tyr)              1.10.04
71 Tye Hore (Banshee, Sram, Kenda)                                   1.12.45
72 Benjamin Fairbanks                                                1.12.80
73 Miikael Kinnunen (Hi-Way Cycles)                                  1.19.12
74 Matt Vincent (SCV Imports)                                        1.42.65
DNF Jarl Jensen                                                             
DNF Kaine Cannan (4 Shaw agencies , Mcbain Cycles)                          
DNS Stuart Keep (4 SHAW AGENGIES, RIDE BELLERIVE)                           
DNS Clint Sellen                                                            
DNS David Hetherington (XXIV Factory Racing)                                
DNS Ben Huntey                                                              
DNS Steven Matthews                                                         
DNS Will Rischbieth (Giant, OGIO, Aldgate Bikes, RXR)                       
DNS Lindsay Klein (Santa Cruz, ForTheRiders.com)                            
DNS Jared Graves (Yeti Cycles, Fox Racing shox, Oakley, Nem)                
 
Elite Women
 
1 Claire Whiteman (Onya Bike Civic)                                  4.48.70
2 Leonie Picton (Mallard Cycles)                                     0.03.54
3 Cara Smith                                                         0.03.95
4 Leigh Douglas (4Shaw Agencies-Treadlies Bike Shop, Trai)           0.05.97
5 Emma Lewis                                                         0.06.70
6 Sarah Booth (C.R.I.M.E. Cycles, Mace, RAAF)                        0.11.74
 
U19 Men
 
1 Rhys Willemse (Supersports, Tomac Bikes, Revolution Mag)           3.38.56
2 Shaun O'Connor (SRAM, THOR MX, SPY OPTICS)                         0.00.76
3 Tamryn Murrell (Tomac Australia Revolution, KWT Maxxis)            0.06.05
4 William Gower (Altitude Monza Team, Gower Racing, Aldg)            0.06.37
5 Antony Moore (Venture Cycles, R.M.R, Pinned Racing, Fit)           0.07.43
6 Jesse Went (Maladjusted)                                           0.08.96
7 Ben Barrett (Kona, Sram)                                           0.12.30
8 Lewis Winton (Altitude, Sram, Fox)                                 0.12.59
9 Marcus Fairbanks                                                   0.13.32
10 Ben Nylen (Banshee,TLD,Kenda, XXIV imports +++)                   0.18.84
11 Keiran Volk (E.W.R.T. (Empty Wallet Racing Team))                 0.21.74
12 Michael Bourne (Kona Factory, Adidas, Shimano, Maxxis)            0.22.00
13 Hans Hadley (carine cycles ,straitline)                           0.22.15
14 Selby Press (Cyclingo, CDC Development)                           0.23.22
15 Aden Wyber (Berettas Bike Hub Geelong, Otway Expedition)          0.24.62
16 Tom Rowe (Aldgate Bike Shop)                                      0.24.92
17 Aaron Oates (CYCLINGO BIKE SHOP)                                  0.25.02
18 Michael Faultey                                                   0.25.05
19 Daniel Lavis (Ironhorse Bikes Australia, Allfab Construct)        0.25.29
20 Ryan Hunt (banshee bikes)                                         0.26.75
21 Matt Currie (YVC, Silvermist Studio)                              0.26.93
22 Phillip Bellingham                                                0.28.05
23 Tom Wyatt                                                         0.28.27
24 Sam Dolling (All Terrain Cycles)                                  0.29.98
25 Ben Padley                                                        0.30.93
26 Ryan Humphris (Yarra Valley Cycles, Lake Sambell Caravan)         0.32.40
27 James Wright (Bike Shed Mortdale)                                 0.47.34
28 Benjamin Treble                                                   0.50.36
29 Jared Lockley                                                     0.51.40
30 Jarrod Walters                                                    1.02.54
31 Brendon Frijlink                                                  1.04.15
32 Daniel Horgan                                                     1.05.56
33 Jake O'Brien (Bicycle Recycle)                                    1.09.03
34 James Shepherd (CRIME CYCLES, KORE)                               1.14.41
35 Hugh Henderson                                                    1.18.87
36 Dale Lumsden                                                      1.25.04
37 Will Giles                                                        7.13.70
DNF Lucas Roberts                                                           
DNS Anthony Ghobril (BSC Bikes, Trevwah Bourke, Ben Bell)                   
DNS Jack Payne (Aldgate Bike Shop)                                          
 
U19 Women
 
1 Em Hockey (Cove Bikes, Sombrio, JT Cycles)                         5.04.30
2 Holly Baarspul (3 Chillies Trail Design, Neve Contracting)         0.06.33
3 Bec Kirss (Fortheriders.com)                                       0.26.95
4 Jasmin Rosa                                                        0.48.66
 
Finals
 
Elite Men
 
1 Sam Hill (Monster Energy, Specialised)                             3.18.84
2 Mick Hannah (GT, Bell, Giro eyewear)                               0.05.80
3 Amiel Cavalier (Giant Bicycles, Spearman Cycles)                   0.09.75
4 Bryn Atkinson (The, Kore, Sram, Crank Brothers)                    0.09.91
5 Brendan Fairclough (Monster Energy, Specialised)                   0.10.04
6 Joshua Button (Mongoose Bikes, SRAM/Rocksox, Fox)                  0.10.61
7 Ben Cory                                                           0.11.60
8 Darcy Murrell (Scram, Tomac Australia, Halo,)                      0.13.86
9 Rick Boyer                                                         0.14.43
10 Rhys Atkinson                                                     0.14.92
11 Cody Eichhorn (Gamut, OGIO, Spearman Cycles)                      0.14.95
12 Ben Bell (Big Gay Bobs Special Tours)                             0.16.07
13 Jared Rando                                                       0.16.78
14 Dave West (Giant, InForm Health, Mitcham Cycles)                  0.17.52
15 Tom Patton (Fox clothing, Bike Addiction, Giant Australia)        0.17.93
16 Ryan Andrews (Carine Cycles)                                      0.19.54
17 Harry Armstrong (Derrico Cycles)                                  0.19.81
18 Craig Yates (GIANT bicycles australia)                            0.20.27
19 Sam Hocken (Altitude Mt Buller)                                   0.20.72
20 Aaron Bashford (On Ya Bike Civic, Belconnen)                      0.21.09
21 Brad Oien (ODI, Southridge USA, Turner Bikes, Oakle)              0.21.51
22 James Maltman (Chumba bikes, Hyperdome Bike Hub, Plus)            0.22.56
23 Isaac Heppell (All Terrin Cycles Mansfield)                       0.22.61
24 Brock Newling (Gravity, IXS, FSA, Giant Bicycles)                 0.22.73
25 Jeremy Hamilton (EVO Cycles)                                      0.23.15
26 Jesse Beare (Bernard Boer Credit Card)                            0.25.33
27 Trevwah Burke (Streamline, Jippy's fruit popcycles, Gobbato)      0.25.86
28 Dylan Prohm (Nicolai/Rouler/TWE/Smith/Endeavor Cycles)            0.27.33
29 Michael Manning                                                   0.27.39
30 Adam Smithson                                                     0.28.56
31 Alex Swann (Kona, YVC, Adidas, Pinstripe, Shimano)                0.28.82
31 Ben Goff (Black Ball Syndicate)                                          
33 Grant Jones                                                       0.30.91
34 Brad Kelly (Specialized, FSA, Gravity, Marzocchi)                 0.30.93
35 Chris Barlin                                                      0.32.01
36 Ricky Lee (Intense Bikes,Monza Imports,Rock Shox)                 0.34.86
37 Mitchell Delfs (Kenda Morewood)                                   0.39.01
38 Matt Swann (Kona, YVC, Maxxis, Shimano, Adidas)                   0.39.06
39 Jarah Breese (Streamline Cycles, Santa Cruz, SRAM)                1.42.68
DNF Deon Baker                                                              
 
Elite Women
 
1 Leigh Douglas (4Shaw Agencies-Treadlies Bike Shop, Trai)           4.31.68
2 Claire Whiteman (Onya Bike Civic)                                  0.12.88
3 Emma Lewis                                                         0.21.94
4 Cara Smith                                                         0.24.91
5 Leonie Picton (Mallard Cycles)                                     0.25.84
6 Sarah Booth (C.R.I.M.E. Cycles, Mace, RAAF)                        0.59.52
 
U19 Men
 
1 Shaun O'Connor (SRAM, THOR MX, SPY OPTICS)                         3.32.82
2 Rhys Willemse (Supersports, Tomac Bikes, Revolution Mag)           0.03.04
3 Tamryn Murrell (Tomac Australia Revolution, KWT Maxxis)            0.04.72
4 Antony Moore (Venture Cycles, R.M.R, Pinned Racing, Fit)           0.07.06
5 Marcus Fairbanks                                                   0.09.73
6 William Gower (Altitude Monza Team, Gower Racing, Aldg)            0.12.29
7 Aden Wyber (Berettas Bike Hub Geelong, Otway Expedition)           0.12.34
8 Ben Barrett (Kona, Sram)                                           0.12.39
9 Jesse Went (Maladjusted)                                           0.14.90
10 Daniel Lavis (Ironhorse Bikes Australia, Allfab Construct)        0.16.58
11 Aaron Oates (CYCLINGO BIKE SHOP)                                  0.21.63
12 Lewis Winton (Altitude, Sram, Fox)                                0.22.55
13 Michael Faultey                                                   0.22.86
14 Ben Nylen (Banshee,TLD,Kenda, XXIV imports +++)                   0.23.38
15 Tom Rowe (Aldgate Bike Shop)                                      0.23.97
16 Michael Bourne (Kona Factory, Adidas, Shimano, Maxxis)            0.25.37
17 Selby Press (Cyclingo, CDC Development)                           0.27.13
18 Ryan Hunt (banshee bikes)                                         0.34.47
19 Keiran Volk (E.W.R.T. (Empty Wallet Racing Team))                 0.34.89
20 Hans Hadley (carine cycles ,straitline)                           4.07.12
 
U19 Women
 
1 Holly Baarspul (3 Chillies Trail Design, Neve Contracting)         5.02.51
2 Em Hockey (Cove Bikes, Sombrio, JT Cycles)                         0.07.31
3 Bec Kirss (Fortheriders.com)                                       0.07.41
4 Jasmin Rosa                                                        0.21.97
 
U17 Women
 
1 Katelyn Humphris (Yarra Valley Cycles, Lake Sambell Caravan)       5.28.19
2 Christie Batt (ONYAbike civic)                                     0.42.74
DNS Charice Atkinson                                                        
 
Super Masters 50-59
 
1 Martin Griffith (Switchmode Power Supplies)                        5.55.34
2 Tony Nicholson                                                     0.49.97
 
Masters Men
 
1 Shayne Hadley                                                      4.19.89
2 Geoff Lovie                                                        0.01.79
3 Mark Keegan (Cycle Logic)                                          0.16.34
4 Dean Byrne                                                         0.19.46
5 Justin Barnes                                                      0.34.85
6 Shane Currie (YVC, Quantum Life)                                   0.38.59
7 David Badman (BLACK BALL SYNDICATE)                                0.44.29
8 Steven Bullard                                                     1.25.69
9 Scott Kindred (Kona Grass Roots)                                   1.42.24
DNS Paul Neve                                                               
 
Veteran Men
 
1 Karl Peel (Kona)                                                   3.53.55
2 Jason Blackmore                                                    0.02.34
3 Darren Hobby                                                       0.16.13
4 Lee Treasure (Moorewood UFO)                                       0.22.21
5 Daniel Segeri                                                      0.24.57
6 John Petersen (Borsari Cycles)                                     0.27.57
7 Jarrod Zdrzalka                                                    0.40.59
7 Anthony Mitchell                                                          
9 Glenn Fairweather                                                  0.41.10
10 Jason Stalker (Bling Industries, Treadlies Bike Shop)             1.58.67
DNS Ty McLean (Kona)                                                        
DNS Andrew Smith                                                            
DNS Steve Jennings (Evo Cycles,Giant,TroyLeeDesigns)                        
 
Expert 19-29
 
1 James Flunt (WestEnd Cycles)                                       3.54.64
2 Steven Gebert (CRIME cycles, goodlife gym modbury)                 0.01.34
3 Ben Lyons (theboon.com)                                            0.01.55
4 Oliver Hill                                                        0.02.01
5 Ken Ballhause (Tekin Suspension)                                   0.07.80
6 Bram Dutton (KRANK BIKES)                                          0.08.49
7 Ben Mundy (Meils)                                                  0.09.03
8 Jared Wilson (banshee bikes)                                       0.11.18
9 Michael Braun                                                      0.11.34
10 Ryan De La Rue (Berettas Bike Hub Geelong, Otway Expedition)      0.12.62
11 Joel Stanford                                                     0.22.68
12 Julian Leighton                                                   0.23.18
13 Aj Spath                                                          0.23.47
14 Andrew Firth (Streamline Cycles)                                  0.24.55
15 Haydn Williams (Anaconda Fountain Gate)                           0.25.14
16 Mark Turek                                                        0.26.03
17 Liam Wooltorton (Carine Cycles)                                   0.26.72
18 Jeremie Goephert                                                  0.27.77
19 Stuart Clark (All Terain Cycles)                                  0.28.83
20 Jeremy Sherwill (Yanden Pty Ltd)                                  0.29.69
21 Brenton Jennings                                                  0.29.72
22 Dale Barrett                                                      0.30.51
23 Tom Riella                                                        0.31.04
24 David Leach (EVO Cycles)                                          0.33.70
25 Nicholas Bailly                                                   0.33.82
26 Andrew Day                                                        0.37.09
27 Philip Wood (Monza Imports, Streamline Cycles, Gobbat)            0.38.51
28 James Russell                                                     0.41.25
29 Chris Macaulay                                                    1.13.72
30 Cory Wagstaff                                                     2.36.55
31 Michael Doria (SMBP, Audi, BSC Bikes, London Olympic)             8.07.32
32 David Callow (The Bike Shed)                                      9.04.26
33 Ben Mueller                                                       9.07.08
DNS Josh Dallas                                                             
DNS Harley Strunthers (EVO Bikes)                                           
DNS Troy Kent                                                               
 
U17 Men
 
1 Troy Brosnan (Mongoose,Sram,Trak cycles,Fox,Adidas)                3.36.68
2 Connor Fearon (JT Cycles, Cove Bikes, Sombrio)                     0.07.51
3 David McMillan (DH Direct, Persist, Anxious Mothers)               0.09.95
4 Phillip Piazza (Mal Adjusted/Commencal Bikes/ Charles P)           0.12.92
5 Brandon Yrttiaho                                                   0.19.58
6 Sean Heywood-smith                                                 0.20.79
7 Ben Power (Brisbane Boutique Bikes - Summer Harvest)               0.26.86
8 Joe Vejvoda (Cycle logic, severe)                                  0.27.44
9 Grant Womersley (Clicked Media)                                    0.31.64
10 Kristof Zids                                                      0.35.66
11 Henry Blake (Mitcham Cycles)                                      0.36.10
12 James Wilson (Anaconda Mile End SA)                               0.36.75
13 Liam Daley (WINNING EDGE CYCLES)                                  0.38.75
14 Jasper Harkness Dunne (Supreme Cycles)                            0.44.69
15 Daniel Bender                                                     0.46.90
16 Conor Bullard                                                     0.49.10
17 James Green (DownHill Direct, Imperial, Anxious Mothe)            0.50.84
18 Keiran Dixon                                                      0.51.63
19 Aaron Riggall (Yarra Valley Cycles)                               0.52.31
20 Brock Harrison (The Sacred Ride- Jindabyne, harro's sports)       0.54.44
21 James Kelly (Trailhead Bike Co. Norco Bikes)                      0.57.18
22 Trent Piribauer                                                   0.57.82
23 Michael Dargan (2 Stage Bikes, Seras)                             0.58.80
24 Mathew Dwyer (Testel, Myrtleford Inc.)                            0.59.28
25 Lyndon Nugent                                                     1.01.84
26 Max Hughes (Down Hill Direct, EBG, Chapman IGA)                   1.03.61
27 Adam Flower                                                       1.05.11
28 Jake Orr                                                          1.09.51
29 Josh Mitchell (WheelKing)                                         1.19.19
30 James Murphy                                                      1.25.04
31 Fletcher Nicholson                                                1.28.87
32 Nelson Kreilis                                                    1.41.12
33 Sam Werner (DBike)                                                1.43.81
34 Zacherad Lewis (Torquay Cycling Factory, Fox)                     1.46.28
35 Shaun Stephens                                                    1.59.18
36 Josh Parker                                                       2.14.66
37 Joel Cotton                                                       2.24.11
38 Jason Lenger                                                      2.39.43
39 Taylor Jennings                                                   2.49.47
DNF Jack Waite                                                              
DNS Angus Jackson (Bike Barn)                                               
DNS Jai Motherwell                                                          
DNS Nic Jones                                                               
DNS Campbell McIver                                                         
 
U15 Men
 
1 Thomas Crimmins (Sacred Ride, SERAS, Smith & Osborne)              4.02.69
2 Dean Lucas                                                         0.04.43
3 Jake Byrne                                                         0.18.22
4 Mitchell Kristiansen (Bike Super Store & Photopirate)              0.27.00
5 Jacob Parker (Three Chillies)                                      0.32.22
6 Eugene Smith (Ron gee enterprises and oz wide rigging)             0.32.51
7 Jack McCosker                                                      0.34.12
8 Justin Backhouse (Yarra Valley Cycles)                             0.56.90
9 Kyle Pfitzner                                                      0.58.79
10 Steve Johnson (Team XR)                                           0.59.59
11 Andrew Crimmins (Crimmins Construction)                           1.26.07
12 Jackson Frew (MalAdjusted, Commencal Bikes, Team Len)             1.52.51
13 Hamish Maclachlan-lester                                          2.41.62
14 Liam Motherwell                                                   4.37.13
 
Hardtail Senior
 
1 Brock Deakin                                                       5.10.56

Hardtail Junior
 
1 Zach Smith                                                         5.21.28
2 Aaron Pelttari                                                     1.43.47
3 Toby Saunders                                                      1.47.49
DNS Luke Bouwmeester                                                        
 
Sport Men

1 Tom Farmer                                                         4.31.51
2 Jacob Howes (All Terrain Cycles)                                   0.00.99
3 Rian Goodge                                                        0.03.16
4 Adam Pratt                                                         0.03.31
5 Aaron Atkinson                                                     0.03.97
6 Mitchell Turner                                                    0.05.41
7 Kieran Reinboth (Loco Mx, Whiteman Industries)                     0.06.17
8 Lewis Kerr (Crossover Cycles and Outdoor, Saucy)                   0.21.25
9 James Pratt (Punkt FMX)                                            0.21.90
10 Leigh Wright                                                      0.26.34
11 Geoffrey O'Sughrue                                                0.26.35
12 Michael Callow (TBSM)                                             0.29.16
13 Max Sullivan                                                      0.34.25
14 Lovey Diver (Abbortsford Cycles)                                  0.36.70
15 Andrew Meagher                                                    0.44.09
16 Grezegorz Sawka                                                   0.46.46
17 Aaron Murphy (All Terrain Cycles)                                 0.50.06
18 Jack Jordan (Bicycle Centre Ballarat)                             0.53.23
19 Brett Maccallum                                                   1.26.26
DNS Andrew Soulos (Crossover Cycles and Outdoor, Lewis)                     
DNS Will Phillips
DNS Stephen Madden
 
Sport Women
 
1 Jacqui Lovett                                                      5.27.13
2 Kerrie Sercombe                                                    0.04.48