Recently on Cyclingnews.com
MTB index page for all MTB content
Australian MTB Series #4 - 2
Mt Buller, Australia, January 30-February 1, 2009
Race 1 - January 31: Cross country
Jongewaard charges, King conquers
By Sharon Payne
National Champion Chris Jongewaard
Photo ©: Evan Jeffery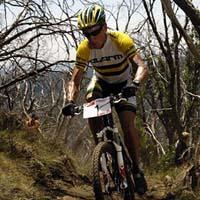 Newly crowned national champion, Chris Jongewaard, backed up his win at the Australian titles last Sunday by winning the fourth national series round in Mt Buller.
Jongewaard rode the five laps in an impressive 2:09:17. The newly-developed 8km cross course was unrelenting, and according to Jongewaard, today's race was tougher than winning the championships last weekend in Canberra.
"I reckon last weekend was a little bit easier for me," said Jongewaard. "The first couple of laps were good but the course is so rough it gets you every lap, so it's very fatiguing out there."
Soaring temperatures elsewhere in the southern states reached over 40 degrees Celsius; however, 400 mountain bike riders at the event were relieved to race in mountain air that was nearly 10 degrees cooler. Many riders still succumbed to the heat and tough conditions, and even for Jongewaard it was the rocks that caused him to struggle in some sections of the course.
"It's so rocky out there - it's unpredictable," he said. "You can't always see all the rocks. You've just got to be smooth and hold your line. Sometimes you hit a rock and it sends you a different direction! It's pretty tough."
Jongewaard didn't regret taking the chance to race away from his Adelaide base, where temperatures soared. "It was a perfect opportunity to get away from Adelaide," explained Jongewaard. "I heard it was 10 degrees cooler up here. A mate and I decided to come up, so we are just enjoying the nice scenery and the good air," he said.
Zoe King
Photo ©: MTB Australia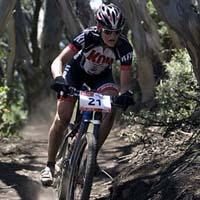 Jongewaard also keeps his series lead, with only one race remaining. Hobart will host the final national round at the end of February.
Zoe King from Manly won her first race of the national season after sitting behind national champion, Rowena Fry from Tasmania, early in the four-lap race. King pounced on Fry on the penultimate climb and gained a minute on her to secure the victory.
"It feels great, it's a really long day out in the heat. Two hours is a long race anyway and just to be in these temperatures it was hard work. I certainly went out conservatively and tried to stay strong," explained King.
The heat took its toll, with the women riding longer than officials expected - they stretched the race to 2:04:47 - King's time at the finish. "It was just important to save yourself in this heat," said King.
Fry claimed second in a sprint for the line with Mt Beauty rider, Tory Thomas, in third. Fourth was silver national champion, Jo Wall from Bendigo. A respectable placing by Brisbane's Jodie Willett in seventh place allowed her to keep the series lead.
Photography
For a thumbnail gallery of these images, click here
Images by Evan Jeffery / www.evanjeffery.com.au
Images by MTB Australia
Zoe King was the fastest woman in Mt. Buller
Results

Elite/U23 Men
 
1 Chris Jongewaard (Avanti,Shimano,JT cycles)                              2.09.17
2 Dylan Cooper (TREK-Conceptis)                                               0.01
3 Lachlan Norris (U23)                                                        5.26
4 Daniel McConnell (TORQ Nutrition)                                           7.22
5 Neil Van Der Ploeg (U23) (Felt cycles)                                      8.01
6 Ben Henderson (Mongoose, Sram, Maxxis, Berg Physio, Onya Bike Bel)          8.36
7 Charlton Durie (U23)                                                        9.22
8 Adrian Jackson (Merida, Flight Centre, Schwalbe, Lazer, BBB)               10.15
9 Cal Britten (U23) (TORQ NUTRITION / VIS)                                   10.57
10 Scott Liston (U23) (felt,SRAM,Innacle Cycles)                             11.22
11 Andrew Blair (REDSHIFT (Spats, Sram, Jetblack, Maxxis, Ozriders))         12.15
12 Paul Van Der Ploeg                                                        15.02
13 Russell Collett (Yeti Cycles, Gu, Fox, TWE Wheels, Kenda)                 15.53
14 James Williamson                                                          16.49
15 Sam Bach (Total Rush Specialized)                                         17.10
16 James Kennedy                                                             19.10
17 Luke Fetch (Torq Nutrition)                                               19.46
18 Sid Taberlay (Shoair, Sram, Tis)                                          20.39
19 James Maebus (Torq Nutrition, Oz riders.com.au)                           21.08
20 Josh Carlson (Spearman Cycles, FRS Health Drink)                          21.21
21 Nick Both (Merida, Flight centre)                                         21.44
22 Travis Frisby (U23) (SASI)                                                21.45
23 Ben Hogarth (Giant, Mitcham Cycle Centre, Clipsal)                        28.56
 
One lap behind
 
24 Joel Ryan (Bike Culture)                                                       
25 Paul Traynor (Merida, Flight Centre, Bike Spotz,infinite)                      
26 Brent Miller (Yeti Gu Fox)                                                     
 
Two laps behind
 
27 Steele Von Hoff (U23) (Torq Nutrition)                                         
 
Three laps behind
 
28 James Walker (Scott Bikes, Rapido Cycles, Camelbak)                            
29 Paul Weymouth (U23) (Torq Nutrition)                                           
30 Chris Tassell (U23)                                                            
 
Four laps behind
 
31 Nathan Haas (U23)                                                              
DNF Murray Spink (Giant Bicycles)                                                 
DNF David Whitney (U23) (Merida, Flight Centre, Bike Spotz,infinite)              
DNF Peter Hatton                                                                  
 
Elite/U23 Female
 
1 Zoe King                                                                 2.04.47
2 Rowena Fry                                                                  0.50
3 Tory Thomas (Torq Nutrition)                                                0.55
4 Jo Wall (TORQ Nutrition)                                                    2.00
5 Joanna Harrington (Gary Fisher / Fineline Bike Shop- Whistler)              3.05
6 Jo Bennett (Merida Flight Centre)                                           3.46
7 Jodie Willett (Scody, eDiscovery Tools)                                     4.02
8 Katherine O'Shea (Torq Nutrition)                                           6.46
9 Trudy Nicholas                                                             11.40
10 Therese Rhodes (U23)                                                      12.44
11 Sarah Holmes (U23)                                                        13.42
12 Sharon Laws (Halfords Bike Hut)                                           15.15
13 Rebecca Henderson (U23)                                                   19.48
14 Sarah Riley                                                               22.47
15 Bianca Mauch (TLC Cycles, SRAM, Token, Jet Black)                         26.47
 
One lap behind
 
16 Gracie Elvin (U23)                                                             
DNF Jenni King (croydon cycleworks, Ryders eyewear)                               
DNF Niki Fisher                                                                   
DNF Kelly Bartlett                                                                
 
U19 Men
 
1 Brendan Johnston (Mongoose Bikes, SRAM, Maxxis, Met, RockShox, Adida)    1.53.17
2 Michael Baker (ONYA Bike Belconnen, CORC, Maxxis)                           7.10
3 Trenton Day (Scott Bikes, Breakaway Cycles)                                10.09
4 Brenton Jones (Bicycle Superstore GT Bicycles)                             12.52
5 Glen Sinnott                                                               14.23
6 James Peacock (Merdia Flight Centre)                                       17.28
7 Phillip Bellingham (KONA)                                                  18.25
8 Ryan Macanally                                                             19.54
9 Mitchell Codner (GU Energy Gel)                                            23.54
 
One lap behind
 
10 Stephen Pitt (blackman cycles)                                                 
DNF Cameron Ivory                                                                 
 
U19 Female
 
1 Shelly Flood                                                             1.30.45
 
Super Masters Female
 
1 Peggy Douglass                                                             39.47
 
Sport Female
 
1 Nicole Hahn                                                              1.30.02
 
Grand Masters Men
 
1 Ashley Grivell (Aldgate Bike Shop)                                         44.08
 
Super Masters Male
 
1 Stephen Flood                                                            1.10.51
2 Hans Werner                                                                 8.11
3 Martin Griffith (Switchmode Power Supplies)                                21.58
 
Master Men
 
1 Justin Wornes (The Fitzroy Revolution)                                   1.26.34
2 Evan James (Bicycle Express Adelaide)                                       2.11
3 John Henderson                                                              5.56
4 Brett Callett                                                               6.41
5 Andrew Hall (Great Divide Coffee)                                           6.51
6 Brian John (brunkswick street cycles)                                       6.54
7 Craig Peacock (Merida Flight Centre)                                       10.24
8 Mark Codner                                                                18.48
9 Richard Eisner                                                             19.04
10 Marcus Langham                                                            24.51
 
One lap behind
 
11 Gerard Brislin                                                                 
DNF Darren Davis                                                                  
 
Veteran Men
 
1 Aaron Knight                                                             1.39.50
2 Peter Kreilis                                                               1.00
3 Nick Rudzki                                                                13.53
4 Thomas McMunn                                                              16.06
 
Two laps behind
 
5 Daniel Burgess (berettas bike hub)                                              
 
DNF Scott Needham (Leadtec)                                                       
DNF Mark Webber (The Fox Hole)                                                    
 
Expert Men
 
1 John Groves                                                              2.01.31
2 Damian French (Treadlies Bike Shop)                                         1.11
3 Sean Hurley (Orbea, Catlike, Northwave)                                     5.57
4 Ashley Hayat                                                                8.12
5 Andrew Choma (trailmix)                                                     8.37
6 Mulin Spranz                                                               11.19
7 Carson Tully                                                               17.46
DNF Simon Wright (salsa cycles / trailmix)                                        
DNF Rohan Smith                                                                   
 
U17 Male
 
1 Jack Haig                                                                1.31.06
2 Rowan Brown (Busselton Avanti Plus, Dept Sport and Recreation)              0.58
3 Alexander Meyland (Rock and Road Cycles / Giant bicycles)                   2.47
4 Jacob Langham (Mum & Dad)                                                  10.30
5 Cameron Rybnsk                                                             12.17
6 Thomas Phillips                                                            17.31
7 Michael Crosbie                                                            22.43
8 Joe Vejvoda                                                                25.06
9 Tim Beaver                                                                 42.03
DNF James Hanus (Lifecycle Bicycles, AvantiPlus, PeakFuel Nutrition)              
 
U15 Male
 
1 Ben Bradley (Team Sho-Air/Sram)                                          1.11.07
2 Hamish Prosser                                                              3.28
 
Sport Male
 
1 Nathan Perkins                                                           1.10.00
2 Simon Carr                                                                  4.20
3 Tim Rowe (BikeNow)                                                         12.01
4 Rick Stillman (The Fox Hole)                                               21.21
5 Peter Figg                                                                 27.53
6 Mark Webber (The Fox Hole)                                                 36.27
 
One lap behind
 
7 Lucas Pitt                                                                      
8 Jarrod Acfield                                                                  
DNF Nicholas Eagle                                                                
DNF Haydn Williams                                                                
DNF Sam Foster (Cunliffe and Waters)