MTB index page for all MTB content
Sunshine Cup #1 - 1
Tochni - Kalavasos, Cyprus, February 22, 2009
Sunshine Cup opener looks blue and yellow
Swedes Lindgren and Engen win
Emil Lindren (Felt International Team) outsprints Periklis Ilias (ISD Cycling Team) for the win
Photo ©: Jan Nemec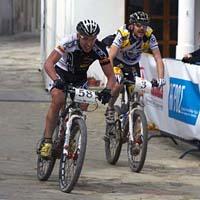 Two Swedes, Emil Lindgren and Alexandra Engen, won the opening round of the 2009 Sunshine Cup from Tochni to Kalavasos in Cyprus on Sunday.
In the men's race, Lindgren proved his role as Sweden's next big mountain bike hope after Fredrik Kessiakoff switched from mountain bike to road racing full-time for 2009. Nonetheless, the talented Lindgren suffered a flat tire with about 10km to go on the 48.3km race. He fell behind the group when making the repair.
However, Lindgren overcame his untimely handicap and the 23-year-old, in his first race for his new Felt Team, chased hard and brought himself back into contention for the final sprint against Periklis Ilias (ISD Cycling Team) of Greece. Ilias, just 22 years-old, took second, surprising everyone with his strong ride. He's a relative unknown in the world of mountain biking although he did place 31st at the World Cup finals last fall in Schladming, Austria.
"I did not expect I could win in the sprint because I was a little tired from catching up to the front guys after my rear flat," said Lindgren. "I had to really hurry to get back to them, but it worked. Now I am really happy."
"I have been coming to Cyprus every year since 2005, and this is my first win. I believed in myself and knew I had a chance for the gold."
Swiss Christof Bischof and Italian Mirco Pirazzoli made it three in a row for the new ISD Cycling team by finishing third and fourth. Sweden's Magnus Darvell finished fifth.
The Bulls Racing Team was at a disadvantage after losing one of its four team members before the race. Frenchman Thomas Dietsch's bike did not make it to the race on time. So Tim Böhme was the team's highest-place finisher in seventh and the first of the three German team members to finish. The Bulls' Stefan Sahm finished eighth with Karl Platt in 10th.
Alexandra Engen celebrates her win
Photo ©: Jan Nemec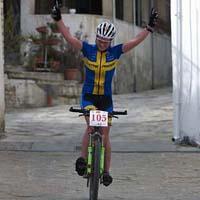 In the women's race, Engen was surprised when she was told she was leading the race. The 21-year-old talent didn't let the pressure get to her and kept herself on pace to take her first victory outside of Scandinavia.
"I'm really happy. I enjoyed the race, my legs felt great today and the course fits me," said Engen. "I did not know how I would feel before the start, but eventually I was in the lead."
"I did not know I was leading until the second feed zone, where I asked how I was doing and got a reply that I was in first. That was welcome news - it was hard to tell where the other women were."
Italian Elena Gaddoni was unable to follow Engen, but secured the second place ahead of Melanie Spath of Germany. Spath, who lives in Ireland, was also surprised with her performance, which put her ahead of Belgian Githa Michiels and Swiss favorite Petra Henzi.
Henzi said she did not try to race at full pace, but instead approached the day as a training ride.
Photography
For a thumbnail gallery of these images, click here
Images by Jan Nemec
Results

Elite men

1 Emil Lindren (Swe) Felt International Team                         1.53.05
2 Periklis Ilias (Gre) ISD Cycling Team                                 0.00
3 Christof Bischof (Swi) ISD Cycling Team                               0.31
4 Mirco Pirazzoli (Ita) ISD Cycling Team                                2.06
5 Magnus Darvell (Swe)                                                  2.13
6 Henrique Avancini (Bra) Sundown/Joinville                             2.18
7 Tim Bohme (Ger) Team Bulls                                            2.27
8 Stefan Sahm (Ger) Team Bulls                                          2.53
9 Matthias Wengelin (Swe)                                               2.58
10 Karl Platt (Ger) Team Bulls                                          3.49
11 Sergiy Rysenko (Ukr)                                                 4.05
12 Golderer Roland (Ger)                                                4.51
13 Maxim Gogolev (Rus)                                                  5.26
14 Nicola Rohrbach (Swi) Central Ghost Pro Team                         5.28
15 Calle Friberg (Swe)                                                  5.32
16 Roman Orlov (Rus)                                                    6.00
17 Mattias Nilsson (Swe)                                                7.29
18 Marios Athanasiadis (Cyp)                                            7.47
19 Karl Markt (Aut)                                                     8.30
20 Joris Boillat (Swi)                                                  8.41
21 Anton Gogolev (Rus)                                                  9.18
22 Dmitriy Medvedev (Rus)                                               9.22
23 Artem Orlov (Rus)                                                   10.48
24 Francesco Panza (Ita)                                               11.01
25 Ryan Sherlock (Irl)                                                 11.15
26 Dmytro Titarenko (Ukr) ISD Cycling Team                             11.22
27 Alexander Fedotov (Rus)                                             11.58
28 Ivan Seledkov (Rus)                                                 12.22
29 Alexander Blomqvist (Swe)                                           12.24
30 Jan Schmidt (Ger)                                                   12.36
31 Frank Beemer (Ned)                                                  13.20
32 Sven Pieper (Ger)                                                   13.42
33 Maxim Oste-Macdoland (Swe)                                          14.08
34 Georgios Pattes-Toumanis (Gre)                                      14.10
35 Adrien Pascal (Fra)                                                 14.15
36 Alexander Wetterhall (Swe) Cyclesport.Se-Magnusmaximuscoffee.com    14.58
37 Vasilis Adamou (Cyp)                                                15.01
38 Vladislav Neroznak (Lat)                                            15.06
39 Andrei Revunov (Rus)                                                17.14
40 Anton Fomin (Rus)                                                   17.16
41 David Voll (Ger)                                                    20.39
42 Ciro Fabbri (Ita)                                                   22.19
43 Daum Philipp Maximilian (Ger)                                       26.23
44 Pavel Pryadein (Rus)                                                27.06
45 Oleksandr Gerashchenko (Ukr)                                        28.47
46 Georgios Fattas (Cyp) Team Worldofbike.Gr                           42.12
47 Kyriakos Papanastasiou (Cyp)                                      1.02.44
48 Kirill Sinitsyn (Rus)                                             1.28.16
DNF Pscheidl Alexander (Ger)                                                
DNF Timotheos Skettos (Cyp)                                                 

Elite women

1 Alexandra Engen (Swe)                                              2.14.45
2 Elena Gaddoni (Ita)                                                   4.35
3 Melanie Spath (Ger) AFA Omeara Advertising                            9.42
4 Githa Michiels (Bel) Team Saeco Focus 2012                            9.49
5 Petra Henzi (Swi) Fischer- BMC                                       11.14
6 Kajsa Snihs (Swe)                                                    14.25
7 Maria Osl (Aut) Fischer- BMC                                         19.13
8 Avrielle Van Meurs (Ned)                                             20.48
9 Yana Klishina (Rus)                                                  26.45
10 Elena Gogoleva (Rus)                                                28.22
11 Rachela Secchieri (Ita)                                           1.00.11
12 Jelena Petrova (Lat)                                              1.11.23