MTB index page for all MTB content
Sunshine Cup #1 - 1
Tochni - Kalavasos, Cyprus, February 23, 2008
Kessiakoff and Irmginer celebrate early season success at Sunshine Cup opener
By Mike Hadjioannou
Fredrik Kessiakoff (Full Dynamix) leads Roel Paulissen (Vredestein Cannondale)
Photo ©: Armin M. Küstenbrück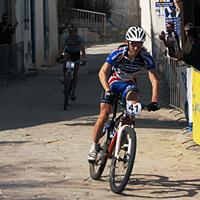 Many of the world's best mountain bikers headed to Cyprus for a the Sunshine Cup #1, a sunny season opener - a 45km point to point race from Tochni to Kalavassos. Swede Fredrik Kessiakoff (Full Dynamix), who chased down Belgian former team-mate Roel Paulissen (Vredestein Cannondale) won the men's race with Switzerland's Andreas Kugler (Fisher-BME) in third. The women's competition saw a largely solo ride from American Heather Irmiger (Subaru / Gary Fisher). Belgian Maaike Polspoel (Belgian National Team) took a surprise second place ahead of Ukrainian Natalie Krompets (ISD).

The first decisive action in the men's race happened on the first long climb, up to the Kalavassos dam. At the end of the climb the German Karl Platt was ejected from the lead trio when he couldn't hold the speed of Kessiakoff and Paulissen. Just half an hour into the race, the remaining duo was left together and worked well. In no time, hey got a gap of one minute.

When the pair neared the finish line, they started getting serious. Paulissen, known as the better sprinter, did his job and got a gap of four meters, but he was not so sure about the finish line and had gone too early. Kessiakoff made a comeback, and outsprinted his former team-mate by one second. After the race, Palissen didn't seem to concerned - he laughed about it together with Kessiakoff.

"For me, it was a perfect start. I wanted to win because of my new team, and I'm happy with the victory," said Kessiakoff. "Normally Roel is known as the better sprinter, but when he did it too early, I got the chance to come back and I did it. It was a nice ride, a long time together with Roel and a wonderful start into the season."

Heather Irmiger (Subaru / Gary Fisher) on her way to victory
Photo ©: Armin M. Küstenbrück

"I took the sprint but the finish line didn't come," said Paulissen after his miscalculation. "So I lost energy and motivation. But it's okay, we had a good race together and a lot of fun because we didn't attack each other when we were together. And the course was a nice one."
Andreas Kugler took third place - not bad after suffering stomach problem for week. He went into the race with low expectations. For a time, he was fighting for third place with two other riders, but after both of them flatted, Kugler won the battle for third without a fight.
"I didn't expect anything due to stomach problems the days before," said Kugler. "At the end of the race I lost all my energy, and I got cramps. I got third place as a gift. So I can call it a pretty good start to the season."
Behind him, Swiss Bikin' Cyprus rider Christof Bischof fought Bulls riders Karl Platt and Stefan Sahm and also Austrian Karl Markt. Sahm seemed to lose energy at the end of the race, but Bischof felt better and better as the finish line came nearer and took fourth. Bischof, Platt and Markt finished in that order - separated by just seconds.
"I had a pretty good start but in the middle part of the race I suffered a lot," said Bischof. "Going to the finish it became better and better and I felt a lot of energy. My legs were strong and I got again a lot of motivation. That makes me positive for the following races."
Irmiger's steady speed pays off as Henzi has bad luck
And they're off...
Photo ©: Armin M. Küstenbrück

The women's race was decided in the same place as the men's race. Heather Irmiger lead a group of four women to the Kalavassos dam. But when she reached the top, she got a gap which couldn't be closed by her competitors. She kept her speed steady and crossed the finish line alone after two hours, 23 minutes and six seconds, with an advantage of 1'24 over Maaike Polspoel. The 18 year-old Belgian woman was the surprise of the race as she was much faster than third placed Natalia Krompets, who finished 1'32 minutes later. Polspoel was also faster than her compatriot Githa Michiels.
Swiss marathoner Petra Henzi was one of the race's favorites, but she flatted twice and lost a lot of time. Ivonne Kraft, on the other hand, was tired from an exhausting week and could only race fast for the first half.
"It was a long race for us women, and it was my first race this year," said winner Irmiger. "I didn't attack but was going my rhythm all the time. I kept it on because I knew my gap was not too big. I's my third time Cyprus, and I like it. There are a lot of wonderful climbs. It's great to start with a win, I'm happy."
The next round of the Cyprus cup is Friday, and still more world-class racers are expected as the Mantra- Kionia-Mantra course is a typical cross-country course.
Photography
For a thumbnail gallery of these images, click here
Images by Armin M. Küstenbrück
Results
Elite men

1 Fredrik Kessiakoff (Swe) Full Dynamix              1.49.38
2 Paulissen Roel (Bel) Vredestein Cannondale            0.01
3 Andreas Kugler (Swi) Fisher-BME                       4.23
4 Karl Platt (Ger) Team Bulls                           5.23
5 Karl Markt (Aut)                                      5.33
6 Christof Bischof (Cyp) Bikin' Cyprus                  5.42
7 Wetterhall Alexander (Swe)                            6.00
8 Stefan Sahm (Ger) Team Bulls                          6.11
9 Magnus Darvell (Swe) Rietumu                          6.49
10 Jeremy Horgan-Kobelski (USA) Subaru / Gary Fisher    7.06
11 Nicolas Vermeulen (Bel) Belgian National Team        7.28
12 Maxim Gogolev (Rus) Russia                           7.32
13 Sergiy Rysenko (Ukr)                                 7.57
14 Brems Bjorn (Bel) Belgian National Team              9.50
15 Dries Govaerts (Bel) Scott USA                      10.43
16 Yevhen Medevetskyy (Ukr)                            12.05
17 Mikael Salomonsson (Swe)                            13.07
18 Neroznaks Vladislavs (Lat) Apollon                  14.03
19 Marios Athanasiadis (Cyp) Omonoia                   14.17
20 Igor Bogdan (Ukr)                                   14.21
21 Dmitriy Medvedev (Rus)                              14.33
22 Andriy Khripta (Ukr)                                14.46
23 Francesco Panza (Ita) AEL                           15.07
24 Tim Wijnants (Bel) Davitamon-Lotto                  16.16
25 Anton Fomin (Rus)                                   16.29
26 Dror Pekatch (Isr) Israel                           17.33
27 Nikolay Zagulaev (Rus) CCL Karo-Film                18.17
28 Andreas Lieberherr (Swi) RBT Giarneriand            19.03
29 Anton Gogolev (Rus)                                 22.20
30 Pavel Blagikh (Rus) CCL Karo-Film                   22.54
31 Andriy Gumenyuk (Ukr)                               24.47
32 Denis Vorontsov (Rus)                               29.24
33 Oscar Ekstam (Swe) Sweden                           30.26
34 Maxim Zhurkin (Rus) CCL Karo-Film                   31.41
35 Huseyin Esengil (Tur) Turkish National Team         35.49
36 Timotheos Sketos (Cyp) Omonoia                      42.35
37 Mustofd Ceudet (Tur) Turkish National Team          43.11
38 Besim Tel (Tur) Turkish Nat.Team                    43.11
39 Mehmet Silbmsor (Tur) Turkish National Team         54.30
40 Mattias Nilsson (Swe) Sweden                      1.14.00
41 Max Oste Macdonald (Swe)                          1.14.01
42 Lars Bleckur (Swe)                                1.14.01
DNF Giorgos Fattas (Cyp) AEL                                
DNF Matthias Wengelin (Swe) Sweden                          
DNS Emil Lindgren (Swe) Full Dynamix                        
DNS Aleksey Medvedev (Rus)                                  
DNS Huseyin Balli (Tur) Turkey National Team                
DNS Alexander Fedotov (Rus) CCL Karo-Film                   
DNS Alexis Eleutheriadis (Cyp) P.O.L                        
 
Elite women

1 Heather Irmiger (USA) Subaru / Gary Fisher         2.23.07
2 Maaike Polspoel (Bel) Belgian National Team           1.24
3 Natalia Kromperts (Ukr) ISD                           1.56
4 Githa Michiels (Bel) P.R.T.Team                       2.03
5 Ksenia Chernykh (Rus)                                 6.32
6 Yvone Kraft (Ger) MBC Bochum                          7.53
7 Alexandra Engen (Swe) Sweden                         13.15
8 Irina Slobodan Irina (Ukr)                           21.17
9 Elena Gogoleva (Rus)                                 22.40
10 Petra Henzi (Swi) Fisher-BMC                        34.17
 
Master 1

1 Giwrgos Katsiamis (Cyp)                                   
2 Mixalis Kliridis (Cyp)                                    
3 Ali Sekerci (Tur)                                         
4 Jonny Iwannou (Cyp)                                       
5 Insel Paralik (Tur)                                       
 
Master 2

1 Zihmi Uney (Tur)                                   1.21.44
2 Mixalis Xatzikwstantinou (Cyp)                       43.53
3 Kipros Papaxaralampous (Cyp)                         54.16
 
 
Junior Boys

1 Loukas Theodorou (Cyp) Hraklitos                          
2 Michalis Kittis (Cyp) POL                                 
3 Christos Koutsiou (Cyp) Hraklitos                         
4 Andreas Nikou (Cyp) Omonoia                               
5 Kyriakos Skettos (Cyp) Omonoia                            
6 Airdt Meniz (Tur) Tur.Team    

Junior Girls

1 Maria Babanova (Rus)                                      
2 Alla Boyko (Ukr)                                
 
Cadet boys

1 Sertug Topal (Tur) Turkish Team                           
2 Ercem Akcdn (Tur) Turkish Team                            
3 Husenin Bubd (Tur) Turkish Team                           
4 Loizos Theofanous (Cyp) Dopi                              
5 Stayros Ioylianoy (Cyp) S.Po.Ko.                          
6 Leontios Katsouris (Cyp) S.Po.Ko.                         
7 Hrinaios Koutsiou (Cyp) Hraklitos                         
8 Acchilleas Kyriakidis (Cyp) Dopi                          
9 Aggelos Kyriakou (Cyp) S.Po.Ko.                           
10 Radion Brazhnik (Ukr)                                    
11 Mykhaylo Batsutsa (Ukr)                                  
12 Paulos Farmakas (Cyp)                                    
13 Mamas Kyriakou (Cyp) S.Po.Ko.                            
 
Boys & Girls

1 Kiriakos Papaxaralampous (Cyp)                            
2 Filippos Grigoriou (Cyp) Dopi                             
 
Cadet Girls

1 Mirto Skouroupathi (Cyp)                                  
2 Konstantina Kraour (Mda) Dopi                             
3 Sotiroula Kyriakou (Cyp) S.Po.Ko.                         
4 Gianna Lagou (Cyp) Dopi                                   
5 Andria Christoforou (Cyp) S.Po.Ko.                        
6 Christina Eleutheriadou (Cyp)                                                                 
 
German Bike Masters

1 Vcrich Andreas                                            
2 Wullenkord Nils                                           
3 Sven Pieper                                               
4 Wolf-Thorsten Witt                                        
5 Zoran Radosavijevic                                       
6 Stefan Seel                                               
7 Ralf Schade                                               
9 Wolfgang Kuckartz                                         
8 Silke Keinath