MTB index page for all MTB content
Mas O Menos 100k - NE
Terlingua, Texas, USA, February 14, 2009
Fawley and Rush the fastest
Rebecca Rusch broke the women's 100k open record
Photo ©: Crystal Allbright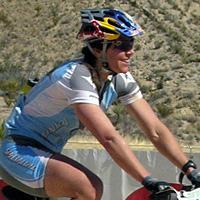 Weather perfection glowed on 441 mountain bikers pursuing the finish line of the 2009 Starlight Mas O Menos Mountain Bike Endurance Fest produced by Desert Sports. Rolling wheels and spectators filled the Chili Appreciation Society International site. 100K pro winners were Bryan Fawley (Austin, TX – team Park Place Lexus) with a time of 04:08:05 and Rebecca Rusch (Ketchum, Idaho – team Specialized/Red Bull), breaking the women's record by six minutes with a time of 04:45:25. Fawley and Rusch also won the New Revolution King and Queen of the Hill, by being first to top the gnarly Tres Cuevas Climb – a 15% grade of adult-size rocks. They also won the Starlight Theatre Fastest Man and Woman Award.
Hula hoopers, cheerleaders and jammin' musicians waved participants around the track including home turf Team Desert Spots. Braving the difficult Shimano Youth Kid's Kup course were 19 youngsters.
Lights curled through the desert on the Nite Fun Ride and record numbers met at Lajitas Resort for the Big Bend Ranch State Park Fun Ride. The event was wowed with the Austin Bike Zoo, who brought their creations for folks to ride including an 80' rattlesnake and an outstanding diaphanous butterfly.
For the third year, this event was listed on the USA Cycling Mountain Bike Ultra Endurance National calendar. The Mas O Menos was part of the 2009 Hill Country Bicycle Works Texas Mountain Bike State Championship Marathon Series and racers could also earn points in the Cycle Progress/Pivot Texas State Mountain Bike Championship Series.
The staff, sponsors, CASI, volunteers, Terlingua Fire & EMS, Big Bend and San Angelo Amateur Radio Clubs did a great job putting on the event. The Starlight team provided fabulous food and the local band, Pinche Gringos, the border groove. The organisers want to thank the community for welcoming the cyclists. Bonfires and festivities will return in 2010.
Photography
For a thumbnail gallery of these images, click here
Images by Crystal Allbright/www.crystalallbright.com
Results

Elite men

1 Bryan Fawley (Park Place Lexus)                         4.08.05
2 John Cody (Solar Eclipse)                                  6.36
3 Sean Sindt (Austin Flyers/Bicycle Sport Shop)              8.59
4 Rick Wetherald (Solar Eclipse)                             9.45
5 David Hanes (Ride Away Bicycles)                          11.34
6 Scott Henry (Hammerhead)                                  13.46
7 Stewart Stafford (Austin Flyers/Bicycle Sport Shop)       14.03
8 Mitchell Comardo (Gary Fisher 29er)                       16.20
9 Chris Renshaw (918XC)                                     20.11
10 Kevin Koen (Team Bike Lane)                              25.45
11 Lucas Brusseau (Bicycles Plus)                           31.19
12 Eric Hess (Austinbikes)                                  32.23
13 Alex Morgan (Cycle Progression)                          32.53
14 Kevin Willson (WoodyCreek Tavern/Hub of Aspen)           33.05
15 Harry Precourt (International Bike Centers)              33.40
16 Mason Quintana (Austin Bikes)                            46.31
17 Yuri Hauswald (Marin Bikes.com)                          58.38
18 Greg Martin (Dale's Pale Ale)                          1.07.19
19 Jason Asay                                             1.08.26
20 Joshua Rosby (Raising Cane's Racing)                   1.09.26
21 Noel Reuter (Bicycle Sport Shop)                       1.13.48
22 Craig Kunz (Austin/Bicycle Sport Shop)                 1.15.20
23 Doug Johnson (Bandwagon Racing)                        1.53.23
24 Christopher Michels (Watchung Wheelmen)                2.39.38
DNS  Kip Biese (Old Town Bike Shop)                              
DNF  Matthew Beaton (Tokyo Joes)                                 
DNF  Travis Brown (Trek/FRS)                                     
DNF  Daniel Opdyke (Texas Tough/Team Hotel San Jose)             
DNF  Raymond Hall (Trek/VW Regional Team)                        
DNF  Chuck Gibson (FEIT)                                         
DNF  John Mylne (Niner bikes)                                    
DNF  Wiley Mosley (Quatro Cuervas)    

Elite women

1 Rebecca Rusch (Specialized/Red Bull)                    4.45.25
2 Alice Pennington (S&M/Desalvo Custom Cycles)              22.01
3 Claire McKenna (Team Hammerhead)                          29.56
4 Melanie Etherton                                          31.34
5 Danielle Musto (Kenda-Tomac-Hayes)                        33.26
6 Sara Krause (Team NRC)                                  1.00.49                       

Senior men A 19-29

1 Payson McElveen (Bicycle Sport Shop)                    4.17.49
2 Justin Wallace (Colonel's)                                 1.38
3 Blake Vogos (Sustainable Cycling)                         26.09
4 Sem Gallegos (Team Ortho/Sage Cycles)                     29.33
5 Eric Fleming (Dallas Bike Works/Orbea)                    32.52
6 jeremy morris (B&B Bicycles)                              33.58
7 Joshua Clark (Colonel's Army)                             39.51
8 Matthew Kocian (Big Pig Racing)                           40.41
9 Ryan Dromgoole (PACC)                                     43.24
10 Pete Ridilla (918-XC)                                    46.40
11 Ryan Haglund (Solar Eclipse)                             47.58
12 Patrick Quilter (Raising Cane's Racing)                  57.40
13 Scott Schroen (Bicycle Sport Shop)                     1.07.03
14 Joseph Garcia (NRC/PedalMasher)                        1.09.29
15 Andrew Pentico (Goodwin Sports & Dishes)               1.19.48
16 Brian McGrath (Sugar Cycles-180)                       1.20.47
17 Dustin Flint (Tiger Cycling)                           1.27.20
18 Joe Walker (Austin Bike/Revenant)                      1.31.02
19 Patrick Barrett (NRC/Pedalmasher)                      1.45.23
20 aiar ghelber (UH Cycling)                              1.56.06
21 Russel Schmidt (Mad Duck)                              2.04.21
22 Chris Lorance (Ouch My Shoulder)                       2.51.51
23 Christopher Woods (Team McAllen)                       2.57.54
DNF  Michael Woodard (Bicycle Sport Shop)                        
DNF  Sean Duckett (The Lazy Elevators)                           
DNF  Joshua Tschuor (Team Bike Lane)                             
DNF  Michael Wilder (North Texas)                                
DNF  Christopher Rice (Bikesport/Ion)                            
DNF  Scott Womack (918XC)                                        
DNF  Justin Berndt (NRC / Pedalmasher)                           

Senior men A 30-39

1 Elliot McKinney (Solar Eclipse)                         4.29.58
2 Justin Farmer (Visenka Cycling)                            6.07
3 Andrew Yates (Beef and Pie)                                8.40
4 Bobby Etheridge (Real T Team / Tortoise Racing)            9.56
5 Jeff Turner (Dallas Bike Works)                           10.46
6 Sergio Angulo (Hammerhead Bikes)                          21.21
7 Jeff Carmody (Bike Lane)                                  21.26
8 Dave Esper (Hammerhead)                                   24.08
9 Jason Betz (Team Sponsorus Cycling)                       26.39
10 Brian Darby (Bikesport/Ion)                              28.49
11 Jon Cotton (Real T Team / Tortoise Racing)               32.29
12 Ryan Cody                                                33.59
13 Shaun Taylor (Sugar Cycles)                              37.21
14 Robert Sisk (Bikesport/ION)                              37.43
15 Toby Smith (Park Place Dealerships/Dallas Bike Works)    37.58
16 Tre' Haydel (Raising Cane's Racing)                      38.05
17 Keith Gray (Colonel's Bikes)                             40.05
18 Dave Crewe (Ellsworth)                                   40.19
19 Steve Etherton                                           40.23
20 Tim Keating (Austin Flyers)                              49.23
21 Hector Moya (Team Hammerhead)                            58.11
22 Jason Collier (Bikeworld)                                59.26
23 Rey Madolora (Ozone)                                   1.08.20
24 Jason Maloney (Bikelane)                               1.14.27
25 Thomas Klemcke                                         1.19.12
26 Andrew Sprafke (Green Mountain Sports)                 1.36.42
27 Bryan Hjelm (Team Six)                                 1.39.41
28 Brent Thompson (Bicycle Sport Shop)                    1.41.03
29 Corey Moser (Tender Gooch)                             1.43.34
30 Russell Adams                                          1.48.16
31 Justin Cremer (Bikesport / ION)                        1.49.13
32 Khaled Noueilaty                                       1.54.50
33 James Webb (Team NRC)                                  2.08.45
34 Robert Trujillo                                        2.18.43
DNS  Wells Wakefield                                             
DNS  Jimmy Montreuil (Austin Bikes)                              
DNS  Ramsey Foster (NRC Factory Goodness)                        
DNS  Yater Lynch (PACC)                                          
DNS  Chris Davis (Sendera)                                       
DNF  Paul Burpo (Southern Elite)                                 
DNF  Jaime Sanchez (Colonel's Bike)                              
DNF  Travis Justilian (Team Cycle Progression)                   
DNF  Brian De Groodt (Dos Trotugas)                              
DNF  Teryle McEwen                                               
DNF  Chris Egan                                                  
DNF  Jeff Park (Solar Eclipse)                                   
DNF  Christopher Campana (Steamworks Brewing Co.)                
DNF  Joshua Henderson (Cycle Progression)                        

Senior men A 40-49

1 Freddy Moore (NRC/Pedalmashers)                         4.49.23
2 Adam Salladin (Hill Country Bicycle Works/FCB)             0.54
3 Peter Stewart (Bikesport)                                  2.13
4 Warren Oldham (Colavita New Mexico)                       15.39
5 Kevin Barton (Hill Country Bicycle Works)                 18.32
6 Brian Zettner (Zettner Mows)                              21.03
7 Chris Carlson (Matrix/Richardson Bike Mart)               22.35
8 Mark Landeck (Team Tilson Homes)                          25.39
9 Barton Beddingfield (Austin Flyers/Bicycle Sport Shop)    28.27
10 David Campbell                                           29.33
11 Richard Miller (McKinney Velo)                           31.33
12 Guy Vleugels (Pedales)                                   33.04
13 Mike Record (Crank Monkey)                               33.59
14 Michael Rossi (Bikesport/Ion)                            34.02
15 Charles Bisantz (Jack & Adams)                           39.24
16 Blake Roberts (Austin Flyers/Bicycle Sport Shop)         45.50
17 Joey Machado (Austin Flyers)                             50.28
18 Charley Rome (Delta Racing)                              50.49
19 Edward Tasch                                             54.29
20 Jose Avalos (Pedales)                                  1.00.33
21 Matthew Irvin                                          1.02.16
22 Trevor Downey                                          1.04.00
23 James Isaacks (Bike Barn/Subaru/Gary Fisher)           1.07.16
24 Jim Thomas (Team Sage Cycles)                          1.08.06
25 Don Losawyer (PACC)                                    1.09.50
26 Andrew Roginski (Hammerhead Bicycles)                  1.14.40
27 Theodore Rymal III                                     1.16.07
28 Dwayne Marchant (Austin Flyers/Bicycle Sport Shop)     1.16.52
29 Philip Teitel (P -n- J -n- J)                          1.17.37
30 Jeff Perkins                                           1.27.17
31 Jeff Rice (South Central Racing)                       1.33.01
32 Holt Harlan (Bikesport)                                1.33.55
33 Michael Lutomski (GHORBA.org)                          1.34.50
34 Francois LaFontaine (Dallas Bike Works/Hooters)        1.40.29
35 Michael Celaya                                         1.47.42
36 Rick Anderson (Bicycle Sport Shop)                     1.49.28
37 Matt Long (WOODLAND CYCLE RACE TEAM)                   1.50.46
38 Samuel House (Bicycle Sport Shop)                      2.17.39
39 Marco Chalaby (Team Solar Eclipse)                     2.28.56
40 Karel Vanlookeren                                      2.44.13
41 Alex Hernandez (Big Pig Racing)                        1.35.37
60 Lin Waters                                             1.40.28
DNS  Lars Frazer (Cycle Progression)                             
DNS  Chris Patrick (Bicycles Plus)                               
DNF  William Moritz (Team Lone Wolf)                             
DNF  Kelly Kerby (Hammerhead Bikes)                              
DNF  Gordon Richardson (Bikesport/Ion)                           
DNF  Bill Simons (CCRCC/ICS)                                     
DNF  Doug Harper (NRC/Pedalmasher)                               
DNF  Paul Snyder (Bicycle Sport Shop)                            
DNF  Robert Brown (Mad Duck)                                     
DNF  Kevin Fontenot (Team Bike Lane/WCCRT)                       
DNF  Dennis Kruse (Team Sage Cycles)                             
DNF  Mike Healey (Hammerhead)                                    
DNF  Dr. Douglas Webb (Texas Pro-Health Racing)                  
DNF  Antonio Torrini (Hammerhead Bikes)                          
DNF  Jack Gutweiler (Bikesport/Ion)                              
DNF  John Larson (Dallas Bike Works/Hooters)                     
DNF  Alex Arumi (Cycle Progression)                              
DNF  Joel Grimmett (Lone Star Racing Club)                       
DNF  Beto Boggiano (Pure Austin Fitness)                         
DNF  Allan De Jong (Peak Fitness)                                

Senior men A 50+

1 Dave Kraig (Rattle Yer Dags)                            5.12.41
2 ray porter (YBS Bikes)                                    11.33
3 Kevin Highfield (Southern Elite/Sun &Ski Sports)          13.13
4 W Hill Abell (Austin Flyers/Bicycle Sport Shop)           18.54
5 Mark Yuhas (Desert Sports)                                25.13
6 Spencer Jewell (Sage Cycles)                              28.27
7 George Heagerty (USA Cycling)                             40.55
8 Michael Coe (Ed's Body Shop)                              42.52
9 Rick Morris (Team Sage Cycles)                            54.05
10 John Bartle (Violet Crown)                             1.01.21
11 Frederic Schmid (Bicycles Outback)                     1.04.03
12 Rodney Killebrew (Hill Country Bicycle Works)          1.24.02
13 Desmond Rolf (Bikesport/Ion)                           1.27.15
14 Mark Gerow (FabLab Designs)                            1.32.15
15 Richard Suggs (NRC/Pedal Masher)                       1.36.21
16 Marshal Bird                                           2.00.51
DNF  Bohumil Kral                                                
DNF  Mark Robinson (NRC/Pedalmashers)                            
DNF  James Pennington                                            
DNF  Wayne Johns (Matrix)                                        
DNF  John Howell (NRC/Pedalmasher)                               
DNF  Paul Johns (B&B Bikes)                                      
DNF  Michael Floores (NRC / Pedalmasher)                         
DNF  Jim Ashley (Team Jimbo)                                     
DNF  David Mootz                                                 
DNF  Allen Harrison                                              
DNF  Ken Gauthier (New Mexico Touring Society)                   

Senior women A 19-29

1 Julia Jenkins (Bike Sport / ION)                        6.05.38

Senior women A 30-39
1 Leslie Reuter (Bicycle Sport Shop/Austin Flyers)        5.34.34
2 Kristi Darby (Bikesport/Ion)                               2.17
3 Bibi Miller (Moritz Chevrolet Cycling)                     7.33
4 Tammy Wallace (Moritz Chevrolet Racing)                   15.10
5 Lisa Hartman (Sugar Cycles - 180)                         26.55
6 Marie Collier (bikeworld)                                 31.30
7 Jenny Willhite (Team Solar Eclipse)                       38.07
DNF  Alejandra Ceron Guedea                                      

Senior women A 40+

1 Tammy Killebrew (Hill Country Bicycle Works)            5.52.21
2 Kimberly Chance (Matrix/Richardson Bike Mart)             18.40
3 Catherine Moritz                                          56.16
DNF  Julie Urlaub (Bikesport)                                    
DNF  Tanya Woody                                                 
DNF  Lisabeth Gibson (Bikesport)                                 
DNF  Lisa Nye-Salladin (Hill Country Bicycle Works/FCB)          
DNF  Diana Almeida (Pedales)