MTB index page for all MTB content
Mas O Menos 100k, 50k, 30k- NE
Terlingua, Texas, USA, February 16, 2008
Sager and Smith crowned open champions
By Sue George with assistance from Mike Gladu
Jason Sager leads Bryan Fawley
Photo ©: Mike Gladu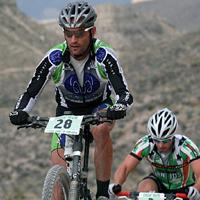 (Click for larger image) After the traditional lead-out by the Mystery Man opened the annual Mas O Menos race, Jason Sager (MonavieCannondale.com) won the Open Class Champion in the 100km event held over President's Day weekend. Sager battled Bryan Fawley (TX Tough San Jose) for much of the race while Even Plews (Capitol Subaru) rode alone in third behind them until the end when riders changed places.
Sager led Fawley the first of two times up the Tres Cuevas climb, and also claimed the cash bonus for first Open rider to the "Top of the Hill" 1866. Armando Zacarias and Nat Ross came next behind them. Fawley surrendered some ground before the finish and ended up third behind Sager and Plews in 4:07:30. Sager finished with a time of 4:05:03, over a minute ahead of Plews in second place with Fawley two and half minutes back in third.
Christina Smith repeats as the Open Women 100k winner
Photo ©: Mike Gladu

Christina Smith (Lonestarworks/Austin Bikes) took the Open Women 100k winner at 4:51:08 and became a repeat winner in front of Jennifer Wilson (Titus) and Alice Pennington (S&M/Desalvo Custom Cycles), while Julia Kastner brought home the 19-29 100k win with a 6:16:53 and Zoe Nance took the 30-39 100k win in 6:05:58.

The race served as simultaneous stops on the 2008 Texas Championships Mountain Bike Series, the Hill Country Bicycle Works Championships Marathon Series and the USA Cycling National Ultra Endurance Calendar.
Photography
For a thumbnail gallery of these images, click here
Images by Mike Gladu /www.velodrome.com
Results
Marathon (100km)

Men - Open 

1 Jason Sager (MonavieCannondale.com)                           4.05.03
2 Evan Plews (Capitol Subaru)                                      1.15
3 Bryan Fawley (TX Tough San Jose)                                 2.27
4 Michael McCalla (Scott Bikes)                                    5.43
5 Armando Zacarias Cortez (Alubike-Karbobike)                      6.09
6 Raymond Hall (Trek/VW Regional Team)                             7.28
7 Nat Ross (Subaru-Gary Fisher)                                    9.56
8 Nathan Winkelmann (Bike Lane/Winkelmann Asset)                  10.22
9 Loren Dodson (Bike Lane)                                        12.08
10 Scott Henry (Trek/VW)                                          14.01
11 Matt Gordon (Team Ortho/Sage Cycles)                           14.02
12 Shawn Adams (Lake Effect / Cannondale)                         16.14
13 Mitchell Comardo (Bike Barn)                                   17.55
14 Andy Lee                                                       21.59
15 Matthew Davis (Team Coady & Lewis)                             23.49
16 Yuri Hauswald (Marin Bikes.com)                                27.31
17 Craig Kunz (Bicycle Sport Shop)                                27.57
18 Ernesto Marenchin (Asylum Cycles/Speedgoat)                    29.25
19 Johan Labuschagne (Cycle Lab)                                  32.25
20 David Hanes                                                    33.25
21 Billy Kurtz (Team Ortho/Sage Cycles)                           35.41
22 John Cody (Solar Eclipse)                                      36.06
23 Lucas Brusseau (Bicycles Plus)                                 40.08
24 Luke Pennington (S&M/Kona)                                     41.21
25 John Sanborn (Dallas Bike Works)                               41.26
26 Eric Breckinridge (New Revolution Cycles/PM)                   44.02
27 Brandon Marsh (Source Endurance)                               44.18
28 Noel Reuter (Austin Flyers/BSS)                                47.00
29 Freddy Moore (NRC/Pedalmashers)                                49.53
30 David Wilson (Titus/Vinci Bike)                                50.41
31 Blake Harlan (Monavie/Cannondale)                              53.56
32 John Seckinger (Red Rocks Velo)                                55.32
33 Keith Hargis (Team Coady & Lewis)                              59.48
34 Joshua Rosby (Raising Cane's Racing)                         1.25.51
35 Cadet Bryant                                                 1.45.52
DNS  Fred (Robbie) Robinette IV (Team Hotel San Jose)                  
DNF  David Wittoesch                                                   
DNF  Karl Kupecz (Velossimo presented by Jack & Adams)                 
DNF  Christian Helmig (Mad Duck)                                       
DNF  Adam Gaubert (Velossimo Racing Benefitting)                       
DNF  Michael Bohn (PACC)                                               
DNF  Chad Hardt                                                        
 
Men - Open - 19-29

1 Bennett Brown (Mad Duck)                                      4.25.38
2 Jorge Munoz (Gold's Gym Laredo)                                 10.49
3 Dan Teaters (Matrix / RBM)                                      25.08
4 Ryan Dorsey (Outpost Wilderness Adventure)                      30.35
5 Ryan Haglund (Solar Eclipse)                                    31.40
6 Michael Wilder (PACC)                                           31.43
7 Andy Pace (New Revolution Cycles/PM)                            42.08
8 Matthew Kocian (Big Pig Racing)                                 47.41
9 Daniel Valaperta (Texas State)                                  51.32
10 Chris Ferguson (Dallas Bike Works)                             54.06
11 Nathan Trimble (Solar Eclipse)                               1.04.08
12 Andy Wherry                                                  1.18.51
13 Theron Sweet (Austin Parks and Recreation)                   1.24.29
14 Joshua Tschuor (Team Bike Lane)                              1.24.48
15 Jeremy Morse (B&B Bikes)                                     1.42.58
16 Ron Acuna (Bicycle Sport Shop)                               2.51.39
17 Patrick Barrett (New Revolution Cycles/PM)                   3.17.40
DNF  Justin Berndt (NRC / Pedalmasher)                                 
DNF  Jeremy Morris (B&B Bicycles)                                      
DNF  Mike Pawlik (NRC/Pedalmasher)                                     
DNF  Geoff Mann (Houston Bicycle Co.)                                  
DNF  Brian McGrath (Sugar Cycles / Specialized)                        
DNF  Taylor Abbey (NRC/Pedalmasher)                                    
DNF  Raul Flores Jr. (SolarEclipse)                                    
 
Men - Open - 30-39 

1 Daniel Opdyke                                                 4.25.49
2 Tom Brandish (Dallas Bike Works/ Hooters)                        9.07
3 Chris Renshaw (CBR Racing)                                       9.37
4 Bobby Etheridge (Real T Team / Tortoise Racing)                 12.43
5 Kevin Koen (Team Bike Lane)                                     15.26
6 John Rigdon (Bikesport)                                         15.33
7 Dave Esper (Austin Bikes/Oakley)                                20.43
8 Andrew Yates (Beef and Pie)                                     22.42
9 Christopher Warren (Bikesport)                                  23.23
10 Jeff Turner (Mirage/RBM)                                       25.01
11 Sergio Angulo (Hammerhead Bikes)                               28.18
12 Dustin Barton (Hammerhead/Titus)                               28.39
13 Toby Smith (Austin Bkes / Orbea)                               30.09
14 Matthew Beeter (Atlas Cycling)                                 30.34
15 Elliot McKinney (Solar Eclipse)                                33.07
16 Alex Arumi (Southern Elite/Sun & Ski)                          34.07
17 Robert Sisk (Bikesport)                                        34.53
18 Leonard Gremillion (Bike Barn/Gary Fisher)                     36.30
19 Ramsey Foster (NRC/Pedalmasher)                                45.14
20 Keith Gray (Hammerhead Bikes)                                  45.23
21 Myron Billy (Bike Barn)                                        48.14
22 Paul Sacket (Hill Country Bicycle Works)                       55.58
23 Tre' Haydel (Raising Cane's Racing)                            56.34
24 Tim Keating (Austin Flyers)                                    57.59
25 Jon Cotton (Real T Team / Tortoise Racing)                   1.03.46
26 Chad Sexton                                                  1.09.25
27 Aaron Uzzell (Solar Eclipse/Bicycle Heaven)                  1.13.05
28 Joshua Crixell (Phat Phree)                                  1.13.35
29 Chris Michels (Team Squash)                                  1.23.55
30 Jackson Smith                                                1.26.43
31 S Paul Littlefield (Central Texas Powersports)               1.30.05
32 Ryan Spates (Austin Flyers/BSS)                              1.39.53
33 Javier Elenes                                                1.44.22
34 John Reglin (Dallas Bikeworks)                               1.48.48
35 Guillermo Michel (Chihuahua Mexico)                          2.04.23
36 Chad Goldreyer                                               2.16.23
37 Robert Malinak (Woodland Cycling Club)                       2.36.48
38 Ron Acunz (Bicycle Sport Shop)                               2.43.28
39 Jon White                                                    2.51.22
40 Thomas Klemcke                                               3.02.20
DNF  Wallace Groda (Bike Barn/Gary Fisher/Subaru)                      
DNF  Khaled Noueilaty                                                  
DNF  Chris Eckert (PACC)                                               
DNF  James Sanchez                                                     
DNF  Aaron Baltins (Slippery Pigs Bikes)                               
DNF  Gavin Hudgeons                                                    
DNF  Jess Gingrich (Yokel)                                             
DNF  James Webb (NRC/Pedalmashers)                                     
DNF  Keith Gartnell                                                    
DNF  Robert Young (Daikin AC/Trek/Team Bicycles Inc.)                  
DNF  Brandon Canada (NRC/Pedalmasher)                                  
DNF  Lenny Smith (Bike Lane)                                           
DNF  Darrin Nikolaisen                                                 
DNF  Jeremy Schmidt                                                    
DNF  A Saulo Velazquez                                                 
DNF  Tony Phongsy (Bikesport)                                          
DNF  Luis Rangel (Pedales)                                             
DNF  Chris Jenkins (Bikesport)                                         
 
Men - Open - 40-49
 
1 Adam Salladin (Hill Country Bicycle Works/FCB)                4.33.49
2 Ric Tinney (Team Bike Lane)                                      8.11
3 Brian Jones (AUSTIN BIKES)                                      10.13
4 Peter Stewart (Bikesport)                                       10.28
5 Nick Sheen                                                      24.29
6 Richmond Frasier (Freedom Cheverolet/Joe's Pro Bikes)           24.52
7 Jordan Chaney (RBM/Mirage)                                      25.47
8 Barton Beddingfield (Austin Flyers)                             29.39
9 Boyd Wallace (Dallas Bike Works)                                33.17
10 Michael Rossi (Bikesport)                                      33.46
11 Martin Palacios (Dallas Bikeworks/Team Hooters)                44.14
12 Kevin Fontenot (Woodslands Cycling Club)                       46.11
13 Guy Vleugels (Pedales)                                         53.17
14 Scott Butts                                                    55.57
15 Kevin Urbanczyk (Desert Spots)                               1.00.45
16 Charles Covill (CLIFBAR/Hammerhead)                          1.02.21
17 Jeff Baldwin (Hill Country Bicycle Works / FCB)              1.03.05
18 Darius Sampey (Raising Canes Racing)                         1.12.31
19 Sean Ansley (Team Bike Lane/Woodland Cycling)                1.15.39
20 Dac Calderhead (Bikesport)                                   1.16.21
21 Ralph Humbphrey (Continuous Motion)                          1.27.11
22 Edward Tasch                                                 1.27.58
23 Jose Avalos (Pedales)                                        1.32.26
24 Charles Bisantz (Jack & Adams)                               1.33.44
25 Axel Thomsen                                                 1.39.14
26 Danny Baggett (Bicycle Inc)                                  1.44.17
27 Philip Teitel (P -n- J -n- J)                                1.54.37
28 William Earthman (Peak fitness Racing)                       2.00.36
29 Matt Long (GHORBA)                                           2.53.47
30 Don Goerner (Austin PARD)                                    2.58.36
31 William Magboo (Palmdale Pirates)                            3.09.41
DNS  Theodore Jump (Hammerhead Bikes)                                  
DNS  Paul Sedillo (Bikesport)                                          
DNS  Larry Price (Bicycles Inc./Trek)                                  
DNS  Mark Raby                                                         
DNF  Juan R. Carrillo (JRCarri.com)                                    
DNF  Dennis Kruse (Team Sage Cycles)                                   
DNF  Shaun Taylor (Sugar Cycles)                                       
DNF  William Moritz (Soutern Elite / Sun & Ski Sport)                  
DNF  Mark Fraske (Bike Lane)                                           
DNF  Carl Varriale (Mad Duck)                                          
DNF  Daniel Miner                                                      
DNF  Andrew Roginski (Cycled Plastics)                                 
DNF  Gordon Richardson (Bikesport)                                     
DNF  James Heerwagen (Team OA/Mad Duck)                                
DNF  Jason Grimes (Team OA/Mad Duck)                                   
DNF  John Larson (Cap Carter Racing)                                   
 
Men - Open - 50+

1 Brian Lambert (Bicycle Sport Shop)                            4.41.35
2 Mark Yuhas (Desert Sports)                                      26.00
3 Larry Spurgeon (Southwest Cyclesport/AAR)                       35.28
4 Kevin Highfield (Southern Elite/Sun &Ski Sports)                43.01
5 ray porter (Dallas Bike Works)                                  43.15
6 Ken Gauthier (New Mexico Touring Society)                       56.11
7 Jeffrey Reese (Sano Bici Master Craft)                        1.00.30
8 Jim Pennington                                                1.03.08
9 Rex Lierly                                                    1.06.09
10 Erwin Sherman                                                1.16.42
11 Frederic Schmid (Waco Cycling Club)                          1.18.45
12 Rick Morris (Team Sage Cycles)                               1.20.22
13 Luis Gonzalez (Bikesport)                                    1.21.26
14 Douglas Young (Big Wheel Racing)                             1.22.42
15 Mark Robinson (NRC/Pedalmasher)                              1.31.23
16 Paul Johns (B&B Bikes)                                       1.33.23
17 Rodney Killebrew (Hill Country Bicycle Works)                1.42.07
18 Richard Suggs (NRC/Pedal Masher)                             1.43.50
19 Brad Peterson                                                1.55.44
20 Desmond Rolf (Bikesport)                                     2.15.17
DNF  Jack Apple                                                        
DNF  Michael Floores (NRC / Pedalmasher)                               
DNF  Mitch Evans                                                       
DNF  John Howell (Velocity)                                            
DNF  Spencer Jewell (Team WBC)                                         
DNF  Mark Chambers (Bike Barn)                                         
DNF  Bohumil Kral                                                      
DNF  Tom Bugg (PACC)                                                   
DNF  Jeffery Allen (Goofy Old Man Sports)                              
 
Women - Open

1 Christina Smith (LONESTARWORKS/Austin Bikes)                  4.51.08
2 Jennifer Wilson (Titus)                                          3.13
3 Alice Pennington (S&M/Desalvo Custom Cycles)                    25.45
4 Kim Jennings (Cannondale)                                       26.47
5 Leslie Reuter (Bicycle Sport Shop/Austin Flyers)                55.20
 
Women - Open - 19-29

1 Julia Kastner (Bike Sport)                                    6.16.53
 
Women - Open - 30-39 

1 Zoe Nance (NRC/Pedalmasher)                                   6.05.58
2 Vallarie Richards (Hammerhead Bikes)                             3.10
3 Catherine Marchak                                               40.46
DNF  Susan Stormer (Bicycle Sport Shop)                                
 
Women - Open - 40-99 

1 Tammy Killebrew (Hill Cuntry Bicycle Works/Team Hot Links)    5.46.04
2 Lisabeth Gibson (Bikesport)                                      8.37
3 Tanya Woody (Lonestar Scoring)                                   9.35
4 Lee Neathery (Bike Barn/Gary Fisher)                            26.40
5 Lisa Nye-Salladin (Hill Country Bicycle Works/FCB)              29.35
6 Karen Robertson (Trek/Bicycles Inc.)                            31.24
DNF  Cynthia Stewart (Bike Barn/Gary Fisher)                           
DNF  Sheila Reiter (Bicycle Sport Shop)                                
 
50 km Cross Country

Men - Open - 15-18

1 Dani Rudd (Solar Eclipse)                                     2.23.49
2 nick thorpe (NRC/Pedalmasher)                                   11.32
3 Eric Fleming (Solar Eclipse)                                    11.39
4 Zachary Domingue (Hill Country Bicycle Works/OLH)               12.35
5 Conor Steward (Hill Country Bicycle Works/FCB)                  17.34
6 Ian Gibson                                                      25.59
7 Robert Dukes (Sage Cycles)                                      31.14
8 Ian Fleming (Solar Eclipse)                                     34.44
 
Men - Open - 19-29

1 Joseph Garcia (New Revolution Cycles/PM)                      2.25.56
2 Thomas Cho (NRC/Pedalmasher)                                    22.18
3 Ian Hall (NRC/Pedalmashers)                                     23.19
4 Karl Brooks (PAAC)                                              50.13
5 Aaron Clewis                                                  1.06.03
6 Bowen Patton (Northside Police)                               1.30.32
7 Craig Wileman (Wurstfest.com)                                 1.33.58
8 David Kessler (NRC/Pedalmasher)                                  7.02
 
Men - Open - 30-39

1 Bo Whitehead                                                  2.24.05
2 Patrick Rabice (Team Six)                                        1.11
3 Kevin Adair (Performance Playground)                             2.12
4 Rudy Reyes (Bay Area Cycling)                                    2.50
5 Jimmy Montreuil (Austin Bikes)                                   3.02
6 Jason Krempin                                                    5.16
7 Chance Payton (Permian Basin Bike Association)                   6.56
8 Jeremiah Marsh (Desert Spots)                                    7.53
9 Matthew Denton (Real T Team / Tortoise Racing)                   8.07
10 Kevin Boyce                                                     8.15
11 Collins Bishop (IMBA)                                           9.20
12 Richard Spiegel                                                 9.37
13 Scott Henry (Performance Playground)                            9.55
14 Tim Metcalf (NRC/Pedalmasher)                                  10.46
15 Christopher Chepil (Ozone)                                     12.15
16 John Diaz (New Revolutions Cycles/PM)                          13.31
17 shawn Baldwin (Bicycle Shack)                                  18.38
18 Dustin Payne (NRC/Pedalmasher)                                 20.23
19 Dan Pawlik (NRC/Pedalmashers)                                  21.14
20 Brad Butler (Desert Spots)                                     21.46
21 Eric Cracraft (BlueMant.com)                                   22.37
22 Domingo Gonzalez (Ozone)                                       24.57
23 Steve Etherton                                                 24.59
24 Bryan Rodriguez                                                26.18
25 Stuart Frey (Dallas Bike Works)                                26.31
26 Matthew Januski (Team Nada)                                    26.57
27 Christopher Rosado (Bay Area Cycling)                          28.42
28 Michael Wardinsky (Millipede)                                  30.02
29 Jimmy Boyle (Sun & Ski Sports)                                 32.37
30 Randall Cook (Real T Team / Tortoise Racing)                   34.24
31 Craig Sommerfeldt (Mad Duck)                                   36.31
32 Randy Phillips (Sun and Ski Sports)                            37.20
33 Dennis Lozano (NRC/Pedalmasher)                                39.59
34 John Jameson (NRC/Pedalmasher)                                 43.13
35 Wade Treichler (G)                                             43.59
36 Jeremy Ridge                                                   44.00
37 Chris Egan                                                     44.21
38 Giovanni Anzueta                                               45.43
39 Wyatt Francis (Mad Duck)                                     1.06.07
DNS  Derrick Rice (PACC)                                               
DSQ S. Chase Smiley (Phyllis Browning Company)                         
DNF  Kenneth Ramirez (All Balls)                                       
DNF  Jason Bohn                                                        
DNF  Michael Gorton                                                    
 
Men - Open - 40-49

1 David Parker (Solar Eclipse)                                  2.20.48
2 John Brittingham                                                 3.36
3 Brad Limmer (Solar Eclipse)                                      6.03
4 Don Losawyer (PACC)                                              6.33
5 Brian Zettner (Team Sage Cycles)                                 7.21
6 Morris Denton                                                   10.59
7 Joey Machado (Austin Flyers)                                    11.08
8 Michael VanRandwyk (Southwest Cyclesport)                       11.41
9 Andrew (Drew) Tucker (Matrix/ Richardson Bike Mart)             16.27
10 Walter Megura (McKinney Velo)                                  18.39
11 Bob Cowley (Team Ortho/Sage Cycles)                            19.12
12 Jeff Ditter                                                    19.21
13 Peter Dennison (Southwest Cycle Sport)                         20.24
14 Scott Long (Longshot Racing)                                   20.27
15 Steven Bollenbaugh (Team Bikesport)                            25.25
17 Craig Scoggins (OA/Tortoise Racing)                            29.24
18 Mike Norman                                                    29.57
19 Mark Boraski (Team OA/Mad Duck)                                34.46
20 Andrew Glasgow                                                 34.59
21 Allan Maxwell                                                  35.09
22 Gary Lloyd                                                     38.36
23 Theodore Rymal                                                 43.47
24 Dan Hickman (University of Texas)                              50.54
25 Todd Gray (Tortoise Racing)                                    52.48
26 Bill Duckworth (David's Cycles)                                55.37
27 Roland Lopez                                                   56.31
28 Steve Courtney (Spinal Shock)                                1.14.55
29 Kyle Olson                                                   1.18.50
30 David Stanush                                                1.27.51
31 Jaime Mitchell (Violet Crown)                                1.27.57
32 John R. Jr. McCauley (Bicycles Inc)                          1.32.04
DNS  Derek Russey (Livestrong)                                         
DNS  Rolf Schmieding                                                   
DNF  Todd Smith (All Balls)                                            
DNF  Alex Hernandez                                                    
DNF  Ken Hilger (Team Bike Lane)                                       
DNF  John Beard (none)                                                 
DNF  Dr. Douglas Webb (Team Tilson Homes)                              
DNF  Timothy Dupuis                                                    
DNF  David Kay (Solar Eclipse)                                         
 
Men - Open - 50-99

1 Dirk Martin (Team Mcallen)                                    2.18.25
2 Robert Dickerson (Solar Eclipse)                                11.34
3 Paul Forderhase (Ozone)                                         11.36
4 Alan Johnson (Matrix/RBM)                                       15.49
5 Kenneth Ciolli (Solar Eclipse)                                  16.16
6 Tony Sturdivant (Concho Valley Bike)                            17.39
7 Bill Moreman (Bicycles Inc./TREK)                               23.00
8 Alan Markert (Bicycle Shack)                                    23.34
9 Marshal Bird                                                    29.05
10 Cliff Richmond (Solar Eclipse)                                 30.51
11 John Fleming (Solar Eclipse)                                   33.12
12 Geoffrey Rogers (PACC/Plano Cycling)                           35.36
13 Rick Kieffer (Team Ciao!/AAR)                                  36.26
14 John Morlock (Desert Spots)                                    38.27
15 Michael Kolat                                                  39.12
16 Randy Lierly (Team Bicycle Shack)                              44.52
17 Mark Gerow                                                     45.02
18 A James (Jimmy) Dreiss (Flat Rock Ranch)                       48.04
19 William Connelly                                               48.12
20 Joseph Durand                                                  48.59
21 Fred Froemel (Crazy Cat)                                       53.14
22 Bob Beran                                                      54.02
23 Phillip Bird (Phella's Racing)                                 54.14
24 David Gray                                                     56.17
25 Richard Zanikos (Bikemojo.com)                                 58.35
26 Brandon Berger                                               1.13.23
27 Scott Schaefer (Southern Elite/Sun & Ski)                    1.25.51
28 John Salzman                                                 1.43.54
29 Charles Patton (Northside Police)                            2.14.24
30 Ronnie Supka (BikeSport)                                     1.13.34
31 Peter Bielinski                                              3.08.30
DNF  Norman Patrick (Hill Country Bicycle Works)                       
DNF  Thomas Harlan                                                     
 
Men - Singlespeed

1 David Boyd (Team Bike Lane)                                   2.15.38
2 Jesse Moran (PACC)                                              21.16
3 Kevin Vincent (Bike Barn/Gary Fisher)                           22.38
4 Paul Trotman                                                    26.38
5 Joel Bermel (Camino Real Cycling)                               29.57
6 John Armstrong                                                  35.43
7 Chad Harvey                                                     41.00
8 James Faerber (Outpost Wilderness Adventure)                    55.12
9 Brian Robinson                                                  59.11
10 Jason Anderson (Bike City)                                   1.15.48
11 Alan Sansome (BikeMojo.com)                                  1.18.33
12 Tyler Arnold                                                 1.19.46
DNS  Chris deZavallos                                                  
 
Women - Open - 15-18

1 Kara Uhl (Solar Eclipse)                                      2.59.47
2 Megan Steward (Hill Country Bicycle/FCB)                        21.30
3 Elizabeth Lurz (Solar Eclipse)                                1.31.58
4 Laura Bielinski                                               2.25.07
 
Women - Open - 19-29

1 Kellie Simoneaux (Bike Lane)                                  4.05.43
 
Women - Open - 30-39

1 Melanie Etherton                                              2.45.46
2 Alexa Kurtz (Austinbikes)                                       18.48
3 I Ling Matthews-Thompson (Southwest Cycle Sport)                18.54
4 Tammie Canada (NRC/Pedalmasher)                                 21.32
5 kathy karpinski (Team Hotel San Jose)                           25.43
6 Denise Shaw                                                     27.20
7 Tracy Meixensperger (NWCC)                                      35.51
8 Marie Collier                                                   35.58
9 Rose Quirk                                                      40.54
10 Marcy Beard                                                    43.09
 
Women - Open - 40-99

1 Kim Ciolli (Solar Eclipse)                                    2.40.32
2 Diana Almeida (Pedales)                                          6.56
3 Nancy Germond                                                   10.26
4 Jennifer Joy (360 Cycleworks)                                   11.21
5 Melissa Forsythe (Desert Spots)                                 12.47
6 Kimberly Kieffer (Team Ciao!/AAR)                               17.17
7 Pamela Jackson (Mad Duck Max Muscle)                            30.00
8 Christine Stanovich (Dallas Bikeworks)                          36.02
9 Kathy Johnson (Richardson Bike Mart/Matrix Cycle Club)          44.15
DNF  Melanie Lacy (NWCC)                                               
 
30km Cross Country
 
Men - Open - 14-15

1 Collin Vandivere (WCCRT)                                      1.41.13
2 Trevor Baldwin (Hill Country Bicycle Works / FCB)                9.52
3 Eric Labod                                                      13.54
 
Men - Open - 16-18

1 Zachary Hendry (Team Bike Lane/Woodlands Cycling)             1.45.41
 
Men - Open - 19-29

1 Christopher Rite                                              1.40.32
2 Henry Brinker (May-B-Gay)                                        0.04
3 Dwayne May (May-B-Gay)                                           6.54
4 Julio Rodriguez (Austin PRD)                                     9.11
5 Dan Obenour                                                      9.34
6 Nick Roth (Houston Bicycle Co.)                               1.00.31
7 Timothy Stephenson (Houston Bicycle Co)                       1.01.20
 
Men - Open - 30-39

1 Clint Fontenot (Woodland Cycling Club)                        1.26.46
2 Seth Montgomery (The Woodlands Cycling Club)                     6.05
3 Ryan Moore                                                       9.30
4 Lonn Hart (NRC/Pedalmasher)                                     12.42
5 Michael Adams (OCS Corp)                                        15.09
6 Drew Richman (Peak Fitness Racing)                              15.24
7 Daniel Mennega (Team NADA)                                      17.07
8 Eddie Erdwurm                                                   25.30
9 Robert Brill (Eco Bunghole)                                     31.44
10 Burton Neesvig (People are strange)                            32.55
11 Chris Vandivere (WCCRT)                                        34.50
12 Michael Dudley (DFD)                                           48.02
13 David Villegas                                               1.05.32
14 Jason Dillard (DFD)                                          1.38.45
15 Paul Morris (Crash N Burn)                                   1.38.46
 
Men - Open - 40-49

1 Shawn Harris (Team Bike Lane)                                 1.30.09
2 John Conwell (Northwest Cycles)                                  0.08
3 Chris Koob (NRC/Pedalmashers)                                    0.19
4 Jim Thomas (Team Sage Cycles)                                    3.20
5 Chris Labod                                                      4.09
6 Jim MacDonald (Team Biketown)                                    6.36
7 Raul Flores (Team Aguila)                                        9.33
8 Casey Vanderbrink (The Bicycle Shack)                           10.03
9 Curt Hillier (Team Nada)                                        18.45
10 Robert Steward (Hill Country Bicycle Works)                    21.56
11 Roel Chapa                                                     25.01
12 Doug Phillips                                                  30.34
13 Greg Stroud                                                    35.00
14 Michael Kennemer                                               42.13
DNS  Troy Farrar (NRC/Pedalmasher)                                     
 
Men - Open - 50-99

1 Keith Bird                                                    1.45.26
2 Chris Gorman (Tortoise Racing)                                  11.16
3 Bill Nelson (Team TexMex)                                       18.13
DNS  Christopher Chandler                                              
 
Women - Open - 14-15

1 Lucy Brown (Solar Eclipse)                                    2.17.46
 
Women - Open - 19-29

1 Katie Kothmann (Performance Playground)                       2.09.28
 
Women - Open - 30-39

1 Maria Hernandez (NRC/Pedalmashers)                            1.49.05
2 Sandra Morales (NRC/Pedalmasher)                                 3.46
3 Kelly Bishop (IMBA)                                              8.17
4 Kristi Welch (NRC Pedalmashers)                                 13.30
5 Amy Jameson (NRC/Pedalmasher)                                   20.58
6 Amy Hall (NRC/Pedalmashers)                                     30.26
7 Sandy Drayton (Performance Playground)                          48.00
8 Shauna Metcalf (Dude Girl)                                    1.33.44
DNS  Sara Rice (PACC)                                                  
 
Women - Open - 40-99

1 Faith Duncan                                                  1.47.16
2 Karen Yates (Beef and Pie)                                      11.48
3 Sue Rife                                                        14.36
4 Dana Goerner (Austin Parks and Recs.)                           17.28
5 Suzanne Schmid (Waco Bicycle Club)                              29.43
6 Carla Jennings (NRC/Pedalmasher)                                34.47
7 Lynn Sheen                                                      42.38
8 Jill Ackerman (VCrown)                                        1.00.46
9 Leslie Foster (NRC/Pedalmasher)                               1.02.44
DNF Gayla Corley