MTB index page for all MTB content
Kenda Cup West #5 - Santa Ynez Valley Classic - NE
Santa Ynez, Los Olivos, California, USA, April 25-26, 2009
Main Page Results Previous Race Next Race
Race 2 - April 25: Super D
Bierman wins on the flat
By Dave McElwaine in Santa Ynez
Eric Bierman (Steven KS)
Photo ©: Dave McElwaine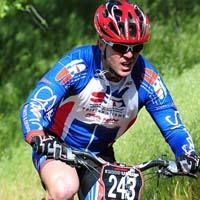 Despite having to back off his effort on the windy top section of the Super D course, Eric Bierman (Steven KS) created his margin of victory on the flat half-mile run into the finish. Jordan Lopez (WTB/Santa Cruz) was second, and Matthew Connors (Fisher 29er) was third.

Bierman does endurance training by riding his mountain bike with knobby tires on road rides with his buddies while they are riding road bikes. He credited both his Hutchinson tires and his 29er for helping him win.

"It's a really windy day, and it was just a matter of conserving some energy at the top," said Bierman after the win. "Luckily I had a carrot in front of me, Matthew Connors, who finished third. I just keep pushing, pushing, pushing and everything worked well."
Photography
For a thumbnail gallery of these images, click here
Images by Dave McElwaine/www.trailwatch.net
Results
Elite men
1 Eric Bierman (Steven K Sports)             7.20.3
2 Jordan Lopez (Wtb/Santa Cruz/Fox)          0.13.0
3 Matthew Connors (Fisher 29Er Crew)         0.15.1
4 Derek Hermon (Bear Valley Bikes)           0.22.6
5 Ray Storm (Pronghorn Racing)               0.27.1
6 Eric Carter (GT)                           0.39.9

Women

1 Lisa Crowe (Dons Bikes)                    8.47.5
2 Vanessa Humic (Backbone Adventure)         0.57.4

Junior men

1 Michael Suggs                              8.14.8
2 Casey Williams (Bear Valley Bikes)         0.09.8
3 Bryce Semonian (661/Spy Optics)            0.29.2

Senior men 19-29

1 Chris Thibodeau (Sierra Express Racing)    7.40.8
2 Brian Crooks (Pure Power Outhguard)        0.01.5
3 Dan Nielsen (Bear Valley Bikes)            0.22.2
4 Dustin Gillingham (Miracle Racing)         0.29.9
5 Stephen Marshall (Bear Valley Bikes)       0.34.5
6 D.J. Limardi (Velo Pro)                    1.02.7
7 Chris Wilson (E13/Royal Racing)            1.26.5
8 William Jones                              2.37.6
9 Mark Hasbun                                4.13.6

Master men 30-39

1 Brant Hatton (Kenda/Backbo)                8.02.5
2 Scott Harper                               0.04.2
3 Ramses Vazquez                             1.51.9
4 Michal Hastings (Hbh Racing)               1.54.6
5 Shane Scrimager                            2.05.5
6 Mark Nayler (Bear Valley Bikes)            2.34.2
7 Eric Hunter (Wrightwoodfilms)              2.38.6
8 Ryan Kelly                                 2.38.8

Master men 40-49

1 Mitch Tolson (Velo Pro)                    8.13.1
2 Stephen Smith (Team Mbs)                   0.00.6
3 Randy Rush (Backbone)                      0.25.7
4 Greg Turner (Westlake Cyclery)             0.37.1
5 Andrew Hart (Bear Valley Bikes)            0.42.6
6 Paul Horenberger (Stumpgrinder Bike)       1.19.9
7 Bryan Knox                                 3.23.3

Master men 50-59

1 Joe Fabris (Fightin Boba)                  8.33.2
2 Roger Lopez (Capitol Automatic)            0.00.8
3 Robert Meeker (Montrose Bike)              0.02.1
4 Steve Bertrand (Platinum Performance)      0.02.8
5 Ed Brown (Velo Pro)                        0.04.9
6 Rich Fersch (Race Haus)                    0.52.8
7 Jeffrey Harbison (Veloprocycle)            1.44.5
8 David Hess (Race Haus)                     2.04.9
DNF  Joe Fabris (Fightin Boba)                     

Master men 60+

1 James Van Manen                           15.47.8