MTB index page for all MTB content
MTB World Cup XC, DH & 4X #1 - CDM
Pietermaritzburg, South Africa, April 10-12, 2009
Main Page Results Previous Race Next Race World Cup standings
Race 9 - April 12: Elite women downhill
Birthday girl takes downhill honours
By Rob Jones in Pietermaritzburg
Tracy Moseley (Trek World Racing)
Photo ©: Rob Jones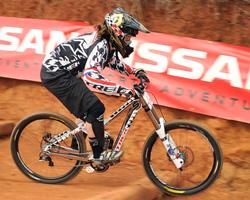 Great Britain's Tracy Moseley (Trek World Team) took the women's downhill title, celebrating her 30th birthday in style. Moseley was clearly the rider to beat in the women's field after qualifying first.
"It was totally wicked, " said Moseley. "It was tough up towards the top, really technical. I would've preferred the whole course to be like that, because I thought it would never end - none of us like pedalling, we're downhillers!
"The length took a bit out of me, but I knew I had to be flat out the whole way," she said. "It's the best 30th birthday present a girl could wish for."
France's Sabrina Jonnier (Maxxis-Rocky Mountain) set the early fast time in the final of 4:28.61, the first rider to go under four and a half minutes. Her time stood up until the second from last rider came down, Emmeline Ragot (Suspension), also of France, who knocked two seconds from Jonnier's time to move into the Hot Seat.
However Ragot's time in the Hot Seat was brief, as Moseley was far faster at every time check, eventually winning by over six seconds. Fionn Griffiths (Norco World Team) took fourth, and Canada's Claire Buchar (Chain Reaction-Intense) was fifth, in her first ever podium appearance.
Photography
For a thumbnail gallery of these images, click here
Images by Rob Jones/www.canadiancyclist.com
Results
1 Tracy Moseley (GBr) Trek World Racing                                4.20.15
2 Emmeline Ragot (Fra) Suspension Center                               0.06.38
3 Sabrina Jonnier (Fra) Team Maxxis-Rocky Mountain Bicycles            0.08.46
4 Fionn Griffiths (GBr) Norco World Team                               0.12.78
5 Claire Buchar (Can) Chain Reaction Cycles/Intense                    0.14.05
6 Floriane Pugin (Fra) Iron Horse-Kenda-Playbiker                      0.15.70
7 Melissa Buhl (USA)                                                   0.20.75
8 Myriam Nicole (Fra)                                                  0.21.76
9 Joanna Petterson (RSA)                                               0.22.33
10 Emilie Siegenthaler (Swi) Scott 11                                  0.27.13
11 Helen Gaskell (GBr)                                                 0.36.46
12 Sarah Newman (GBr)                                                  0.42.62
13 Anka Martin (RSA)                                                   0.45.18
14 Helene Valerie Fruhwirth (Aut)                                      0.48.13
15 Elisa Canepa (Ita) Iron Horse-Kenda-Playbiker                       0.51.62
16 Risa Suseanty (Ina)                                                 1.02.43
17 Victoria Phillips (RSA)                                             1.31.98

Teams

1 Trek World Racing                           81 pts
2 Santa Cruz Syndicate                        72
3 Team Maxxis-Rocky Mountain Bicycles         58
4 GT Bicycles                                 57
5 Chain Reaction Cycles/Intense               54
6 Animal Commencal                            46
7 Iron Horse-Kenda-Playbiker                  42
8 Yeti Fox Shox Factory Race Team             40
9 Suspension Center                           35
10 Norco World Team                           30
11 Monster Energy / Specialized / Mad Catz    30
12 Massi                                      29
13 Scott 11                                   21
14 Kenda Morewood                             20
15 Duncan Riffle Racing                       19
16 Subaru Mountain Bike Pro Team              14
17 Lapierre Powered By Saab Salomon           12
18 MS Evil Racing                             11
19 MSC Bikes                                   8
20 XMS-Devinci World Cup Team                  6
21 Ancillotti Doganaccia Racing Team           2

World Cup Standings after one event

Individual

1 Tracy Moseley (GBr) Trek World Racing                                         250 pts
2 Emmeline Ragot (Fra) Suspension Center                                        200
3 Sabrina Jonnier (Fra) Team Maxxis-Rocky Mountain Bicycles                     152
4 Fionn Griffiths (GBr) Norco World Team                                        150
5 Claire Buchar (Can) Chain Reaction Cycles/Intense                             140
6 Floriane Pugin (Fra) Iron Horse-Kenda-Playbiker                               115
7 Melissa Buhl (USA)                                                             94
8 Myriam Nicole (Fra)                                                            86
9 Joanna Petterson (RSA)                                                         70
10 Emilie Siegenthaler (Swi) Scott 11                                            60
11 Helen Gaskell (GBr)                                                           50
12 Sarah Newman (GBr)                                                            45
13 Anka Martin (RSA)                                                             40
14 Helene Valerie Fruhwirth (Aut)                                                35
15 Elisa Canepa (Ita) Iron Horse-Kenda-Playbiker                                 30
16 Risa Suseanty (Ina)                                                           25
17 Victoria Phillips (RSA)                                                       20

Team

1 Trek World Racing                           81 pts
2 Santa Cruz Syndicate                        72
3 Team Maxxis-Rocky Mountain Bicycles         58
4 GT Bicycles                                 57
5 Chain Reaction Cycles/Intense               54
6 Animal Commencal                            46
7 Iron Horse-Kenda-Playbiker                  42
8 Yeti Fox Shox Factory Race Team             40
9 Suspension Center                           35
10 Norco World Team                           30
11 Monster Energy / Specialized / Mad Catz    30
12 Massi                                      29
13 Scott 11                                   21
14 Kenda Morewood                             20
15 Duncan Riffle Racing                       19
16 Subaru Mountain Bike Pro Team              14
17 Lapierre Powered By Saab Salomon           12
18 MS Evil Racing                             11
19 MSC Bikes                                   8
20 XMS-Devinci World Cup Team                  6
21 Ancillotti Doganaccia Racing Team           2