MTB index page for all MTB content
MTB World Cup XC #9 & DH #7 - CDM
Schladming, Austria, September 11-14, 2008
Main Page Results Final World Cup Standings Previous Race Next Race
Race 6 - September 14: Elite women cross country
Wloszczowska takes maiden win
By Luke Webber in Schladming
Wloszczowska was surprised at her win
Photo ©: Luke Weber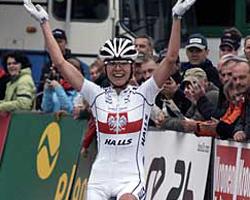 Maja Wloszczowska (Halls Professional MTB Team) was the surprise package in the final World Cup of 2008, coming from behind in Schladming to take the win ahead of Irina Kalentieva (Topeak Ergon Racing Team) in an ever-changing race.
The first split was made on the brutally steep climb on lap one where Marga Fullana (Massi) and Marie Helene Premont (Rocky Mountain) danced away from their rivals. By lap two Fullana had distanced herself once more, but on such a short course there was never opportunity to gain a big lead. Fifteen seconds was as big as it got.
Premont and Kalentieva were chasing and were soon joined by a charging Wloszczowska who recovered valiantly from a bad start.
By lap four, Premont was fading and at one point dropped as low as fifth.
Rosara Joseph (Team Ghost Internation), who has been returning to top form after an injury for the first half of 2008, also showed great potential mixing it with the top five.
The big story, though, was the battle between the Polish Wloszczowska and the Spaniard Fullana. Both riders were duelling for the final win, and in a race which was short at under one and a half hours, every second counted.
Posting the fastest lap times since lap two, Wloszczowska who got the better of a weakening Fullana, who slipped to fourth behind Kalentieva and Premont. With her final performance, Premont assured herself the overall win.
Speaking after the race Wloszczowska said she was happy with her first ever win, which came as much as a surprise to her as it did to her rivals.
"Finally I come first!" she said.
Willow Koerber (Subaru-Gary Fisher)
Photo ©: Luke Weber

"I was second here in 2004, but after the Olympics I did not expect to win here," said Wloszczowska. "I haven't trained as much as I would have liked and that showed in the start, I did not get away well. But from then I could get faster and faster, when I saw Marga it gave me the extra power to push on and win the race, it was a great motivation."
For Premont, the race was a too short to make an impact on the top positions, but collecting the prize for the World Cup winner went some way to making up for that.
"The track was not so technical but very fast and hard to drink on," said Premont. "Today it was cold and hard to breathe. My strategy was to start fast but on the third lap I could not keep up but by the last lap I came round to finish on a high.
"Winning the overall was a goal at the start of the year so it is great to accomplish that and I am very happy with how the season has unfolded," said the Canadian Premont.
Photography
For a thumbnail gallery of these images, click here
Images by Luke Weber
Images by Luke Weber
Images by Luke Weber
Results
1 Maja Wloszczowska (Pol) Halls Professional MTB Team          1.26.42
2 Irina Kalentieva (Rus) Topeak Ergon Racing Team                 0.37
3 Marie-Helene Premont (Can) Rocky Mountain                       1.05
4 Margarita Fullana Riera (Spa) Massi                             1.17
5 Sabine Spitz (Ger) Central Ghost Pro Team                       2.26
6 Rosara Joseph (NZl) Team Ghost International                    2.55
7 Katerina Nash (Cze) Luna Womens MTB Team                        3.19
8 Catharine Pendrel (Can) Luna Womens MTB Team                    3.39
9 Petra Henzi (Swi) Fischer-BMC                                   3.47
10 Elisabeth Osl (Aut) Team Ghost International                   4.01
11 Lene Byberg (Nor) Specialized Factory Racing                   4.32
12 Cécile Rode Ravanel (Fra) Team Lapierre International          4.58
13 Tereza Hurikova (Cze) Ceska Sporitelna MTB                     5.30
14 Georgia Gould (USA) Luna Womens MTB Team                       6.26
15 Blaza Klemencic (Slo) Giant Italia Team                        6.57
16 Nathalie Schneitter (Swi) Colnago Cap Arreghini                8.15
17 Sabrina Enaux (Fra) Team Lapierre International                8.42
18 Anja Gradl (Ger) Central Ghost Pro Team                        9.05
19 Willow Koerber (USA) Subaru-Gary Fisher                        9.17
20 Katrin Leumann (Swi)                                           9.41
21 Janka Stevkova (Svk)                                           9.56
22 Nataliya Krompets (Ukr)                                       10.02
23 Adelheid Morath (Ger)                                         10.06
24 Ivonne Kraft (Ger)                                            10.24
25 Marielle Saner-Guinchard (Swi) Bikepark.Ch BMC                10.28
26 Julie Krasniak (Fra) Team Lapierre International              10.37
27 Githa Michiels (Bel)                                          11.13
28 Silke Schmidt (Ger)                                           11.31
29 Maria Osl (Aut) Sunshine Racers ASV Nals                      11.52
30 Stephanie Wiedner (Aut)                                       12.00
31 Sandra Walter (Can)                                           12.22
32 Maroussia Rusca (Swi)                                         12.26
33 Katrin Schwing (Ger) Dolphin-Trek Mountainbike Racing Team    12.46
34 Laura Turpijn (Ned)                                           13.41
35 Tatjana Dold (Ger)                                            14.18
36 Tanja Zakelj (Slo)                                            14.43
37 Claudia Seidel (Ger)                                          15.03
38 Sarah Koba (Swi)                                              16.08
39 Asa Maria Erlandsson (Swe) Subaru-Gary Fisher                 18.01
 
One lap behind
 
40 Judith Pollinger (Ita) Sunshine Racers ASV Nals                    
41 Elena Babikova Gogoleva (Rus)                                      
42 Kristien Nelen (Bel)                                               
43 Iryna Slobodyan (Ukr)                                              
44 Lucie Vesela (Cze)                                                 
 
Two laps behind
 
45 Petra Marchart (Aut)                                               
46 Marie Kunst (Den)     

Final World Cup standings

1 Marie-Helene Premont (Can) Rocky Mountain                        1580 pts
2 Catharine Pendrel (Can) Luna Womens MTB Team                     1243
3 Margarita Fullana Riera (Spa) Massi                              1060
4 Irina Kalentieva (Rus) Topeak Ergon Racing Team                   900
5 Georgia Gould (USA) Luna Womens MTB Team                          890
6 Lene Byberg (Nor) Specialized Factory Racing                      870
7 Katerina Nash (Cze) Luna Womens MTB Team                          811
8 Tereza Hurikova* (Cze) Ceska Sporitelna MTB                       798
9 Mary Mcconneloug (USA)                                            723
10 Sabine Spitz (Ger) Central Ghost Pro Team                        675
11 Blaza Klemencic (Slo) Giant Italia Team                          640
12 Gunn-Rita Dahle Flesjaa (Nor) Multivan Merida Biking Team        630
13 Petra Henzi (Swi) Fischer-BMC                                    622
14 Elisabeth Osl (Aut) Team Ghost International                     622
15 Katrin Leumann (Swi)                                             613
16 Chengyuan Ren* (Chn)                                             578
17 Ying Liu (Chn)                                                   555
18 Cécile Rode Ravanel (Fra) Team Lapierre International            550
19 Nathalie Schneitter* (Swi) Colnago Cap Arreghini                 509
20 Sabrina Enaux (Fra) Team Lapierre International                  493
21 Willow Koerber (USA) Subaru-Gary Fisher                          416
22 Rosara Joseph (NZl) Team Ghost International                     410
23 Laurence Leboucher (Fra)                                         405
24 Wendy Simms (Can) Kona                                           376
25 Adelheid Morath (Ger)                                            366
26 Sandra Walter (Can)                                              362
27 Laura Turpijn (Ned)                                              342
28 Maja Wloszczowska (Pol) Halls Professional MTB Team              335
29 Maroussia Rusca (Swi)                                            329
30 Tanja Zakelj* (Slo)                                              324
31 Eva Lechner (Ita) Colnago Cap Arreghini                          322
32 Heather Irmiger (USA) Subaru-Gary Fisher                         322
33 Lea Davison (USA) Trek / VW                                      309
34 Maria Osl (Aut) Sunshine Racers ASV Nals                         289
35 Kiara Bisaro (Can)                                               278
36 Jingjing Wang (Chn)                                              239
37 Amanda Sin (Can)                                                 237
38 Nina Homovec (Slo)                                               235
39 Julie Krasniak* (Fra) Team Lapierre International                225
40 Mical Dyck (Can)                                                 221
41 Ivonne Kraft (Ger)                                               218
42 Laura Metzler* (Fra)                                             205
43 Emiliy Batty* (Can)                                              189
44 Anna Villar Argente (Spa) Massi                                  188
45 Marielle Saner-Guinchard (Swi) Bikepark.Ch BMC                   188
46 Helene Marcouyre (Fra)                                           186
47 Esther Süss (Swi)                                                180
48 Githa Michiels (Bel)                                             172
49 Susan Haywood (USA) Trek / VW                                    163
50 Janka Stevkova (Svk)                                             160
51 Zoe King (Aus)                                                   150
52 Jean Ann Mckirdy (Can) Rocky Mountain                            138
53 Fiona Macdermid (GBr)                                            131
54 Lisa Morgan (NZl)                                                129
55 Francisca Campos Salas (Chi) Massi                               126
56 Jodie Willett (Aus)                                              120
57 Alexandra Engen* (Swe)                                           118
58 Laura Lorenza Morfin Macouzet (Mex)                              116
59 Marie-Claude Surprenant* (Can)                                   114
60 Katrin Schwing (Ger) Dolphin-Trek Mountainbike Racing Team       114
61 Katherine O'shea (Aus)                                           110
62 Dellys Starr (Aus)                                               110
63 Julie Bresset* (Fra)                                             105
64 Rie Katayama (Jpn)                                               102
65 Caroline Villeneuve (Can)                                        102
66 Nataliya Krompets* (Ukr)                                         101
67 Arielle Van Meurs (Ned)                                          101
68 Sarah Koba (Swi)                                                  96
69 Joanna Wall (Aus)                                                 95
70 Monique Avery* (NZl)                                              85
71 Kate Potter (Aus)                                                 85
72 Marie Kunst (Den)                                                 83
73 Marie Allaire (Can)                                               82
74 Carla Salgado Gonzalez (Mex)                                      82
75 Tory Thomas (Aus)                                                 80
76 Mikaela Kofman* (Can)                                             80
77 Naomi Williams (Aus)                                              78
78 Jeanette Gerrie (NZl)                                             76
79 Kathleen Villeneuve (Can)                                         74
80 Nicole Swain (NZl)                                                72
81 Séverine Hansen (Fra)                                             72
82 Maaike Polspoel* (Bel)                                            71
83 Therese Rhodes* (Aus)                                             70
84 Anja Gradl* (Ger) Central Ghost Pro Team                          70
85 Magdalena Sadlecka (Pol) Halls Professional MTB Team              70
86 Véronique Fournier (Can)                                          70
87 Alison Sydor (Can) Rocky Mountain                                 69
88 Kylie Webb (Aus)                                                  68
89 Gracie Elvin* (Aus)                                               66
90 Erica O'brien (Aus)                                               64
91 Jaqueline Mourao (Bra)                                            64
92 Elsbeth Van Rooij-Vink (Ned)                                      64
93 Nina Wrobel (Ger) Multivan Merida Biking Team                     64
94 Catherine Vipond (Can)                                            64
95 Sandra Santanyes Murillo (Spa) Cemelorca-Seguros10.com            63
96 Aleksandra Dawidowicz* (Pol) Halls Professional MTB Team          63
97 Vera Andreeva* (Rus)                                              63
98 Jamie Dinkins* (USA)                                              61
99 Karine Travaillaud (Can)                                          58
100 Kelli Emmett (USA) Giant Mountain Bike Team                      56
101 Asa Maria Erlandsson (Swe) Subaru-Gary Fisher                    56
102 Stephanie Wiedner* (Aut)                                         55
103 Kyia Anderson (USA)                                              54
104 Silke Schmidt* (Ger)                                             50
105 Claudia Seidel (Ger)                                             49
106 Anna Szafraniec (Pol) Halls Professional MTB Team                48
107 Caroline Mani* (Fra)                                             44
108 Joanna Harrington (Aus)                                          40
109 Cristina Mascarreras Sabria (Spa)                                38
110 Tatjana Dold (Ger)                                               36
111 Emma Colson (Aus)                                                34
112 Daniella Bunzli Rojas (Chi)                                      33
113 Rocio Gamonal Ferrera (Spa)                                      32
114 Bernardine Boog-Rauwerda (Ned)                                   30
115 Ruth Moll Marques (Spa)                                          29
116 Judith Pollinger* (Ita) Sunshine Racers ASV Nals                 28
117 Caitlyn Tuel (USA)                                               28
118 Kaytee Boyd (NZl)                                                28
119 Elena Babikova Gogoleva (Rus)                                    27
120 Kristien Nelen (Bel)                                             26
121 Sarka Chmurova (Cze)                                             26
122 Iryna Slobodyan* (Ukr)                                           25
123 Julie Sanders (Can)                                              25
124 Lucie Vesela (Cze)                                               24
125 Maria Kalnes (Nor)                                               24
126 Sandra Araujo (Por)                                              24
127 Petra Marchart (Aut)                                             23
128 Kaitlin Michener* (Can)                                          23
129 Neus Parcerissas (Spa)                                           23
130 Laure Boulay* (Fra)                                              21
131 Anja Mcdonald (NZl)                                              21
132 Sandra Dolcerocca (Den)                                          17
133 Rocio Martin Rodriguez (Spa)                                     15
134 Jennifer Fischer* (Fra)                                          14
135 Liliana Alejandra Uzcategui Vasquez (Ven)                        12
136 Yolande Speedy (RSA)                                             10
137 Athina Chatzistyli (Gre)                                         10
138 Hanna Klein* (Ger)                                                9
139 Rowena Fry (Aus)                                                  8

* indicates U23 racer
 
Team women

1 Luna Womens MTB Team                                              578 pts
2 Rocky Mountain                                                    306
3 Massi                                                             213
4 Team Ghost International                                          211
5 Team Lapierre International                                       201
6 Specialized Factory Racing                                        179
7 Ceska Sporitelna MTB                                              163
8 Colnago Cap Arreghini                                             151
9 Topeak Ergon Racing Team                                          150
10 Central Ghost Pro Team                                           150
11 Giant Italia Team                                                132
12 Fischer-BMC                                                      130
13 Multivan Merida Biking Team                                      127
14 Subaru-Gary Fisher                                                96
15 Halls Professional MTB Team                                       60
16 Trek-VW                                                           59
17 Bh-Sr. Suntour                                                    45
18 Kona                                                              44
19 Sunshine Racers Asv Nals                                          22
20 Bikepark.ch BMC                                                   12
21 Beone Chainreaction Mountainbiketeam                              10
22 Giant Mountain Bike Team                                           6
23 Breiz Mountain                                                     3
24 Cemelorca-Seguros10.Com                                            1