MTB index page for all MTB content
MTB World Cup XC #9 & DH #7 - CDM
Schladming, Austria, September 11-14, 2008
Main Page Results Final World Cup Standings Previous Race Next Race
Race 4 - September 13: Elite women downhill
Atherton completes clean sweep
By Luke Webber in Schladming
And continued to ride flat out.
Photo ©: Luke Weber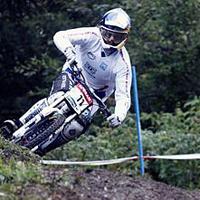 World Champion Rachel Atherton (Animal Comencal) proved she was not only fast enough to blow away the competition, but could do so with consistency - much to the annoyance of her rivals. Producing a run reminiscent of her scintillating performance at the World Championships, Atherton managed to record another first today; her biggest ever winning margin in a senior event. But even with such domination, the young Brit still looks to improve to the next level in 2009:
"So far this year I've not made the qualifying mark for the men's race, which I'm pretty disappointed about. This is definitely the mark I'll set for 2009," said Atheron.
Setting standards against the opposite sex is not something alien for Atherton though, as she trains with her two brothers Dan and Gee constantly, gauging her progress against theirs and not other female riders.
"I get fed up when we go out riding not being able to keep up, or always having to go last!" Atherton joked. Unfortunately for her opponents it is clearly something she takes seriously and a mark to which others will struggle to step up.
Already though, Atherton is assessing her weaknesses ready for a very different World Championships in Canberra 2009. The course, made up of long pedalling sections does not suit Atherton's attributes, which are more accustomed to steep courses. No doubt she will work to improve her weakness for next September's worlds.
Focus is key.
Photo ©: Luke Weber

After two nights of torrential rain, the cut-up course was in poor condition with knee-deep ruts, slick roots and running water. These conditions made tire choice a simple one. With mud spikes selected, the top women set out in the dry and Atherton posted the fastest time. Her series rivals Tracy Moseley (Kona) and Sabrina Jonnier (Team Maxxis) already looked out of the race, finishing third and fourth respectively but with more rain hitting the course come early afternoon some expected a very different final.
Jonnier was the first with intent to occupy the hot seat with a confident run and no obvious mistakes, but it was her country-woman Floriane Pugin (Playbiker - Iron Horse) who surprised by taking over the lead. With the rain firmly coming into play at this point in the contest, Atherton would have to produce a very special final descent to take the overall. What followed was on the edge of anyone's abilities and Atherton was obviously on the edge of control with her foot out of the pedal on several occasions.
The reward was total domination a winning margin of over ten seconds and the World Cup overall title. Her overall win answered the comments of critics who had called her riding inconsistent, and it marked a step up in maturity from this time last year when she had had to come to terms with losing at the World Championships in Fort William on her home turf.
Photography
For a thumbnail gallery of these images, click here
Images by Luke Weber
Results
Finals 

1 Rachel Atherton (GBr) Animal Commencal                     4.47.21
2 Floriane Pugin (Fra) Playbiker - Iron Horse                0.13.67
3 Sabrina Jonnier (Fra) Team Maxxis                          0.14.12
4 Tracy Moseley (GBr) Kona                                   0.16.84
5 Emmeline Ragot (Fra) Suspension Center                     0.17.73
6 Fionn Griffiths (GBr) Norco World Team                     0.22.86
7 Helen Gaskell (GBr)                                        0.25.20
8 Petra Bernhard (Aut)                                       0.27.33
9 Claire Buchar (Can)                                        0.32.30
10 Anita Molcik (Aut) 4 Elements Yet                         0.38.18
11 Miriam Ruchti (Swi) Sport Promotion                       0.40.27
12 Diana Marggraff (Ecu)                                     0.42.97
13 Elisa Canepa (Ita) Playbiker - Iron Horse                 0.53.70
14 Myriam Nicole (Fra)                                       0.55.63
15 Birgit Braumann (Aut)                                     0.56.58
16 Harriet Rucknagel (Ger)                                   1.01.81
17 Dalma Kiss (Hun)                                          1.02.61
18 Emilie Siegenthaler (Swi) Suspension Center               1.15.77
19 Silja Stadler (Swi)                                       1.16.13
20 Mio Suemasa (Jpn) Ms-Intense Factory-Racing               6.42.59
 
Qualifications / semi-finals

1 Rachel Atherton (GBr) Animal Commencal                     4.45.98
2 Floriane Pugin (Fra) Playbiker - Iron Horse                0.10.45
3 Tracy Moseley (GBr) Kona                                   0.14.66
4 Sabrina Jonnier (Fra) Team Maxxis                          0.21.61
5 Petra Bernhard (Aut)                                       0.28.43
6 Helen Gaskell (GBr)                                        0.33.09
7 Fionn Griffiths (GBr) Norco World Team                     0.35.86
8 Emmeline Ragot (Fra) Suspension Center                     0.37.41
9 Claire Buchar (Can)                                        0.38.29
10 Anita Molcik (Aut) 4 Elements Yet                         0.42.73
11 Myriam Nicole (Fra)                                       0.43.13
12 Elisa Canepa (Ita) Playbiker - Iron Horse                 0.51.36
13 Mio Suemasa (Jpn) Ms-Intense Factory-Racing               0.51.59
14 Emilie Siegenthaler (Swi) Suspension Center               0.51.90
15 Silja Stadler (Swi)                                       0.52.98
16 Dalma Kiss (Hun)                                          0.55.06
17 Diana Marggraff (Ecu)                                     0.55.42
18 Miriam Ruchti (Swi) Sport Promotion                       0.57.35
19 Birgit Braumann (Aut)                                     1.03.92
20 Harriet Rucknagel (Ger)                                   1.04.98
21 Helene Valer Fruhwirth (Aut)                              1.07.01
22 Sarah Newman (GBr)                                        1.10.82
23 Jessica Stone (GBr)                                       1.12.96
24 Sandra Rubesam (Ger)                                      1.23.32
25 Jaymie Mart (Bar)                                         1.34.34
26 Elke Rabeder (Aut)                                        1.44.37
27 Katarina Tothova (Cze)                                    1.47.06
28 Antje Kramer (Ger)                                        1.51.65
29 Leoni-Caro. Dickerhoff (Ger) Ixs Sports Division Racin    2.06.42
30 Helena Boskova (Svk)                                      2.58.80
DNS Katy Curd (GBr)                                                 
DNS Anneke Beerten (Ned) Ms-Intense Factory-Racing                  

World Cup final standings

1 Rachel Atherton (GBr) Animal Commencal                           1533 pts
2 Sabrina Jonnier (Fra) Team Maxxis                                1335
3 Tracy Moseley (GBr) Kona                                         1272
4 Emmeline Ragot (Fra) Suspension Center                            898
5 Floriane Pugin (Fra) Playbiker - Iron Horse                       852
6 Fionn Griffiths (GBr) Norco World Team                            798
7 Mio Suemasa (Jpn) Ms-Intense Factory-Racing                       687
8 Claire Buchar (Can)                                               539
9 Anita Molcik (Aut)                                                504
10 Myriam Nicole* (Fra)                                             406
11 Céline Gros (Fra) Solid Aclass Factory Team                      334
12 Helen Gaskell (GBr)                                              297
13 Micayla Gatto (Can)                                              297
14 Diana Marggraff (Ecu)                                            278
15 Emilie Siegenthaler (Swi) Suspension Center                      274
16 Petra Bernhard (Aut)                                             257
17 Scarlett Hagen (NZl)                                             249
18 Helene Valerie Fruhwirth (Aut)                                   218
19 Miriam Ruchti (Swi) Sport Promotion                              213
20 Melissa Buhl (USA)                                               199
21 Kathleen Pruitt (USA)                                            191
22 Elisa Canepa (Ita) Playbiker - Iron Horse                        184
23 Amy Laird (NZl)                                                  169
24 Katy Curd (GBr)                                                  158
25 Danice Uyesugi (Can)                                             144
26 Harriet Harper (NZl)                                             126
27 Joanna Petterson (RSA)                                           117
28 Anais Pajot* (Fra) Team Sunn                                     114
29 Birgit Braumann (Aut)                                            104
30 Dalma Kiss (Hun)                                                 101
31 Sheryl Macleod (NZl)                                              98
32 Caroline Buchanan* (Aus)                                          69
33 Mélanie Pugin* (Fra) Sport Promotion                              66
34 Katrina Strand (Can)                                              65
35 Claire Whiteman (Aus)                                             58
36 Miranda Miller* (Can)                                             58
37 Harriet Rucknagel (Ger)                                           55
38 Leigh Douglas (Can)                                               55
39 Cara Smith (Aus)                                                  52
40 Amber Zirnhelt (Can)                                              52
41 Sheila Morris (Can)                                               52
42 Silja Stadler (Swi)                                               49
43 Joanne Fox (Aus)                                                  46
44 Marie-Eve Marcotte (Can)                                          46
45 Victoria Hernandez Molinas (Spa)                                  45
46 Pascaline Reusser (Swi)                                           43
47 Jaymie Mart (Bar)                                                 12
48 Maria Michalogiannaki (Gre)                                        9
49 Sandra Rubesam (Ger)                                               9
50 Aimee Dix (GBr) Mojo Orange                                        9
51 Sophie Borderes (Fra)                                              9
52 Anka Martin (RSA)                                                  9
53 Katarina Tothova (Cze)                                             9
54 Leoni-Caro. Dickerhoff* (Ger) IXS Sports Division Racing Team      9
55 Anne Laplante* (Can)                                               6
56 Helena Boskova (Svk)                                               6
57 Julia Boer (Hun)                                                   3
58 Jayne Rutter (Aus)                                                 3
59 Diana Lorena Dromundo Vargas* (Mex)                                3
60 Sarah Newman (GBr)                                                 3
61 Jessica Stone* (GBr)                                               3
62 Kim Huard (Can)                                                    3
63 Elke Rabeder (Aut)                                                 3
64 Calamaty Jayne Cann (GBr)                                          3
65 Antje Kramer (Ger)                                                 3
66 Mireia Bosca Ballester (Spa)                                       3
67 Darian Harvey (USA)                                                3
68 Wendy Reynolds (USA)                                               3

Team

1 Santa Cruz Syndicate                                              618 pts
2 Animal Commencal                                                  582
3 Yeti Fox Shox Factory Race Team                                   351
4 Monster Energy / Iron Horse                                       325
5 Team Maxxis                                                       303
6 Chain Reaction Cycles/Intense                                     257
7 Playbiker - Iron Horse                                            247
8 Subaru Mountain Bike Pro Team                                     246
9 Suspension Center                                                 246
10 Kona                                                             228
11 Ms-Intense Factory-Racing                                        222
12 Norco World Team                                                 182
13 GT Bicycles                                                      139
14 Team Bike Radar                                                  131
15 4 Elements Yeti/Hotec/Rsp                                        126
16 Giant Mountain Bike Team                                         122
17 Kenda Tomac                                                      106
18 Massi                                                            106
19 MSC Bikes                                                        101
20 Solid Aclass Factory Team                                         91
21 Sport Promotion                                                   75
22 Team Sunn                                                         69
23 Mojo Orange                                                       63
24 Team Pyrenees Morewood                                            53
25 Commencal - Furious - Oakley Team                                 33
26 IXS Sports Division Racing Team                                   30
27 Lapierre DH Powered By Saab Salomon                               24
28 Dolphin-Trek Mountainbike Racing Team                             23
29 Cannondale Factory Racing                                         17
30 Tomac Factory Racing                                              13
31 Team Ghost International                                          10
32 Specialized Factory Racing                                         7
33 Reverse Components                                                 4