MTB index page for all MTB content
Australian MTB Series #1 - NE
Eagle Park, Adelaide, South Australia, Australia, November 1-2, 2008
Race 1 - November 1: Cross Country,
Jongewaard, Willett claim victories
Jodie Willett blasts down
Photo ©: Evan Jeffery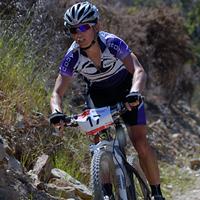 Australian champion Chris Jongewaard secured a strong lead in the first of seven laps, and held onto his lead to claim victory. Jongewaard's win came in a course record time of 2.18.34, three and a half minutes clear of his nearest rival. Brisbane's Aiden Lefmann was in second place until the final lap when he was overtaken by Canberra young gun Ben Henderson.
Jongewaard praised the Adelaide organizers and said he will take a well deserved break from the sport and re-assess his season.
An unlucky puncture followed by a crash saw Canberra's Shaun Lewis exit from the race while in a fourth place.
After missing out on applying for the mountain bike talent squad for the London 2012 Olympics, Jodie Willett aimed to put herself up for selection after winning the first national series event in Adelaide today. The 31 year-old from Brisbane passed the early leaders Zoe King and Tory Thomas to claim victory.
Chris Jongewaard heads for victory
Photo ©: Evan Jeffery

Willett won by 30 seconds to beat former national champion Thomas after passing her just before the fourth lap. Willett secured a new course record in 1.33.42. After placing second in last year's national event in Adelaide, Willett was keen to make amends.
"I got second last year here last year and I really like the course so it was good to get the win," stated Willett.
Even after passing Thomas with just one lap remaining Willett did not rest.
"She (Thomas) is not the sort of rider you can pass and she cracks," explained Willett. "I knew I had the win on the last climb."
Photography
For a thumbnail gallery of these images, click here
Images by Evan Jeffery / www.evanjeffery.com.au
Results
Elite Men
 
1 Chris Jongewaard      2.18.34
2 Ben Henderson            3.20
3 Aiden Lefmann            3.46
4 Nathan Haas              5.19
5 Andrew Blair             5.49
6 Josh Fleming             7.15
7 Scott Liston             8.01
8 Neil Van Der Ploeg       8.02
9 Steele Von Hoff          9.48
10 David Whitney          12.05
11 Travis Frisby          13.09
12 Joshua Carlson         13.27
13 Ben Hogarth            14.19
14 Luke Fetch             15.46
15 James Maebus           17.58
16 Charlton Durie         19.34
17 Brent Miller           20.23
18 Dave Merritt           20.44
19 Russell Collett        22.02
One lap down
20 Dylan Wallis                
Two laps down
21 Shaun Lewis                 
22 Joel Donney                 
Four laps down
23 Joel Ryan                   
DNF Rohin Adams                
DNF Cam Winn                   
DNF Andrew Burford             
DNF Mark Flood                 
DNF Brett Anderson             
DNF Paul Weymouth              
DNF Angus Harding              
DNF Robbie Hucker              
DNS Ben Mather                 
 
Elite Women
 
1 Jodie Willett         1.33.42
2 Tory Thomas              0.28
3 Zoe King                 1.53
4 Katherine O'shea         2.20
5 Gracie Elvin             3.38
6 Bronwyn Ryan             5.23
7 Erica Gurner             6.15
8 Rebecca Henderson        7.03
9 Emma Colson              8.17
10 Stephanie Russell       9.30
11 Niki Fisher             9.40
12 Sarah Holmes            9.59
13 Terri Rhodes           10.00
14 Kylie Webb             10.51
15 Philippa Rostan        12.45
16 Jo Wall                12.59
17 Bianca Mauch           14.17
18 Anna Beck              15.45
DNF Jaclyn Schapel             
DNF Kelly Bartlett             
 
Expert Men
 
1 Dean Jones            1.53.12
2 Sean "The Man" Hurley    0.57
3 Duncan Murray            2.41
4 Andrew Choma Choma       2.55
5 Alan Leslie              3.04
6 Phillip Houghton         8.56
7 Darren Groves            8.57
8 Damian French           13.48
DNF John Groves                
 
Under 19 Men
 
1 Brendan Johnston      1.25.48
2 Trenton Day              1.20
3 Michael Baker            1.30
4 James Peacock            1.50
5 Brenton Jones            6.04
6 Ryan Macanally           7.30
7 Glen Sinnott             9.29
8 Sam Ferguson             9.31
9 Matthew Keays           15.03
10 Stephen Pitt           15.04
11 Tom Russell            15.48
12 Liam Melville          25.26
13 Mitchell Codner        34.17
 
Under 19 Women
 
1 Shelly Flood          1.21.59
 
Under 17 Men
 
1 Ryan Standish         1.06.46
2 James Hanus              0.01
3 Alexander Meyland        4.52
4 Jack Watson              9.40
5 Tim Beaver              19.29
6 Sam Cathro              30.27
 
Under 15 Men
 
1 Luke Ellison            52.29
2 Sam Mclean               7.02
3 Trent Ellison           17.07
4 Jack Allison            37.08
 
Veteran Men
 
1 Andrew Wilcher        1.24.05
2 Warren Burgess           1.30
3 James Downing            2.19
4 Ashley Wass              3.21
5 Kym Moulds               4.10
6 Shane Bedford            5.52
7 Kain Gardner             7.26
8 Kym Grivell              8.15
9 Ryan Fleetwood          12.28
10 Nigel Willoughby       15.45
11 Peter Kreilis          16.48
12 Gerard Mchugh          19.25
13 Tom Krieg              25.28
One lap down
14 Ian Fehler                  
DNF Craig Shepperson           
 
Veteran Women
 
1 Rebecca Ormsby        1.21.24
2 Nikki Collins            1.02
3 Carly Williams          19.16
 
Masters Men
 
1 Brian John            1.06.38
2 Evan James               1.05
3 Frans Van Zyl            1.48
4 John Henderson           2.11
5 Craig Peacock            2.45
6 Chris Fryer              2.47
7 Doug Mclean              3.35
8 Tim Mcgrath              4.08
9 Mark Codner              8.08
10 Alister Smith           9.21
11 David Mclean           12.04
 
Masters Women
 
1 Kerstin Oelckers        56.14
2 Julia Massey            17.53
 
Super Masters Men
 
1 David Olle            1.12.33
2 John Allison             0.15
3 Steve Flood              5.27
4 Dewet Marais             6.34
5 Martin Griffith         33.11
Two laps down
6 Christopher Dalton           
DNF Nick Tilbrook              
 
Super Masters Women
 
1 Kay Haarsma           1.14.54
 
Grand Masters Men
 
1 Ashley Grivell        1.00.19
2 Dez Clarke               5.08
 
Sport Men A
 
1 Brett Merchant        1.13.22
2 Nathan Perkins           0.15
3 Evan Jones               1.22
4 Kevin Colla              2.47
5 Tim Rowe                 3.37
6 Peter Luke               3.42
7 Simon Carr               7.07
8 Andrew Marshall          8.31
9 Bryce Dolman            12.20
10 Justin Smedley         19.43
11 Ben Gardner            29.30
 
Sport Men B
 
1 Lee Merchant            52.20
2 Heinz Leuenberger        0.11
3 Craig Lawn               0.50
4 Paul Caffin              4.20
5 Marc Campbell            4.37
6 Jamie Davis              6.36
7 Ben Thomson             10.14
8 Jarrod Acfield          10.39
 
Sport Women
 
1 Kate Welford            59.27
2 Mandee Theil             0.54
3 Kathryn Feldmiaer       17.44
 
Recreational
1 Kahl Ryan               54.31
3 Lucas Pitt              56.12
2 Ben Samy                 4.52
DNS Chad Theil