MTB index page for all MTB content
MTB World Cup XC #4 & DH #2 - CDM - CDM
Vallnord, Andorra, May 31-June 1, 2008
Main Page Results Previous Race Next Race
Race 2 - May 31: Elite men cross country
Sauser comes back to claim perfect victory
By Luke Webber in Vallnord, Andorra
Sauser celebrates his first win
Photo ©: Luke Webber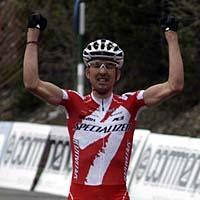 After three World Cup attempts it was finally the day for Christoph Sauser (Specialized Factory Racing) to take a popular win in Andorra – but some surprising names accompanied him on the podium and most notably none were wearing the Rainbow Stripes.
Sauser won despite a bad mishap in the form of a flat tyre in the fifth lap. "I was thinking 'why – why me again?!' But when I eventually caught and passed Burry [Stander] I was flying, I couldn't even feel my legs any more. Luckily for the bit that I had to run I could still go at good speed because Benno had put some tyre tread on the bottom of my Specialized road shoes. Sometimes you start and you think 'they start so hard!' But today I was wondering why don't they full on! I just rolled away, my legs started to burn badly on laps four and five when Burry was coming near, I always tried to keep him 15 seconds back so he did not have the chance to think he could beat me. Eventually though it was easy for him to pass because I was running up the hill at the time."
Julien Absalon (Orbea) would not claim his fourth successive victory and would instead finish only ninth, owing to some mechanical issues and possibly the need to rest before the World Championships in order to regain peak form.
"I was expecting better than today, but I had a big crash on the first lap and I was too cautious because I did not want to crash again. I had also damaged my chainrings – the gears were not working," said Absalon. "Put together: not a good day! I won't be going to Fort William, instead I will be going home to get in a bit of recovery – maybe I need it!"
An obviously reflective Stander (GT Bicycles) stood at the finish – amazed that he had the strength to lead and finish second at a World Cup at just 20 years of age, but annoyed that victory had been snatched from so close.
"Today's course was very technical, not fast like Madrid or Offenburg, but much slower and kept your concentration at all times," said Stander. "It was important not to make any silly mistakes but on lap five I crashed pretty hard and snapped my lockout lever. Just after that Susi [Sauser - ed.] had his flat and I could get by and into the lead which really lifted my morale. By the last lap though he was coming too strong, I could do nothing. With a flat coming back he was definitely the strongest rider today."
The final surprise of the day was Canadian Geoff Kabush (Maxxis) turning in his best result on Euro soil, third after a solid ride picking off positions all race long and not fading. "To do it in Europe is a big result for me," said Kabush. "It is a great course, with all the rain it made it subtly technical over the roots. I was able to start out pretty smooth, relax and start picking off guys at my leisure. Today I didn't want to fight for position, I wanted to save energy."
How it unfolded
Burry Stander was never far behind
Photo ©: Luke Webber

At 14:00 local time, under slow moving heavy cloud, 120 riders set out on a 5.2-kilometre lap around the bottom of Vallnord bike park. No start loop was required as this was a classic Alpine course with climbs that required granny ring and a good sense of balance to avoid spinning out or flipping over the back.

Geoff Kabush took the early lead but decided to drop back into the top ten. The first lap was a wicked selection process that tore the field apart – something we were not used to seeing in the previous three rounds on flatter courses at sea level. On lap one, thirty riders could be described as in contention whereas the rest were already fighting to even reach the finish.

From the start Sauser took the initiative, holding off a group of ten riders containing all the favourites, including Absalon who was looking to make it four wins from four races today.

Absalon was not so fortunate
Photo ©: Luke Webber

What was expected to follow was the usual chase back by the peloton and then an attack by the reigning World and Olympic champion which nobody would follow. The reality however was somewhat different.
Stander dragged everyone closer to Sauser before the biggest climb of the course, but when it hit the crippling grade, nobody could follow. Sauser held a gap of ten seconds to Stander and behind him was an ever-changing train of riders. Each time the stiff climb would claim a different victim and the order would be re-established.
On lap five disaster struck for Sauser – a flat tyre meant a long run to the tech zone. Fortunately part of this run was up the steepest climb (there was almost no difference between running and riding speeds) and within one lap the Swiss was back on the wheel of Stander.
There is now one week until Fort William, the final World Cup before the World Championships.
Photography
For a thumbnail gallery of these images, click here
Images by Eduard Aguilera
Images by Luke Webber / www.lukewebber.com
Results
1 Christoph Sauser (Swi) Specialized Factory Racing              2.02.16
2 Burry Stander (RSA) GT Bicycle                                    0.09
3 Geoff Kabush (Can) Team Maxxis                                    0.18
4 Lukas Flückiger (Swi) Athleticum-MTB-Team                         1.09
5 Cédric Ravanel (Fra) Team Lapierre International                  1.42
6 Todd Wells (USA) GT Bicycle                                       2.17
7 Tony Longo (Ita) Full-Dynamix-It                                  2.28
8 Sergio Mantecon Gutierrez (Spa) Cemelorca-Seguros10.Com           2.52
9 Inaki Lejarreta Errasti (Spa) Orbea                               3.02
10 Fredrik Kessiakoff (Swe) Full-Dynamix-It                         3.13
11 Julien Absalon (Fra) Orbea                                       3.48
12 Roel Paulissen (Bel) Cannondale-Vredestein                       3.58
13 Kashi Leuchs (NZl) Cannondale-Vredestein                         4.16
14 Jakob Fuglsang (Den) Cannondale-Vredestein                       4.24
15 Nino Schurter (Swi) Swisspower Mtb Team                          4.34
16 Adam Craig (USA) Giant Mountain Bike Team                        4.37
17 Florian Vogel (Swi) Swisspower Mtb Team                          4.46
18 Ralph Naef (Swi) Multivan Merida Biking Team                     5.01
19 Thomas Frischknecht (Swi) Swisspower Mtb Team                    5.12
20 Emil Lindgren (Swe) Full-Dynamix-It                              5.20
21 Ruben Ruzafa Cueto (Spa) Orbea                                   5.30
22 Marti Gispert Labarta (Spa) ECP-Tau Ceramica                     5.43
23 Moritz Milatz (Ger) Multivan Merida Biking Team                  6.04
24 Christoph Soukup (Aut)                                           6.26
25 Milan Spesny (Cze) Merida Biking Team                                
26 Matthias Flückiger (Swi) Athleticum-MTB-Team                     6.53
27 Jürg Graf (Swi) Swisspower Mtb Team                              7.18
28 Yader Zoli (Ita) Giant Italia Team                                   
29 Andreas Kugler (Swi) Fischer-BMC                                 7.33
30 Hannes Metzler (Aut) Giant Mountain Bike Team                    7.41
31 Jeremy Horgan-Kobelski (USA) Subaru-Gary Fisher                  7.53
32 Kristian Hynek (Cze)                                             8.12
33 Martin Gujan (Swi) Athleticum-MTB-Team                           8.37
34 Ivan Alvarez Gutierrez (Spa) Giant Italia Team                   8.48
35 Karl Platt (Ger) Team Bulls                                      8.59
36 Gion Manetsch (Swi) Athleticum-MTB-Team                          9.47
37 Manuel Fumic (Ger) Fumic.Brothers.International                  9.49
38 Jochen Kass (Ger) Team Alb-Gold Mountainbike                     9.54
39 Bas Peters (Ned)                                                 9.59
40 Samuel Schultz (USA) Subaru-Gary Fisher                         10.10
41 Jeremiah Bishop (USA) Trek-VW                                   10.31
42 Dario Alejandro Gasco (Arg) Massi                               10.37
43 Marco Aurelio Fontana (Ita)                                     10.46
44 Nicola Rohrbach (Swi) Central Ghost Pro Team                    10.58
45 Bart Brentjens (Ned) Dolphin-Trek Mountainbike Racing Team      11.11
46 Andras Parti (Hun)                                              11.30
47 Maxime Marotte (Fra) BH-SR. Suntour                             11.41
48 Martin Fanger (Swi)                                             11.50
49 Jiri Friedl (Cze) Merida Biking Team                            12.01
50 Marc Colom (Fra)                                                12.23
51 Klaus Nielsen (Den) Team Alb-Gold Mountainbike                  12.40
52 Chris Jongewaard (Aus) Dolphin-Trek Mountainbike Racing Team    12.50
53 Stéphane Tempier (Fra) Gewiss Bianchi                           12.58
54 Paul Van Der Ploeg (Aus)                                        13.05
55 Pierre Geoffroy Plantet (Fra) Team Lapierre International       13.10
56 Andrea Tiberi (Ita) Giant Italia Team                           13.21
57 Lado Fumic (Ger) Fumic.Brothers.International                   13.53
58 Michael Broderick (USA)                                         14.11
59 Jonathan Galante (Fra)                                          14.27
60 Israel Nunez Baticon (Spa) Massi                                14.58
61 Javier Eduardo Puschel (Chi)                                    15.15
62 Guillaume Vinit (Fra) Scott Valloire Galibier                   15.39

One lap behind

63 Fabien Canal (Fra) Team Lapierre International                       
64 Nicolas Vermeulen (Bel) Lingier-Versluys Team                        
65 Oriol Morata Abril (Spa)                                             
66 Alexis Chenevier (Fra)                                               
67 François Bailly Maitre (Fra) Scott Valloire Galibier                 
68 Sid Taberlay (Aus)                                                   
69 Marco Minnaard (Ned) Beone Chainreaction Mountainbiketeam            
70 Vivien Legastelois (Fra) Team Lapierre International                 
71 Robert Gehbauer (Aut) Multivan Merida Biking Team                    
72 Josef Kamler (Cze) Ceska Sporitelna MTB                              

Two laps behind

73 Lachlan Norris (Aus)                                                 
74 Mathieu Toulouse (Can) Team Maxxis                                   
75 Anders Hovdenes (Nor) Team Etto Hoydahl                              
76 Alejandro Diaz De La Pena Lopez (Spa)                                
77 Lee Williams (GBr)                                                   
78 Jeremy Mounier (Fra)                                                 
79 Marc Trayter Alemany (Spa) ECP-Tau Ceramica                          
80 Giuseppe Lamastra (Ita)                                              
81 Carlos Coloma Nicolas (Spa) ECP-Tau Ceramica                         
82 Ji Jianhua (Chn)                                                     
83 Sébastien Le Naour (Fra) Breiz Mountain                              
84 Matous Ulman (Cze)                                                   
85 Christof Bischof (Swi)                                               

Three laps behind

86 Tim Bohme (Ger) Team Alb-Gold Mountainbike                           
87 Kohei Yamamoto (Jpn)                                                 
88 Freddy Betremieux (Fra) BH-SR. Suntour                               
89 Paul Gaillard (Fra)                                                  
90 Ian Field (GBr)                                                      
91 Hugo Navarian (Fra) Team CIBF Keops                                  
92 Luka Kodra (Slo)                                                     
93 Ludovic Mottet (Bel) Windose Houffalize                              
94 Jo Thorson Nordskar (Nor) Team Etto Hoydahl                          
95 Chun Hing Chan (HKg)                                                 
96 Alexandre Geniez (Fra)                                               

Four laps behind

97 Benoît Thyreault (Fra) Team CIBF Keops                               
98 Joel Martinez Fernandez (And)                                        
99 Ricardo Hazbun Velasquez (Chi)                                       
100 Pierre Fuseau (Fra) Team CIBF Keops                                 

Teams
 
1 GT Bicycle                                                          61 pts
2 Full-Dynamix-It                                                     56
3 Cannondale-Vredestein                                               54
4 Orbea                                                               52
5 Swisspower Mtb Team                                                 46
6 Specialized Factory Racing                                          40
7 Athleticum-MTB-Team                                                 35
8 Team Maxxis                                                         32
9 Team Lapierre International                                         28
10 Cemelorca-Seguros10.Com                                            23
11 Multivan Merida Biking Team                                        21
12 Giant Mountain Bike Team                                           16
13 ECP-Tau Ceramica                                                    9
14 Merida Biking Team                                                  6
15 Giant Italia Team                                                   3
16 Fischer-BMC                                                         2