MTB index page for all MTB content
MTB World Cup XC #4 & DH #2 - CDM
Vallnord, Andorra, May 31-June 1, 2008
Race 1 - May 31: Elite women cross country
Fullana finally makes top spot
By Luke Webber in Vallnord, Andorra
Fullana enjoyed the climbing and that she finally won
Photo ©: Luke Webber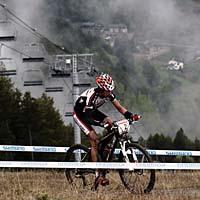 In what was nearly a home race for Spaniard Marga Fullana (Massi), who finally secured her first win in emphatic style on a climber's course in Andorra. Winding through the Pyrenees, the Spaniard started in the same style as every other race this year; pure aggression and leading from the front with the hope that nobody could follow.
Today belonged to a delighted Fullana who will in all likelihood now rest before the World Championships, preferring to miss Fort William next weekend.
"I will probably be staying in Spain and doing some local races for my sponsors, Massi, who have helped me so much this season. This will be my preparations for the World Championships and I am confident of doing well there. After the first three races I have fought a lot and now the reward for the hard work is worth it."
In previous weeks, the aggressive starts were followed by a string of mid-race blues as Fullana could not keep the searing initial pace set and was forced to back off. Today though was not one of those days. A gap opened and there was little hope of anyone closing. The cynics may say this was due to the absence of the strongest riders of all – Gunn Rita Dahle Flesja (Multivan Merida), Sabine Spitz (Team Central Ghost), Irina Kalentieva (Topeak Ergon) – just three of the big names missing from this weekends competition.
A hard and fast opening to the season (three consecutive World Cups, followed by the European Championships and a Bundesliga Cup) has a lot to do with all of these absences. With the World Championships in just four weeks and Olympics not much later, some rightfully have their minds in other places.
Second position for Eva Lechner (Colnago Cap Arreghini) was a career best result and one which she hopes to build on for the Worlds. "From the start I was in third position and chasing Leboucher. On the fourth lap I had a bit of a fright on the decent – Marie [Helen Premont (Rocky Mountain)] was getting a bit close. Hopefully I can keep good form now for the Worlds and Olympics – I am headed straight home to get some good training in and skipping Fort William."
Another podium for Premont was enough to keep the World Cup leaders' jersey in safe hands and although not spectacular it was a result she was satisfied with, especially after early problems with the cold. "It was a hard race today – the first three laps I was so cold I could not steer the bike. I have a condition, when it gets this cold the blood doesn't want to get into my fingers! I couldn't even drink. In the last lap it became better. I am so pleased to have kept the jersey because it should have been so much worse I think."
How the race unfolded
Today's race was very wet and gloves were necessary
Photo ©: Luke Webber

A typically fast start from Fullana immediately put the pressure on every rider and today she succeeded in doing what she has failed to so far – breaking down every chase group, making riders go it alone and lose the rhythm they wanted to set.

On lap one Eva Lechner and Laurence Leboucher chased hard while overall leader Marie Helen Premont struggled with the cold conditions. Heavy rain for the hour before the start sent temperatures plummeting and Premont has a circulatory problem in the cold with her hands. This meant a lack of control on the descents and some strange shaking exercises on the climbs. Another rider not to make a mark was Chengyuan Ren. A poor start erased any chances of glory.

It was instead Ying Liu who was trying to bridge the gap to third as Leboucher dropped back. Pendrel and Premont formed a duo on lap three to bring back the deficit to Lechner but it would not be enough.

Next weekend – with the exception of Lechner and Fullana - it is expected that all the riders will return to Fort William to race the fifth round of the World Cup. This will be the final race to judge form before the second-biggest event of 2008, the World Championships.
Photography
For a thumbnail gallery of these images, click here
Images by Eduard Aguilera
Images by Luke Webber / www.lukewebber.com
Results
Women
 
1 Margarita Fullana (Spa) Massi                                  1.44.34
2 Eva Lechner (Ita) Colnago Cap Arreghini                           1.43
3 Marie-Helene Premont (Can) Rocky Mountain                         1.55
4 Catherine Pendrel (Can) Luna Womens MTB Team                      2.19
5 Nathalie Schneitter (Swi) Colnago Cap Arreghini                   3.16
6 Katerina Nash (Cze) Luna Womens MTB Team                          3.41
7 Tereza Hurikova (Cze) Ceska Sporitelna MTB                        4.14
8 Petra Henzi (Swi) Fischer-BMC                                     4.25
9 Laurence Leboucher (Fra)                                          4.40
10 Nina Homovec (Slo)                                               5.38
11 Katrin Leumann (Swi)                                             6.10
12 Ying Liu (Chn)                                                   6.27
13 Kiara Bisaro (Can)                                               7.00
14 Mary Mc Conneloug (USA)                                          7.17
15 Cécile Rode Ravanel (Fra) Team Lapierre International            7.31
16 Blaza Klemencic (Slo) Giant Italia Team                          8.12
17 Georgia Gould (USA) Luna Womens MTB Team                         8.30
18 Anna Villar Argente (Spa) Massi                                  8.53
19 Adelheid Morath (Ger)                                            9.34
20 Willow Koerber (USA) Subaru-Gary Fisher                         10.01
21 Sabrina Enaux (Fra) Team Lapierre International                 10.16
22 Maria Osl (Aut) Sunshine Racers Asv Nals                        10.48
23 Tanja Zakelj (Slo)                                              11.15
24 Lea Davison (USA) Trek-VW                                       11.32
25 Maroussia Rusca (Swi)                                           11.41
26 Ivonne Kraft (Ger)                                              11.58
27 Heather Irmiger (USA) Subaru-Gary Fisher                        12.03
28 Julie Bresset (Fra) Breiz Mountain                                   
29 Sandra Walter (Can)                                             12.32
30 Sandra Santanyes Murillo (Spa) Cemelorca-Seguros10.Com          13.29
31 Julie Krasniak (Fra) Team Lapierre International                13.48
32 Chengyuan Ren (Chn)                                             14.20
33 Wendy Simms (Can) Kona                                          15.20
34 Francisca Campos Salas (Chi) Massi                              15.33
35 Katrin Schwing (Ger) Dolphin-Trek Mountainbike Racing Team      15.44
36 Caroline Mani (Fra)                                             15.46
37 Rocio Gamonal Ferrera (Spa)                                     16.01
38 Sarah Koba (Swi)                                                16.53
39 Alexandra Engen (Swe)                                           17.09
40 Susan Haywood (USA) Trek-VW                                     17.34
41 Githa Michiels (Bel)                                            18.19
42 Cristina Mascarreras Sabria (Spa) Conor - Camping La Siesta     19.22
43 Zoe King (Aus)                                                  19.39

Two laps behind

44 Rocio Martin Rodriguez (Spa)                                         
45 Ruth Moll Marques (Spa)                                              
46 Sandra Dolcerocca (Den)                                              
47 Fiona Macdermid (GBr)                                                
48 Emma Colson (Aus)                                                    
49 Janka Stevkova (Svk)                                                 
50 Laure Boulay (Fra) Team CIBF Keops                                   
51 Kate Potter (Aus)                                                    
52 Neus Parcerissas (Spa)                                               
53 Jingjing Wang (Chn)                                                  

Three laps behind

54 Daniela Bunzli Rojas (Chi)                                           
55 Liliana Alejandra Uzcategui Vasquez (Ven)                            
56 Asa Maria Erlandsson (Swe) Subaru-Gary Fisher                        
57 Jennifer Fischer (Fra) Team CIBF Keops                               

Four laps behind

58 Athina Chatzistyli (Gre)                                             
 
Women's teams
 
1 Luna Womens MTB Team                                                70 pts
2 Colnago Cap Arreghini                                               63
3 Massi                                                               53
4 Rocky Mountain                                                      32
5 Team Lapierre International                                         26
6 Ceska Sporitelna MTB                                                24
7 Fischer-BMC                                                         23
8 Giant Italia Team                                                   15
9 Subaru-Gary Fisher                                                  15
10 Sunshine Racers Asv Nals                                            9
11 Trek-VW                                                             7
12 Breiz Mountain                                                      3
13 Cemelorca-Seguros10.Com                                             1