MTB index page for all MTB content
BC Bike Race - SR
Canada, June 28-July 4, 2008
Main Page Results Overall standings Previous Stage Next Stage
Stage 5 - July 2: Sechelt - Squamish, 65km
Singletrack heaven on day five
McGrath and Sheppherd claim unofficial stage win
The race departs from Sechelt on day five
Photo ©: Dave Silver Photo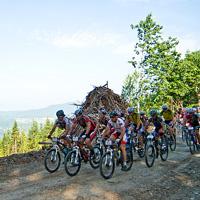 Seamus McGrath and his partner Chris Sheppherd (Mona Vie Cannondale) absolutely tore up the course to claim the top podium position on stage five, with a time of 3.43.38. Despite this, their second blazing podium win this week (the pair won stage three that ended in Cumberland), McGrath and Sheppherd are not officially ranked and therefore don't qualify for the daily jersey. But that has not stopped them from flying through the course to trounce their competition. McGrath, a strong Canadian Olympic contender for Beijing, will race all seven days in preparation for his races in China.
Taking the overall position was hometown local, Kris Sneddon, along with partner Barry Wicks (Team Kona). Team Kona retains the leader's jersey over the Trek VW duo of Chris Eatough and Jeff Schalk with Jason Sager and Bart Gilliespie (Mona Vie Cannondale) in third.
The remaining categories have shown no signs of change among the category leaders - the Open Women's category was won by Sara Bresnik-Zocchi and Kelli Emmett (Team Taint Slo); Open Mixed category won by Wendy Simms and Normon Thibeault (Team Kona - In Memory of Denis Fontaine); 80+ won by Andrew Hartford and Pay Doyle (Different Bikes Deadgoat Racing); and 100+ category won by Brian and Bruce Johnson (Double Shot).
North shore-style features
Photo ©: Dave Silver Photo

BC Bike Race competitors spent the better part of day five drinking from course designer Rod Camposano's overflowing singletrack cup, including trails like lower Jekyll & Hyde, which Camposano described as, "...very intense. Very intense...but it's so much fun!" Camposano was rubbing his hands together with delight waiting to see the leaders come ripping through his trail selection.
Sweeping trails through the forest
Photo ©: Dave Silver Photo

If the expression on racers' faces was any indication of the level of enjoyment of stage five, then Camposano's course was once again a hit. And, it clearly seems to be a strong contender of the best stage contest, for which Camposano is defending champion. With access to such an amazing, growing network of singletrack trails, the BC Bike Race could be spending considerable time here.
Ryan Draper (Team Canmore) flew into the finish area with the most infectious grin on his face, threw back his head and let out a string of hoots and hollers before turning to Andreas Hestler and saying, "That was honestly the best singletrack day I've ever had in my entire life!" Countless other stage five riders rolled across the Langdale finish with similar enthusiasm.
Stage 6 - July 3: The Best of Squamish, 65km
Stage six brings together two challenging and classic mountain bike race courses: Gearjammer and Test of Metal. The stage is approximately 65 km long, with 5000 feet of climbing. Finishing times are expected to be around three-and-a-half to seven hours.
Photography
For a thumbnail gallery of these images, click here
Images by Dave Silver Photo /www.davesilverphoto.com
Results
Men

1 Kris Sneddon and Barry Wicks (Can)/(USA) Kona                                         3.43.38 (22.7 km/h)
2 Andreas Hestler and Max Plaxton (Can)/(Can) Rocky Mountain Bikes                             
3 Jason Sager and Bart Gilliespie (USA)/(USA) Mona Vie Cannondale                          2.30
4 Chris Eatough and Jeff Schalk (USA)/(USA) Trek VW Mountain Bike Team                     4.36
5 Tim Bennett and Adrian Jackson (Aus)/(Aus) Flight Centre                                16.00
6 Tate Graves and Jesse Swift (USA)/(USA) Bikeparts.com                                   17.36
7 Ian Mackie and Logan Wetzel (USA)/(USA) Team Benaroya II                                20.57
8 Justin Mark and Jeff Riemer (Can)/(Can) Helly Hansen                                    23.10
9 Tyler Merritt and Brooke Scatchard (USA)/(USA) Green Mountain Boys                      27.13
10 Russell Stevenson and Toby Swanson (USA)/(USA) Team Benaroya III                       27.57
11 Manuel Prado and Marvin Campos (CRc)/(CRc) La Ruta / Sho-Air / Economy Car Rental      30.46
12 Leighton Poidevin and Ryan Draper (Can)/(Can) Team Canmore                             31.21
13 Nat Ross and Chris Beck (USA)/(USA) Subaru-Gary Fisher                                 32.27
14 Simon Zahnd and Ramon Krebs (Swi)/(Swi) Hirslanden-Globetrotter On                     33.01
15 Erik Bakke and Jon Nutbrown (Can)/(Can) Ridley's Cycle/Deadgoat Racing                 37.04
16 Roger Bartels and Shane Bresnyan (USA)/(USA) Norcal Bike Sport / Mountain Hardware     37.15
17 John Courtney and Sullivan Reed (Can)/(Can) Cycle Logic                                37.44
18 James Kennedy and Nick Both (Aus)/(Aus) Flight Centre - B                              38.25
19 Warren Ellis and Ron Ellis (Can)/(Can) Eagle Homes                                     42.17
20 Kevin Perry and Jimi Mortenson (USA)/(USA) Beaver Creek 1                              43.36
21 Jason First and Matt Ryan (USA)/(Can) Crank Brothers                                   43.37
22 Gant Enderle and Grant Folske (USA)/(USA) Cyclepath                                    44.32
23 Graham Tutti and Adam Smith (Can)/(Can) Comor / John Henry                             45.31
24 Tinker Juarez and Mitchell Peterson (USA)/(USA) Monavie Cannondale                     50.27
25 Toph Leonard and Zach Bingham (USA)/(USA) Beaver Creek 2                               50.52
26 Gary Robbins and Todd Nowack (Can)/(Can) Momar / Helly Hansen                          51.06
27 Robin Dutton and Jay Latiff (Can)/(Can) Arrowsmith Bikes                               51.09
28 Robert Kranz and Chip Meek (USA)/(USA) Spin / Dieringer Bikes                          51.15
29 Peter Butt and Dave Nairn (USA)/(Aus) Butt                                             52.05
30 Drew Simson and Jon Firth (Can)/(Can) Ridin' Dirty                                     56.10
31 Paul Chetwynd and Yoshito Tsuji Japan/(Can) Brown Fish Jumpers                       1.04.18
32 Scott Penzarella and Grant Smith (USA)/(USA) Team Bike-Rx                            1.04.29
33 Jason Sumner and Reed Melton (USA)/(USA) Melton-Sumner                               1.10.00
34 Barry Lyster and Steven Devantier (Can)/(Can) Team Pedal                             1.11.02
35 Jason Berry and Jonathan Posner (USA)/(USA) Gripped Films/Kenda (GFK) Racing         1.11.16
36 Aaron Vanderwaal and Andrew Rigel (USA)/(USA) Mafia Racing                           1.12.08
37 Aaron Amar and John Loewen (Can)/(Can) Don't $$#@! With John And Aaron               1.13.55
38 Jay Clinton and Edward Moreadith (USA)/(USA) APB/BWR-Asheville                       1.17.27
39 Brian Stevenson and Jeffrey Carter (USA)/(USA) Bc Buds                               1.17.52
40 Timmy Dougherty and Dejay Birtch (USA)/(USA) Sobe/Cannondale/Niner                   1.20.33
41 David Huntley and Trevor Jones (Can)/(Can) Team Norco/ Experience Cycling            1.35.26
42 Ryan Shebelsky and Douglas Lange (USA)/(USA) Go Cyco                                 1.37.43
43 Duane Epp and Stephen Chapman (Can)/(Can) Team Suck                                  1.38.23
44 Danny Johnston and Brian Gibbons (Can)/(Can) 42                                      1.44.04
45 Trevor Stone and Clive Russell (Can)/(Can) Spin Doctors                              1.44.18
46 Clarke Tanner and Jeff Plassman (USA)/(USA) Optimal Solutions Physical Therapy       1.45.42
47 Michael Schmidt and Bill Bruzzese (USA)/(USA) Velocity                               1.47.23
48 Stuart Horak and Hugh Thompson (Can)/(Can) Horak                                     1.47.47
49 Joest Hoekstra and Oscar Balsalobre (Swi)/(Swi) J&O                                  1.48.52
50 Matthew Young and Richard Alm (Can)/(Can) Innovative Fitness                         1.49.57
51 Peter Mason and Anthony Bereznai (Can)/(Can) Big Ring Racing's Ripped Ninja Squad    1.51.56
52 Craig Barlow and Mark Macnab (Can)/(Can) Big Ring Racing                             1.59.24
53 Michael Dougherty and Stewart Mc Intosh (Can)/(Can) The Inflatables                  2.01.23
54 Mark Duk and Brad Marlborough (Can)/(Can) Pain For Pleasure                          2.02.56
55 Kevin Smith and Stewart Kerr (Can)/(Can) Skyline                                     2.03.18
56 Lester Pardoe and Geoff Luttrell (USA)/(USA) The Chippy Minton's                     2.03.51
57 Steve Tam and James Odbert (USA)/(USA) Visenka - We Love Bacon                       2.04.26
58 Keith Bailey and Sean Elliott (GBr)/(GBr) Beef Pie                                   2.10.57
59 Tony Webster and Donatus Kulisch (Can)/(Ger) Don Quijotes                            2.14.07
60 Andrew Hamilton and Steve Wickham (Can)/(Can) Slow Twitch                            2.16.12
61 Stefan Birrer and Agustin UreŃ▒A (Mex)/(Mex) Sector Bike                             2.19.18
62 Tim Neal and Wayne O'Young (Aus)/(Aus) Puffing Billy Goats                           2.20.27
63 Stewart Grimm and Cosmo Richards (Can)/(HKg) Fat Monkeys                             2.22.53
64 Gary Tait and Darryl Steane (Can)/(Can) Ice Road Bikerz                              2.23.56
65 James Northwood and Travis Astell (Can)/(Can) Pedal Beyond                           2.28.06
66 Steve Francis and Sam Masson (USA)/(USA) Bloody Rippers                              2.28.35
67 Michael Zocchi and Richard Blair (USA)/(USA) Zocchi-Blair Project                    2.29.30
68 Jason Edens and Randy Salamon (USA)/(USA) Recycled Cycles                            2.37.05
69 Michael Kehler and Brady Holland (Can)/(Can) Team Holsby                             2.37.38
70 Andrew Clayton and Martin Bain Venn (GBr)/(GBr) South African Tough Men              2.37.55
71 Craig Bartlett and Dave Brown (Can)/(Can) Craig/Dave                                 2.44.53
72 Christian Bowman and Daniel Ness (USA)/(USA) Schweddy Chamois                        2.46.47
73 Erik Larson and Neal Baker (Can)/(Can) Fat Man And Little Boy                        2.50.31
74 Dan Higginson and Nick Hartwell (GBr)/(GBr) Pork Pie                                 3.00.22
75 Sheldon Thistle and Darcy Lawley (Can)/(Can) Chouda Glide                            3.04.11
76 Alan Bransdon and Joseph Krznaric (Can)/(Can) Flaming Gallah                         3.04.13
77 Garry Westcott and Francisco Alba (Can)/(Mex) Save Your Skin                         3.06.27
78 Mark Gedraitis and Duane Turgeon (USA)/(USA) Massholes On Wheels                     3.10.23
79 Mike Mikuska and Glen Moore (Can)/(Can) M                                            3.14.04
80  Unknown and Unknown (Can)/(Can) Unknown                                             3.15.35
81 Jorge Schiller and Javier Lerma (Mex)/(Mex) Sinaloa Bikes                            3.23.53
82 Volker Rosendahl and Alfre Fuentes Espinosa (USA)/(USA) Transalp Conquerors          3.25.19
83 Michael Lingelbach and David Reid (USA)/(USA) Klunker                                3.25.27
84 Charles Eagan and Jason Clarke (Can)/(Can) Go Orange                                 3.39.52
85 Brian Edmond and Thomas Fletcher (Can)/(Can) Go Banana                               3.39.54
86 Sergio Alejandro Paez and Mauricio Osorio (Col)/(Col) Synergy Adventure Colombia     3.40.42
87 Bernado Casillas and Juan Anaya (Mex)/(Mex) Cimabike.com.Mx                          3.43.48
88 Mike Johnson and Richard Usher-Jones (Can)/(Can) Johnson Usher-Jones                 3.50.46
89 Roy Wallack and Ed Korb (USA)/(USA) LA Times - REI                                   3.58.37
DNF Moshe Hakimi and Bruno Therond (Aho)/(Aho) Crashed Helmet                                  
 
Women

1 Sara Bresnick-Zocchi and Kelli Emmett (USA)/(USA) Taint Slo                           4.43.55 (18.8 km/h)
2 Kristenn Magnusson and Lisa Ludwig (Can)/(Can) Helly Hansen Vancouver Island            28.49
3 Jennifer Sica and Heidi Clayton (USA)/(USA) Thiele's Automotive                         38.50
4 Katie Lindquist and Amy Harris (USA)/(USA) Lindquist                                    47.20
5 Michelle Newton and Alex Watson (Can)/(Can) Steed Sistas                                59.10
6 Elizabeth Vollmer and Cristina Begy (USA)/(USA) Miss Mavericks                        1.18.03
7 Tanya Hanham and Kari Ferlatte (Can)/(Can) Big Ring Racing-Fresh Air Experience       1.20.05
8 Lisa Le Poole and Alana Heise (Can)/(Can) Creeky Saddles                              1.29.12
9 Emily Chastain and Kirsty Exner (Can)/(Can) Kirs N Em Bikes                           1.31.03
10 Jodi Siever and Cathy Graham (Can)/(Can) Double Trouble                              1.59.37
11 Karley Cunningham and Vik Veldhoen (Can)/(Can) Dead Last                             2.12.19
12 Kathleen Negraeff and Cheryl Giffin (Can)/(Can) West Side Moms Like Dirt             2.12.32
13 Jessica Fleishman and Meg Cronin (USA)/(USA) Contessas                               2.42.20
14 Trina Prior and Donna Green (Can)/(Can) Tired Butt Inspired                          2.59.50
DNF Fanny Paquette and Vanessa Stark (Can)/(Can) Mountain Biking                               
 
Mixed

1 Wendy Simms and Normon Thibault (Can)/(Can) Kona-Riding In Memory Of Denis            4.12.19 (20.5 km/h)
2 Mark Compton and Katie Compton (NZl)/(USA) Spike Shooter                                 2.12
3 Matt Ohran and Sue Butler (USA)/(USA) Monaviecannondale.com Mixed                       20.18
4 Trish Grajczyk and Craig Stappler (Can)/(Can) Deadgoat Racing                           43.39
5 Carena Dean and Andy Reed (Can)/(Can) Beerless Fevers                                   43.49
6 Kate Aardal and Chad Houston (Can)/(Can) Team North Of Here                             44.05
7 Steve Woo and Jo Bennett (USA)/(Aus) Sportgenic                                         55.11
8 Tamara Goeppel and Thomas Tetz (Can)/(Can) Leki Bikextreme                            1.00.46
9 Kristin Kopec and Mike Kopec (Aho)/(Aho) Kopec                                        1.09.44
10 Bill Trayling and Jenny Hillman (Can)/(Can) Runningfree.com                          1.18.26
11 Shaun Bergen and Annie Bergen (Can)/(Can) Team Bergen                                1.23.57
12 Michael Costigan and Andrea Kraft Costigan (Can)/(Can) Dakine                        1.34.17
13 Steven Blake and Julie Blake (Aus)/(Aus) Steamin Van Diemens                         1.40.19
14 Teresa Dewitt and Dick Luttekes (Aho)/(Aho) Dickwitt                                 1.41.00
15 Kevin Diamond and Stacey Seidel (USA)/(USA) Lady & The Tramp                         1.56.20
16 Thomas Daley and Tara Irwin (Can)/(Can) Rebound                                      1.59.55
17 Sandra Garnier and Ronan Garnier (Aho)/(Aho) Crash Test Dummies                      2.02.34
18 Craig Tolson and Bridget Mcmillian (NZl)/(NZl) Peddly Intent                         2.06.49
19 Lucy Jordan and Drew Jordan (USA)/(USA) Married With Bikes                           2.09.13
20 Nikki Licht and Andrew Dye (Can)/(Can) Fig Rolls Racing                              2.12.29
21 Eric Goehle and Christie Goehle (USA)/(USA) Citrasate.com                            2.20.42
22 Melanie Lewis and Terry Turpening (USA)/(USA) Bikebooboos.com                        2.20.44
23 Chris Edwards and Kim Whitehouse (Aus)/(Aus) Cbd Sydney                              2.24.33
24 Heather Macintosh and Billy Adams (Can)/(Can) De Apples                              2.24.34
25 Kerstin Loeffler and Kiessling Gerhard (Ger)/(Ger) Los Bandidos / Ghost Racing       2.34.16
26 Laura Fer Mejia Arroyo and Alonso Sanchez Ramos (Mex)/(Mex) CJ Bros.                 2.37.44
27 Michael Casamassa and Katherine Redden (USA)/(USA) Pure Austin/Team Schein           2.48.56
28 Darren Harrold and Kelly Macdougall (Can)/(Can) Harrold                              2.49.17
29 Devyani Kamdar and Alan Nichols (USA)/(USA) K2 Steep & Deep                          2.57.29
30 Stephen Downey and Rachel Downey (USA)/(USA) Downey                                  3.08.44
31 Christoph Beyer and Holde Schneider (Ger)/(Ger) Mountainbike Magazin Cube-           3.40.33
 
Veterans Combined 80+

1 Mark Thompson and David Overstreet (USA)/(USA) Spike Shooter                          4.26.50
2 Dave Harrison and Matt Luhn (USA)/(USA) Grip It & Rip It                                 1.41
3 Andrew Handford and Pat Doyle (Can)/(Can) Different Bikes Deadgoat                       8.49
4 John Ramsden and Tim Graversen (Can)/(Can) Steed Cycles Dark Horse Racing               12.26
5 Christian Stab Eriksen and Brede Arntzen (Nor)/(Nor) Centra Pathfinders                 15.03
6 Tom Ebbern and Dave Crewe (Can)/(Can) Ellsworth Canucks                                 22.58
7 Brent Martin and Richard Boase (Can)/(Can) Ryders                                       24.43
8 Trever Bushnell and Mike Thiele (USA)/(USA) Thiele's Automotive                         26.32
9 Vince Haag and Russ Moul (USA)/(USA) Playin' Dirty                                      37.09
10 Thomas Hayes and David Miller (USA)/(USA) The Grande Americanos                        52.53
11 Graham Ross and Michael Brooks (Can)/(Can) Different Bikes 2                           54.17
12 Stuart Jones and Trevor Plestid (Can)/(Can) Winded                                     58.02
13 Rob Foord and Jordan Grasby (Can)/(Can) Olympia Cycle And Kal Tire                   1.09.22
14 Tim Hudema and Glen Bos (Can)/(Can) Team Moose Mountain                              1.09.27
15 Benjamin Cornell and Wes Barton (USA)/(USA) Team Now - No Opportunity Wasted         1.10.13
16 Steve Swenson and Mike Livingston (Can)/(MAR) Giant/Cyclepath Calgary                1.14.24
17 Tony Meleg and Nick Abbott (USA)/(USA) Fat Cyclists                                  1.15.02
18 Craig Vandelist and Tom Gettelman (USA)/(USA) Old Badgers                            1.15.16
19 Bruce Wilson and Jordie Allen-Newman (USA)/(Can) Team Power To Be/Cycopath           1.16.09
20 Kris Tobias and David Dermont (Can)/(Can) Ride For Karen                             1.16.46
21 Grant Richardson and Gary Bavis (Can)/(Can) Threesixtythree                          1.23.01
22 Rick Bruce and Mark Kaltenbach (Can)/(Can) Special Needs                             1.23.35
23 David Richardson and Garth Campbell (Can)/(Can) Stop Looking At My Bum               1.33.56
24 Bruce Gordon and Ken Knight (Can)/(Can) Evin Ross/Bruceco Roofing                    1.34.45
25 Rick Metzger and Craig Marshall (Can)/(Can) Vulture Enterprises                      1.44.53
26 Andy Bentley and Andy Gilbert (USA)/(USA) Mud Slugs                                  1.46.15
27 Stefan Muller and Geoff Huenemann (Can)/(Can) Bike Over Tea Kettle                   1.50.28
28 Greg Buzanis and Larry Price (USA)/(USA) Coppertank Boyz                             1.50.45
29 Gary Hill and Gero Backhaus (GBr)/(Ger) Uk Double Dutch Pancake Bar                  1.52.23
30 Gary Tee and Peter Brown (GBr)/(GBr) Tee                                             1.52.27
31 Angel Gioia and Eric Schroeder (FWI)/(USA) Adventure Seekers                         1.52.38
32 Rob Pease and Brent Lesley (USA)/(USA) Mountain Top Cyling                           2.08.52
33 Todd Moyer and Chris Morris (USA)/(USA) Moyer                                        2.15.43
34 Scott Thomson and Rocky Moise (Can)/(Can) Shockdocs                                  2.18.36
35 Roland Lockhart and John Bence (Can)/(Can) Lockhart                                  2.19.01
36 Scott Mcmillian and Bill Earthman (USA)/(USA) Peak Fitness Racing                    2.21.46
37 Enrique De Alba and Carlos Alberto Moran (Mex)/(Mex) Chahuistle Guanajuato Team             
38 Sergio Antoni Gonzalez and Victor M Ramirez Amaro (Mex)/(Mex) Cimabike.com.Mx               
39 Michelle Klapatiuk and Chris Klapatiuk (Can)/(Can) Married With Children             2.33.26
40 Kevin Clapperton and Gaz Clapperton (Can)/(Can) Team Wobbly Wheels                   2.50.06
41 Grant Fenton and Chris Voyvodic (USA)/(USA) Steamboat                                2.55.21
42 Michael Mcmaude and Charles Bisantz (USA)/(USA) Voyager Health Care                  2.56.29
43 Robert Forster and Matthew Della Croce (USA)/(USA) Phase Iv Scientific Health        3.15.25
 
Veterans Combined 100+

1 Brian Johnson and Bruce Johnson (Can)/(Can) Double Shot                               5.30.43
2 Andy Klumb and Kent Eriksen (USA)/(USA) Bicilibre                                       22.42
3 Brad Neumann and Steve Wright (USA)/(USA) Deer Creek Destroyers                         58.01
4 Paul Mier and Brian Mccormick (Can)/(Can) Badger Boys                                 1.01.20
5 Greg Mcdougall and Graeme Fitch (Can)/(Can) Harbour Air                               1.02.21
6 John Carruthers and Chris Soby (Can)/(Can) Don't Know Until You Go                    1.37.25
7 Guy Dutil and Mark Cox (Can)/(USA) Team Camacc                                        2.02.30
8 Simon Parker and Paul Bougourd (Can)/(GBr) Climb And Punishment                       2.03.41
DNF Michael Dubin and Ted Kahan (USA)/(USA) Dubin's Revenge                                    
 
4 Person teams

1 4 Person Team (Can) BC Ferries                                                        5.05.16
2 4 Person Team (Can) BCBR Team Payne                                                     35.56
3 4 Person Team (Can) Endless Biking                                                    1.53.57
4 4 Person Team (Mex) Leon                                                              2.06.00
DNF 4 Person Team (USA)/(Fra) Novak                                                     2.19.58


Note:  *Stage results only include those who contended for GC.

General classification after stage five

Men

1 Kris Sneddon and Barry Wicks (Can)/(USA) Kona                                         19.28.20
2 Chris Eatough and Jeff Schalk (USA)/(USA) Trek VW Mountain Bike Team                      9.53
3 Jason Sager and Bart Gilliespie (USA)/(USA) Mona Vie Cannondale                          28.15
4 Tim Bennett and Adrian Jackson (Aus)/(Aus) Flight Centre                                 33.35
5 Manuel Prado and Marvin Campos (CRc)/(CRc) La Ruta / Sho-Air / Economy Car Rental        49.19
6 Nat Ross and Chris Beck (USA)/(USA) Subaru-Gary Fisher                                 1.30.55
7 Russell Stevenson and Toby Swanson (USA)/(USA) Team Benaroya III                       1.37.09
8 Jason First and Matt Ryan (USA)/(Can) Crank Brothers                                   2.03.43
9 Ian Mackie and Logan Wetzel (USA)/(USA) Team Benaroya II                               2.13.46
10 Roger Bartels and Shane Bresnyan (USA)/(USA) Norcal Bike Sport / Mountain Hardware    2.28.31
11 Leighton Poidevin and Ryan Draper (Can)/(Can) Team Canmore                            2.28.45
12 Tate Graves and Jesse Swift (USA)/(USA) Bikeparts.com                                 2.40.53
13 James Kennedy and Nick Both (Aus)/(Aus) Flight Centre - B                             2.42.21
14 Kevin Perry and Jimi Mortenson (USA)/(USA) Beaver Creek 1                             2.43.20
15 Justin Mark and Jeff Riemer (Can)/(Can) Helly Hansen                                  3.02.09
16 Warren Ellis and Ron Ellis (Can)/(Can) Eagle Homes                                    3.04.27
17 Tyler Merritt and Brooke Scatchard (USA)/(USA) Green Mountain Boys                    3.05.06
18 Simon Zahnd and Ramon Krebs (Swi)/(Swi) Hirslanden-Globetrotter On                    3.16.15
19 Graham Tutti and Adam Smith (Can)/(Can) Comor / John Henry                            3.23.43
20 Gary Robbins and Todd Nowack (Can)/(Can) Momar / Helly Hansen                         3.42.37
21 Gant Enderle and Grant Folske (USA)/(USA) Cyclepath                                   4.04.28
22 Tinker Juarez and Mitchell Peterson (USA)/(USA) Monavie Cannondale                    4.06.19
23 Drew Simson and Jon Firth (Can)/(Can) Ridin' Dirty                                    4.11.01
24 Scott Penzarella and Grant Smith (USA)/(USA) Team Bike-Rx                             4.25.43
25 Erik Bakke and Jon Nutbrown (Can)/(Can) Ridley's Cycle/Deadgoat Racing                4.29.20
26 John Courtney and Sullivan Reed (Can)/(Can) Cycle Logic                               4.46.18
27 Aaron Vanderwaal and Andrew Rigel (USA)/(USA) Mafia Racing                            4.53.13
28 Peter Butt and Dave Nairn (USA)/(Aus) Butt                                            5.04.00
29 Paul Chetwynd and Yoshito Tsuji Japan/(Can) Brown Fish Jumpers                        5.15.03
30 Timmy Dougherty and Dejay Birtch (USA)/(USA) Sobe/Cannondale/Niner                    5.15.42
31 Duane Epp and Stephen Chapman (Can)/(Can) Team Suck                                   5.18.58
32 Robin Dutton and Jay Latiff (Can)/(Can) Arrowsmith Bikes                              5.25.15
33 Barry Lyster and Steven Devantier (Can)/(Can) Team Pedal                              5.25.46
34 Toph Leonard and Zach Bingham (USA)/(USA) Beaver Creek 2                              5.32.44
35 Robert Kranz and Chip Meek (USA)/(USA) Spin / Dieringer Bikes                         6.19.38
36 Aaron Amar and John Loewen (Can)/(Can) Don't $$#@! With John And Aaron                6.23.43
37 Jason Sumner and Reed Melton (USA)/(USA) Melton-Sumner                                6.32.12
38 Jason Berry and Jonathan Posner (USA)/(USA) Gripped Films/Kenda (GFK) Racing          6.43.13
39 Stuart Horak and Hugh Thompson (Can)/(Can) Horak                                      6.45.10
40 Jay Clinton and Edward Moreadith (USA)/(USA) APB/BWR-Asheville                        7.04.27
41 Brian Stevenson and Jeffrey Carter (USA)/(USA) Bc Buds                                7.12.00
42 Trevor Stone and Clive Russell (Can)/(Can) Spin Doctors                               7.18.26
43 Ryan Shebelsky and Douglas Lange (USA)/(USA) Go Cyco                                  7.29.36
44 Lester Pardoe and Geoff Luttrell (USA)/(USA) The Chippy Minton's                      8.31.13
45 Craig Barlow and Mark Macnab (Can)/(Can) Big Ring Racing                              8.33.05
46 Peter Mason and Anthony Bereznai (Can)/(Can) Big Ring Racing's Ripped Ninja Squad     8.46.38
47 David Huntley and Trevor Jones (Can)/(Can) Team Norco/ Experience Cycling             8.56.37
48 Kevin Smith and Stewart Kerr (Can)/(Can) Skyline                                      9.00.01
49 Stewart Grimm and Cosmo Richards (Can)/(HKg) Fat Monkeys                              9.04.36
50 Tony Webster and Donatus Kulisch (Can)/(Ger) Don Quijotes                             9.25.58
51 Danny Johnston and Brian Gibbons (Can)/(Can) 42                                       9.49.55
52 Mark Duk and Brad Marlborough (Can)/(Can) Pain For Pleasure                           9.57.16
53 Michael Schmidt and Bill Bruzzese (USA)/(USA) Velocity                               10.00.31
54 Tim Neal and Wayne O'Young (Aus)/(Aus) Puffing Billy Goats                           10.30.23
55 Matthew Young and Richard Alm (Can)/(Can) Innovative Fitness                         10.47.10
56 Michael Dougherty and Stewart Mc Intosh (Can)/(Can) The Inflatables                  10.55.37
57 Clarke Tanner and Jeff Plassman (USA)/(USA) Optimal Solutions Physical Therapy       11.02.42
58 Gary Tait and Darryl Steane (Can)/(Can) Ice Road Bikerz                              11.09.48
59 Stefan Birrer and Agustin UreŃ▒A (Mex)/(Mex) Sector Bike                             11.18.57
60 Joest Hoekstra and Oscar Balsalobre (Swi)/(Swi) J&O                                  11.33.57
61 Andrew Clayton and Martin Bain Venn (GBr)/(GBr) South African Tough Men              11.38.25
62 Keith Bailey and Sean Elliott (GBr)/(GBr) Beef Pie                                   12.09.47
63 Jason Edens and Randy Salamon (USA)/(USA) Recycled Cycles                            12.26.29
64 James Northwood and Travis Astell (Can)/(Can) Pedal Beyond                           12.39.51
65 Andrew Hamilton and Steve Wickham (Can)/(Can) Slow Twitch                            12.57.58
66 Michael Kehler and Brady Holland (Can)/(Can) Team Holsby                             13.54.53
67 Sheldon Thistle and Darcy Lawley (Can)/(Can) Chouda Glide                            13.55.57
68 Michael Lingelbach and David Reid (USA)/(USA) Klunker                                14.13.02
69 Craig Bartlett and Dave Brown (Can)/(Can) Craig/Dave                                 14.23.14
70 Brian Edmond and Thomas Fletcher (Can)/(Can) Go Banana                               14.59.36
71 Christian Bowman and Daniel Ness (USA)/(USA) Schweddy Chamois                        15.05.42
72 Alan Bransdon and Joseph Krznaric (Can)/(Can) Flaming Gallah                         15.17.31
73 Mark Gedraitis and Duane Turgeon (USA)/(USA) Massholes On Wheels                     15.24.09
74 Bernado Casillas and Juan Anaya (Mex)/(Mex) Cimabike.com.Mx                          15.33.12
75 Garry Westcott and Francisco Alba (Can)/(Mex) Save Your Skin                         16.57.28
76 Sergio Alejandro Paez and Mauricio Osorio (Col)/(Col) Synergy Adventure Colombia     17.28.37
77 Charles Eagan and Jason Clarke (Can)/(Can) Go Orange                                 17.38.07
78 Mike Johnson and Richard Usher-Jones (Can)/(Can) Johnson Usher-Jones                 17.48.06
79 Jorge Schiller and Javier Lerma (Mex)/(Mex) Sinaloa Bikes                            18.26.35
80 Roy Wallack and Ed Korb (USA)/(USA) LA Times - REI                                   21.45.28
 
Women

1 Sara Bresnick-Zocchi and Kelli Emmett (USA)/(USA) Taint Slo                           23.46.38
2 Kristenn Magnusson and Lisa Ludwig (Can)/(Can) Helly Hansen Vancouver Island           2.28.11
3 Katie Lindquist and Amy Harris (USA)/(USA) Lindquist                                   2.38.36
4 Michelle Newton and Alex Watson (Can)/(Can) Steed Sistas                               4.13.48
5 Jennifer Sica and Heidi Clayton (USA)/(USA) Thiele's Automotive                        4.28.36
6 Lisa Le Poole and Alana Heise (Can)/(Can) Creeky Saddles                               5.40.14
7 Elizabeth Vollmer and Cristina Begy (USA)/(USA) Miss Mavericks                         5.59.14
8 Emily Chastain and Kirsty Exner (Can)/(Can) Kirs N Em Bikes                            7.29.37
9 Tanya Hanham and Kari Ferlatte (Can)/(Can) Big Ring Racing-Fresh Air Experience        8.02.29
10 Jodi Siever and Cathy Graham (Can)/(Can) Double Trouble                               8.21.36
11 Karley Cunningham and Vik Veldhoen (Can)/(Can) Dead Last                             10.24.51
 
Mixed

1 Wendy Simms and Normon Thibault (Can)/(Can) Kona-Riding In Memory Of Denis            21.39.47
2 Matt Ohran and Sue Butler (USA)/(USA) Monaviecannondale.com Mixed                      1.18.43
3 Mark Compton and Katie Compton (NZl)/(USA) Spike Shooter                               1.39.02
4 Trish Grajczyk and Craig Stappler (Can)/(Can) Deadgoat Racing                          2.58.00
5 Kate Aardal and Chad Houston (Can)/(Can) Team North Of Here                            3.36.24
6 Kristin Kopec and Mike Kopec (Aho)/(Aho) Kopec                                         3.43.42
7 Steve Woo and Jo Bennett (USA)/(Aus) Sportgenic                                        3.53.54
8 Carena Dean and Andy Reed (Can)/(Can) Beerless Fevers                                  4.17.12
9 Tamara Goeppel and Thomas Tetz (Can)/(Can) Leki Bikextreme                             4.30.48
10 Bill Trayling and Jenny Hillman (Can)/(Can) Runningfree.com                           4.45.16
11 Teresa Dewitt and Dick Luttekes (Aho)/(Aho) Dickwitt                                  6.17.59
12 Shaun Bergen and Annie Bergen (Can)/(Can) Team Bergen                                 6.52.57
13 Steven Blake and Julie Blake (Aus)/(Aus) Steamin Van Diemens                          7.34.45
14 Sandra Garnier and Ronan Garnier (Aho)/(Aho) Crash Test Dummies                       7.57.09
15 Michael Costigan and Andrea Kraft Costigan (Can)/(Can) Dakine                         8.56.05
16 Chris Edwards and Kim Whitehouse (Aus)/(Aus) Cbd Sydney                               9.09.56
17 Kevin Diamond and Stacey Seidel (USA)/(USA) Lady & The Tramp                          9.16.48
18 Craig Tolson and Bridget Mcmillian (NZl)/(NZl) Peddly Intent                          9.54.02
19 Eric Goehle and Christie Goehle (USA)/(USA) Citrasate.com                            10.00.54
20 Nikki Licht and Andrew Dye (Can)/(Can) Fig Rolls Racing                              10.27.28
21 Laura Fer Mejia Arroyo and Alonso Sanchez Ramos (Mex)/(Mex) CJ Bros.                 11.05.08
22 Kerstin Loeffler and Kiessling Gerhard (Ger)/(Ger) Los Bandidos / Ghost Racing       11.19.29
23 Lucy Jordan and Drew Jordan (USA)/(USA) Married With Bikes                           11.22.36
24 Heather Macintosh and Billy Adams (Can)/(Can) De Apples                              12.12.16
25 Devyani Kamdar and Alan Nichols (USA)/(USA) K2 Steep & Deep                          13.09.49
26 Michael Casamassa and Katherine Redden (USA)/(USA) Pure Austin/Team Schein           14.40.51
27 Christoph Beyer and Holde Schneider (Ger)/(Ger) Mountainbike Magazin Cube-           15.09.31
 
Veterans Combined 80+

1 Andrew Handford and Pat Doyle (Can)/(Can) Different Bikes Deadgoat                    22.35.32
2 Mark Thompson and David Overstreet (USA)/(USA) Spike Shooter                             12.03
3 Dave Harrison and Matt Luhn (USA)/(USA) Grip It & Rip It                                 21.58
4 Christian Stab Eriksen and Brede Arntzen (Nor)/(Nor) Centra Pathfinders                2.03.50
5 Tom Ebbern and Dave Crewe (Can)/(Can) Ellsworth Canucks                                2.05.09
6 Trever Bushnell and Mike Thiele (USA)/(USA) Thiele's Automotive                        2.14.53
7 John Ramsden and Tim Graversen (Can)/(Can) Steed Cycles Dark Horse Racing              2.59.00
8 Thomas Hayes and David Miller (USA)/(USA) The Grande Americanos                        3.43.08
9 Vince Haag and Russ Moul (USA)/(USA) Playin' Dirty                                     3.49.15
10 Brent Martin and Richard Boase (Can)/(Can) Ryders                                     3.55.29
11 Bruce Wilson and Jordie Allen-Newman (USA)/(Can) Team Power To Be/Cycopath            4.33.45
12 Graham Ross and Michael Brooks (Can)/(Can) Different Bikes 2                          4.55.42
13 Benjamin Cornell and Wes Barton (USA)/(USA) Team Now - No Opportunity Wasted          4.57.24
14 Tim Hudema and Glen Bos (Can)/(Can) Team Moose Mountain                               5.36.30
15 Steve Swenson and Mike Livingston (Can)/(MAR) Giant/Cyclepath Calgary                 6.01.55
16 Stuart Jones and Trevor Plestid (Can)/(Can) Winded                                    6.33.40
17 Rob Foord and Jordan Grasby (Can)/(Can) Olympia Cycle And Kal Tire                    6.54.26
18 David Richardson and Garth Campbell (Can)/(Can) Stop Looking At My Bum                7.00.57
19 Craig Vandelist and Tom Gettelman (USA)/(USA) Old Badgers                             7.04.06
20 Tony Meleg and Nick Abbott (USA)/(USA) Fat Cyclists                                   7.25.14
21 Kris Tobias and David Dermont (Can)/(Can) Ride For Karen                              7.34.15
22 Grant Richardson and Gary Bavis (Can)/(Can) Threesixtythree                           7.47.15
23 Angel Gioia and Eric Schroeder (FWI)/(USA) Adventure Seekers                          7.54.59
24 Todd Moyer and Chris Morris (USA)/(USA) Moyer                                         8.07.35
25 Bruce Gordon and Ken Knight (Can)/(Can) Evin Ross/Bruceco Roofing                     8.22.00
26 Greg Buzanis and Larry Price (USA)/(USA) Coppertank Boyz                              8.24.16
27 Rick Bruce and Mark Kaltenbach (Can)/(Can) Special Needs                              8.34.41
28 Rick Metzger and Craig Marshall (Can)/(Can) Vulture Enterprises                       8.37.19
29 Stefan Muller and Geoff Huenemann (Can)/(Can) Bike Over Tea Kettle                    9.19.45
30 Scott Thomson and Rocky Moise (Can)/(Can) Shockdocs                                   9.26.23
31 Gary Tee and Peter Brown (GBr)/(GBr) Tee                                              9.34.25
32 Rob Pease and Brent Lesley (USA)/(USA) Mountain Top Cyling                           10.42.17
33 Andy Bentley and Andy Gilbert (USA)/(USA) Mud Slugs                                  10.59.57
34 Scott Mcmillian and Bill Earthman (USA)/(USA) Peak Fitness Racing                    11.49.54
35 Grant Fenton and Chris Voyvodic (USA)/(USA) Steamboat                                12.12.14
36 Kevin Clapperton and Gaz Clapperton (Can)/(Can) Team Wobbly Wheels                   13.12.28
37 Michael Mcmaude and Charles Bisantz (USA)/(USA) Voyager Health Care                  13.52.17
38 Roland Lockhart and John Bence (Can)/(Can) Lockhart                                  15.15.07
 
Veterans Combined 100+

1 Brian Johnson and Bruce Johnson (Can)/(Can) Double Shot                               26.26.11
2 Andy Klumb and Kent Eriksen (USA)/(USA) Bicilibre                                      1.36.39
3 Greg Mcdougall and Graeme Fitch (Can)/(Can) Harbour Air                                5.47.22
4 Paul Mier and Brian Mccormick (Can)/(Can) Badger Boys                                  6.24.14
5 John Carruthers and Chris Soby (Can)/(Can) Don't Know Until You Go                     7.24.25
6 Brad Neumann and Steve Wright (USA)/(USA) Deer Creek Destroyers                        9.12.51
 
4 Person teams

1 4 Person Team (Can) BC Ferries                                                        27.07.58
2 4 Person Team (Can) Endless Biking                                                     7.02.36
3 4 Person Team (USA)/(Fra) Novak                                                        8.29.04