MTB index page for all MTB content
11th TransAlp - SR
Germany to Italy, July 19-26, 2008
Main Page Results Overall standings Next Stage
Stage 1 - July 19: Füssen - Imstl, 80.13km
Bulls charge to overall lead
Karl Platt and Stefan Sahm (Team Bulls) win the opening
Photo ©: Oliver Kraus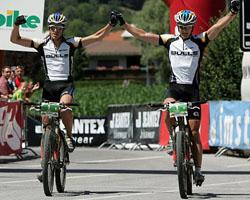 With a little bit of luck and a great performance, defending champions Karl Platt and Stefan Sahm (Team Bulls) have won the first stage of the Jeantex Bike TransAlp 2008. It seemed that it would be a sprint duel of two teams for victory after 80.13 kilometres and 1,961 metres in elevation gain, but Team Bulls was able to gain a decisive lead over the main competitors Martin Kraler and Heinz Verbnjak (Craft & Friends) on the downhill from Marienbergjoch.
In Nesselwang, the top pros from Germany were already 30 seconds in front adding more than another minute on the final flat part of the stage. After Team Craft & Friends, Frank Lehmann and Uwe Hardter of Team Cube 10 finished in third place.
After taking a detour by missing a turn, the defending champions underlined their strength at today's only climb. "I wasn't feeling so well as I do normally, but I was more and more getting into my rhythm," explained Platt.
Platt proved his condition on the downhill run after team Craft & Friends had crossed the peak first. "I knew that we would be able to catch up on the descent," he said. "And after Martin Kraler had a flat tyre, we managed to ride away."
Platt upped the pace on the final section of the route from Nesselwang to the stage's finish. "Karl pushed the pedal," said Sahm. "I don't know at all, how he is able to do so all the time."
Rocky Mountain leads the women
Alison Sydor and Pia Sundstedt were the first women's team home after 3:36:08.4 hours on the bike. But the Canadian-Finnish pairing had to struggle hard to make it on top of the podium.
Due to a strong performance the top ladies were able to outpace their main competitors Sandra and Peggy Klose from Zwillingscraft-Ideal (3:39:31.8) as well as Katrin Schwing and Fabienne Heinzmann (3:39:35.6).
Sydor and Sundstedt were also part of the bunch of bikers taking a detour. "I didn't expect to lose so much time," said the three-time World Champion from Canada Sydor. "In addition, Pia had a technical problem which also cost about five minutes. So, we entered the climb to Marienbergjoch as fifth ladies' team."
But when it was time to climb both athletes showed what they were made for. "We just passed them one by one," said Sydor. "Although we had planned to ride conservatively we are pretty pleased with today's result."
Photography
For a thumbnail gallery of these images, click here
Images by Oliver Kraus
Results
Elite men
 
1 Karl Platt (Ger)/Stefan Sahm (Ger) Team Bulls                                            3.05.54
2 Martin Kraler (Aut)/Heinz Verbnjak (Aut) Craft and Friends                                  1.38
3 Frank Lehmann (Ger)/Uwe Hardter (Ger) Team Cube 10                                          3.16
4 Andreas Strobel (Ger)/Markus Kaufmann (Ger) Team Vaude-Simplon 1                            4.49
5 Jan Schmidt (Ger)/Benjamin Schmieg (Ger) Team Vaude-Simplon 2                               5.32
6 Benjamin Rudiger (Ger)/Matthias Bettinger (Ger) Team Cube 4                                 5.35
7 Bjorn Papstein (Ger)/Holger Sievers (Ger) Team idworx-offtraxx.net                              
8 Juan Alberto Solis Rojas (CRc)/Marconi Duran Montoya (CRc) Scotiabank-Dos Pinos-Coopenae    6.19
9 Daniel Rubisoier (Aut)/Daniel Federspiel (Aut) Team Imst Gurgltal Radcenter Wolf            8.29
10 Alexander Pscheidl (Ger)/Christian Schneidawind (Ger) Team TEXPA-Simplon                   9.55
 
Elite women
 
1 Alison Sydor (Uan)/Pia Sundstedt (Ger) Team Rocky Mountain                               3.36.08
2 Peggy Klose (Ger)/Sandra Klose (Ger) Zwillingscraft-Ideal                                   3.23
3 Katrin Schwing (Ger)/Fabienne Heinzmann (Swi) Dolphin-Trek                                  3.27
4 Barbara Merkofer (Swi)/Margrit Jorg (Swi) Giant Swiss Ladies                                4.42
5 Anna-Sofie Noorgard (Den)/Christin Norgaard (Den) Team Cube 5                               4.57
6 Kerstin Brachtendorf (Ger)/Daniele Troesch (Fra) Fiat/Rotwild                               5.15
7 Natascha Binder (Ger)/Bettina Dietzen (Ger) Conway - immer2 mal mehrwie Du!                35.51
8 Andrea Hiller (Ger)/Katja Holzer (Ger) moooove RacingTeam                                  38.44
9 Gunn Hilleren (Nor)/Monika Olofssen (Nor) Team Scott/ Torskov Sport                        41.08
10 Nicole Koller (Swi)/Lucrezia Lechner (Swi) Ameis                                        1.05.46
 
Mixed
 
1 Werner Fischer (Swi)/Milena Landtwing (Swi) Institut Ftan/Velo Franz Univega             3.41.03
2 Claudia Till (Ger)/Franz Trattler (Ger) Zwillingscraft-Ideal-Mixed                          0.05
3 Anita Steiner (Swi)/Cornel Bamert (Swi) Team Stockli Wadenswil                              3.09
4 Jon Richardson (NZl)/Sara MacDonald (NZl) R & R Sport                                       5.08
5 Heike Hundertmark (Ger)/Sam Baeten (Ger) Team Cube 6                                        7.40
6 Paul Bihler (Swi)/Sabina Compassi (Swi) Lumpaz                                              9.23
7 Andrea Kuster (Swi)/Lars Vollmer (Ger) Die Konigskinder 69                                 17.39
8 Andre Paschke (Ger)/Conny Marquardt (Ger) Steppenwolf Bikes/Bonsai                         20.02
9 Thomas Bretting (Ger)/Silvia Klee-Bretting (Ger) BerGaMont                                 22.31
10 Wolfgang Ranfft (Aut)/Hilde Grole-Hering (Ger) Megg-Hill                                  22.40
 
Master
 
1 Ekkehard Dorschlag (Aut)/Heinz Zorweg (Aut) Team KTM                                     3.10.42
2 Walter Platzgummer (Ita)/Johann Grasegger (Ger) Scott-adidas-Naturns                        5.43
3 Udo Bolts (Ger)/Werner Wagner (Ger) Team Cube 3                                            12.33
4 Siegfried Hochenwarter (Aut)/Georg Koch (Aut) Team Generali                                12.38
5 Hansjurg Gerber (Swi)/Daniel Feuz (Swi) ZellwegerArchitektenThun                           16.20
6 Ola Bustad (Nor)/Kristian Sorland Ole (Nor) Team Fuji Norway                               19.06
7 Thomas Ruegg (Swi)/Max Bertschinger (Swi) Thomax Bike Team                                 21.25
8 Roman Untersee (Swi)/Roland Stori (Swi) Team Ebneter                                       21.54
9 Robert Eder (Ger)/Jorg Vogel (Ger) Scott Racing Team                                       22.14
10 Walter Perkmann (Ita)/Hansjorg Oberkalmsteiner (Ita) AMONN OFFICE Team                    23.20
 
Senior master
 
1 Ferdinand Ganser (Ger)/Georg Niggl (Ger) ept connect                                     3.33.20
2 Walter Ehrler (Swi)/Marcel Arnold (Swi) Giant Swiss D'Urner Oldies                          0.13
3 Jiri Cesal (Swi)/Urs Guntensperger (Swi) BBT BuliBikeTigers                                 8.10
4 Rolf Schmitt (Ger)/Herfried Sonntagbauer (Ger) lupine                                      10.49
5 Gerhard Moll (Ger)/Alfred Jocher (Ger) Scott Team Heilenmann/MOM grand Masters             10.52
6 Terje Lund (Nor)/Sigurd Roeggen (Nor) Team Scott/ Torshov Sport                            12.49
7 Core Silvio (Ita)/Maltauro Ruggero (Ita) Maghagati                                         12.57
8 Toni Schreiber (Ger)/Max Pritzl (Ger) Team JEANTEX / Canyon                                15.56
9 Peter Potocnik (Aut)/Michael Haas (Aut) Zweirad Janger Simplon                             16.22
10 Josef Loffler (Ger)/Hans-Jurgen Ammann (Ger) Vo dr Alb ra                                 21.23