MTB index page for all MTB content
11th TransAlp - SR
Germany to Italy, July 19-26, 2008
Main Page Results Overall standings Previous Stage Next Stage
Stage 2 - July 20: Imst - Ischgl, 76.40km
Austria's Team Craft and Friends sprint to win
Martin Kraler and Heinz Verbnjak (Craft and Friends)
Photo ©: Oliver Kraus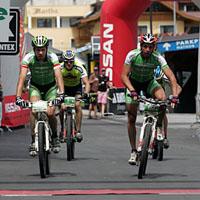 Austria's Martin Kraler and Heinz Verbnjak (Craft and Friends) won stage two in a sprint, finishing in 3:45:47. After 76km and 3,169m of climbing, yellow jersey wearers Karl Platt and Stefan Sahm (Team Bulls) finished second by just six-tenths of a second. Daniel Rubisoier and Daniel Federspiel from Team Imst Gurgltal Radcenter Wolf placed third in 3:49:50.1.
"It was a very difficult stage with an extreme climb right at the start, slippy descents and a final part which seemed to last forever," said Verbnjak.
The winning Austrians had ridden away on every climb up until the finish, but always lost their leads on the subsequent descents. Even a flat tire of Sahm's on the way up Pillerhoehe didn't help. "We knew that Team Bulls would catch up again in the descents," said Verbnjak.
Sahm didn't even notice his flat at first. "I didn't recognise it on the downhill, but when we headed uphill on the asphalt road, I knew that something was wrong. So, I had to change my tyre."
Both winners were in a very good mood after taking the stage. "Today, we are pleased but it's a long way to Riva del Garda and a lot of things can happen. We are not here to just compete in the race. For sure, we want to win," said Martin Kraler.
Team Rocky Mountain fastest women
The Canadian-Finnish pairing Rocky Mountain extended its lead in the women's category by winning after 76 kilometres in a time of 4:30:02 hours. Alison Sydor and Pia Sundstedt added more than seven minutes to their lead over their main competitors for the title Sandra and Peggy Klose from Zwillingscraft-Ideal. Anna-Sofie and Kristine Norgaard from Team Cube 5 followed as third (4:38:31).
Austrians tops Masters category, too
With Heinz Zoerweg and Ekkehard Doerschlag (Team KTM), two fellow Austrians also were fastest in the master category. Like two years ago, the leaders won the Austrian leg. They finished in 3:52:57 and therefore extended their lead in the classification.
Team Generali consisting of Siegfried Hochenwarter and Georg Koch finished second in 4:04:01, ahead of Walter Platzgummer and Johann Grasegger from Scott-adidas-Naturns in 4:06:03.
Although they took home their second consecutive stage win, it wasn't an easy race for experienced Team KTM. "It was a stiff piece of work," said Doerschlag. "I had to crucify myself up to the first peak. But in the end we were able to go on in a controlled way not risking too much in the technical demanding trail sections."
Mixed leaders enlarge lead
Switzerland's Werner Fischer and Milena Landtwing (Institut Ftan/Velo Franz Univega), the mixed category leaders, won the second stage in 4:29:01.
"Anita Steiner and Cornel Bamert (Team Stoeckli Waedenswil) attacked at the first climb and set us under pressure but we caught them on the downhill again. Thereafter, we had a very good race except of one flat tyre," said Landtwing.
The attack paid off for Team Stoeckli Waedenswil as Steiner and Bamert made it to the end as runner-up in 4:39:08, and they now sit second overall. Former second-ranked Claudia Till and Franz Tattler from Zwillingscraft-Ideal-Mixed lost a lot of time, finishing third today in 4:53:41..
Senior masters winners claim two in a row
Ferdinand Ganser and Georg Niggl claimed their second stage win in 4:30:04 despite two flat tires. Italy's Silvio Core and Ruggero Maltauro from Team Maghagati followed in second and jumped up from seventh overall to third. Giant Swiss D'Uerner Oldies Walter Ehrler and Marcel Arnold finished third for the stage and defended their second place overall.
Stage 3 - July 21: Ischgl - Scoul, 75.26km
From Ischgl to Scuol the Transalp circus will go over the the second highest peak of this year's race: the Idjoch at 2,738m. After the climb on a gravel road a downhill at a tearing pace to custom-free Samnaun follows. Crossing the Kobleralm the bikers come close to the Swiss border on wood trails. The last 30 kilometres proceed on well built bike paths into the historical centre of Scuol.
Photography
For a thumbnail gallery of these images, click here
Images by Oliver Kraus
Results
Men

1 Martin Kraler (Aut) and Heinz Verbnjak (Aut) Craft and Friends                       3.45.47
2 Karl Platt (Ger) and Stefan Sahm (Ger) Team Bulls                                       0.01
3 Daniel Rubisoier (Aut) and Daniel Federspiel (Aut) Team Imst Gurgltal Radcenter Wolf    4.03
4 Andreas Strobel (Ger) and Markus Kaufmann (Ger) Team Vaude-Simplon 1                   10.27
5 Benjamin Rudiger (Ger) and Matthias Bettinger (Ger) Rothaus - Cube 1                   10.57
6 Frank Lehmann (Ger) and Uwe Hardter (Ger) Rothaus - Cube 2                             10.58
7 Jan Schmidt (Ger) and Benjamin Schmieg (Ger) Team Vaude-Simplon 2                      11.01
8 Silvio Wieltschnig (Aut) and Thomas Nicke (Ger) Fiat/Rotwild                           15.09
9 Alexander Pscheidl (Ger) and Christian Schneidawind (Ger) Team TEXPA-Simplon           15.09
10 Carsten Bresser (Ger) and Daniel Gathof (Ger) Team Rocky Mountain                     16.15
 
Women

1 Alison Sydor (Can) and Pia Sundstedt (Ger) Team Rocky Mountain                       4.30.02
2 Peggy Klose (Ger) and Sandra Klose (Ger) Zwillingscraft-Ideal                           7.17
3 Anna-Sofie Noorgard (Den) and Christin Noorgard (Den) Team Cube 5                       8.30
4 Katrin Schwing (Ger) and Fabienne Heinzmann (Swi) Dolphin-Trek                         19.41
5 Kerstin Brachtendorf (Ger) and Daniele Troesch (Fra) Fiat/Rotwild                      34.06
6 Barbara Merkofer (Swi) and Margrit Jörg (Swi) Giant Swiss Ladies                       35.35
 
Mixed

1 Werner Fischer (Swi) and Milena Landtwing (Swi) Institut Ftan/Velo Franz Univega     4.29.01
2 Anita Steiner (Swi) and Cornel Bamert (Swi) Team Stöckli Wädenswil                     10.08
3 Claudia Till (Ger) and Franz Trattler (Ger) Zwillingscraft-Ideal-Mixed                 24.41
4 Jon Richardson (NZl) and Sara MacDonald (NZl) R & R Sport                              28.25
5 Heike Hundertmark (Ger) and Sam Baeten (Ger) Team Cube 6                               29.20
6 Andrea Kuster (Swi) and Lars Vollmer (Ger) Die Königskinder 69                         42.16
7 Miguel Alia Gonzalez (Spa) and Nuria Lauco Martinez (Spa) ALPCROSS-BARNA POWERS        46.22
8 Iztok Dogsa (Slo) and Spela Skrajnar (Slo) GANESHATEAM-vegepower                       46.56
9 Paul Bühler (Swi) and Sabina Compassi (Swi) Lumpaz                                     47.43
10 Andre Paschke (Ger) and Conny Marquardt (Ger) Steppenwolf Bikes/Bonsai                51.26
 
Master

1 Ekkehard Dörschlag (Aut) and Heinz Zörweg (Aut) Team KTM                             3.52.57
2 Siegfried Hochenwarter (Aut) and Georg Koch (Aut) Team Generali                        11.04
3 Walter Platzgummer (Ita) and Johann Grasegger (Ger) Scott-adidas-Naturns               13.06
4 Udo Bölts (Ger) and Werner Wagner (Ger) Team Cube 3                                    18.25
5 Hansjürg Gerber (Swi) and Daniel Feuz (Swi) ZellwegerArchitektenThun                   20.59
6 Robert Eder (Ger) and Jörg Vogel (Ger) Scott Racing Team                               28.27
7 Andi Schatz (Ger) and Andreas Bühler (Ger) Team goX                                    34.32
8 Walter Perkmann (Ita) and Hansjörg Oberkalmsteiner (Ita) AMONN OFFICE Team             35.01
9 Ola Bustad (Nor) and Kristian Sorland Ole (Nor) Team Fuji Norway                       35.42
10 Uwe Windmüller (Ger) and Martin Schneider (Ger) MODI-CRAFT 1                          45.13
 
Senior master

1 Ferdinand Ganser (Ger) and Georg Niggl (Ger) ept connect                             4.30.05
2 Core Silvio (Ita) and Maltauro Ruggero (Ita) Maghagati                                  5.25
3 Walter Ehrler (Swi) and Marcel Arnold (Swi) Giant Swiss D'Ürner Oldies                  9.05
4 Jiri Cesal (Swi) and Urs Güntensperger (Swi) BBT BüliBikeTigers                        27.22
5 Rolf Schmitt (Ger) and Herfried Sonntagbauer (Ger) lupine                              28.47
6 Franco Martini (Ita) and Bruno Furlan (Ita) ISOLMANT-RTTR                              29.50
7 Georg Heugenhauser (Aut) and Georg Streitberger (Aut) Team Tirol                       32.29
8 Terje Lund (Nor) and Sigurd Roeggen (Nor) Team Scott/ Torshov Sport                    33.41
9 Bill Benson (Can) and Don Sissons (Can) Team Syngenta Prairie Boys                     47.46
10 Peter Potocnik (Aut) and Michael Haas (Aut) Zweirad Janger Simplon                    48.06

General classification after stage 2

Men

1 Karl Platt (Ger) and Stefan Sahm (Ger) Team Bulls                                   6.51.42
2 Martin Kraler (Aut) and Heinz Verbnjak (Aut) Craft and Friends                             
3 Daniel Rubisoier (Aut) and Daniel Federspiel (Aut) Team Imst Gurgltal Radcenter Wolf       
4 Frank Lehmann (Ger) and Uwe Hardter (Ger) Rothaus - Cube 2                                 
5 Andreas Strobel (Ger) and Markus Kaufmann (Ger) Team Vaude-Simplon 1                       
 
Women

1 Alison Sydor (Can) and Pia Sundstedt (Ger) Team Rocky Mountain                      8.06.10
2 Peggy Klose (Ger) and Sandra Klose (Ger) Zwillingscraft-Ideal                              
3 Anna-Sofie Noorgard (Den) and Christin Noorgard (Den) Team Cube 5                          
4 Katrin Schwing (Ger) and Fabienne Heinzmann (Swi) Dolphin-Trek                             
5 Kerstin Brachtendorf (Ger) and Daniele Troesch (Fra) Fiat/Rotwild                          
 
Mixed

1 Werner Fischer (Swi) and Milena Landtwing (Swi) Institut Ftan/Velo Franz Univega    8.10.04
2 Anita Steiner (Swi) and Cornel Bamert (Swi) Team Stöckli Wädenswil                         
3 Claudia Till (Ger) and Franz Trattler (Ger) Zwillingscraft-Ideal-Mixed                     
4 Jon Richardson (NZl) and Sara MacDonald (NZl) R & R Sport                                  
5 Heike Hundertmark (Ger) and Sam Baeten (Ger) Team Cube 6                                   
 
Master

1 Ekkehard Dörschlag (Aut) and Heinz Zörweg (Aut) Team KTM                            7.03.40
3 Walter Platzgummer (Ita) and Johann Grasegger (Ger) Scott-adidas-Naturns                   
2 Siegfried Hochenwarter (Aut) and Georg Koch (Aut) Team Generali                            
4 Udo Bölts (Ger) and Werner Wagner (Ger) Team Cube 3                                        
5 Hansjürg Gerber (Swi) and Daniel Feuz (Swi) ZellwegerArchitektenThun                       
 
Senior master

1 Ferdinand Ganser (Ger) and Georg Niggl (Ger) ept connect                            8.03.25
3 Walter Ehrler (Swi) and Marcel Arnold (Swi) Giant Swiss D'Ürner Oldies                     
2 Core Silvio (Ita) and Maltauro Ruggero (Ita) Maghagati                                     
4 Jiri Cesal (Swi) and Urs Güntensperger (Swi) BBT BüliBikeTigers                            
5 Rolf Schmitt (Ger) and Herfried Sonntagbauer (Ger) lupine