MTB index page for all MTB content
MTB World Cup XC #6 & DH #4 - CDM
Mont Sainte Anne, Canada, July 25-27, 2008
Main Page Results Previous Race Next Race World Cup Standings
Race 3 - July 26: Elite men 4X
World champion Alvarez de Lara Lu rides smoothly to victory
By Sue George in Mont-Sainte-Anne, Québec
World Champion Rafael Alvarez De Lara Lu
Photo ©: Dave McElwaine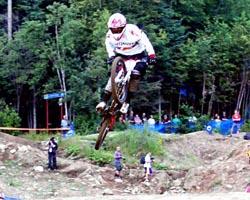 Under threatening skies that didn't deliver any more rain on an already saturated course, World Champion Rafael Alvarez de Lara Lu made it look easy. Clad in his rainbow striped jersey, he won every round on his way to victory in the big final, and celebrated many of them by crossing the line doing a nose-wheelie. Romain Saladini (Team Sunn), Guido Tschugg and Cedric Gracia rounded out the top four.
"It was an easy race as I was first through each round," said Saladini through a translator after his final run. Saladini was all smiles after his race and he said he was not nervous for his first World Cup appearance since winning the World Championships just over one month ago. "I tried to race as if it was the same as any other race. It wasn't any different."
Behind Alvarez de Lara Lu was a chasing Romain Saladini (Team Sunn). The Frenchman was content after his race, his first back after breaking a finger at the Fort William round of the World Cup in early June. "It was smooth for me," said Frenchman Saladini. "I didn't see the crash."
Neither he nor Alvarez de Lara Lu knew what was going on in their wake, where Tschugg and Gracia tangled.
Romain Saladini (Team Sunn)
Photo ©: Dave McElwaine

"My start was not perfect, and I wanted to go directly to the inside but the right side was a little faster, so I had to brake a little," said Tschugg. "I was thinking 'ok' and 'check the lines of the other guys' as I was in fourth."
"I wanted to go inside of Gracia and my front wheel slipped out and I crashed with Gracia," said Tschugg. "We both went down."
Tschugg got up and rode to the finish into third, while Gracia had a longer journey down to the finish after taco-ing his wheel. He crossed the line to cheers of the waiting crowd.
Despite plenty of rain in the days before, which postponed the qualifications until Saturday, the same day as the final, the course was riding well thanks to an army of people deployed by organizers to repair the course Saturday morning.
"The track in the days before was challenging due to the rain, but today it was perfect," said Alvarez de Lara Lu.
Photography
For a thumbnail gallery of these images, click here
Images by Dave McElwaine/www.trailwatch.net
Results
1 Rafael Alvarez De Lara Lucas (Spa)                        0.42.78
2 Romain Saladini (Fra) Team Sunn                           0.00.27
3 Guido Tschugg (Ger)                                       0.00.20
4 Gracia Cédric (Fra) Commencal - Furious - Oakley Team     0.01.83
5 Kamil Tatarkovic (Cze) Suzuki-RB                          0.01.04
6 Dan Atherton (GBr) Animal Commencal                       0.01.99
7 Filip Polc (Svk) Kenda Tomac                              0.02.44
8 Tomas Slavik (Cze)                                        0.01.25
9 Sascha Meyenborg (Ger)                                    0.01.73
10 Fabien Cousinie (Fra)                                    0.02.40
11 Thomas Tokarczyk (USA)                                   0.03.03
12 Jurg Meijer (Ned)                                        0.15.49
13 Joey Van Veghel (Ned)                                    0.02.11
14 Ludovic Gadois (Fra)                                     0.03.17
15 Michael Garcia (Ned)                                     0.05.11
16 Adrian Weiss (Swi) Tomac Factory Racing                  0.09.13
17 Joost Wichman (Ned)                                      0.01.20
18 Cody Eichhorn (Aus)                                      0.03.17
19 Bruno Boissin (Fra)                                      0.03.41
20 Scott Roberts (GBr)                                      0.03.60
21 Michael Robert Haderer (USA)                             0.03.89
22 Dominik Gspan (Swi)                                      0.03.98
23 Heikki Hall (USA)                                        0.05.11
24 Scott Beaumont (GBr)                                     0.09.65
25 Johannes Fischbach (Ger)                                 0.01.58
26 Lewis Lacey (GBr)                                        0.02.68
27 Erik Nelson (USA)                                        0.03.69
28 George Stephenson (USA)                                  0.03.87
29 Nicolas Gspan (Swi)                                      0.05.00
30 Adrian Hanko (Ger)                                       0.07.18

Teams
 
1 MS-Intense Factory-Racing             50 pts
2 Team Sunn                             35
3 Commencal - Furious - Oakley Team     26
4 Norco World Team                      25
5 Suzuki-Rb                             22
6 Animal Commencal                      20
7 Kenda Tomac                           18
8 4 Elements Yeti/Hotec/RSP             15
9 Tomac Factory Racing                   5

World Cup standings after four events

1 Rafael Alvarez De Lara Lucas (Spa)                       610 pts
2 Guido Tschugg (Ger)                                      600
3 Dan Atherton (GBr) Animal Commencal                      480
4 Cédric Gracia (Fra) Commencal - Furious - Oakley Team    350
5 Romain Saladini (Fra) Team Sunn                          280
6 Jared Graves (Aus) Yeti Fox Shox Factory Race Team       250
7 Kamil Tatarkovic (Cze) Suzuki-RB                         240
8 Johannes Fischbach (Ger) Team Ghost International        220
9 Joost Wichman (Ned) Cannondale Factory Racing            215
10 Tomas Slavik (Cze)                                      200
11 Brian Lopes (USA)                                       200
12 Jurg Meijer (Ned)                                       135
13 Filip Polc (Svk) Kenda Tomac                            120
14 Michal Prokop (Cze)                                     120
15 Mickael Deldycke (Fra)                                  120
16 Rastislav Pirman (Svk) 4 Elements Yeti/Hotec/Rsp        120
17 Ross Milan (USA) Yeti Fox Shox Factory Race Team         70
18 Sascha Meyenborg (Ger)                                   60
19 Quentin Derbier (Fra)                                    50
20 Scott Beaumont (GBr) Rocky Mountain UK                   40
21 Fabien Cousinie (Fra)                                    35
22 Tomas Haluza (Cze)                                       35
23 Thomas Tokarczyk (USA)                                   30
24 Dave Wardell (GBr)                                       30
25 Will Longden (GBr) Team BikeRadar                        25
26 Sidney Gerber (Swi)                                      25
27 Joey Van Veghel (Ned)                                    20
28 Ludovic Gadois (Fra)                                     15
29 William Evans (GBr)                                      15
30 Michael Garcia (Ned)                                     10
31 Lewis Lacey (GBr)                                        10
32 Miroslav Jirka (Cze)                                     10
33 Adrian Weiss (Swi) Tomac Factory Racing                   5
34 Frans Sjoblom (Swe)                                       5
35 Lukas Mechura (Cze) Chain Reaction Cycles/Intense         5
36 Livio Zampieri (Ita)                                      5

Team standings

1 MS-Intense Factory-Racing            195 pts
2 Suzuki-Rb                             98
3 4 Elements Yeti/Hotec/RSP             96
4 Animal Commencal                      90
5 Commencal - Furious - Oakley Team     84
6 Norco World Team                      75
7 Yeti Fox Shox Factory Race Team       64
8 Team Sunn                             55
9 Team Ghost International              54
10 Cannondale Factory Racing            42
11 Kenda Tomac                          40
12 Rocky Mountain UK                    16
13 Team Bike Radar                       9
14 Tomac Factory Racing                  5
15 Chain Reaction Cycles/Intense         5