Recently on Cyclingnews.com
MTB index page for all MTB content
Australian National MTB Championships - CN
Mount Stromlo, Australia, January 25-28, 2008
Main Page Results Overall standings Previous Race
Race 15 - January 28: Downhill: Group A
British Tracy narrowly beats Aussie Tracey while Rennie rules the roost
By Sharon Payne
Tracey Hannah
Photo ©: Evan Jeffery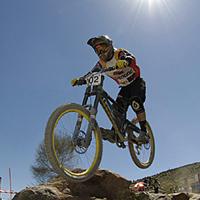 You could be mistaken as to which Tracey the crowds were cheering for at the Toyota 2008 Australian Mountain Bike Championships on the slopes of Mt Stromlo in Canberra. The winning margin between British rider Tracy Moseley and Queensland's Tracey Hannah came down to six hundredths of a second.

Moseley and Hannah, the world ranked number two and three respectively, headlined the field however with Moseley being a British citizen the Australian title goes to Hannah. Moseley rode a three minutes and 1.12 seconds while Hannah rode three minutes and 1.18 seconds. Canberra's Julia Boer claimed third with a three minutes and 21.83 seconds.

"It's always great racing her. I'm really happy she came and she'll be here next week. It was a bit more competitive," said Hannah. "It's always really great when internationals come over here."

Nathan Rennie reclaimed the national downhill mountain bike title this year after placing second last year by a narrow margin of just over two seconds. The 28 year-old professional downhiller qualified second fastest but pushed the limits to win in 2 minutes and 37.95 seconds.

"I threw down a pretty decent run yesterday," said Rennie. "I knew I had a bit more in the tank."

Riding at the end of the day meant that the track had changed since the practice run.

"Conditions were a bit how you going really. Dust and bumps everywhere. One little mistake towards the finish and I though it might not be enough but I knew I'd punched it up the top," said Rennie.

Nathan Rennie preferred to stay low
Photo ©: Evan Jeffery

Second was Bryn Atkinson with a 2 minutes and 40.11 seconds. Canberra's Ben Cory was in the hot seat with the fastest time for most of the elite men's runs and his 2 minutes, 41.47 seconds still claimed third.

Canadian National Champion Steve Smith claimed fourth. Canberra's Jared Rando rode in for fifth and national series leader Amiel Cavalier suffered gear problems.

In the Under 19 men's race, Dylan Prohm claimed first with two minutes, 38.97 seconds Favourite Shaun O'Connor crashed and ended up way down in the field. In the Under 19 women, Canberra's Caroline Buchanan ran unopposed but rode a time of 3 minutes, 18.75 seconds which would have been enough to place her third in the elite women's class.
Photography
For a thumbnail gallery of these images, click here
Images by Evan Jeffery /www.evanjeffery.com.au
Results
Seeding   Finals

Seeding

Elite Men

1 Bryn Atkinson (Aus) Team GT, THE Helmets, Oakley, Dylan Dean Designs            2.41.06
2 Nathan Rennie (Aus)                                                             0.02.19
3 Steve Smith (Can) Giant, Michelin, Fox Racing Shox, Shimano                     0.02.80
4 Jared Rando (Aus) Giant Bicycles Spearman Cycles                                0.03.90
5 Amiel Cavalier (Aus) Orange, Dangerboy, Smith, RockShox, SRAM, Avid             0.04.75
6 Timothy Eaton (Aus) Raw Nrg thredbo                                             0.05.35
7 Thomas Rose (Aus)                                                               0.05.46
8 Rick Boyer (Aus) MD racing, johnson & johnson."get some"                        0.06.03
9 Adam Dossetor (Aus)                                                                    
10 Mitchell Delfs (Aus) Specialized, FSA/Gravity, Pushy Galore                    0.06.58
11 Stuart MacDonald (Aus) cove bikes, southshore imports                          0.06.87
12 Lindsay Klein (Aus) Drift Bike Style, Fox Clothing, Gt Bikes                   0.07.39
13 Brad Kelly (Aus) Iron Horse Bikes,Fox Racing,Sram,Rock Shox                    0.07.81
14 Ricky Lee (Aus)                                                                0.07.95
15 Deon Baker (Aus) Santa Cruz, ForTheRiders.com, Farkin.net                      0.08.26
16 Rhys Atkinson (Aus) Kona, Mt.Buller, Shimano, Marzocchi                        0.08.45
17 William Rischbieth (Aus)                                                       0.08.63
18 Cody Eichhorn (Aus)                                                            0.08.89
19 Jamie Green (Aus) DH Direct, Turner, Bilt                                      0.10.30
20 Kaine Cannan (Aus) Yeti Australia, Fox Suspension, Hayes                       0.10.89
21 Craig Yates (Aus) yarra Valley Cycles                                          0.11.14
22 Andrew Mills (Aus) Gt Bicycles, Fox, Ogio                                      0.11.17
23 Lincoln Verass (Aus) Bling Industries                                          0.11.51
24 Joshua Button (Aus)                                                            0.12.25
25 Brad Oien (USA) UFO/MTB Imports                                                0.12.34
26 Glen Ward (Aus)                                                                0.12.40
27 Tom Lewis (Aus) Scott USA, No Fear, EVS, Spearman Cycles                       0.12.59
28 Dennis Beare (Aus) Team Bashie                                                 0.12.67
29 Alex Swann (Aus) 4 Shaw agencies, Monza Imports, McBain Cycles.                0.12.78
30 Dean Davies (Aus) MAL ADJUSTED BICYCLE EMPORIUM                                0.12.84
31 Hayden Lester (Aus) GIANT,FOX,SRAM                                             0.13.41
32 Chris Coombe (Aus) Streamline Cycles, Scott Goggles                            0.13.59
33 Christian Tucker (Aus) blackman bicyles                                        0.13.95
34 Darcy Murrel (Aus)                                                             0.14.09
35 Jarah Breese (Aus) Specialized Bike                                            0.14.36
36 Ryan Andrews (Aus)                                                             0.14.89
37 Hamish Armstrong (Aus) AshgroveCycles.com                                      0.15.16
38 Michael Kearton (Aus) Ashgrove Cycles, Santacruz Australia                     0.15.20
39 Aaron Bashford (Aus)                                                           0.15.43
40 Kent Hamilton (Aus)                                                            0.15.51
41 Luke Garnham (Aus) mongoose bikes/sram/rock shox                               0.16.58
42 Brenden Wood (Aus) Hi-Way Cycles, Maxxis Tyres                                 0.16.96
43 Chris Whitelock (Aus) robbie bourdon                                           0.18.50
44 Isaac Heppell (Aus) streamline cycles                                          0.19.51
45 Oscar Buckle (Aus) Mongoose BikesCropthorn Clothing                            0.20.51
46 Toby Breheny (Aus) derrico cycles                                              0.21.39
47 Trevwah Burke (Aus)                                                            0.22.06
48 Harry Armstrong (Aus) Buller Ski LIfts                                         0.22.86
49 Michael Jobson (Aus) MAD Roota Racing/Paton Performance                        0.23.25
50 Cameron Allonby (Aus)                                                          0.25.42
51 Jared Blackmore (Aus) 'the Bane'                                               0.27.83
52 Thomas Kerney (Aus) carine cycles and cottosloe cycles                         0.28.42
53 Ben Morrison (Aus) Onya Bike Belconnen                                         0.28.54
54 Jacob Coles (Aus)                                                              0.28.96
55 Adam Smithson (Aus)                                                            0.28.98
56 Benjamin Ayling (Aus) Mongoose-Sram,Maxxis,Crankbrothers                       0.30.32
57 Mark Beeksma (Aus)                                                             0.34.18
58 Miikael Kinnunen (Aus)                                                         0.35.95
59 Simon Glanvolle (Aus) fektor b                                                 0.41.12
60 Cillian Kennedy (Aus) Giant bicycles, OGIO, Drizabone Activ, Aldgate Bikes     0.55.68
61 Ben Cory (Aus) Shimano, Troy Lee designs, Manitou                              1.31.35
62 Ryan Meader (Aus) Giant, RockShox, Gamut, SCU,                                 5.53.07
63 Brett 'binface' Pengelley (Aus) Fox, Michelin, Dragon                         11.40.81
DNF Zac MacAnally (Aus)                                                                  
DNS Dave West (Aus) Turner, DH Direct, Bilt,                                             
DNS Gareth Paton (Aus)                                                                   
 
Elite Women

1 Tracey Hannah (Aus) Raw NRG, Shimano -> your name here just ask!                3.00.04
2 Tracy Moseley (GBr) Kona Factory Team                                           0.01.90
3 Julia Boer (Aus) Onya Bike Tuggeragong, Intense, Fox                            0.21.19
4 Cara Smith (Aus) ONYA BIKE Belconnen, Paton Performance                         0.26.05
5 Leigh Douglas (Aus) 4Shaw Agencies, Treadlies Bike Shop, Bling Industries       0.31.62
6 Claire Whiteman (Aus) Kona MtBuller Facory DH TeamACTASMal Adjusted Bicycles    0.32.39
7 Joanne Fox (Aus) pylet.com, ufo mtb imports, Cell bikes                         0.37.84
8 Sarsha Huntington (Aus) For The Riders.com, Norco                               0.37.85
9 Jayne Rutter (Aus) Biomechanics Cycles And Repairsgold Credit Card              0.38.53
10 Shannon Chugg (Aus)                                                            0.47.34
11 Edwina Hughes (Aus)                                                            0.52.43
12 Vanessa Thompson (Aus) Pioneer Floorsanding                                    1.06.91
13 Rosemary Barnes (Aus) Giant Bicycles                                           1.26.26
 
Under 19 Men

1 Shaun O'Connor (Aus) Santa Cruz                                                 2.45.68
2 Dylan Prohm (Aus) IXS-Gravity                                                   0.03.08
3 Rhys Willemse (Aus) Tomac Factory Racing Team                                   0.07.76
4 James Taormina (Aus) Fortheriders.com; Maxxis                                   0.08.42
5 Andy Phillips (Aus)                                                             0.08.64
6 Hans Hadley (Aus) Margaret River Cycles & Repair                                0.09.38
7 Austin Hicks (Aus) Intence bikes ,rockshock ,avid                               0.09.53
8 Tamryn Murrel (Aus) www.ForTheRiders.com, CBD robina, Sloth Industries          0.09.80
9 Jock Farrington (Aus)                                                           0.10.26
10 Ben Nylen (Aus) Yeti Gravity team                                              0.11.09
11 Hugh Walker (Aus) Carine Cylces                                                0.11.95
12 Clark Hawke (Aus) Nicolai/SRAM, Rouler Imports                                 0.12.33
13 Matthew Vincent (Aus) Turner, Bilt, Imperial, DH Direct                        0.12.45
14 Murray Stephens (Aus) Bendigo cycles                                           0.13.67
15 Liam Paiaro (Aus) fortheriders.com, kevin 07                                   0.15.25
16 Elliot Smith (Aus) mitcham cycles                                              0.18.37
17 Mitch Forbes (Aus)                                                             0.18.87
18 Llewellyn Griffith (Aus) Switchmode Power Supplies                             0.20.35
19 David Maud (Aus) Bendigo Cycles                                                0.22.43
20 David Habicht (Aus) Downhill Direct                                            0.23.44
21 Ben Leaper (Aus)                                                               0.24.50
22 Rowan Saunders (Aus)                                                           0.26.07
23 Tyson Jones (Aus)                                                              0.26.28
24 Matthew Dooley (Aus) dee why beach cycles                                      0.29.58
25 Anthony Rodgers (Aus)                                                          0.30.10
26 Liam Howarth (Aus) The Bike Shed Mortdale                                      0.31.96
27 Brad Ardern (Aus) Tathra Beach and Bike                                        0.35.12
28 Tom Rowe (Aus) Aldgate Bike Shop                                               0.35.71
29 Josh Johnston (Aus) Mum and Dad                                                0.40.84
30 Andrew Brett (Aus)                                                             0.41.46
31 Benjamin Fairbanks (Aus) Fairbanks Eye GalleryBallarat                         0.41.53
32 Adam Norris (Aus)                                                              0.43.03
33 Tim Smyth (Aus)                                                                0.44.48
34 Adrian Dawson (Aus)                                                            0.50.68
35 Simon Campbell (Aus) Active Cycles Fox ForksDirt                               0.53.07
36 Benjamin Hale (Aus)                                                            1.09.71
37 Anthony Vaughan (Aus) Intense Tyre Systems,Avent                               1.12.96
38 Patrick Young (Aus) Drift, Ogio                                                6.02.42
DNF James Wright (Aus) The Bike Shed Mortdale                                            
DNF Mitchell Fletcher (Aus) the bike shed mortdale                                       
DNF Raffi Moss (Aus) Raw NRG, Shimano Interschools,                                      
DNF Ryan Hunt (Aus) utopia optics, camden cycles                                         
DNF Tim Windshuttle (Aus) UFO MTB Imports, Tathra Beach & Bike                           
DNF Jack Roach (Aus)                                                                     
 
Under 19 Women

1 Caroline Buchanan (Aus) KHS Bicycles,Unit Clothing                              3.18.83

Finals 

Elite Men

1 Nathan Rennie (Aus)                                                             2.37.95
2 Bryn Atkinson (Aus) Team GT, THE Helmets, Oakley, Dylan Dean Designs            0.02.16
3 Ben Cory (Aus) Shimano, Troy Lee designs, Manitou                               0.03.52
4 Steve Smith (Can) Giant, Michelin, Fox Racing Shox, Shimano                     0.04.79
5 Jared Rando (Aus) Giant Bicycles Spearman Cycles                                0.05.18
6 Amiel Cavalier (Aus) Orange, Dangerboy, Smith, RockShox, SRAM, Avid             0.05.86
7 Rick Boyer (Aus) MD racing, johnson & johnson."get some"                        0.06.27
8 Mitchell Delfs (Aus) Specialized, FSA/Gravity, Pushy Galore                     0.06.71
9 Brad Kelly (Aus) Iron Horse Bikes,Fox Racing,Sram,Rock Shox                     0.06.83
10 Ricky Lee (Aus)                                                                0.07.18
11 Darcy Murrel (Aus)                                                             0.07.31
12 Stuart MacDonald (Aus) cove bikes, southshore imports                          0.08.22
13 Cillian Kennedy (Aus) Giant bicycles, OGIO, Drizabone Activ, Aldgate Bikes     0.08.84
14 William Rischbieth (Aus)                                                       0.09.09
15 Deon Baker (Aus) Santa Cruz, ForTheRiders.com, Farkin.net                      0.09.84
16 Lindsay Klein (Aus) Drift Bike Style, Fox Clothing, Gt Bikes                   0.09.99
17 Kent Hamilton (Aus)                                                            0.10.87
18 Chris Coombe (Aus) Streamline Cycles, Scott Goggles                            0.10.91
19 Jarah Breese (Aus) Specialized Bike                                            0.11.23
20 Dennis Beare (Aus) Team Bashie                                                 0.11.89
21 Aaron Bashford (Aus)                                                           0.11.93
22 Brad Oien (USA) UFO/MTB Imports                                                0.12.08
23 Tom Lewis (Aus) Scott USA, No Fear, EVS, Spearman Cycles                       0.12.36
24 Cody Eichhorn (Aus)                                                            0.12.57
25 Chris Whitelock (Aus) robbie bourdon                                           0.13.20
26 Rhys Atkinson (Aus) Kona, Mt.Buller, Shimano, Marzocchi                        0.13.24
27 Alex Swann (Aus) 4 Shaw agencies, Monza Imports, McBain Cycles.                0.13.33
28 Kaine Cannan (Aus) Yeti Australia, Fox Suspension, Hayes                       0.13.41
29 Timothy Eaton (Aus) Raw Nrg thredbo                                            0.14.14
30 Luke Garnham (Aus) mongoose bikes/sram/rock shox                               0.14.56
31 Michael Kearton (Aus) Ashgrove Cycles, Santacruz Australia                     0.14.75
32 Dean Davies (Aus) MAL ADJUSTED BICYCLE EMPORIUM                                0.14.92
33 Hamish Armstrong (Aus) AshgroveCycles.com                                      0.15.10
34 Hayden Lester (Aus) GIANT,FOX,SRAM                                             0.15.51
35 Craig Yates (Aus) yarra Valley Cycles                                          0.15.58
36 Brenden Wood (Aus) Hi-Way Cycles, Maxxis Tyres                                 0.17.75
37 Miikael Kinnunen (Aus)                                                         0.17.96
38 Glen Ward (Aus)                                                                0.18.04
38 Toby Breheny (Aus) derrico cycles                                                     
40 Harry Armstrong (Aus) Buller Ski LIfts                                         0.18.10
41 Isaac Heppell (Aus) streamline cycles                                          0.18.34
42 Trevwah Burke (Aus)                                                            0.19.23
43 Cameron Allonby (Aus)                                                          0.19.98
44 Thomas Rose (Aus)                                                              0.20.19
45 Oscar Buckle (Aus) Mongoose BikesCropthorn Clothing                            0.20.93
46 Ben Morrison (Aus) Onya Bike Belconnen                                         0.20.99
47 Christian Tucker (Aus) blackman bicyles                                        0.21.16
48 Michael Jobson (Aus) MAD Roota Racing/Paton Performance                        0.22.22
49 Thomas Kerney (Aus) carine cycles and cottosloe cycles                         0.22.62
50 Ryan Andrews (Aus)                                                             0.24.08
51 Mark Beeksma (Aus)                                                             0.25.36
52 Zac MacAnally (Aus)                                                            0.25.41
53 Jared Blackmore (Aus) 'the Bane'                                               0.26.53
54 Benjamin Ayling (Aus) Mongoose-Sram,Maxxis,Crankbrothers                       0.27.14
55 Joshua Button (Aus)                                                            0.27.58
56 Jacob Coles (Aus)                                                              0.28.73
57 Simon Glanvolle (Aus) fektor b                                                 0.41.36
58 Brett 'binface' Pengelley (Aus) Fox, Michelin, Dragon                          0.59.45
59 Andrew Mills (Aus) Gt Bicycles, Fox, Ogio                                      1.12.79
60 Adam Smithson (Aus)                                                            1.18.83
61 Jamie Green (Aus) DH Direct, Turner, Bilt                                      1.27.73
DNF Adam Dossetor (Aus)                                                                  
DNF Lincoln Verass (Aus) Bling Industries                                                
DNS Ryan Meader (Aus) Giant, RockShox, Gamut, SCU,                                       
DNS Dave West (Aus) Turner, DH Direct, Bilt,                                             
DNS Gareth Paton (Aus)         

Elite Women

1 Tracy Moseley (GBr) Kona Factory Team                                           3.01.12
2 Tracey Hannah (Aus) Raw NRG, Shimano -> your name here just ask!                0.00.06
3 Julia Boer (Aus) Onya Bike Tuggeragong, Intense, Fox                            0.20.71
4 Claire Whiteman (Aus) Kona MtBuller Facory DH TeamACTASMal Adjusted Bicycles    0.25.24
5 Leigh Douglas (Aus) 4Shaw Agencies, Treadlies Bike Shop, Bling Industries       0.27.51
6 Sarsha Huntington (Aus) For The Riders.com, Norco                               0.32.47
7 Cara Smith (Aus) ONYA BIKE Belconnen, Paton Performance                         0.34.95
8 Joanne Fox (Aus) pylet.com, ufo mtb imports, Cell bikes                         0.37.72
9 Jayne Rutter (Aus) Biomechanics Cycles And Repairsgold Credit Card              0.39.17
10 Shannon Chugg (Aus)                                                            0.50.77
11 Rosemary Barnes (Aus) Giant Bicycles                                           0.52.44
12 Edwina Hughes (Aus)                                                            1.00.30
13 Vanessa Thompson (Aus) Pioneer Floorsanding                                    1.07.54
 
Under 19 Men

1 Dylan Prohm (Aus) IXS-Gravity                                                   2.48.97
2 Matthew Vincent (Aus) Turner, Bilt, Imperial, DH Direct                         0.00.27
3 Jock Farrington (Aus)                                                           0.03.16
4 Andy Phillips (Aus)                                                             0.03.47
5 Hans Hadley (Aus) Margaret River Cycles & Repair                                0.03.54
6 Ben Nylen (Aus) Yeti Gravity team                                               0.03.55
7 David Habicht (Aus) Downhill Direct                                             0.04.60
8 James Taormina (Aus) Fortheriders.com; Maxxis                                   0.05.55
9 David Maud (Aus) Bendigo Cycles                                                 0.06.04
10 Tamryn Murrel (Aus) www.ForTheRiders.com, CBD robina, Sloth Industries         0.06.68
11 Murray Stephens (Aus) Bendigo cycles                                           0.06.80
12 Liam Paiaro (Aus) fortheriders.com, kevin 07                                   0.07.00
13 Austin Hicks (Aus) Intence bikes ,rockshock ,avid                              0.07.11
14 Llewellyn Griffith (Aus) Switchmode Power Supplies                             0.07.83
15 Hugh Walker (Aus) Carine Cylces                                                0.08.08
16 Adrian Dawson (Aus)                                                            0.13.48
17 Mitchell Fletcher (Aus) the bike shed mortdale                                 0.13.93
18 Ben Leaper (Aus)                                                               0.14.31
19 Benjamin Fairbanks (Aus) Fairbanks Eye GalleryBallarat                         0.15.06
20 Patrick Young (Aus) Drift, Ogio                                                0.16.16
21 Shaun O'Connor (Aus) Santa Cruz                                                0.17.01
22 Mitch Forbes (Aus)                                                             0.17.75
23 Rowan Saunders (Aus)                                                           0.18.10
24 Elliot Smith (Aus) mitcham cycles                                              0.20.95
25 Tom Rowe (Aus) Aldgate Bike Shop                                               0.21.03
26 Simon Campbell (Aus) Active Cycles Fox ForksDirt                               0.21.67
27 Anthony Rodgers (Aus)                                                          0.22.30
28 Clark Hawke (Aus) Nicolai/SRAM, Rouler Imports                                 0.22.99
29 Liam Howarth (Aus) The Bike Shed Mortdale                                      0.23.47
30 Tyson Jones (Aus)                                                              0.24.56
31 Matthew Dooley (Aus) dee why beach cycles                                      0.25.45
32 Josh Johnston (Aus) Mum and Dad                                                0.26.48
33 Andrew Brett (Aus)                                                             0.26.53
34 Tim Smyth (Aus)                                                                0.36.85
35 Adam Norris (Aus)                                                              0.37.49
36 Rhys Willemse (Aus) Tomac Factory Racing Team                                  1.00.75
37 Benjamin Hale (Aus)                                                            1.03.12
38 Anthony Vaughan (Aus) Intense Tyre Systems,Avent                               1.07.81
39 Brad Ardern (Aus) Tathra Beach and Bike                                        3.59.21
DNS James Wright (Aus) The Bike Shed Mortdale                                            
DNS Raffi Moss (Aus) Raw NRG, Shimano Interschools,                                      
DNS Ryan Hunt (Aus) utopia optics, camden cycles                                         
DNS Tim Windshuttle (Aus) UFO MTB Imports, Tathra Beach & Bike                           
DNS Jack Roach (Aus)                                                                     
 
Under 19 Women

1 Caroline Buchanan (Aus) KHS Bicycles,Unit Clothing                              3.18.75