MTB index page for all MTB content
MTB World Cup XC #7 & DH #5 - CDM
Bromont, Canada, August 1-3, 2008
Main Page Results Previous Race Next Race World Cup Standings
Race 3 - August 2: Elite men 4X
Alvarez makes comeback to win
By Sue George in Bromont, Québec
World Champion Rafael Alvarez De Lara Lu won
Photo ©: FJ Hughes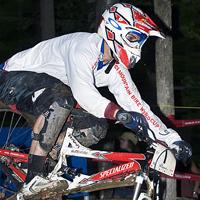 Rafael Alvarez de Lara Lu won a rainy elite men's 4X in Bromont for this second World Cup win in a row after also taking Mont-Sainte-Anne last weekend. If you also count the World Championships, it was his third win in a row. Cedric Gracia (Commencal - Furious - Oak) finished second in the Big Final. After crashing, Guido Tschugg ended up third and Johannes Fischbach (Team Ghost International) was fourth.
It looked like World Champion Rafael Alvarez de Lara Lu would miss the big final after crashing at the start of his semi-final heat, but when two other riders crashed later in the same run, he seized the opportunity and finished second in that round to advance.
Alvarez had crashed in his semi-final round because he anticipated the start too early. "There was a lot of noise at the top and it was impossible to hear," he said through a translator. "I thought I heard the start, and so I went before the (actual) start." He was left picking himself up at the gate while the others rolled away, but he didn't give up.
Guido Tschugg took the win in Alvarez's semi-final heat, but behind him Filip Polc and John Swanguen who crashed, giving Alvarez a chance to move to second from fourth and thereby punch his ticket to the big final.
In the other semi-final, Fischback and Gracia advanced ahead of Romain Saladini (Team Sunn) and Joost Wichman (Cannondale Factory Racing Team). Wichman looked to have the second spot, but a gutsy pass by Gracia got him second and a ride to the Big Final.
In the big final with Alvarez, Tschugg, Fischbach and Gracia, sparks flew from the start. Alvarez made sure his timing at the start was perfect. He knew just what he needed to do.
"In the final, I knew to keep my eye on the first corner and that's where I would give myself the most options to win," said Alvarez.
Behind him, the race was between Tschugg and Fischbach.
"We were fighting for second place, and I always tried to pass in the corners - on the inside," said Tschugg. "Then I thought, 'Now I got him,' but his rear went out and I crashed.
"We both crashed and his pedal ended up in my front wheel, so we couldn't get up quickly and go," said Tschugg. "I waited for him and we both rode in together."
That left Gracia an open door to charge for second place overall.
"I knew everyone was falling on the ground and I waited," joked Gracia. "My game was to wait until everyone else crashed and if they didn't crash, I'd make them crash. I heard its legal in mountain biking…" he trailed off as he turned his attention to an offered beer which he was being encouraged to chug by some inebriated fellow racers and fans.
Photography
For a thumbnail gallery of these images, click here
Images by FJ Hughes / www.fhughesphoto.com
Images by Dave McElwaine/www.trailwatch.net
Results
Big Final

1 Rafael Alvarez De Lara Lu (Spa) 
2 Cedric Gracia (Fra) Commencal - Furious - Oak
3 Guido Tschugg (Ger) 
4 Johannes Fischback (Ger) Team Ghost International

Small Final

5 Joost Wichman (Ned) Cannondale Factory Racing Team
6 John Swanguen (USA) MS Intense Factory Racing Team
7 Romain Saladini (Fra) Team Sunn
8 Filip Polc (Svk) Kenda Tomac

1/4 Finals

9 Dan Atherton (GBr) Animal Commencal
10 Scott Beaumont (GBr) Rocky Mountain UK
11 Will Longden (GBr) Team Bike Radar
12 Kamil Tatarkovic (Cze) Suzuki-RB
13 Dominik Gspan (Swi)
14 Hans Lambert (Can) Norco World Team
15 Erik Nelson (USA) 
16 Tomas Slavik (Cze) 

1/8 Finals

17 Fabien Cousinie (Fra)
18 Lewis Lacey (GBr)
19 Cody Warren (USA)
20 Michael Robert Haderer (USA)
21 Heikki Hall (USA) 
22 Adrian Weiss (Swi) Tomac Factory Racing 
23 Cody Eichorn (Aus)
24 Florian Gottschlich (Ger)
25 Jurg Meijer (Ned)
26 Joey Van Veghel (Ned)
27 George Stephenson (USA)
28 Scott Roberts (GBr)
29 Sascha Meyenbourg (Ger)
30 Bruno Boissin (Fra)
31 Michael Garcia (Ned)
32 Adrian Hanko (Ger) Solid AClass Factory Team

Qualifications

DNS Ludovic Gadois (Fra)
DNS Nicolas Gspan (Swi)
DNS Greg Minnaar (RSa)  Santa Cruz Syndicate

Teams

1 MS-Intense Factory-Racing             85 pts
2 Commencal - Furious - Oakley Team     35
3 4 Elements Yeti/Hotec/RSP             30
4 Team Ghost International              26
5 Cannondale Factory Racing             22
6 Team Sunn                             18
7 Norco World Team                      17
8 Kenda Tomac                           16
9 Animal Commencal                      14
10 Rocky Mountain UK                    12
11 Team Bike Radar                      10
12 Suzuki-RB                             9

World Cup stadnings after five rounds

1 Rafael Alvarez De Lara Lucas (Spa)                                   860 pts
2 Guido Tschugg (Ger)                                                  750
3 Cédric Gracia (Fra) Commencal - Furious - Oakley Team                550
4 Dan Atherton (GBr) Animal Commencal                                  520
5 Johannes Fischbach (Ger) Team Ghost International                    340
6 Romain Saladini (Fra) Team Sunn                                      340
7 Joost Wichman (Ned) Cannondale Factory Racing                        315
8 Kamil Tatarkovic (Cze) Suzuki-RB                                     265
9 Jared Graves (Aus) Yeti Fox Shox Factory Race Team                   250
10 Tomas Slavik (Cze)                                                  205
11 Brian Lopes (USA)                                                   200
12 Filip Polc (Svk) Kenda Tomac                                        170
13 Jurg Meijer (Ned)                                                   135
14 Michal Prokop (Cze)                                                 120
15 Mickael Deldycke (Fra)                                              120
16 Rastislav Pirman (Svk) 4 Elements Yeti/Hotec/Rsp                    120
17 John Swanguen (USA) MS-Intense Factory-Racing                        80
18 Scott Beaumont (GBr) Rocky Mountain UK                               75
19 Ross Milan (USA) Yeti Fox Shox Factory Race Team                     70
20 Sascha Meyenborg (Ger)                                               60
21 Will Longden (GBr) Team BikeRadar                                    55
22 Quentin Derbier (Fra)                                                50
23 Fabien Cousinie (Fra)                                                35
24 Tomas Haluza (Cze)                                                   35
25 Thomas Tokarczyk (USA)                                               30
26 Dave Wardell (GBr)                                                   30
27 Sidney Gerber (Swi)                                                  25
28 Dominik Gspan (Swi)                                                  20
29 Joey Van Veghel (Ned)                                                20
30 Hans Lambert (Can) Norco World Team                                  15
31 Ludovic Gadois (Fra)                                                 15
32 William Evans (GBr)                                                  15
33 Erik Nelson (USA)                                                    10
34 Lewis Lacey (GBr)                                                    10
35 Michael Garcia (Ned)                                                 10
36 Miroslav Jirka (Cze)                                                 10
37 Adrian Weiss (Swi) Tomac Factory Racing                               5
38 Frans Sjoblom (Swe)                                                   5
39 Lukas Mechura (Cze) Chain Reaction Cycles/Intense                     5
40 Livio Zampieri (Ita)                                                  5

Team standings

1 MS-Intense Factory-Racing                 280 pts
2 4 Elements Yeti/Hotec/RSP                 126
3 Commencal - Furious - Oakley Team         119
4 Suzuki-RB                                 107
5 Animal Commencal                          104
6 Norco World Team                           92
7 Team Ghost International                   80
8 Team Sunn                                  73
9 Cannondale Factory Racing                  64
10 Yeti Fox Shox Factory Race Team           64
11 Kenda Tomac                               56
12 Rocky Mountain UK                         28
13 Team Bike Radar                           19
14 Tomac Factory Racing                       5
15 Chain Reaction Cycles/Intense              5