MTB index page for all MTB content
15th La Ruta de los Conquistadores - NE
Costa Rica, November 14-17, 2007
Main Page Results Overall standings Previous Stage Next Stage
Stage 3 - November 16: Terremall - Aquiares, 66.7 km
Ramirez, Haywood go three from three
By Rob Jones
Federico Ramirez Mendez (BCR-PIZZA HUT-POWERADE-KHS) crosses the line
Photo ©: Luis A. Rueda Fonseca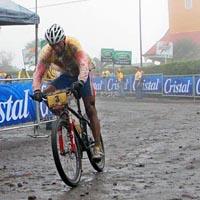 Day three saw La Ruta hit its highest point, at 3010 metres above sea level on the slopes of the Irazu volcano. The mud quotient also decreased significantly from the first two stages, but it made no difference to the results; Federico Ramirez (BCR-Pizza Hut-Powerade-KHS) and Sue Haywood (Trek-VW) took their third consecutive stage victories, and extended their already significant overall leads to the point that it will take a miracle for them to be displaced in the final day tomorrow.
Stage 3 started on the outskirts of San Jose and immediately began to climb. After rolling through crowded city streets (and on the sidewalk at one point to get around a traffic snarl up involving two buses, a transport truck and multiple scooters), the field stretched out quickly as the pavement tilted up.
Eight kilometres into the climb, riders entered a narrow green tunnel between three metre tall, moss covered dirt embankments, topped by huge ferns and trees. The track had degenerated to a pair of slippery cement pads the width of a car footprint, and was as steep as 18 percent in places.
Coming out of the tunnel the riders hit a short flat section of grass and mud before a final 20 percent singletrack grunt to the first checkpoint. After a short downhill respite, it was a solid 20 kilometres of climbing to the top of the climb. While the savagely steep sections of stage two were absent, mist, rain and the cold sapped the strength of riders.
Coming down Turrialba Volcano was much quicker
Photo ©: Luis A. Rueda Fonseca

At the top, it was 15 kilometres of gradual descending, with the first few kilometres the roughest. The final 15 kilometres was straight descending, with the last five switchbacking through coffee plantations to finish in the town of Aquiares (literally 'Surrounded by Rivers').
Ramirez had commented after the previous stage that his team's plan was to 'control' the race and watch his rivals. That plan had obviously changed overnight, when he attacked hard six kilometres into the race and rode away from the rest of the top contenders.
"It was my strategy to attack," he explained. "Last year I got flat tires and a minor injury on the downhill, so I wanted to go down more slowly at my own pace and be careful. It was something that my trainer and I discussed."
He very quickly opened a gap, with Thomas Dietsch (Gewiss-Bianchi) commenting wryly "In three minutes he had one minute on us," said Dietsch. "He is so strong, it was not possible to chase."
William Vargas Ramirez (SCOTT) leads
Photo ©: Luis A. Rueda Fonseca

Ramirez rode steadily away to establish a gap approaching 10 minutes by the top of the climb. At the top his mechanic quickly changed his wheels to ones with wider tyres for the downhill, while Ramirez grabbed some food and put on a jacket for the descent.
His team mate Juan Alberto Solis came over the top next, followed by Deiber Esquivel (IBP Pensiones), Tinker Juarez (Cannondale), Paolo Montoya Macosta-Lee Cougan) and Dietsch all together. Esquivel descended with reckless abandon to overtake Solis and finish second, just under nine minutes behind Ramirez. Juarez finished fourth when Montoya flatted and Dietsch decided to take it more cautiously.
"We rode as a small group on the climb, but the downhill was very technical with many rocks. I decided to ride it very carefully," commented Dietsch.
Montoya took fifth, just ahead of Dietsch, and these two riders hung onto their second and third spots respectively in the overall standings, while Solis moved into fourth and Juarez is fifth.
Riders push through the fog
Photo ©: Luis A. Rueda Fonseca

Haywood added another 17 minutes and 41 seconds to her lead over second-placed Louise Kobin (Sho Air-Rock and Road), and is now over 43 minutes up on her rival with one stage remaining.
"Today was a 'wow' day, the terrain was amazing," she explained. "Louise and I started together, but we split up when we hit the pavement. I didn't think I was getting much time on the climb, because I could always see her one switchback below.
"Today was the day I was looking for; I'm in stage race mode now," she added. "But I'm in awe of the climbing they have here - that is the test of La Ruta."
Race Notes
- A lot of riders missed a crucial turn early on the downhill and lost varying amounts of time - from a few minutes to, at the extreme end, elimination from the general classification for Max Plaxton (Rocky Mountain-Haywood).
"I descended for like 12 kilometres, and there was no way that I could climb all the way back up, so I got a ride in the back of the pickup of a local farmer, and then when I got to the last checkpoint got into the broom wagon. I was so cold; I swear that I saw snowflakes in the back of the pickup."
Deiber Esquivel Benavides (IBP Pensiones) leads
Photo ©: Luis A. Rueda Fonseca

Andreas Hestler (Rocky Mountain-Haywood) came into the downhill in tenth place and by the time he got back on course (after a flat) he had dropped to 23rd. Manny Prado (Sho Air-La Ruta) went in eighth and lost some 25 minutes, dropping to 21st.
- Samantha Philips (formerly Nicholson), a former top Canadian cyclo-crosser, was leading the women's race in stage one when she crashed heavily. She continued on to the second checkpoint, with an extremely painful shoulder. When she had it checked out by first aid, it turned out that she had covered some of the toughest riding of the stage with a compound fracture of the collarbone. She went to hospital and had surgery, with a plate installed.
"It was a stupid little crash; I was looking at my line ahead when my wheel went into a little waterbar and twisted the bars, and sent me over."
She is back at the race today, providing support for a friend.
- Race founder Roman Urbina was driving the lead motorbike on Day 2 when he misjudged a corner on the first descent and crashed, breaking his knee. He was back at the race this morning, on crutches.
Photography
For a thumbnail gallery of these images, click here
Images by Luis A. Rueda Fonseca
Images by Rob Jones/www.canadiancyclist.com
Results
Open men
 
1 Federico Ramirez Mendez (CRc) BCR-PIZZA HUT-POWERADE-KHS                                3.34.25 (18.748 km/h)
2 Deiber Esquivel Benavides (CRc) IBP Pensiones                                              8.56
3 Juan Alberto Solis Rodas (CRc) BCR-PIZZA HUT-POWERADE-KHS                                 10.29
4 David 'Tinker' Juarez (USA) Cannondale                                                    13.09
5 Paolo Montoya Cantillo (CRc) Macosta Lee Cougan Santa Ana BCT                             15.00
6 Thomas Dietsch (Fra) Gewiss Bianchi                                                       16.59
7 Sandro Spaeth (Swi) Ride Magazine - Texner BMC                                            35.55
8 Gonzalo Bonilla Pereira (CRc) Ciclo Paraíso                                               36.09
9 Thomas Zahnd (Swi) Team Stoeckli-Craft                                                    37.36
10 Cory Wallace (Can) Team Jasper                                                           37.53
11 Jason Sager (USA) MonaVie/Cannondale                                                     38.52
12 Carlos Daniel Fernandez Vegas (Ven) Pan de Azucar Bike Team, edo.miranda venezuela       39.16
13 Alfredo Acosta Gonzalez (CRc) Fiesta Total                                               40.38
14 Brandon Dwigth (USA) Boulder Cycle Sport                                                 45.50
15 Kris Sneddon (Can) Kona                                                                  47.28
16 Chucky Gibson (USA) Tahitian Noni International                                          51.24
17 Enrique Artavia Cedeira (CRc) Super Pro Banco BCT Santa Ana                              51.56
18 Kanga Akerson Rom (USA) Rock Shox - Sram                                                 52.43
19 Jason First (USA) Crank Brothers                                                         53.45
20 Manuel Prado (CRc) Sho Air / La Ruta                                                     57.47
21 Luis Villanea Viquez (CRc) Scotiabank / DHL / Rock Shox-Sram                             58.09
22 Andreas Hestler (Can) Rocky Mountain / Haywood Securities                              1.02.38
23 Emilio Brenes Jiménez (CRc)                                                            1.04.34
24 Jairo Garita Hernández (CRc) Wabe S.A                                                  1.05.15
25 Jhony Madrigal Zumbado (CRc) Xerox                                                     1.07.30
26 Luis Carlos Araya Aguilar (CRc) Ciclo Paraíso                                          1.09.23
27 Frederick Dreier (USA) VeloNews                                                        1.10.09
28 Juan Diego Jimenez Sequeira (CRc) Fiesta Total                                         1.10.49
29 Erik Bakke (USA) Deadgoat Racing                                                       1.16.14
30 Brian Cimmiyotti (USA) Scott's cycle and sport/sigma management                        1.18.39
31 Timmy Dougherty (USA) BearNaked / Cannondale                                           1.19.28
32 Jon Nutbrown (Can) Ridley's/Giant                                                      1.23.21
33 Marco Antonio Pohlond Madrigal (CRc) Scotiabank / DHL / Sweaters                       1.24.23
34 Stream Akerson (USA) Heart Transverter                                                 1.28.29
35 Harry Precourt (USA) North Atlantic Velo / Classbook.com                               1.31.43
36 Werner Van Der Merwe (RSA)                                                             1.32.57
37 Javier Lerma (Mex) Global Niches                                                       1.40.17
38 Alex Ramirez Salas (CRc) Complejo Wilmer Lopez/Ciclo Guilly Brumoso                    1.43.06
39 Jason Asay (USA) Tahitian Noni International                                           1.43.08
40 Salvador Borrego-Crum (USA) Hunter Cycles/Championships Unlimited                      1.45.01
41 Fabricio Loaiza Granados (CRc) Hospira Holdings / Costa Rica                           1.47.06
42 Joel Grimmett (USA) Lonestar Racing Club                                               1.47.33
43 Jose Santos Miranda Blandon (Nic) Cisa Seguridad - San Alberto                         1.49.51
44 Christian Lesko Madriz (CRc)                                                           1.53.50
45 Rufus Pichler (Ger) Kissena Cycling Club                                               1.56.25
46 Marvin Solano Gomez (CRc) Techos y Estruct. de CR-Ciclo Brenes Paraiso                 1.57.45
47 Hamish Bingley (GBr) Ben Hayward Cycles, Cambridge, UK                                 2.00.01
48 Oscar Marín Jimenez (CRc)                                                              2.02.00
49 Marcos Reichert (Gua) Xerox / Donde Jose / Trefrateli                                  2.02.43
50 Olman Abarca Miranda (CRc)
51 Brian Guillermo Arias Chaves (CRc)                                                     2.02.44
52 Pedro Bento (Por) Ribabike                                                             2.05.52
53 Carlos Eduardo Jiménez Méndez (CRc) FADASA S.A                                         2.06.58
54 Bill Apeldoorn (Ned) Autobedrijf Dirk v/d Steen, kroone Liefting                       2.07.31
55 Castillo Miguel Labarta Del (Spa) Matxacuca                                            2.11.11
56 Peter Butt (Aus)                                                                       2.13.02
57 Orion Akerson (USA) Heart Transverter                                                  2.16.39
58 Federico Hazera Fernández (CRc) CIRCUITO                                               2.18.07
59 Tomás Castrillón (Col) Átomos Volando Bogotá                                           2.20.50
60 Zack Heim (USA) Paragon Cycling/San Tan Racing                                         2.24.05
61 Michael Gabor (USA)                                                                    2.25.13
62 Douglas Jenne (USA) Vicious Cycles / BareKnuckleBrigade / Twin Six                     2.25.58
63 Jonny Hintze (USA) Biker's Edge / Destination Homes                                    2.26.29
64 Jake Pantone (USA) Biker's Edge / Destination Homes                                    2.26.30
65 Pablo Carpio Leiva (CRc) Acipa Paraiso                                                 2.30.18
66 Cesar Alcazar Mendez (CRc)                                                             2.36.10
67 David Bragulat Vila (Spa) Btt Llagostera - Medina                                      2.37.08
68 René Quesada Morales (CRc) Asocaci Bikes and Friends Cartago                           2.38.59
69 Gerard Joliat (Swi) Bogy's                                                             2.44.00
70 Christopher Lang Arce (CRc) Ulicori - Cycling Solutions - Specialized                  2.46.05
71 Gabriel Byrne (USA) Kovarus/Squadra Ovest                                              2.48.50
72 Alejandro Madrigal Guerrero (CRc) Artillería Pesada                                    2.49.04
73 Teal Akerson (USA) Heart Transverter                                                   2.49.09
74 Álvaro Quesada Loría (CRc)                                                             2.50.35
75 William Sullivan (USA) Cowbell Challenge                                               2.52.28
76 Rolando Flores Mercado (Mex) Burger King Mazatlan                                      2.57.08
77 Matthew Young (Can)                                                                    2.59.26
78 Tom Beentjes (Ned) Autobedrijf Dirk v/d Steen, kroone Liefting                         3.01.26
79 Alberto Gamboa Pacheco (CRc) Caribbean Bikers / Seven Capital Ltd                      3.01.47
80 Gabriel Carbajal (USA) Dos Compas Racing                                               3.14.36
81 Victor Manuel García Montoro (Spa) Bidones Roma S.A                                    3.14.41
82 John Cordoba (USA) Masterman/rnr                                                       3.17.08
83 Charles St Jeor (USA) ALG Worldwide                                                    3.21.15
84 Andrés Fernández Salazar (CRc)                                                         3.24.13
 
Open women
 
1 Susan Haywood (USA) Trek / VW                                                           4.42.45
2 Louise Kobin (USA) Sho Air/Rock and Road                                                  17.41
3 Maria Alejandra Carvajal Brenes (CRc) BCR-PIZZA HUT-POWERADE-KHS                          51.23
4 Angela Parra Sierra (Col) SAFETY, Hammer Nutrition, BSS                                 1.14.52
5 Trish Grajczyk (Can) Deadgoat Racing                                                    1.19.22
6 Tamara Goeppel (Can) Leki BikeXtreme                                                    1.27.00
7 Rebeca Hidalgo Vargas (CRc) Powerade                                                    1.41.10
8 Silvia Cob (CRc) Muscle                                                                 1.48.53
9 Fanny Paquette (Can) MountainBiking Magazine / Rocky Mountain                           1.51.32
10 Caroline Pinard (Can) Corazon-CBRS                                                     2.09.32
11 Jennifer Sica (USA) Schampa Racing                                                     2.10.34
12 Rebeca Marín Solano (CRc) Rios Tropicales - Disexport - Mawamba                        2.12.21
13 Elizabeth Ward (RSA)                                                                   2.13.05
14 Jeannie Batán Solera (CRc) Planet Gym                                                  2.16.49
15 Patti Plagmann (USA) Team Bike Lane                                                    2.20.28
16 Erika G. Beckley (Mex) Gary Fisher Coxflor                                             2.26.07
17 Carey Lowery (USA) Team outdoor store                                                  2.35.12
18 Cintia Coto Elizondo (CRc) Powerade                                                    2.51.07
19 Maria Gabriela Rivera Guevara (CRc) ACACI                                              2.51.08
20 Paula Waite (USA)                                                                      3.15.15
21 Bethany Elson (USA) Jan´s                                                              3.16.39
22 Rennie Greene (USA) Privateer                                                          3.21.41
23 Heather Simmons (Can) Mattamy Homes / Aquila Racing                                    3.23.13
24 Ileana Soto Alvarez (CRc)                                                              3.29.18
25 Kerrie Noonan (Aus) Ride Beyond - MS Racing                                            3.33.25
26 María Sarmiento Ana (Col)                                                              3.33.44
27 Becky Reimann (USA) The Alpineer - Crested Butte, CO                                   3.39.12
28 Sheila Gardner (Can) J&J Cycle Racing                                                  3.46.08
29 Ana Lucia Arias Fernández (CRc) Ulicori Bticino                                        3.50.06
30 Charlotte Ireland (NZl)                                                                4.41.45
31 Marianela Rivera Zúniga (CRc) VisiteCosta Rica.com                                     4.43.29
32 Michiko Kawamoto (Jpn) Vista Guapa Surf Camp                                           4.57.19
33 Shannon Boyd (USA)                                                                     5.00.49
34 Jessy Broyles (USA) BaseFirma                                                          5.01.16
35 Cricket Butler (USA)                                                                   5.02.02
36 Kristen Cadle (RSA)                                                                    5.14.31
37 Tori Fahey (Can) Deadgoat Racing                                                       5.15.18
38 Audrey Adler (USA)                                                                     5.15.29
39 Dawn Kaczor (USA) MTBMind/Lunachix                                                     5.18.13
 
Master A
 
1 Matt Gordon (USA) Orbea                                                                 4.12.38
2 Jose Angel Beltran Bernal (Mex) Turbo                                                      6.08
3 Melvin Rojas Alfaro (CRc) Ciclo Guilly                                                     6.50
4 Scott Henry (USA) Trek / VW                                                                6.54
5 Benjamin Thompson (USA) www.bendelitemtb.com                                              13.26
6 William Vargas Ramirez (CRc) SCOTT                                                        14.56
7 Luis Diego Chaverri Madden (CRc)                                                          16.29
8 William Valverde Barquero (CRc) Vedova Y Obando / Husquarna                               17.17
9 Rafael Alberto Marrero Molina (CRc) Team Isostar                                          18.02
10 Edgar Zumbado Madrigal (CRc) Bike Station - Gary Fisher                                  22.58
11 Werner Eichler Contreras (CRc) Ulicori Bticino                                           29.39
12 Perry Thomas (USA) Cycle South                                                           31.11
13 Roberto García Lachner (CRc) Rock Shox - Sram                                            33.13
14 Manfred Avila Kopper (CRc) TiTus / Vitalissimo                                           36.59
15 Peter Paelinck (Bel) www.reevax.be                                                       40.07
16 Eelco Docter (Ned) Macclesfield Wheelers                                                 40.11
17 Marcelo Silva Guistiniani (CRc) magnarealtycostarica.com                                 43.45
18 Warren Ellis (Can) NRG / EAGLE HOMES                                                     53.45
19 Randal Solano Quiros (CRc) Rios Tropicales-Disexport-Mawamba                             57.49
20 Jeffrey Cote (Can) TwinSix                                                             1.01.14
21 Garry Christopher (GBr) Ride Beyond - MS Trust                                         1.01.56
22 Kevin Perry (USA)                                                                      1.04.28
23 Christopher Cook (USA)                                                                 1.04.52
24 Marco Moreno Hernández (CRc) Ciclo Deportes M.Moreno - Marzocchi                       1.05.36
25 Scott Slingerland (USA)                                                                1.05.38
26 Juan Carlos Marín Valenciano (CRc)                                                     1.06.43
27 Michel Bujold (Can) Lessard Cycle                                                      1.07.15
28 Emile Bruneau (USA) Two Muddy Ruckers                                                  1.07.19
29 Ron Ellis (Can) Eagle Homes                                                            1.08.49
30 Vik Chaudhuri (GBr)                                                                    1.09.30
31 Randall Aguilar Quesada (CRc) Acipa Paraiso                                            1.14.09
32 José Ramón Castañeda Gallegos (CRc)                                                    1.15.54
33 Jose Morales Zuger (Gua) Xerox / Donde Jose / Trefrateli                               1.16.02
34 Marvin Elizondo Solano (CRc) Gimnasio Todd                                             1.16.19
35 Federico Soto Castro (CRc)                                                             1.16.48
36 Ismael Peraza Chavarria (CRc) Muscle                                                   1.19.39
37 Charlie Eustace (GBr) Ellsworth / Freeborn.co.uk / Torq                                1.20.35
38 Stuart Spies (RSA) Madengine Racing                                                    1.20.39
39 Cacho Rodríguez Alvarado (CRc) Hotel Cortez Azul                                       1.21.46
40 Roy Soto Arguedas (CRc)                                                                1.22.44
41 José Arguedas Morera (CRc) Rios Tropicales - Disexport - Mawamba                       1.23.40
42 Rich Dillen (USA) Team Dicky                                                           1.26.37
43 Jarrett Keim (USA) RJ Griffin & Company                                                1.28.36
44 Aguilar Luis De Ezpeleta (CRc) Aval / Litespeed                                        1.29.11
45 Alexander Torres Solano (CRc) Cafetalera Aquiares                                      1.30.26
46 Jason Boynton (USA)                                                                    1.31.43
47 José Herrera Herrera (CRc) Hospira Holdings / Costa Rica                               1.33.51
48 Shawn Luphco (USA) MonaVie/Cannondale                                                  1.35.30
49 Antonio Beltran Marco (Mex) Gary Fisher Coxflor                                        1.35.33
50 Kip Mikler (USA) Bike Magazine                                                         1.35.35
51 Omar Gerardo Jara Rodríguez (CRc) P.Guisa Hotel Arenal Rivera Ciclo Movi               1.36.49
52 Marco Chinchilla Vaglio (CRc) Mani La Guaria                                           1.38.54
53 Luis Rubi Quant (CRc) Auto Lavado Pinares                                              1.40.28
54 Sam Dowling (GBr) Fanylion Racing                                                      1.42.43
55 Taro Smith (USA) Boulder Cycle Sport                                                   1.43.18
56 Alejandro Nietzen (CRc) Caribbean Bikers                                               1.44.40
57 Harry K. McIntosh (USA) David's World Cycle                                            1.45.59
58 Manuel Hurtado Jose (Gua) Xerox / Donde Jose / Trefrateli                              1.47.42
59 Roger Mercaldi (USA) Seaside Cycle                                                     1.48.16
60 Flemming Lund (Den) Team Inmobia Extreme                                               1.49.46
61 Martínez Castro (CRc) ESCO                                                             1.51.22
62 Warner Smith (USA)                                                                     1.51.40
63 Michael Voie (USA) Touchstone                                                          1.51.44
64 Carlos Quiros Llobet (CRc) Xerox                                                       1.53.16
65 Ohran Ohranran Matt (USA) MonaVie/Cannondale                                           1.55.35
66 José Rojas Alvarado (CRc)                                                              1.55.54
67 Victor lonso Araya Pereira (CRc) Xerox                                                 1.55.56
68 Philippe Bukovec (Fra) Team Isostar                                                    1.55.57
69 Laudalino Ferreira (USA)                                                               1.58.43
70 Mattheww Kemp (GBr) Ride Beyond - MS Trust                                             1.59.17
71 Matt Bradley (USA) Staats Bicycles                                                     2.00.26
72 Billy Mollina (USA) Team Inmobia Extreme                                               2.01.50
73 Chris Sohayda (USA)                                                                    2.02.06
74 Thomas Spanning (USA) MonaVie/Cannondale                                               2.03.00
75 Chris Peters (USA) MonaVie/Cannondale                                                  2.03.24
76 Francisco Jiménez Fuentes (CRc)                                                        2.04.19
77 Andrés Martín Ovares (CRc)                                                             2.06.09
78 Ewdin Arce Hernández (CRc) Ciclo Mobi Heredia                                          2.07.26
79 Xavier Gonzalez Bautista (Spa) Platja D'aro                                            2.09.54
80 Aramis Chinchilla Luna (CRc) Grupo Colono                                              2.11.59
81 Peter D'Aquanni (USA)                                                                  2.14.58
82 Alejandro Wong Campos (CRc)                                                            2.15.14
83 Raul Rojas (CRc) DCMTB-City Bikes-Metro Gutter                                         2.15.22
84 Milton Fallas Barboza (CRc) Xerox                                                      2.15.42
85 Óscar Sánchez Esquivel (CRc)                                                           2.18.20
86 Andy Sanidas (USA) Igleheart Custom Frames / Western Cycle                             2.18.51
87 Daniel Tuggle (USA) Robert Earl Racing / Swobo                                         2.19.05
88 Peter Dunham (Can) Tristone Capital                                                    2.20.41
89 Daniel Kaufman (USA) GDI                                                               2.23.13
90 Hernando Castro (Ven) Chimanta-Venoco                                                  2.23.32
91 Gabriel Diaz Diaz (Spa) Sappysport                                                     2.29.51
92 Marc Ouellet (Can) Les Boys                                                            2.30.14
93 Carlos Barreto Herrera (Ven) Chimanta-Venoco                                           2.31.18
94 Fabio Roberto Villalobos Benavides (CRc)                                               2.33.09
95 Adam Baker (USA)                                                                       2.36.05
96 Steve Glazer (USA) Marin Bikes                                                         2.39.01
97 Sergio Alejandro Paez Gallo (Col) Synergy Adventure Colombia                           2.40.41
98 Eduardo Cortez (Ven) Henry Pittier, Vzla                                               2.41.35
99 Leonel Gómez Navarro (CRc) Ciclo Guilly - Flor del Café                                2.42.41
100 Alejandro Arias Victory (CRc)                                                         2.44.32
101 Kevin Clark (USA) The Bicycle Escape / Vassago Cycles                                 2.48.06
102 John Mercer (USA) Mama Osa                                                            2.48.18
103 Derk Wynia (Ned) Team Endurance Curacao                                               2.49.19
104 David Alfaro (USA) Touchstone                                                         2.49.22
 
Master B
 
1 Matt Luhn (USA) Gopher Gulch Dirt Alert                                                 4.39.44
2 Mike Charuk (Can) Team Whistler                                                            4.05
3 Stewart Stafford (USA) Austin Flyers/BSS                                                  10.57
4 John Finetto (USA)                                                                        13.36
5 Fernando Salazar Chavarría (CRc) Nitidos                                                  19.27
6 David Boyd (USA) Team Bike Lane                                                           28.55
7 Jorge Castillo (CRc) Santa Cruz Manitou                                                   29.24
8 Piccolo Gularte Casteñada (Gua) Xerox / Donde Jose / Trefrateli                           30.46
9 Cary Smith (USA)                                                                          34.54
10 Daniel McCarthy (USA)                                                                    38.58
11 Sergio Correa (USA)                                                                      49.12
12 Bruce Wilson (USA) Team Cycopath                                                         49.21
13 John Myers (USA) Myers Mechanical                                                        49.42
14 Andrew Yates (USA) Beef and Pie                                                          58.23
15 James Wilson (Can) BC BIKE RACE                                                        1.02.10
16 Michael Thiele (USA) Thieles Automotive                                                1.04.55
17 Todd Moyer (USA)                                                                       1.04.58
18 Trever Bushnell (USA) Construction Zone                                                1.07.44
19 Tom Ebbern (Can) Tristone Capital                                                      1.08.36
20 Omar Jimenez (CRc) Grupo Nación                                                        1.09.44
21 Modesto Jimenez Vargas (CRc)                                                           1.15.32
22 Robert Myint (USA) BikeFactory                                                         1.24.24
23 Berthold Schwarz (Ger) Quick & Dirty                                                   1.28.51
24 Todd Henne (USA) Yell Country Veterinary Service                                       1.29.39
25 Thomas Tetz (Ger) Leki BikeXtreme                                                      1.30.01
26 Andrew Rollin (USA) Cupertino Bike Shop                                                1.30.38
27 Tim Wilkie (USA) Riverbrook Bike & Ski                                                 1.31.47
28 Mark Cadle (GBr)                                                                       1.31.57
29 Paul Granger (Can)                                                                     1.33.48
30 Craig Vandelist (USA)                                                                  1.36.32
31 Dave Cormier (USA)                                                                     1.37.12
32 Andrew Caputo (USA) Central Wheel
33 Mauricio Alvarado Rivera (CRc) Powerade                                                1.42.19
34 Luis Alberto Araya Fonseca (CRc)                                                       1.45.28
35 Sean Wood (USA)                                                                        1.51.21
36 Franklin Matamoros Alpizar (CRc) Ciclo Varela Ciudad Colon                             1.52.50
37 Manuel Salguero Montoya (CRc) Asocaci Bikes and Friends Cartago                        1.54.21
38 John Wong (Can) Team Whistler                                                          1.54.49
39 Marc Ballard Jean (Can) CBRS                                                           2.03.08
40 Dan Swanson (Can)                                                                      2.04.14
41 Mark Parsons (Can) Mattamy Homes / Aquila Racing                                       2.04.20
42 Angelo Mascitelli (Can) Mattamy Homes / Aquila Racing                                  2.07.21
43 Raymond Woodruff (USA)                                                                 2.09.08
44 Enrique De Alba De Alba (Mex) Bike Style                                               2.14.30
45 Javier Guardián Astua (CRc)                                                            2.14.31
46 Marvin Hernández Monge (CRc) VisiteCosta Rica.com                                      2.14.50
47 Javier Zanora Víquez (CRc)                                                             2.16.25
48 Michael Belser (USA)                                                                   2.18.12
49 Roberto Garita Calvo (CRc) VisiteCosta Rica.com                                        2.19.40
50 Daniel P. Thauvette (Can) Corazon-CBRS                                                 2.20.09
51 Andrew MacDowall (Esc) Stirling Bike Club                                              2.20.17
 
Veterans
 
1 Sandy Mitchell (Can) Gerick Cycle Nelson                                                5.09.04
2 Tony Routley (Can) Team Whistler                                                          22.51
3 Ricardo Vela Del Valle (Spa) Club Ciclista Santa Eulalia                                  30.12
4 Clemente Hernández Muñoz (Spa) Freebike                                                   37.36
5 Ricardo Mata Brenes (CRc) Comite Cantonal Deportes y Recreción Paraiso                    38.08
6 Andrew Burton (GBr)                                                                     1.15.09
7 Jack Funk (Can) Deadgoat Racing/ Bow Cycle                                              1.20.16
8 Rodolfo Reichert (Gua) Xerox / Donde Jose / Trefrateli                                  1.23.57
9 Marty Halprin (Can) Olympia Cycle                                                       1.34.55
10 Jorge Luis Espinoza Loaiza (CRc)                                                       1.40.53
11 Marvin Avila Vindas (CRc) Planet Gym                                                   1.48.25
 
General Classification after Stage 3
 
Open men
 
1 Federico Ramirez Mendez (CRc) BCR-PIZZA HUT-POWERADE-KHS                               12.37.00
2 Paolo Montoya Cantillo (CRc) Macosta Lee Cougan Santa Ana BCT                             27.08
3 Thomas Dietsch (Fra) Gewiss Bianchi                                                       44.42
4 Juan Alberto Solis Rodas (CRc) BCR-PIZZA HUT-POWERADE-KHS                                 51.09
5 David 'Tinker' Juarez (USA) Cannondale                                                    58.55
6 Deiber Esquivel Benavides (CRc) IBP Pensiones                                           1.01.45
7 Sandro Spaeth (Swi) Ride Magazine - Texner BMC                                          1.06.33
8 Enrique Artavia Cedeira (CRc) Super Pro Banco BCT Santa Ana                             1.35.14
9 Thomas Zahnd (Swi) Team Stoeckli-Craft                                                  1.40.38
10 Gonzalo Bonilla Pereira (CRc) Ciclo Paraíso                                            1.48.46
11 Jason Sager (USA) MonaVie/Cannondale                                                   1.49.11
12 Kris Sneddon (Can) Kona                                                                2.00.29
13 Manuel Prado (CRc) Sho Air / La Ruta                                                   2.10.19
14 Cory Wallace (Can) Team Jasper                                                         2.33.37
15 Alfredo Acosta Gonzalez (CRc) Fiesta Total                                             2.42.38
16 Chucky Gibson (USA) Tahitian Noni International                                        2.42.39
17 Kanga Akerson Rom (USA) Rock Shox - Sram                                               2.44.03
18 Brandon Dwigth (USA) Boulder Cycle Sport                                               2.47.10
19 Andreas Hestler (Can) Rocky Mountain / Haywood Securities                              3.18.40
20 Stream Akerson (USA) Heart Transverter                                                 3.19.48
21 Jon Nutbrown (Can) Ridley's/Giant                                                      3.32.07
22 Luis Villanea Viquez (CRc) Scotiabank / DHL / Rock Shox-Sram                           3.32.39
23 Brian Cimmiyotti (USA) Scott's cycle and sport/sigma management                        4.16.49
24 Timmy Dougherty (USA) BearNaked / Cannondale                                           4.24.53
25 Jairo Garita Hernández (CRc) Wabe S.A                                                  4.25.09
26 Jhony Madrigal Zumbado (CRc) Xerox                                                     4.29.48
27 Juan Diego Jimenez Sequeira (CRc) Fiesta Total                                         4.36.06
28 Werner Van Der Merwe (RSA)                                                             4.36.23
29 Marco Antonio Pohlond Madrigal (CRc) Scotiabank / DHL / Sweaters                       4.42.06
30 Erik Bakke (USA) Deadgoat Racing                                                       4.58.22
31 Jason First (USA) Crank Brothers                                                       4.59.07
32 Javier Lerma (Mex) Global Niches                                                       5.15.13
33 Joel Grimmett (USA) Lonestar Racing Club                                               5.20.19
34 Jason Asay (USA) Tahitian Noni International                                           5.24.39
35 Alex Ramirez Salas (CRc) Complejo Wilmer Lopez/Ciclo Guilly Brumoso                    5.28.39
36 Harry Precourt (USA) North Atlantic Velo / Classbook.com                               5.35.08
37 Carlos Daniel Fernandez Vegas (Ven) Pan de Azucar Bike Team, edo.miranda venezuela     5.35.57
38 Emilio Brenes Jiménez (CRc)                                                            5.42.01
39 Carlos Eduardo Jiménez Méndez (CRc) FADASA S.A                                         6.08.18
40 Frederick Dreier (USA) VeloNews                                                        6.18.48
41 Jose Santos Miranda Blandon (Nic) Cisa Seguridad - San Alberto                         6.32.13
42 Orion Akerson (USA) Heart Transverter                                                  6.38.48
43 Fabricio Loaiza Granados (CRc) Hospira Holdings / Costa Rica                           6.38.49
44 Christian Lesko Madriz (CRc)                                                           6.40.09
45 Marvin Solano Gomez (CRc) Techos y Estruct. de CR-Ciclo Brenes Paraiso                 7.03.05
46 Salvador Borrego-Crum (USA) Hunter Cycles/Championships Unlimited                      7.03.58
47 Olman Abarca Miranda (CRc)                                                             7.04.11
48 Luis Carlos Araya Aguilar (CRc) Ciclo Paraíso                                          7.05.53
49 Rufus Pichler (Ger) Kissena Cycling Club                                               7.16.48
50 Jake Pantone (USA) Biker's Edge / Destination Homes                                    7.31.43
51 Jonny Hintze (USA) Biker's Edge / Destination Homes                                    7.36.00
52 Peter Butt (Aus)                                                                       7.41.52
53 Bill Apeldoorn (Ned) Autobedrijf Dirk v/d Steen, kroone Liefting                       7.45.41
54 Hamish Bingley (GBr) Ben Hayward Cycles, Cambridge, UK                                 7.47.07
55 Oscar Marín Jimenez (CRc)                                                              7.55.17
56 Douglas Jenne (USA) Vicious Cycles / BareKnuckleBrigade / Twin Six                     8.01.03
57 Cesar Alcazar Mendez (CRc)                                                             8.08.07
58 Federico Hazera Fernández (CRc) CIRCUITO                                               8.14.47
59 Pedro Bento (Por) Ribabike                                                             8.26.13
60 Rolando Flores Mercado (Mex) Burger King Mazatlan                                      8.36.05
61 Christopher Lang Arce (CRc) Ulicori - Cycling Solutions - Specialized                  8.42.11
62 Brian Guillermo Arias Chaves (CRc)                                                     8.53.16
63 Gabriel Byrne (USA) Kovarus/Squadra Ovest                                              9.01.25
64 René Quesada Morales (CRc) Asocaci Bikes and Friends Cartago                           9.01.26
65 Michael Gabor (USA)                                                                    9.03.34
66 William Sullivan (USA) Cowbell Challenge                                               9.05.26
67 Andrés Fernández Salazar (CRc)                                                         9.17.02
68 David Bragulat Vila (Spa) Btt Llagostera - Medina                                      9.28.33
69 Gerard Joliat (Swi) Bogy's                                                             9.37.04
70 Pablo Carpio Leiva (CRc) Acipa Paraiso                                                 9.45.55
71 Tomás Castrillón (Col) Átomos Volando Bogotá                                          10.08.07
72 Tom Beentjes (Ned) Autobedrijf Dirk v/d Steen, kroone Liefting                        10.15.22
73 Teal Akerson (USA) Heart Transverter                                                  10.23.00
74 Alberto Gamboa Pacheco (CRc) Caribbean Bikers / Seven Capital Ltd                     10.30.07
75 Álvaro Quesada Loría (CRc)                                                            10.31.35
76 Victor Manuel García Montoro (Spa) Bidones Roma S.A                                   10.33.01
77 Gabriel Carbajal (USA) Dos Compas Racing                                              10.33.28
78 John Cordoba (USA) Masterman/rnr                                                      10.39.38
79 Alejandro Madrigal Guerrero (CRc) Artillería Pesada                                   10.44.29
80 Charles St Jeor (USA) ALG Worldwide                                                   11.05.14
81 Castillo Miguel Labarta Del (Spa) Matxacuca                                           11.11.15
82 Matthew Young (Can)                                                                   12.07.54
83 Marcos Reichert (Gua) Xerox / Donde Jose / Trefrateli
84 Zack Heim (USA) Paragon Cycling/San Tan Racing
 
Open women classification
 
1 Susan Haywood (USA) Trek / VW                                                          16.43.49
2 Louise Kobin (USA) Sho Air/Rock and Road                                                  43.20
3 Maria Alejandra Carvajal Brenes (CRc) BCR-PIZZA HUT-POWERADE-KHS                        2.04.35
4 Trish Grajczyk (Can) Deadgoat Racing                                                    3.57.55
5 Angela Parra Sierra (Col) SAFETY, Hammer Nutrition, BSS                                 4.02.42
6 Rebeca Hidalgo Vargas (CRc) Powerade                                                    4.49.53
7 Tamara Goeppel (Can) Leki BikeXtreme                                                    4.57.12
8 Jennifer Sica (USA) Schampa Racing                                                      5.43.13
9 Caroline Pinard (Can) Corazon-CBRS                                                      6.15.50
10 Fanny Paquette (Can) MountainBiking Magazine / Rocky Mountain                          6.17.16
11 Elizabeth Ward (RSA)                                                                   6.22.30
12 Rebeca Marín Solano (CRc) Rios Tropicales - Disexport - Mawamba                        6.39.23
13 Silvia Cob (CRc) Muscle                                                                6.52.07
14 Jeannie Batán Solera (CRc) Planet Gym                                                  8.12.53
 
Master A classification
 
1 William Valverde Barquero (CRc) Vedova Y Obando / Husquarna                            15.15.13
2 Jose Angel Beltran Bernal (Mex) Turbo                                                     12.23
3 Benjamin Thompson (USA) www.bendelitemtb.com                                              20.35
4 Scott Henry (USA) Trek / VW                                                               28.33
5 Melvin Rojas Alfaro (CRc) Ciclo Guilly                                                    35.02
6 Edgar Zumbado Madrigal (CRc) Bike Station - Gary Fisher                                   39.39
7 William Vargas Ramirez (CRc) SCOTT                                                        53.48
8 Werner Eichler Contreras (CRc) Ulicori Bticino                                          1.01.50
9 Matt Gordon (USA) Orbea                                                                 1.09.24
10 Roberto García Lachner (CRc) Rock Shox - Sram                                          1.10.01
11 Warren Ellis (Can) NRG / EAGLE HOMES                                                   1.24.51
12 Manfred Avila Kopper (CRc) TiTus / Vitalissimo                                         1.27.03
13 Luis Diego Chaverri Madden (CRc)                                                       1.37.53
14 Marcelo Silva Guistiniani (CRc) magnarealtycostarica.com                               1.39.54
15 Peter Paelinck (Bel) www.reevax.be                                                     1.42.51
16 Perry Thomas (USA) Cycle South                                                         1.50.12
17 Rafael Alberto Marrero Molina (CRc) Team Isostar                                       1.53.57
18 Marco Moreno Hernández (CRc) Ciclo Deportes M.Moreno - Marzocchi                       2.11.55
19 Eelco Docter (Ned) Macclesfield Wheelers                                               2.23.56
20 Randall Aguilar Quesada (CRc) Acipa Paraiso                                            2.30.24
21 Thomas Spanning (USA) MonaVie/Cannondale                                               2.37.04
22 Michel Bujold (Can) Lessard Cycle                                                      2.46.46
23 Jose Morales Zuger (Gua) Xerox / Donde Jose / Trefrateli                               2.58.28
24 Ron Ellis (Can) Eagle Homes                                                            3.08.27
25 Stuart Spies (RSA) Madengine Racing                                                    3.11.54
26 Jeffrey Cote (Can) TwinSix                                                             3.13.03
27 Juan Carlos Marín Valenciano (CRc)                                                     3.17.32
28 Randal Solano Quiros (CRc) Rios Tropicales-Disexport-Mawamba                           3.20.55
29 Ismael Peraza Chavarria (CRc) Muscle                                                   3.22.08
30 Roy Soto Arguedas (CRc)                                                                3.25.08
31 Cacho Rodríguez Alvarado (CRc) Hotel Cortez Azul                                       3.25.56
32 Christopher Cook (USA)                                                                 3.29.46
33 Kevin Perry (USA)                                                                      3.39.36
34 Vik Chaudhuri (GBr)                                                                    3.44.33
35 Ohran Ohranran Matt (USA) MonaVie/Cannondale                                           3.47.16
36 José Arguedas Morera (CRc) Rios Tropicales - Disexport - Mawamba                       3.54.09
37 Rich Dillen (USA) Team Dicky                                                           3.56.25
38 Charlie Eustace (GBr) Ellsworth / Freeborn.co.uk / Torq                                4.00.58
39 Taro Smith (USA) Boulder Cycle Sport                                                   4.05.30
40 Andy Sanidas (USA) Igleheart Custom Frames / Western Cycle                             4.12.28
41 Philippe Bukovec (Fra) Team Isostar                                                    4.19.09
42 José Ramón Castañeda Gallegos (CRc)                                                    4.23.01
43 Scott Slingerland (USA)                                                                4.34.14
44 Jason Boynton (USA)                                                                    5.02.58
45 Marco Chinchilla Vaglio (CRc) Mani La Guaria                                           5.04.03
46 Emile Bruneau (USA) Two Muddy Ruckers                                                  5.05.08
47 Manuel Hurtado Jose (Gua) Xerox / Donde Jose / Trefrateli                              5.16.31
48 Antonio Beltran Marco (Mex) Gary Fisher Coxflor                                        5.19.12
49 Marvin Elizondo Solano (CRc) Gimnasio Todd                                             5.22.07
50 Omar Gerardo Jara Rodríguez (CRc) P.Guisa Hotel Arenal Rivera Ciclo Movi               5.22.32
51 Chris Peters (USA) MonaVie/Cannondale                                                  5.24.25
52 José Rojas Alvarado (CRc)                                                              5.33.40
53 Luis Rubi Quant (CRc) Auto Lavado Pinares                                              5.34.58
54 Warner Smith (USA)                                                                     5.45.56
55 Aramis Chinchilla Luna (CRc) Grupo Colono                                              5.46.07
56 Alexander Torres Solano (CRc) Cafetalera Aquiares                                      5.47.21
57 Flemming Lund (Den) Team Inmobia Extreme                                               5.48.15
58 Chris Sohayda (USA)                                                                    5.51.18
59 Sam Dowling (GBr) Fanylion Racing                                                      5.52.16
60 Carlos Quiros Llobet (CRc) Xerox                                                       5.53.44
61 Harry K. McIntosh (USA) David's World Cycle                                            5.55.19
62 Victor lonso Araya Pereira (CRc) Xerox                                                 5.56.35
63 Roger Mercaldi (USA) Seaside Cycle                                                     5.57.03
64 José Herrera Herrera (CRc) Hospira Holdings / Costa Rica                               6.01.00
65 Federico Soto Castro (CRc)                                                             6.03.30
66 Shawn Luphco (USA) MonaVie/Cannondale                                                  6.13.32
67 Mattheww Kemp (GBr) Ride Beyond - MS Trust                                             6.22.08
68 Francisco Jiménez Fuentes (CRc)                                                        6.28.32
69 Billy Mollina (USA) Team Inmobia Extreme                                               6.38.13
70 Alejandro Nietzen (CRc) Caribbean Bikers                                               6.43.21
71 Raul Rojas (CRc) DCMTB-City Bikes-Metro Gutter                                         6.46.54
72 Matt Bradley (USA) Staats Bicycles                                                     6.50.42
73 Peter D'Aquanni (USA)                                                                  6.54.22
74 Milton Fallas Barboza (CRc) Xerox                                                      7.09.20
75 Ewdin Arce Hernández (CRc) Ciclo Mobi Heredia                                          7.11.11
76 Peter Dunham (Can) Tristone Capital                                                    7.23.29
77 Martínez Castro (CRc) ESCO                                                             7.23.49
78 Alejandro Wong Campos (CRc)                                                            7.37.34
79 Andrés Martín Ovares (CRc)                                                             7.37.51
80 Hernando Castro (Ven) Chimanta-Venoco                                                  7.41.43
81 Adam Baker (USA)                                                                       7.51.56
82 Óscar Sánchez Esquivel (CRc)                                                           8.22.25
83 Carlos Barreto Herrera (Ven) Chimanta-Venoco                                           8.22.34
84 Marc Ouellet (Can) Les Boys                                                            8.32.42
85 Leonel Gómez Navarro (CRc) Ciclo Guilly - Flor del Café                                8.33.51
86 Michael Voie (USA) Touchstone                                                          8.33.59
87 Xavier Gonzalez Bautista (Spa) Platja D'aro                                            8.34.00
88 Fabio Roberto Villalobos Benavides (CRc)                                               8.36.44
89 Jarrett Keim (USA) RJ Griffin & Company                                                8.45.33
90 Alejandro Arias Victory (CRc)                                                          8.47.54
91 Daniel Tuggle (USA) Robert Earl Racing / Swobo                                         8.49.23
92 Gabriel Diaz Diaz (Spa) Sappysport                                                     9.06.53
93 Kevin Clark (USA) The Bicycle Escape / Vassago Cycles                                  9.08.13
94 Laudalino Ferreira (USA)                                                               9.33.41
95 Daniel Kaufman (USA) GDI                                                              10.01.19
96 John Mercer (USA) Mama Osa                                                            11.06.04
97 Sergio Alejandro Paez Gallo (Col) Synergy Adventure Colombia                          11.08.34
98 Steve Glazer (USA) Marin Bikes                                                        11.36.16
99 Garry Christopher (GBr) Ride Beyond - MS Trust
100 Aguilar Luis De Ezpeleta (CRc) Aval / Litespeed
101 Kip Mikler (USA) Bike Magazine
102 Eduardo Cortez (Ven) Henry Pittier, Vzla
 
Master B classification
 
1 Mike Charuk (Can) Team Whistler                                                        16.35.32
2 Stewart Stafford (USA) Austin Flyers/BSS                                                   6.54
3 Fernando Salazar Chavarría (CRc) Nitidos                                                  40.41
4 Jorge Castillo (CRc) Santa Cruz Manitou                                                 1.28.10
5 Cary Smith (USA)                                                                        1.30.07
6 Andrew Yates (USA) Beef and Pie                                                         1.32.22
7 Piccolo Gularte Casteñada (Gua) Xerox / Donde Jose / Trefrateli                         1.33.16
8 David Boyd (USA) Team Bike Lane                                                         1.35.53
9 Sergio Correa (USA)                                                                     2.03.13
10 John Finetto (USA)                                                                     2.52.02
11 Matt Luhn (USA) Gopher Gulch Dirt Alert                                                3.03.50
12 Daniel McCarthy (USA)                                                                  3.08.42
13 Bruce Wilson (USA) Team Cycopath                                                       3.22.45
14 John Myers (USA) Myers Mechanical                                                      3.35.27
15 James Wilson (Can) BC BIKE RACE                                                        3.59.22
16 Michael Thiele (USA) Thieles Automotive                                                4.02.54
17 Tom Ebbern (Can) Tristone Capital                                                      4.09.47
18 Todd Moyer (USA)                                                                       4.15.56
19 Omar Jimenez (CRc) Grupo Nación                                                        4.20.19
20 Modesto Jimenez Vargas (CRc)                                                           4.21.26
21 Robert Myint (USA) BikeFactory                                                         4.22.21
22 Todd Henne (USA) Yell Country Veterinary Service                                       4.27.18
23 Trever Bushnell (USA) Construction Zone                                                4.32.16
24 Craig Vandelist (USA)                                                                  4.32.55
25 Berthold Schwarz (Ger) Quick & Dirty                                                   4.35.27
26 Mauricio Alvarado Rivera (CRc) Powerade                                                5.04.50
27 Thomas Tetz (Ger) Leki BikeXtreme                                                      5.05.29
28 Luis Alberto Araya Fonseca (CRc)                                                       5.06.07
29 Tim Wilkie (USA) Riverbrook Bike & Ski                                                 5.07.34
30 Andrew Caputo (USA) Central Wheel                                                      5.09.23
31 Andrew Rollin (USA) Cupertino Bike Shop                                                5.28.09
32 Mark Cadle (GBr)                                                                       5.48.09
33 Sean Wood (USA)                                                                        5.55.45
34 Dave Cormier (USA)                                                                     6.08.35
35 Enrique De Alba De Alba (Mex) Bike Style                                               6.28.03
36 Daniel P. Thauvette (Can) Corazon-CBRS                                                 6.31.44
37 John Wong (Can) Team Whistler                                                          6.41.47
38 Raymond Woodruff (USA)                                                                 6.43.07
39 Mark Parsons (Can) Mattamy Homes / Aquila Racing                                       6.53.15
40 Marc Ballard Jean (Can) CBRS                                                           7.12.23
41 Michael Belser (USA)                                                                   7.15.36
42 Javier Zanora Víquez (CRc)                                                             7.46.10
43 Manuel Salguero Montoya (CRc) Asocaci Bikes and Friends Cartago                        7.51.23
44 Marvin Hernández Monge (CRc) VisiteCosta Rica.com                                      7.52.37
45 Javier Guardián Astua (CRc)                                                            8.07.48
46 Roberto Garita Calvo (CRc) VisiteCosta Rica.com                                        8.22.47
47 Dan Swanson (Can)                                                                      8.29.01
48 Paul Granger (Can)                                                                     9.30.49
49 Angelo Mascitelli (Can) Mattamy Homes / Aquila Racing                                  9.52.05
50 Franklin Matamoros Alpizar (CRc) Ciclo Varela Ciudad Colon
51 Andrew MacDowall (Esc) Stirling Bike Club
 
Veteran classification
 
1 Tony Routley (Can) Team Whistler                                                       17.07.34
2 Sandy Mitchell (Can) Gerick Cycle Nelson                                                   4.55
3 Clemente Hernández Muñoz (Spa) Freebike                                                 3.24.49
4 Ricardo Vela Del Valle (Spa) Club Ciclista Santa Eulalia                                3.27.08
5 Ricardo Mata Brenes (CRc) Comite Cantonal Deportes y Recreción Paraiso                  3.34.44
6 Andrew Burton (GBr)                                                                     4.13.41
7 Rodolfo Reichert (Gua) Xerox / Donde Jose / Trefrateli                                  4.39.45
8 Jack Funk (Can) Deadgoat Racing/ Bow Cycle                                              5.31.01
9 Jorge Luis Espinoza Loaiza (CRc)                                                        6.45.10
10 Marvin Avila Vindas (CRc) Planet Gym                                                   7.47.03
11 Marty Halprin (Can) Olympia Cycle                                                      7.47.56