MTB index page for all MTB content
New Zealand National Series #1 - NE
Coronet Peak, New Zealand, January 13-14, 2007
Main Page Results Previous Race
Race 2 - January 14: Cross country
Aunty Betty takes a clean sweep
Marcus Roy (Aunt Betty's)
Photo ©: Karyn McQueen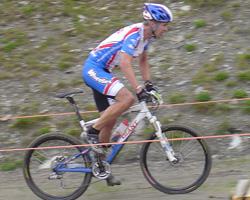 Aunt Betty's Cycling Team had a great day out with lead riders Marcus Roy (Te Anau) and Fiona MacDermind (Palmerston North) both having convincing wins in the opening round of the NZCT National Mountain Bike Series Cross Country competition today at Coronet Peak in Queenstown.
A revitalised 5.5km cross country course at Coronet Peak had many riders anticipating the new design and terrain features however a thick fog and consistent rain resulted in a slippery muddy track. A small but quality field in the Elite Men's class braved the weather conditions including Roy, ranked number two in the country, Stuart Holtham, three times New Zealand National Champion, who finished second and Commonwealth Games rider Mike Northcott (Taupo) who finished third in the six lap race.
Fiona McDermid (Aunt Betty's)
Photo ©: Karyn McQueen

Roy has been training overseas with last year's National Champion Kashi Leuchs and will be aiming to take his title at the National Championships to be held in Nelson at the end of this month. "I've really been enjoying my riding and am focused on doing well in the World Cups this season," he said.
Dunedin's Anja McDonald looked to have the race in control taking a strong lead in the opening laps however MacDermid rode strongly to peg back the R&R Sport team rider to take the lead in the second last lap. MacDermid finished almost a minute in front of McDonald, with Nelson's Brenda Clapp in third.
In an unusual cross over between disciplines, downhill Elite Men's rider Tom Holland (Rotorua) finished in second place in the Senior Men's category in today's race. "I thought I'd have a bit of an advantage having ridden the hill yesterday and set my bike to suit," he explained.
The series moves to Dunedin next week for another double round with both Downhill and Cross Country.
Photography
For a thumbnail gallery of these images, click here
Images by Karyn McQueen
Results

Elite Men
 
1 Marcus Roy (Aunt Bettys)              2.02.10
2 Stuart Houltham (Iron Horse Bikes)       3.30
3 Mike Northcott                           6.09
4 Eric Drower (R-R Sport)                  6.51
5 Mark Leishman                            8.38
6 Joshua Barley                            9.25
7 Carl Jones                              13.44
8 John Gray                               14.50
9 Rodney Wallace                          17.08
10 Michael Anderson                       18.06
11 Jon Richardson                         20.56
12 Dayle McLauchlan                       21.06
13 Tomas Legnavsky                        25.01

One lap down

14 Ben Preston                         
15 Brad Tilby                          
16 Luke Mills (Aunt Bettys)                    
17 Justin Price (R-R Sport)                    
DNF Tony Hogg                                  
DNS Leigh Reynolds                             
 
Elite Women
 
1 Fiona MacDermid (Aunt Bettys)         1.42.30
2 Anja McDonald (Santa Cruz)               0.56
3 Brenda Clapp (Peak Fuel)                 5.08
4 Kaytee Boyd                              5.31
5 Sara MacDonald (R-R Sport)               7.42
6 Erin Greene (R-R Sport)                  7.44
7 Fiona Lindsay                           13.20
8 Michelle Bellamy                        16.47
 
One lap down
 
9 Michele Duffy (Levin MTB Club)               
 
Expert Junior Men U17
 
1 Dirk Peters                           1.13.57
2 Cameron Hollamby                         0.05
3 Simon Finucane                           1.22
4 Joshua Wight                             5.21
5 Angus Watson                             5.24
6 Nicholas Chapman                         6.34
7 Jeff Notman                              6.56
8 Thomas Marshall                          8.00
9 Adrian Retief                            9.26
10 Kieran Hambrook                        10.06
11 Locky McArthur                         10.36
12 Michael Vink                           20.00
13 Dominic Furkert                        59.04
 
Expert Junior Women U17
 
1 Jesse Loe                             1.37.33
2 Rachel Richards                          9.19
DNF Alexa Peters                               
 
Expert Junior U19 Men
 
1 Jordan Blake (Iron Horse Bikes)       1.33.33
2 Henry Sommerville (R-R Sport)            0.51
3 Conor MacFarlane                         2.20
4 Scott Green                              3.03
5 Alex McGregor                            8.31
6 Kane Elliot                              9.24
7 Ben Thomas                              10.56
8 James Prouse (Levin MTB Club)           12.14
9 John Holvey                             16.31
10 Nick Clark                             16.44
11 Mark Richards                          17.07
12 Brent Sinclair                         17.11
13 David Clark                            35.00
 
One lap down
 
14 Cameron Wood                                
15 Stefan Jones                                
DNF Hayden McCormick                           
DNF Michael Nuy                                
DNF Ged Watts                                  
 
Expert Junior Women U19
 
1 Samara Sheppard (Iron Horse Bikes)    1.23.08
2 Monique Avery (Aunt Bettys)              2.56
3 Katherine O'Neill                       11.07
 
U23 Men
 
1 Tristan Rawlence                      1.45.04
2 Jeremy Inglis (Peak Fuel)                2.12
3 Simon Styles                             5.17
DNS Kelvin Drower                              
 
Expert Senior Men
 
1 Thomas Mackay                         1.38.51
2 Tom Holland                              2.48
3 Nick Emery                               3.31
4 Stefan Kaltenegger                       7.09
5 Rikki Griffin                           13.23
6 Ross McCulloch                          16.02
DNF Fraser Hewett                              
 
Expert Senior Women
 
1 Nicole Swain                          1.30.42
2 Sara Louise Taylor                       3.11
3 Aimee Burns                              7.22
 
Expert Masters 30+
 
1 Glen Richardson                       1.46.28
2 Bevan King                               3.06
3 Paul Reid                                9.36
4 Dean Hamilton                           17.11
 
Expert Masters Women 30+
 
1 Jeanette Wright                       1.24.48
2 Cathrine Dunn                            3.47
3 Sharon Flood                             5.31
 
Expert Masters Men 40+
 
1 Trevor Woodward                       1.38.39
2 Murray Thomas                            8.41
3 Anthony Bradshaw                        11.20
4 Robert Hambrook                         13.48
5 Dion Chapman                            14.37
6 Tony Middendorf                         15.08
DNF Michael Stylianou                          
 
Expert Masters Men 50+
 
1 Dave Wallace                          1.52.12
2 Hans Van der Voorn                      15.09
3 Steve Brough                            17.18
4 Paul Newbold                            19.45
5 Peter Nuy                               20.13
 
Expert Junior Men U15
 
1 Tom Bradshaw                            55.24
2 Samuel Davis                            20.07
 
Sport Senior Men
 
1 Sam Welsh                               52.09
2 Nick Hight                               6.04
3 Stephen Blissett                        11.32
4 Hugh Nimmo                              14.49
 
Sport Senior Women
 
1 Rosie Fisher                          1.02.22
2 Celia Lie                               20.01
 
Sport Master Men 30+
 
1 Craig Wight                             54.32
2 Gil Peters                               1.59
3 Rich Johnson                             4.07
 
Sport Master Women 30+
 
1 Ivonne McDonnell-G                    1.04.06