MTB index page for all MTB content
New Zealand National Series #2 - NE
Coronet Peak, New Zealand, January 13-14, 2007
Race 1 - January 13: Downhill
Favourites in peak condition
Samuel Blenkinsop (Wanganui)
Photo ©: Karyn McQueen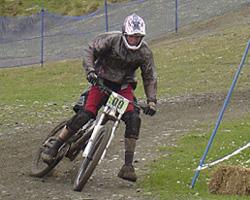 Round 2 of the NZCT National Mountain Bike Series Downhill competition at Coronet Peak saw crowd favourite Glenn Haden of Wanganui take out the Elite Men's class in a unpredictable race watched by a big local crowd. Scarlette Hagen followed up her round 1 win with a massive 12-second win in the Elite Women on her home course.
Warm and dry conditions greeted the riders on the mountain at Coronet Peak today, allowing for fast drifty racing for the seeding run. However, by mid afternoon the rain opened up and changed the tactics completely, with riders forced to ride new and largely unpracticed lines having had nothing but sunshine all week.
A record 216 riders raced at Coronet Peak with the Senior Men's class welcoming an additional 33 riders on the day, making it the biggest field of the day.
Matthew Scoles (Alexander) again convincingly won the Junior Under 19 Men with a 11-second win over Peter Cooper (Blenheim) and David Scandrett (Christchurch) who was less than a second back in third.
Haden charged the course on his New Zealand made Stage 2 bike to win by nearly 7 seconds ahead of motocross master Des Curry (Rotorua). Surprise third was Mike Skinner of Auckland.
The women's race saw defending National Champion Jenna Makgill in second after Vanessa Quin took a tumble on the rain affected course for third.
Tomorrow see's the first round of the Cross Country with a large field expected to open the series.
Photography
For a thumbnail gallery of these images, click here
Images by Karyn McQueen
Results

Elite Men
 
1 Glenn Haden (Wanganui)                    3.25
2 Des Curry (Rotorua)                       0.07
3 Mike Skinner (Auckland)                   0.10
4 Samuel Blenkinsop (Wanganui)              0.13
5 Nathan Rankin (Levin)                     0.15
6 Michael Davis (Auckland)                  0.17
7 Fabien Pedemanaud (France)                0.21
8 Byron Scott (Auckland)                    0.24
9 Cameron Cole (Hamilton)                   0.25
10 Tom Holland (Rotorua)                    0.26
11 Tim Mackersy (Dunedin)                   
12 Daniel Aitken (Wanaka)                   0.35
13 Alex Stock (UK)                          0.36
14 Craig Pattle (Rotorua)                   0.37
15 Daniel Sims (Auckland)                   0.39
16 Joe Barnes (Scotland)                    0.41
17 James Dodds (Rotorua)                    0.46
18 Kieran Bennett (Nelson)                  0.47
19 Curtis Zamora (USA)                      0.49
20 Joseph Allen (Christchurch)              0.53
21 Jeffery Bryson (Wellington)              0.57
22 Sean Kennedy (Christchurch)              1.13
23 Reon Boe (Levin)                         1.21
24 Gaetan Reilhan (France)                  1.35
25 Justin Havukainen (Queenstown)           1.46
26 Paul Angus (Queenstown)                  2.33
DNS Hayden Lee (Tauranga)                       
DNS Henry Devereux (Dunedin)                    
 
Elite Women
 
1 Scarlett Hagen (Queenstown)               4.22
2 Jennifer Makgill (Auckland)               0.12
3 Vanessa Quin (Tauranga)                   0.26
4 Olivia Johnston (Christchurch)            0.37
5 Amy Laird (Christchurch)                  0.44
6 Misty Lee (Auckland)                      0.54
7 Harriet Harper (Christchurch)             1.02
8 Gabrielle Molloy (Rotorua)                1.04
9 Lauren Campbell (Queenstown)              1.10
10 Hannah Latta (Wellington)                2.04
 
Junior Men
 
1 Matthew Scoles (Alexandra)                3.14
2 Peter Cooper (Blenheim)                   0.11
3 David Scandrett (Christchurch)            
4 Daniel Meilink (Wellington)               0.12
5 Scott Bedford (Taranaki)                  0.15
6 Tom Oskam (Wanganui)                      0.17
7 James Shirley (Scotland)                  0.24
8 Edward Masters (New Plymouth)             0.25
9 Joel Daniels (Wanganui)                   0.27
10 Michael Langford (Porirua)               
11 Joseph Nation (Christchurch)             0.32
12 Ian Thurlow (Hastings)                   
13 Braedan Trompetter (Dobson)              0.33
14 Andrew Higgins (Nelson)                  0.50
15 Paul Gray (Rotorua)                      
16 Dave du Plessis (Nelson)                 0.54
17 Reuben Miller (Nelson)                   0.55
18 Hamish Russell (Queenstown)              0.56
19 Warwick Barratt (Wellington)             
20 Antony Snodgrass (Hamilton)              1.06
21 William Mathieson (Christchurch)         1.23
22 John Shearer (Christchurch)              1.26
23 Brock Cooley (Wellington)                1.43
24 Troy Murdoch (Oamaru)                    1.57
25 Michael Armstrong (Christchurch)         2.02
26 Lars Vind Thomsen (Christchurch)         2.41
27 Ethan Smith (Christchurch)               2.53
28 Matt McLauchlan (Christchurch)           3.17
DNS Ricky Clift (Wellington)                    
DNS Grant Hosking (Dunedin)                     
DNS Reuben Joel (Wellington)                    
 
U17 Men
 
1 Rupert Chapman (Christchurch)             3.20
2 Ethan Helliwell (Nelson)                  
3 Aari Barrett (Havelock North)             0.04
4 Cameron Bruce (Rotorua)                   
5 Sam Baker (Auckland)                      0.07
6 Michael Vink (Christchurch)               0.09
7 Josh Miller (Nelson)                      0.11
8 Johnny Casey (Rotorua)                    0.12
9 James Gilmour (Christchurch)              0.13
10 Nathan Petrie (Christchurch)             0.15
11 Freddie King (Christchurch)              0.16
12 Thomas Matthews (Christchurch)           0.18
13 Phillip Berryman (Christchurch)          
14 Nick McConachie (Christchurch)           0.19
15 Jonathon Speedy (Auckland)               0.20
16 Adrian Retief (Auckland)                 0.22
17 Matt Milliken (Queenstown)               0.25
18 Ambrose Kelly (Queenstown)               0.29
19 Leighton Kirk (Otago)                    
20 Devon Mills (Auckland)                   0.30
21 Laurence McBreen-Smith (Christchurch)    0.31
22 James Friend (Christchurch)              0.34
23 Nicholas Fisher (Christchurch)           0.36
24 Jono Bailey (Queenstown)                 0.46
25 Brook Macdonald (Napier)                 
26 Logan Riley (Auckland)                   0.47
27 Oscar Tatom (Queenstown)                 0.53
28 Regan Constable (Queenstown)             1.01
29 Thomas Hillstead (Christchurch)          1.02
30 Michael Mckee (Oamaru)                   1.11
31 Vaughan Woolhouse (Napier)               1.14
32 Nick Taylor (Christchurch)               1.18
33 Linton Rogers (Christchurch)             1.41
34 Will Kemp (Dunedin)                      2.58
DNF Richard Leacock (Wellington)                
DNS James Hoggan (Christchurch)                 
DNS Senn Steel (Central)                        
DNS Callum Dunn (Wellington)                    
DNS Will Elliot (Christchurch)                  
 
Senior Men
 
1 Hayden McGregor (Tauranga)                3.18
2 James Pollard (Otago)                     0.01
3 James Rennie (Palmerston North)           
4 Sam Reed (Marlborough)                    
5 Brad Ineson (Christchurch)                0.03
6 Jerym Soames (Hamilton)                   
7 Morgan Moore (Te Puke)                    
8 Jeff Craig (Auckland)                     0.04
9 James McConachie (Christchurch)           0.05
10 Michael Scott (Palmerston North)         
11 Leighton Neal (Blenheim)                 0.06
12 Ty Haley (Levin)                         0.07
13 Josh Sage (Palmerston North)                 
14 Paul Stevens (England)                   
15 Zac Williams (Dunedin)                   0.10
16 Craig Scott (Christchurch)               
17 Jonathan Skinner (Christchurch)          
18 George Jones (Queenstown)                
19 Kai Crow (Auckland)                      
20 James Hampton (Christchurch)             0.11
21 Seb Kemp (Wanaka)                        
22 Sam Townshend (Christchurch)             0.12
23 Darius King (Wellington South)           0.13
24 Jarrod Bang (Wellington)                 0.14
25 Caleb Warrender (Wellington)             
26 Luke McCombie (Wellington)               0.15
27 Kurt Lancaster (Levin)                   
28 Graeme Adriaens (Christchurch)           0.16
29 James Fagen (Alexandra)                  
30 Josh Bradfield (Wanaka)                  0.17
31 Shaun Kirton (Christchurch)              0.18
32 Dan McMullan (Wanaka)                    
33 Kevin Fife (Queenstown)                  0.19
34 Boyd Grinstead (Christchurch)            0.20
35 Luke Heaps (Queenstown)                  0.21
36 Hugh Nimmo (Wanaka)                      
37 Jono Church (Christchurch)               
38 Tristan Muirhead (Wanaka)                0.22
39 Peter Miller (Invercargill)              0.24
40 Sam Gothorp (Wanaka)                     
41 Jonathan Clark (Christchurch)            0.25
42 Victor Gin (Wellington)                  0.26
43 Jamie Mathews (Nelson)                   0.28
44 Nathan Ryder (Nelson)                    0.31
45 Andre Van Drongelon (Christchurch)       0.33
46 Luke De Jager (Levin)                    0.34
47 Simon Smith (Queenstown)                 0.35
48 Adam McCutcheon (Alexandra)              0.37
49 Joby Weston (Arrowtown)                  0.38
50 David Meijer (Auckland)                  
51 Shaun McGrath (Christchurch)             0.41
52 Mike Dawson (Southland)                  
53 Stephen Blissett (Invercargill)          0.44
54 Gavin Barber (Lower Hutt)                0.45
55 Andrew Peck (Ashburton)                  0.54
56 Peter Jefcoate (Invercargill)            0.56
57 Hadley Mackay (Wyndham)                  1.28
58 Thomas Placek (Czech Republic)           2.01
DNS Nicholas Daniel (Christchurch)              
DNS Peter Futterup (Auckland)                   
DNS Mat Weir (Scotland)                         
DNS Gareth Bretherton (Dunedin)                 
DNS Brent Grey (Christchurch)                   
DNS Kurt Janssen (Wellington)                   
DNS Adam Mantle (Canada)                        
 
Master Men 1
 
1 Arran Tandy (Nelson)                      3.24
2 Christian Meuli (Queenstown)              0.03
3 Campbell Wilson (Lower Hutt)              0.04
4 Tim Ceci (Queenstown)                     0.05
5 Ryan O'Connell (Queenstown)               
6 Aaron Fernandez (Auckland)                0.09
7 Matt Callaghan (Lower Hutt)               0.13
8 Niall Renwick (Queenstown)                0.14
9 Stephen Foote (Wanaka)                    0.26
10 Callum Smith (Wanaka)                    0.28
11 Finn O'Connor (Dunedin)                  0.35
12 Michael Carden (Auckland)                0.51
13 Simon Williams (Wanaka)                  0.56
14 Stewart Doherty (Porirua)                1.01
15 Gareth Alley (Wellington)                1.12
16 Richard Mullins (Queenstown)             1.13
17 Bruce White (Christchurch)               
DNS Chris Taylor (Mt Maunganui)                 
DNS Stuart Thompson (Auckland)                  
DNS Sam Tobin (Auckland)                        
 
Master Men 2
 
1 Shane Baker (Auckland)                    3.43
2 David Vieglais (Wellington)               0.07
3 Eddie Spearing (Wanaka)                   0.18
4 Mark Angus (Queenstown)                   0.32
5 Ewan Straight (Wanaka)                    0.34
6 Peter Oskam (Wanganui)                    1.32
DNS Richard Adams (Nelson)                      
 
Hardtail Men
 
1 Cam Johnson (Alexandra)                   4.14
2 Nick Middleton (Christchurch)             0.18
3 John McGimpsey (Lawrence)                 0.34
4 Michael Wells (Dunedin)                   0.38
5 Adrian Loo (Invercargill)                 0.55
6 Toby Nowland-Foreman (Christchurch)       2.57
DNS Shaun McGowan (Wanaka)                      
 
Senior Women
 
1 Sarah Cairns (Queenstown)                 5.27
 
Master Women
 
1 Nancy Rehrer (Queenstown)                 5.25
 
Junior Women
 
1 Holly Kernohan-Smith (Christchurch)       4.23
2 Shannan Miller (Invercargill)             1.27
3 Katherine Jones (Nelson)                  2.02
 
Novice Boys
 
1 Lachie Watson (Wanganui)                  3.50
2 Zach Baker (Auckland)                     0.03
3 Simon Barratt (Wellington)                0.06
4 George Diver (Christchurch)               0.09
5 Keegan Lawrence (Wellington)              0.10
6 Cody Rees (Christchurch)                  0.18
7 Tim Adams (Nelson)                        0.41