MTB index page for all MTB content
Australian National MTB Championships - CN
Mount Stromlo, Australia, January 26-28, 2007
Main Page Results Previous Race
Race 13 - January 28: Downhill: Group A
Graves claims first Downhill crown
Jared Graves
Photo ©: Mark Gunter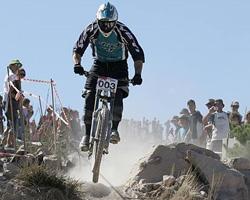 Jared Graves found two seconds was enough to win the 2007 Australian Downhill Champion title in Canberra on Sunday. Riding against some of the world's best riders, the 24 year-old from Toowoomba had a clean run to finish in 3.19.86. Graves, the 2005 world silver medallist, has been focused on his specialty of mountain cross but that didn't stop him from winning his first national downhill title.
"I was pretty disappointed with my mountain cross race so this makes it better," he said.
Defending national champion, Nathan Rennie could not repeat last year's win but claimed second with 3.22.05. Despite failing to repeat his sensational 2006 victory, the Gold Coast rider, currently ranked third in the world, was too fast for Canberra based Jared Rando who finished a creditable third with a 3.24.21.
World Downhill Champion Sam Hill was unlucky when a slide in the final section put paid to the Perth rider's chances, forcing him to settle for a top 10 finish in eighth position. Brisbane's Chris Kovarik qualified second fastest behind Hill in the seeding run but a flat tyre in the final run took away his chance of a podium.
Sam Hill
Photo ©: Mark Gunter

The fastest time in the Elite Women's category was posted by 'local' Julia Boer. Unfortunately for Boer, she was unable to claim the champions jersey as the Hungarian citizen is not eligible for a national placing. The citizenship technicality meant that second fastest on the day Joanne Fox took out the Elite Women's Australian Downhill Championship with a superb 4.13. The Sydney-based rider claimed the national jersey some 51 seconds behind her Hungarian counterpart.
Behind 34 year-old Fox were two local riders, Claire Whiteman and Cara Smith, who took second and third respectively.
The Under 19 Women's class was convincingly won by Caroline Buchanan with a time of 4.18.09, aided by the fact she was the only entrant in her class and simply had to cross the finish line. That fact didn't prevent the young-gun from giving it her all, with the time good enough to have claimed her a podium placing in the Elite Women's category, marking Buchanan as future national champion.
Mitchell Delfs dominated the Under 19 Men's category in style with his 3.12.77 enough to take the win, and equivilant of a top 10 Elite Men's placing. The West Australian won the event from Will Rischbieth and Joshua Button.
Photography
For a thumbnail gallery of these images, click here
Images by Mark Gunter/www.pbase.com/gunterphotograph
Results

Elite Men
 
1 Jared Graves               3.20.26
2 Nathan Rennie                 1.39
3 Jared Rando                   3.55
4 Filip Polc                    4.30
5 Amiel Cavalier                5.07
6 Ben Cory                      4.49
7 Dave West                     5.47
8 Sam Hill                      6.38
9 Ivan Oulego Moreno            7.36
10 Adam Smithson                7.48
11 Brad Kelly                   9.04
12 Timothy Eaton                9.02
13 Ryan Norton                  9.07
14 Darren Pokoj                 9.30
15 Adam Dossetor                9.45
16 Benjamin Bell               10.17
17 Deon Baker                  10.25
18 Ricky Lee                   10.36
19 Brock Newling               10.55
20 Rick Boyer                  10.43
21 Gareth Paton                11.19
22 Jon Odams                   12.04
23 Michael Kearton             11.43
24 Lindsay Klein               12.29
25 Lincoln Verass              12.41
26 Cody Eichhorn               12.49
27 Alan Crisp                  13.27
28 Evan Winton                 13.42
29 Stephen Foley               13.35
30 Steve Marsh                 14.38
31 Alex Swann                  14.34
32 Dennis Beare                14.40
33 Christophe Poupon           14.53
34 Tim Nelson                  16.12
35 Bryn Atkinson               15.55
36 Rhys Atkinson               16.06
37 Ayden Eves                  16.10
38 Ryan Walsch                 17.35
39 Harry Armstrong             17.41
40 Dean Robson                 17.59
41 Tim Richmond                18.39
42 Miles Mead                  18.46
43 Glen Adams                  20.44
44 Andrew Maxwell              20.51
45 Ken Ballhause               21.23
46 David Bowden                21.29
47 Trevwah Burke               21.37
48 Cillian Kennedy             21.47
49 Ben Goff                    22.51
50 Ben Morrison                23.02
51 Jason Blackmore             23.07
52 Jamie Green                 23.43
53 Ben Tregoweth               23.54
54 Michael Manning             24.06
55 Tom Richards                24.26
56 James French                24.57
57 Hamish Armstrong            24.43
58 Ben Mundy                   25.26
59 Timothy McCullough          25.43
60 Andrew Eckett               26.04
61 Adam Kessler                26.07
62 Scott Grundy                25.42
63 Kaine Cannan                27.00
64 James McMillan              27.17
65 Murray Dickson              27.59
66 Thomas Kerney               27.41
67 Geoff Grennan               28.14
68 Reece Kyte                  29.19
69 Regan Arthur                29.43
70 Shane Gayton                29.44
71 John Campbell               31.03
72 Craig Fisher                32.04
73 Joe Mullan                  32.01
74 Dwayne Purdy                32.55
75 Damien Bogatek              33.58
76 Nick Rudzki                 33.35
77 Simon Ballard               34.23
78 Thomas Rose                 34.39
79 Daniel Sprague              35.42
80 Matthew Wilson              35.49
81 Tim Cox                     35.55
82 Jay Taylor                  36.03
83 Dean Davies                 36.16
84 Brenden Wood                37.57
85 Jake Pendleton              39.50
86 William Cookesley           40.07
87 Thomas Cranston             40.08
88 Clement Jente               42.02
89 Stewart Bruce               42.21
90 Kye Hore                    59.02
91 Angus Coombe              1.00.43
92 Dan McEwan                1.11.29
93 Martin FLANAGAN           1.11.59
94 Matt Swann                1.14.08
95 Chris Kovarik             1.28.47
96 Shane Wode                1.47.08
97 James Bashford            2.31.43
98 Llewellyn Cameron         3.46.35
99 Christopher Panozzo       4.19.12
DNF Craig Yates                     
DNS Liam Panozzo                    
DNS Ryan Lennox                     
DNS David Howse                     
DNS Luke Gowen                      
DNS John Farrow                     
DNS Oliver Kristevic                
DNS Scott Graham                    
DNS Aaron Bashford                  
DNS Brett Pengelley                 
 
Elite Women
 
1 Julia Boer                 4.12.23
2 Joanne Fox                    0.51
3 Claire Whiteman               5.49
4 Cara Smith                    6.16
5 Julia Martin                 16.57
6 Jayne Randall                22.58
7 Sheryl Field               2.02.14
DNS Sarsha Huntington               
DNS Sarah Booth                     
DNS Emma McNaughton                 
 
Under 19 Women
 
1 Caroline Buchanan          4.18.09
 
Under 19 Men
 
1 Mitchell Delfs             3.26.17
2 Will Rischbieth               2.23
3 Joshua Button                 4.16
4 James Maltman                 6.21
5 Tom Patton                    6.40
6 James Brodie                  7.44
7 Samuel Ward                   9.46
8 David Hetherington           12.20
9 Murray Stephens              12.43
10 Cameron Allonby                  
11 James Taormina              13.02
12 Michael Jobson              13.58
13 Chris Coombe                14.00
14 Lee Wallace                 15.09
15 Clark Hawke                 15.29
16 Dale Grixti                 17.06
17 David Maud                  17.16
18 Todd Robertson                   
19 Oscar Buckle                17.19
20 Tom Brodie                  18.04
21 Liam Paiaro                 18.08
22 Lucas Kuncewicz             17.57
23 Llewellyn Griffith          19.05
24 David Habicht               19.07
25 Mark Beeksma                19.49
26 Jack Bellotti               25.47
27 Brenton Gowen               26.43
28 David Gnany                 29.49
29 Jack Wilson                 29.58
30 Patrick Young               30.14
31 Charlie Barratt             33.06
32 Ben Thomas                  33.22
33 Alex Wruck                  34.16
34 Callan Ridge                36.09
35 Tom Mallett                 38.17
36 Jared Blay                  38.30
37 Andrew Karas                     
38 Tyson Jones                 39.18
39 Michael Dart                40.21
40 Mitchell McKinlay           40.39
41 Branden Taylor              41.17
42 Rhys Collins                43.36
43 Jonathan Archibald          45.56
44 Jared Gill                  47.51
45 Adam Rostron                49.42
46 Mitchell Boyd               49.55
47 Rowan Saunders              52.51
48 Scott Parsons               53.52
49 Tom Lewis                   55.57
50 Timothy Harrington          59.12
51 Jake Pamment              1.00.55
52 Thomas Osborne            1.01.19
53 Toby Breheny              1.28.15
54 Tim Windshuttle           1.30.01
DNF Lachlan Paton                   
DNS Matthew Vincent                 
DNS Hugh Jackson                    
DNS Brodie Sturgess                 
DNS Lachlan Gardiner                
DNS Travis Phillips-Johnson         
DNS Ben Leaper                      
DNS Dylan Prohm                     
DNS Jake Lecluse                    
DNS Ryan Meader