MTB index page for all MTB content
MTB World Cup XC #4 & DH #2 - CDM
Fort William, Scotland, May 27-28, 2006
Main Page Results Previous Race Next Race
Race 2 - May 27: Men's cross-country
Absalon continues his merry march
By Rob Jones in Fort William, Scotland
Julien Absalon leads Jose Hermida
Photo ©: Rob Jones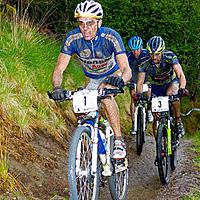 Julien Absalon (Bianchi Agos) has maintained his run of great form with a win in the men's race in Fort William today. In a tightly-contested affair, the Frenchman showed all the class that has helped him to world and Olympic titles and move further ahead in the race for the world cup crown. And unlike last week's race in Spa, Belgium, the race wasn't decided on a first-lap dash for the hole shot.
The race split up quickly on the first lap, with a group of ten riders distancing themselves from the rest of the field. Julien Absalon, Jose Hermida (Multivan Merida), Jeremy Horgan-Kobelski (Subaru-Gary Fisher), Bart Brentjens (Giant), Christoph Sauser (Specialized), Florian Vogel (Swisspower), Moritz Milatz (Multivan Merida), Michael Weiss and Ralph Näf (Multivan Merida) were all in the lead group. Among significant riders who didn't make the front were Roel Paulissen (Giant), who dropped out on the first lap (stomach problems the night before) and Filip Meirhaeghe (Versluys) who also disappeared early.
Näf dropped out shortly after the first lap after a crash, and the front group split up further as riders couldn't handle the pace. By the third lap, Absalon felt it was time to break things up some more, and only Hermida and JHK could respond to his attack. JHK backed off on the fourth lap, aware that he couldn't maintain the pace of the front group, dropping back to a gruppo containing Sauser, Brentjens, Vogel, Milatz, Cedric Ravanel (Lapierre), U23 series leader Nino Schurter (Swisspower) and Ludovic Dunau (Pro).
The men's podium
Photo ©: Rob Jones

"I had a good start" commented Absalon, "and we had a strong group at the front after the first lap. By the third lap I wanted to try and break it up some more, and only Jose and the American (Horgan-Kobelski) could come. Then after we had dropped (Horgan-Kobelski) I tried to go again in the final lap on the first steep climb, because I had seen that I was stronger there."
In the last lap Absalon's surge gained him a few seconds on Hermida, which he was able to hold to the finish. Vogel won a three-way sprint over Brentjens and Horgan-Kobelski for third. The American considers his fifth place here among the best of his career. "I took a big step forward today; I was in the mix with the big guys all day. This is definitely one of my best results. I came into the race pretty motivated, maybe too motivated. When I found myself at the front with Absalon and Hermida it took too much out of me so I dropped back a bit to recover and try and hold on for a podium," he said.
Photography
For a thumbnail gallery of these images, click here
Images by Rob Jones/www.canadiancyclist.com
Results

1 Julien Absalon (Fra) Bianchi Agos                            2.16.33
2 Jose Antonio Hermida Ramos (Esp) Multivan Merida Biking Team    0.07
3 Florian Vogel (Sui) Swisspower Mtb Team                         2.24
4 Bart Brentjens (Ned) Giant-Racing-Team                          2.25
5 Jeremy Horgan-Kobelski (USA) Subaru-Gary Fisher                 2.26
6 Moritz Milatz (Ger) Multivan Merida Biking Team                 2.35
7 Christoph Sauser (Sui) Specialized Factory Racing               2.38
8 Cédric Ravanel (Fra) Team Lapierre International                2.41
9 Nino Schurter (Sui) Swisspower Mtb Team                         2.43
10 Ludovic Dubau (Fra) Pro Race Team                              2.56
11 Balz Weber (Sui) Team Bikepark.Ch Tui                          4.12
12 Thomas Frischknecht (Sui) Swisspower Mtb Team                  4.27
13 Mirko Pirazzoli (Ita)                                          4.31
14 Martin Kraler (Aut) Giant-Racing-Team                          4.39
15 Alban Lakata (Aut) Specialized Factory                         4.44
16 Nicolas Filippi (Fra) Scott Les 2 Alpes                        5.02
17 Marco Aurelio Fontana (Ita)                                    5.28
18 Seamus Mcgrath (Can) Felt                                      5.40
19 Oliver Beckingsale (GBr) Giant-Racing-Team                     5.46
20 Jakob Diemer Fuglsang (Den) Cannondale-Vredestein              5.54
21 Michael Weiss (Aut) SRM                                        6.02
22 Tony Longo (Ita)                                               6.20
23 Adam Craig (USA) Giant                                         6.37
24 Andreas Kugler (Sui) Athleticum-Mtb-Team                       6.50
25 Marek Galinski (Pol)                                           7.12
26 Yury Trofimov (Rus)                                            7.15
27 Stéphane Tempier (Fra) Scott Les 2 Alpes                       7.21
28 Jader Zoli (Ita) Ktm International Team                        7.44
29 Marti Gispert Labarta (Esp) Freebike Team                      7.45
30 Todd Wells (USA) GT                                            8.13
31 Hakon Austad (Nor) Team Hoydahl                                8.35
32 Rudi Van Houts (Ned) Dolphin                                   8.52
33 Lukas Flückiger (Sui) Bianchi Agos                             8.56
34 Ivan Seledkov (Rus)                                            8.57
35 Peter Riis Andersen (Den) Cannondale-Vredestein                9.29
36 Tim Bohme (Ger)                                                9.34
37 Chris Jongewaard (Aus) Team Alb-Gold Mountainbiking            9.38
38 Silvio Bundi (Sui) Athleticum-Mtb-Team                         9.50
39 Pierre Lebreton (Fra) Pro Race Team                            9.56
40 Clinton Robert Avery (NZl)                                    10.09
41 Vaclav Jezek (Cze) Ceska Sporitelna Mtb                       10.21
42 Denis Vorontsov (Rus)                                         10.41
43 Ivan Alvarez Gutierrez (Esp) Proflex                          10.43
44 Jochen Kaess (Ger) Team Alb-Gold Mountainbiking               10.57
45 Carlos Coloma Nicolas (Esp) Proflex                                
46 Geoff Kabush (Can) Maxxis                                     11.01
47 Gion Manetsch (Sui) Athleticum-Mtb-Team                       11.27
48 Tomas Vokrouhlik (Cze) Ceska Sporitelna Mtb                   11.36
49 Till Marx (Sui) Swisspower Mtb Team                           11.46
50 Benjamin Rudiger (Ger)                                        11.51
51 Hannes Metzler (Aut)                                          12.02
52 Christof Bischof (Sui) Bikin'cyprus Int.                      12.34
53 Ivan Schalbetter (Sui)                                        12.36
54 Philip Spencer (GBr) Bikin'cyprus Int.                        12.51
55 Karl Markt (Aut)                                              13.10
56 Jeremiah Bishop (USA) Trek Volkswagen Pro Factory             13.28
57 Burry Stander (RSA)                                           13.29
58 Perren Delacour (Aus)                                         13.39
59 Quincy Vens (Bel) Groep Versluys-Sportstech                   14.37
60 Karl Platt (Ger) Rocky Mountain Business Objects              14.57
61 Sergio Mantecon Gutierrez (Esp) Massi-Abarth                  15.03
62 Igor Bogdan (Ukr)                                             15.04
63 Raffael Schmid (Sui) Fischer-Bmc                              15.06
64 Samuel Schultz (USA)                                          15.38
65 Daniel McConnell (Aus)                                        16.25
66 Carl Decker (USA)                                             17.26
67 Marcus Roy (NZl)                                              17.36
68 Stefan Sahm (Ger) Giant-Racing-Team                           18.06
69 Ian Bibby (GBr)                                               18.08
70 Petter Jorgensen (Nor)                                             
71 Andi Weinhold (Ger)                                           18.27
72 Lachlan Norris (Aus)                                          18.35
73 Israel Nunez Baticon (Esp)                                    18.50
74 Tobias Witzak (Ger)                                           18.57
75 Jiri Friedl (Cze) Merida Biking Team                          19.07
76 Joris Boillat (Sui)                                                
77 Juan Trujillo Hernandez (Esp) Massi-Abarth                    19.16
78 Sergiy Rysenko (Ukr)                                          19.18
79 Frank Schotman (Ned)                                          19.42
80 Ruud Rentmeester (Ned)                                        19.53
81 Steffen Thum (Ger)                                            20.11
82 Andras Melts (Hun)                                            20.13
83 Michael Broderick (USA)                                       20.51
84 Marc Trayter (Esp) Maxxis-Msc                                 21.10
85 Rene Tann (Ger)                                               22.13
86 Cody Peterson (USA)                                           22.25
87 Johann Pallhuber (Ita)                                        22.38
88 Rick Evers (Ned)                                              23.02
89 Zak Toogood (GBr)                                             23.12
90 Martin Bratland (Nor)                                         23.26
91 Duncan Jamieson (GBr)                                         23.27
92 Bjorn Brems (Bel) Dolphin                                     24.30
93 Robert Wardell (GBr)                                          26.03
94 Yannick Bernasconi (Sui) Team Bikepark.Ch Tui                 29.47
 
1 lap down
 
95 Jochen Concocelli (Ger) Fumic.Brothers.International               
96 Lee Williams (GBr)                                                 
97 Frank Beemer (Ned) Dolphin                                         
98 Nicholas Ranno (USA)                                               
99 Murray Spink (Aus)                                                 
100 Jürg Graf (Sui)                                                   
101 James Fraser-Moodie (GBr)                                         
102 Friedeman Schmude (Ger)                                           
103 Paul Oldham (GBr) Hope Factory                                    
104 Oleksandr Yakymenko (Ukr)                                         
105 Robert Mennen (Ger)                                               
106 Dror Pekatch (Isr)                                                
107 Lukas Hanus (Svk) Merida Biking Team                              
108 Ross Adams (GBr)                                                  
109 Steve Hambling (GBr)                                              
110 Lewis Ferguson (Irl)                                              
111 James Maebus (Aus)                                                
 
2 laps down
 
112 David Leiman (RSA)                                                
113 Tim Wijnants (Bel) Dolphin                                        
114 Adam Broyad (GBr)                                                 
115 Norman Gillan (GBr)                                               
 
3 laps down
 
116 William Bjergfelt (GBr)                                           
117 Sam Jurekovic (USA)                                               
118 Bas Peters (Ned)                                                  
119 Ole Christian Fagerli (Nor)                                       
DNF Ralph Näf (Sui)                                                   
DNF Roel Paulissen (Bel)                                              
DNF Liam Killeen (GBr)                                                
DNF Fredrik Kessiakoff (Swe)                                          
DNF Filip Meirhaeghe (Bel)                                            
DNF Kashi Leuchs (NZl)                                                
DNF Martin Gujan (Sui)                                                
DNF Christoph Soukup (Aut)                                            
DNF Jelmer Pietersma (Ned)                                            
DNF Sid Taberlay (Aus)                                                
DNF Milan Spesny (Cze)                                                
DNF Joan Llordella Prat (Esp)                                         
DNF Sebastian Luciano Blanco (Arg)                                    
DNF Robin Seymour (Irl)                                               
DNF Robert Kircher (Aut)                                              
DNF Steven Roach (GBr)                                                
DNF Niall Davis (Irl)                                                 
DNF Adrian Lansley (GBr)                                              
DNF Gareth Montgomerie (GBr)                                          
DNF Davy Coenen (Bel)                                                 
DNF Hans Becking (Ned)                                                
DNF Calle Friberg (Swe)                                               
DNF Mattias Stenberg (Swe)                                            
DNF Peter Hafner (Aut)                                                
DNF Richard Mardle (GBr)                                              
DNS Lado Fumic (Ger)                                                  
DNS Shaun Lewis (Aus)                                                 
DNS Simon Richardson (GBr)                                            
DNS James Ouchterlony (GBr)                                           
DNS Jimmy Tielens (Bel)